One Peach, One Tart, A Favorite Recipe, Simplified
This post may contain affiliate links. Please read my disclosure policy.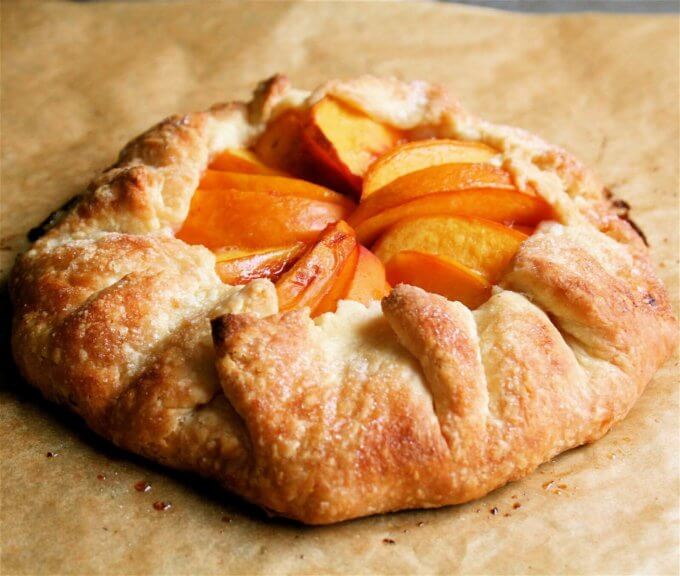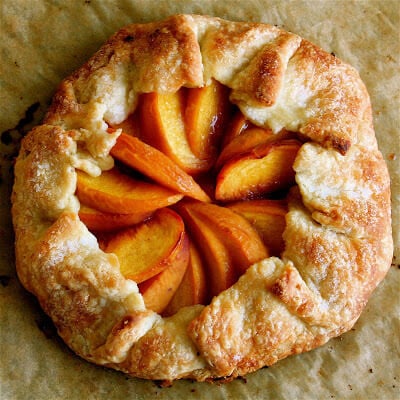 As the title suggests, the tart featured in this post is based on a longtime favorite recipe printed in Fine Cooking several years ago. The original recipe calls for making a frangipane — an almond-based filling — to spread in a thin layer across the dough. The fruit lies over this creamy base and the combination of dough, frangipane and fruit in every bite is absolutely delicious. The addition of frangipane to any free-form tart — from plums, peaches and apricots (really all stone fruit) in the summer to pears and apples in the fall — seriously raises the bar of the classic fruit tart, adding a most subtle flavor, but a dimension that pure fruit tarts lack.
That said, in the tart pictured above, the frangipane has been omitted, and had I never known frangipane existed, I wouldn't have missed it. A dessert of warm peaches in a flaky, buttery crust topped with a little scoop of vanilla ice cream alone is pretty damn good. And whereas frangipane requires almond paste, rum and room-temperature butter, this simplified fruit tart can be made with pantry items in no time.
All I'm saying is this: If you have the time and the ingredients, make the frangipane. You won't be disappointed. If you don't have the time or the ingredients, however, make this tart anyway. You will still produce an elegant and delectable dessert. You won't be disappointed.
This recipe yields two small tarts each of which will serve three or four people. I used only one peach in the tart I made and froze the remaining portion of dough. I love love love this dough recipe. I'm not quite sure how it differs from a traditional pie dough but it without fail produces a perfect crust.
 It should be noted that while this tart probably tastes best when warm, I am discovering that it complements morning coffee very nicely as well.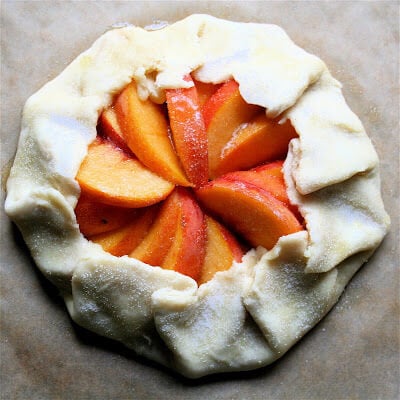 Print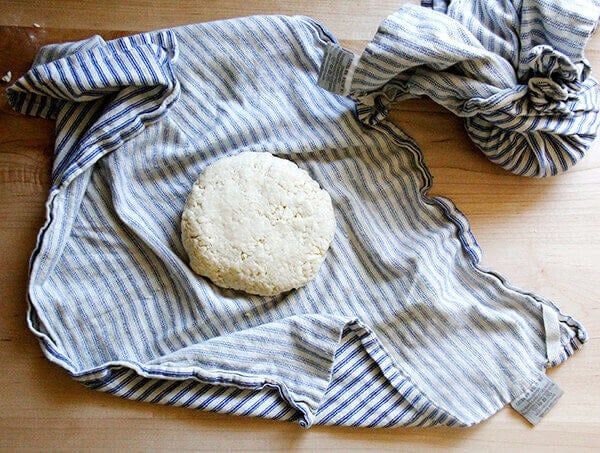 Galette Dough
---
Total Time:

1 hours 2 minutes

Yield:

2 mini tarts (each tart yields 3-4 small servings; double recipe to yield two 9-inch tarts)
1¼ cups

all-purpose flour

1

T. sugar

¼ tsp

. table salt

8

T. unsalted butter

¼

C. +

1

T. ice water
---
Instructions
Whisk flour, sugar and salt together. Cut butter into flour and using the back of a fork or a pastry cutter, incorporate butter into flour mixture until butter is in small pieces. Add ice water and continue to stir with fork until mixture comes together to form a mass. Add more ice water if necessary, one tablespoon at a time. Gently form mass into a ball and divide into two equal pieces. Shape each piece into a ball, wrap in plastic wrap and chill for at least 30 minutes and as long as overnight. (Dough can be frozen, too.)
---
Print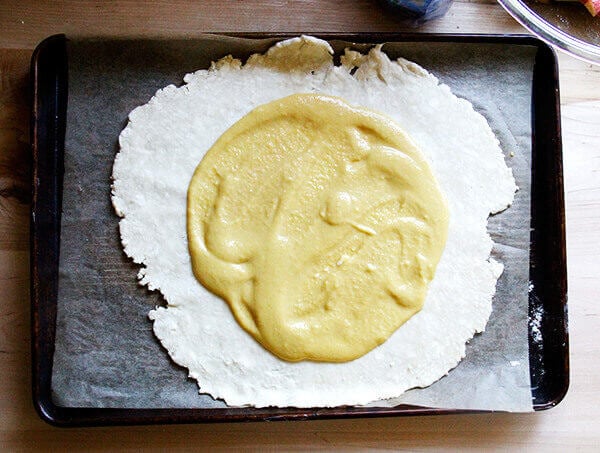 Frangipane
---
Description
Note: I did not use a frangipane in the above pictured tart. This frangipane makes for a truly special tart. If you're pressed for time, however, or don't feel like making frangipane, the peaches and the galette dough alone will make a wonderful dessert.
---
¼

C. almond paste

2

T. sugar

2

T. butter at room temperature

2 tsp

. rum

1

small egg
---
Instructions
In the bowl of a stand mixer or food processor, combine almond paste, sugar and butter. Beat until combined, then add rum and egg and beat until smooth, or until only small lumps remain. Set aside.
---
Print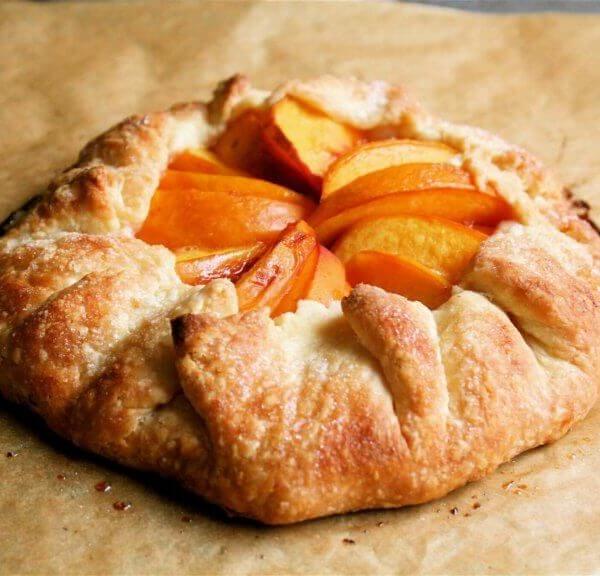 Peach Tart
---
Total Time:

1 hours 30 minutes

Yield:

1 tart
1

peach, sliced (If making

two

tarts, use

two

peaches.)
pinch sugar, pinch salt

1

T. butter, melted

1 tsp

. sugar
parchment paper
vanilla ice cream
---
Instructions
Toss peach slices with the pinches of sugar and salt. Set aside. On a lightly floured work surface, roll one disk out approximately into a 9-inch circle, using flour as needed to prevent sticking. Line a rimless cookie sheet (or upside-down jelly roll pan) with parchment paper. Transfer dough to parchment paper. Spoon 1-2 tablespoons of the frangipane (if using) into the center of the tart and spread toward the edges, leaving a 2-inch border all the way around. Arrange the fruit in concentric circles over the frangipane.
Preheat the oven to 400ºF. Finish the tart by folding the exposed border over the tart onto itself, crimping to make a folded-over border. Chill tart in the refrigerator for 10-15 minutes. Brush dough with butter and sprinkle sugar over entire tart. Place in the oven for 30-35 minutes or until crust is golden. Let cool for five minutes on tray then slide parchment paper and tart onto a cooling rack. Let cool another 20 minutes before slicing.
Serve with vanilla ice cream.
Prep Time:

15 minutes

Cook Time:

35 minutes
This post may contain affiliate links. Please read my disclosure policy.