Farmers' Market Quesadillas
This post may contain affiliate links. Please read my disclosure policy.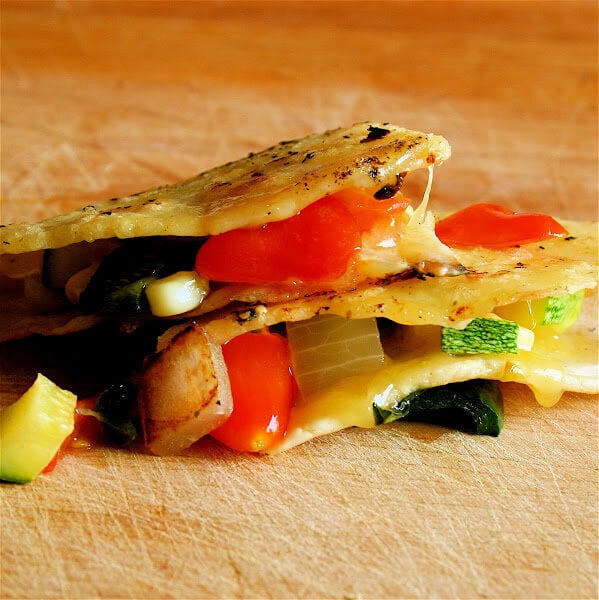 I found corn masa! Real corn masa. Like freshly made every day corn masa. El Toro Rojo (in my town, San Clemente) receives a delivery of this tortilla base every day precisely because real corn masa perishes that quickly.
Tonight, I made quesadillas following a method prescribed in Rick Bayless' Mexico One Plate at a Time cookbook. In this method, the freshly pressed, uncooked tortillas are placed on a hot griddle. The filling gets placed atop the side facing up (the uncooked side), and the tortilla is folded over and pressed to create the traditional half-moon shape. The tortilla gets flipped back and forth every minute or so and cooks in less than five minutes. I worried about the uncooked side tasting, well, uncooked, but it doesn't — it becomes wonderfully crispy and golden on the outside while the cheese melts and the filling all melds together.
Now, if you can't find fresh corn masa, don't fret. This vegetable sauté will taste delectable in any tortilla. Just use whatever variety of flour or corn tortillas you prefer. In fact, while I am thrilled with the results of the fresh corn masa tortilla, this recipe is all about the filling: quickly sautéed farmers' market veggies mixed with chopped fresh basil and topped with grated cheddar cheese. I used corn, zucchini, poblano peppers, onion and cherry tomatoes, but use whatever vegetables you find. I am loving the taste of corn with basil right now. Such a good combination.
Once the vegetables are all chopped, this sauté takes five minutes to complete. Use high heat and cook the peppers and onions first. Add the corn with the zucchini once the onion bits look a little brown. Cook for another minute or so, and add the chopped cherry tomatoes and basil at the end with the pan off the heat.
So, I made this filling for quesadillas, but this quick sauté could be served over rice or mixed with orecchiette pasta (the perfect shape for vegetables this size) or served with polenta or whatever. I have a feeling a poached or fried egg atop this vegetable medley would only enhance its deliciousness. Try it! It is so yummy.
Print
Farmers' Market Quesadillas
---
Total Time:

40 minutes

Yield:

2 servings
1

onion, diced

1

poblano pepper, diced

1

ear corn, kernels scraped from cob

1

zucchini, diced

1 cup

cherry tomatoes, quartered
basil to taste, chopped
olive oil
kosher salt
Tabasco, optional
Tortillas, corn or flour
Cheddar cheese, grated
Salsa, sour cream and lime for serving, optional
---
Instructions
Over high heat, sauté the onion and pepper together until the onion looks slightly browned. Add the zucchini and corn and cook for one to two minutes. Season the whole mixture with salt to taste. Turn off the heat and add the cherry tomatoes and basil. Taste, adjust seasoning as necessary. Add a splash of Tabasco if desired.
Proceed with your preferred recipe for quesadillas. (See below if using fresh corn masa.) Here is a good method: Brush a cast iron or non-stick pan with a thin coating of olive oil. Place a flour tortilla in the pan and brush it lightly with olive oil. When the underside starts to get little light brown bubbles, turn the tortilla over and top it with the cheese and vegetable mixture. Fold the tortilla in half so it looks like a half moon. Place a smaller cast iron pan on top to weight down the tortilla. When one side is brown, flip over the tortilla and brown the other side. Make sure that the tortilla cooks until it almost could crack like a bisquit. You'll have to play with the heat — it should be hot enough to brown, but not to burn.
Rick Bayless' method for using freshly made masa tortillas: (Note: see below for instructions on how to make the tortillas themselves.) Heat a well-seasoned or nonstick skillet over medium heat. Turn the oven on to its lowest setting. One by one, make the quesadillas. Lightly brush one side of each tortilla with oil, then lay it oiled side down on the hot griddle. Spread with a thin layer of cheese, leaving a 1/4-inch border all around. Spoon the vegetable filling into the center of the cheese-covered tortilla. When the cheese begins to melt, but before the tortilla begins to crisp, fold the tortilla in half to create a half moon. Cook, flipping the tortilla every minute or so, until the cheese is completely melted and the tortilla crisps, about five minutes. (I only flipped once, and my quesadilla probably cooked for about 3 minutes.) As each quesadilla is done, transfer it to a baking sheet and keep warm in the oven.
Serve with salsa, sour cream and lime wedges.
Prep Time:

10 minutes

Cook Time:

30 minutes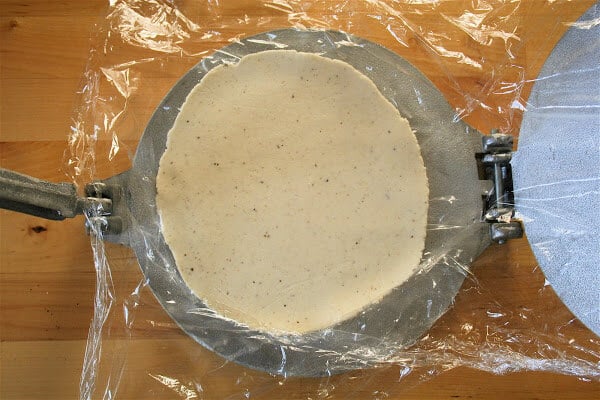 Making tortillas. Rick Bayless' method:
1. Knead the masa with just enough water to make it soft (like cookie dough) but not sticky. The softer the dough, the more tender the tortillas — but don't make it so soft it sticks to your hands. (Note: I purchased my fresh masa at El Toro Rojo, and I didn't need to add any water to the mixture.)
2. Open the tortilla press and lay one square of plastic wrap on the bottom plate. Scoop out a walnut-sized piece of dough, roll it into a ball and center it on the plastic. Cover with a second sheet of plastic wrap. Close the press and use the handle to flatten the ball into a 5- to 6-inch disk. Turn the plastic-covered disk of masa 180 degrees and press gently to even the thickness.
3. Open the press and peel off plastic. Proceed with quesadilla recipe (above) or line a sheet pan with parchment paper and top with your pressed tortillas. Cover with plastic wrap until ready to cook.
This post may contain affiliate links. Please read my disclosure policy.