Peach Blueberry Cake
This post may contain affiliate links. Please read my disclosure policy.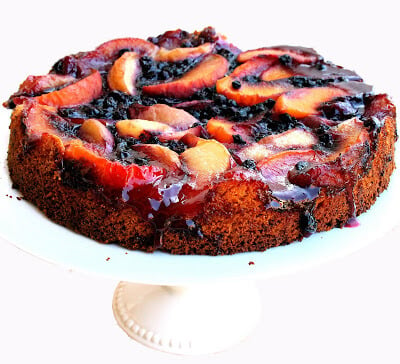 This recipe has so much potential. And I so badly want to rave about it. I mean, I have been snacking on it morning and night for the past two days. But something, I must confess, is not quite right.
This recipe appeared in the August 2005 issue of Gourmet. If you care to hear what other people think of the recipe, you can read the 143 reviews posted on Epicurious. Online, I just discovered, the recipe is prefaced with this:
We've received some letters from readers complaining about a burned crust when making the peach blueberry cake, so we ran through the recipe two more times. Baked in a standard light-colored metal pan, the cake was perfect; baked in a dark metal pan, however, it burned — be aware that the cake's high sugar content makes it more susceptible to burning at high heat.
A burnt crust was precisely the problem I ran into. The recipe calls for baking the cake at 375ºF for 1 hour and 45 minutes. 1 hour and 45 minutes! Does that sound crazy to you? I mean, sometimes I wonder what people (recipe writers) are thinking. I baked my cake at 350ºF for about 1 hour and 15 minutes because it smelt too good to leave in the oven any longer and the fruit looked bubbly and delicious. You can't see the pastry below the layer of stewing fruit, so there is no way of knowing if "the crust is golden" as the recipe suggests as a determining doneness factor.
When I bake this cake again — which I am determined to do before summer is over — I will bake it for one hour and see if that improves the texture of the crust, which in addition to being slightly burnt tasted slightly dry. When I bake it again, however, I might use a different pastry all together. My mother suggested using a shortbread pastry recipe from Chez Panisse Desserts, which she adores and which could be the perfect substitute for the current dough. All I know is this: whatever pastry is used in this dessert must be strong enough to support a thick layer of juicy, oozing fruit. And in an ideal world, it must be moist and delicious, too.
For all of you bakers out there, any suggestions?
Cake just before entering the oven: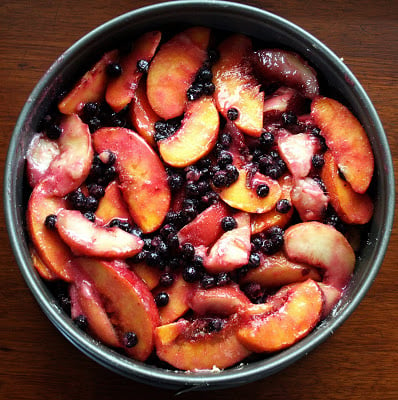 Cake after resting for 20 minutes out of the oven: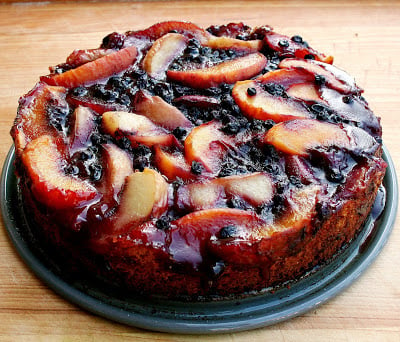 Print
Peach Blueberry Cake
---
Total Time:

1 hours 50 minutes

Yield:

8 servings
1½ cups

all-purpose flour

½ cup

sugar

1 tsp

. baking powder

¼ tsp

. kosher salt

1

stick (½ cup) cold unsalted butter, cut into

½

-inch cubes

1

egg

1 tsp

. vanilla
½ cup

sugar

2 tablespoons

flour

2

lb. firm-ripe large peaches (about 4), halved lengthwise, pitted, and each half cut lengthwise into fourth or fifths

1 cup

blueberries (fresh or frozen)

1 tablespoon

fresh lemon juice
pinch salt
---
Instructions
Make pastry. Pulse together flour, sugar, baking powder and salt in a food processor until combined. Add butter and pulse until the mixture resembles coarse meal with pea-sized butter lumps. Add egg and vanilla and pulse just until the dough clumps into a ball, about 15 pulses.
With floured fingertips press dough onto bottom of an ungreased springform pan. Chill pastry in pan until firm, about 10 minutes.
Preheat the oven to 350ºF. Combine remaining ingredients in a large bowl and toss until the fruit is evenly coated. Pour filling over chilled pastry and cover pan loosely with foil. Bake for about an hour, until filling is bubbling.
Transfer cake in pan to a rack and cool uncovered for 20 minutes. Remove sides of pan and cool longer or serve immediately with vanilla ice cream.
Prep Time:

20 minutes

Cook Time:

1 hours
The pastry for this cake comes together quickly with just a few pulses in the food processor. Of course, it can be made by hand as well.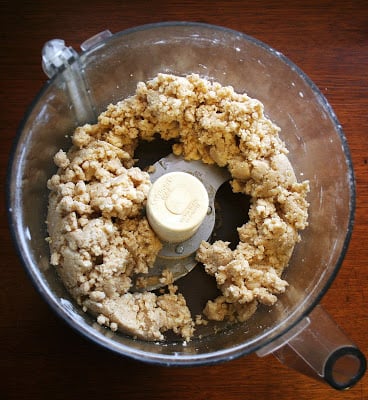 This post may contain affiliate links. Please read my disclosure policy.