The Secret To Lemon-Ricotta Pancakes
This post may contain affiliate links. Please read my disclosure policy.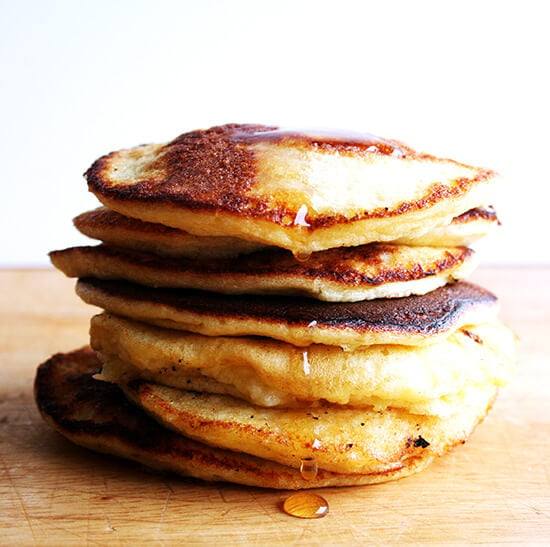 Before I mislead you any further, I'm going to come clean. I don't know the secret to making lemon-ricotta pancakes. In fact, what I flipped around the griddle on Saturday morning was nothing short of a disaster. Breakfast was saved only by the bacon.
Which leads me to the "secret" I am referring to in the title. Several weeks ago, I was up in San Fran dining with a few friends for brunch. One of my friends was being particularly indecisive. I think he sent the waitress away twice, insisting that he "needed more time." My stomach grumbled while he wavered between the burger and the pancakes. He finally chose the pancakes, ordering a side of bacon to satisfy his grease craving. He promised the rest of us he would share.
And share we did. No sooner had the waitress dropped our food had we ordered another plate of bacon for the table. I had ordered the pancakes, too, and I have to say, with the addition of a few strips of crispy bacon, I don't think I've ever been more satisfied with a brunch order. I'm always tempted by dishes such as French toast, waffles and pancakes, but I always worry about missing the greasy, savory egg dishes. A side of bacon, I've discovered, is the perfect solution. So, I suppose, all I can share with you today is this: perhaps the secret to enjoying pancakes is to eat them with a little grease?
Now about these pancakes. Several years ago while visiting my sister in NYC, I ordered lemon-ricotta pancakes for brunch at Sarabeth's in the upper west side. I have been dreaming about them ever since and over the years have saved countless recipes from various newspapers and magazines. After comparing the recipes, including a handful from the blogosphere, I chose this one and set to work.
Now, I don't want to blame the recipe because I think I'm partly at fault. I have never figured out how to make pancakes. By the time I get my rhythm going and start cooking the pancakes properly, I've eaten about 100 and can hardly bear to look at the griddle any longer. That's precisely what happened this weekend. But even the pancakes that I believe I cooked properly lacked the flavor I remember so fondly. The lemon flavor certainly came through but the ricotta was indiscernible, likely a tribute to the icky ricotta I purchased at my grocery store.
So I wish wish wish I could leave you with an awesome recipe for lemon-ricotta pancakes, but alas I cannot. I am determined to make these again soon, however, and when I do, I hope to report back with more favorable results.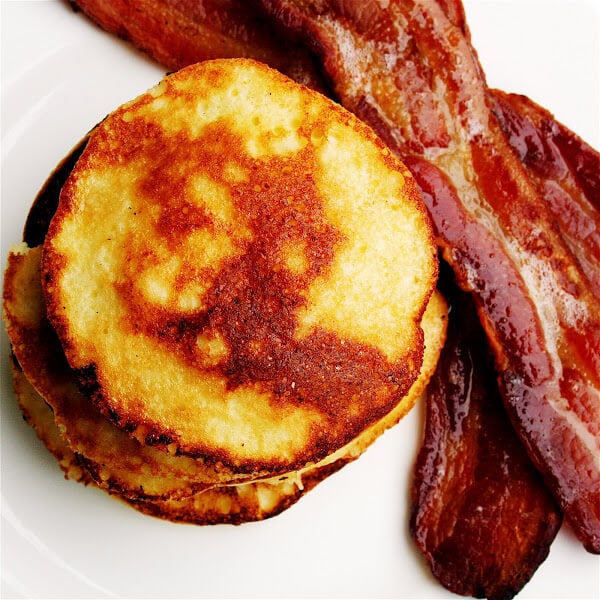 On a side note, imagine my excitement upon seeing this month's Saveur in my mailbox. Look at this cover! Pure genius. There's a nice little two-page spread offering detailed instructions for cooking eggs four ways: baked, sunny-side up, soft-boiled and scramble. Might be a good thing to tuck inside a cookbook for future reference. Just a thought.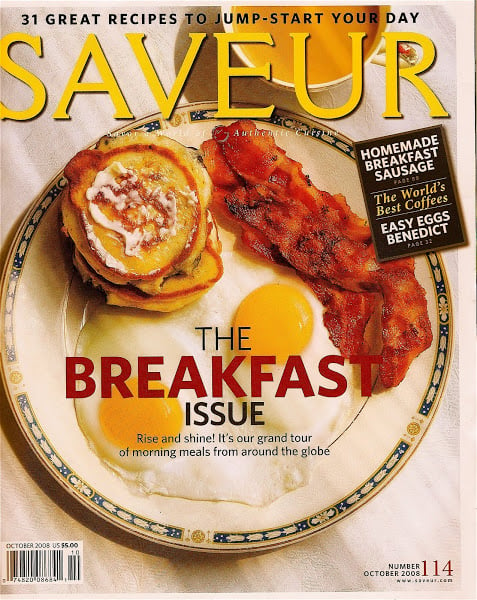 This post may contain affiliate links. Please read my disclosure policy.