Pizza Pizza
This post may contain affiliate links. Please read my disclosure policy.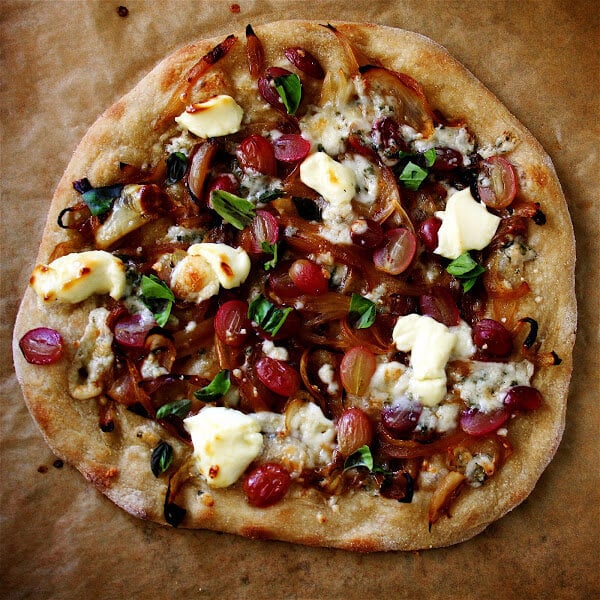 I am resolved. I am resolved never to make another recipe for pizza dough. Seriously. This is it. My family has been making this recipe for years and it is incredibly delicious. Tried and True. Foolproof. No tweaking necessary. Caramelized onions, grapes (or figs), gorgonzola and mascapone (or some other creamy cheese like ricotta) is one of our favorite combinations.
These strong feelings stem partly from several recent failed experiments but also because I am realizing now truly wonderful homemade pizza is. Really, for me, the idea of a perfect dinner is this: several of these thin-crust pizzas (each topped differently), a salad (a homemade Caesar salad sounds nice at the moment) and a glass of wine.
I can think of only one thing that might — MIGHT — improve this recipe: A wood-burning oven. Which I intend to build soon. Or, let's say within the next six months. Seriously. It only takes a day-and-a-half to build. It's just a matter of getting organized. I saw the construction of a wood-burning, adobe oven in San Francisco at Slow Food Nation last month, and I have been wanting my very own ever since.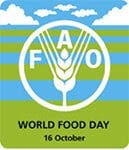 This recipe yields enough dough to serve about 6 to 8 people. I am submitting this recipe to the World Food Day blog event. Created by Val of More Than Burnt Toast and Ivy of Kopiaste, this event seeks to raise awareness about world hunger: Around the globe there are 862 million undernourished people. Since 1945, October 16 marks World Food Day, an event created by the Food and Agriculture Organization of the United Nations. To participate in the blog event, follow these instructions.
Want to build your own adobe oven, too? Buy this book: Build Your Own Earth Oven. I met the authors at SFN and they were pretty awesome.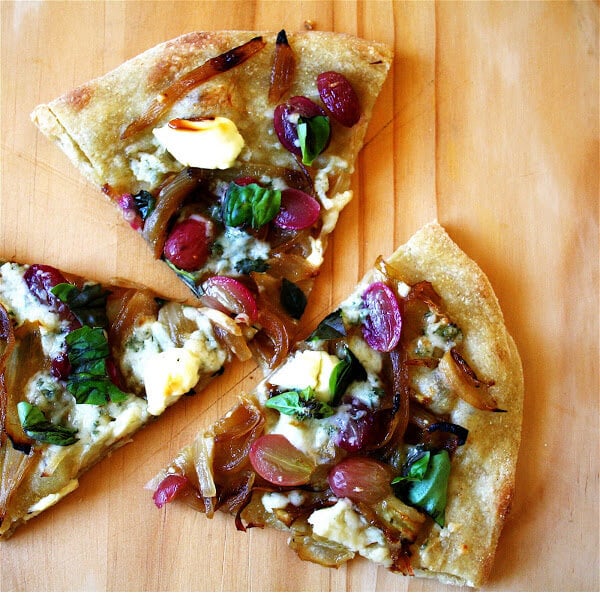 These pizzas take about 10 minutes at 500ºF. When they emerge from the oven, all they need is a sprinkling of fresh herbs and perhaps, but not critically, a drizzling of olive oil.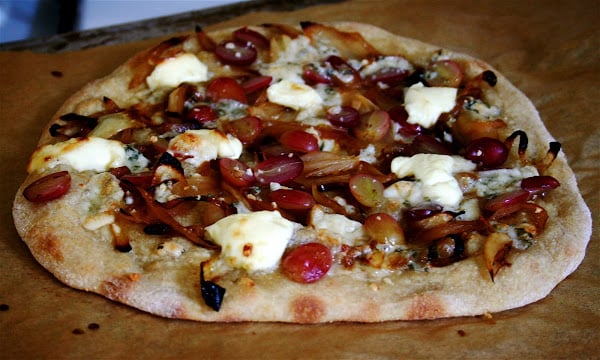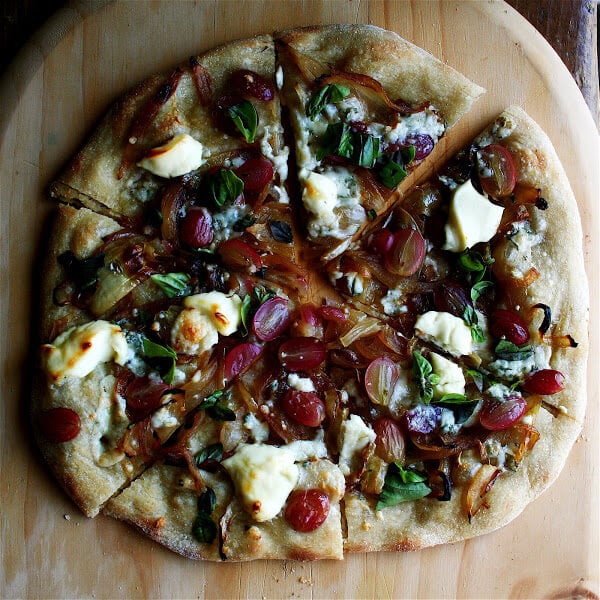 One key to making a good pizza is this: keep toppings to a minimum. A thin layer of yummy ingredients is all this is needed. It helps keep the crust crisp and allows you to taste the dough. (I may have over done it a bit here. Refraining from overloading the dough is a true skill.)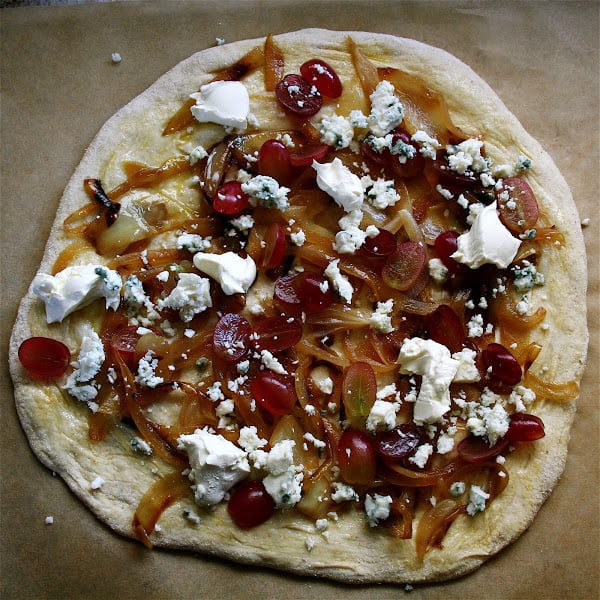 This adobe oven was made in one-and-a-half days. Supplies, if I recall correctly, cost under $50. I am dying to make one.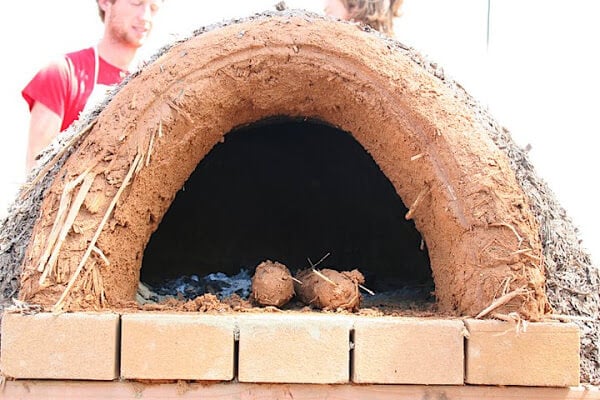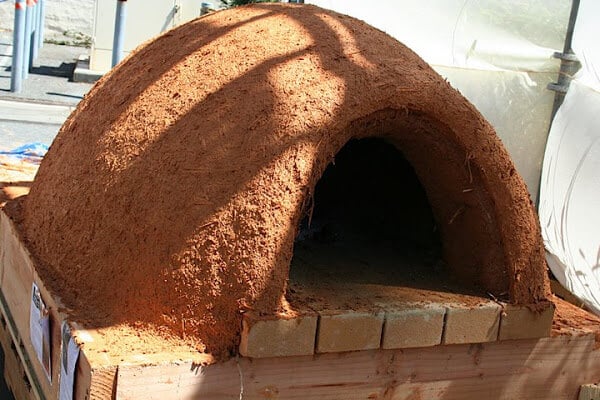 Pizza Perfected
7 Secrets to Mastering Pizza at Home
Always Free. Unsubscribe Anytime.
Print
Pizza Dough
---
Total Time:

2 hours 50 minutes

Yield:

4 8- to 10-inch pizzas (Serves 1 to 2 people per pizza)
Description
Adapted from Todd English's The Figs Table
---
¼ cup

whole wheat flour

3½ cups

all-purpose flour, plus additional for rolling

2 teaspoons

kosher salt

1 2/3 cups

lukewarm water

2 teaspoons

sugar

2 teaspoons

active-dry yeast

2 teaspoons

olive oil
---
Instructions
Place the flours and salt in a stand mixer fitted with a dough hook. (Or knead by hand. I have not had luck making this in the food processor — the engine starts smoking after about five minutes.) Combine the water, sugar and yeast in a small bowl and let sit for five minutes until the mixture bubbles slightly. Add the olive oil and stir. With the mixer on low, gradually add the oil-water mixture into the bowl. Knead until the dough is firm and smooth, under 10 minutes. The dough will be very wet and sort of difficult to work with. I liberally coat my hands with flour before attempting to remove it.
Divide the dough into four balls, about 7½ ounces each. Line two cookie sheets with parchment paper. (Be sure to oil the parchment paper.) Place two balls on a sheet. Lightly rub the balls with olive oil, then cover loosely with plastic wrap. The dough is very sticky and wet, so, be sure to coat the balls or the plastic with oil. Let the balls rise in a warm spot until they have doubled in bulk, about two hours.
To roll out the dough: Dab your fingers in flour and then place one ball on a generously floured work surface. Press down in the center with the tips of your fingers, spreading the dough with your hand. When the dough has doubled in width, use a floured rolling pin (or continue using floured hands if you are skilled at making pizzas) and roll out until it is very thin, like flatbread. The outer portion should be a little thicker than the inner portion.
Note: This dough freezes beautifully. After the initial rise, punch down the dough, wrap it in plastic and place in a Ziplock bag. Freeze for several months. When ready to use, let sit at room temperature for about an hour, then proceed with rolling/topping/baking.
Baking
Preheat the oven to 500ºF. Line a sheetpan with parchment paper. Place rolled out dough onto parchment paper. Drizzle dough with a little olive oil and with your hand, rub it over the surface to coat evenly.
Top with a thin layer of your choice toppings. Here I used caramelized onions, grapes, gorgonzola and mascapone cheese. (The mascapone is really wonderful). Place in your very hot oven and bake for about 10 minutes or until the crust is slightly brown and the cheese is melting.
Remove from the oven and sprinkle with fresh basil. A drizzling of extra-virgin olive oil is nice. I used a little bit of truffle oil, which would be wonderful over a mushroom pizza.
Prep Time:

35 minutes

Cook Time:

10 minutes
This post may contain affiliate links. Please read my disclosure policy.