Gateau Tiede Aux Poires Mas De Cure Bourse
This post may contain affiliate links. Please read my disclosure policy.
Surely you've heard of Gateau Tiede Aux Poires Mas De Cure Bourse. No? The best translation I've found so far is this: Delectable Pear Custardy Caramel.
Attention all crème brulée, tarte tatin and crème caramel lovers. Here is another recipe that must be added to your repertoire, especially now during pear season. Apples would make a fine substitute as would quince, (though the quince might need some preliminary cooking. Maybe? Maybe not.) For my mother, this recipe rivals Balzano Apple Cake — my favorite fall (maybe, all-time) dessert, a recipe everyone should try, at least once.
Just a slight warning about the preparation of this gateau: Nothing about it feels natural. If you are out of practice cooking sugar, the first step might turn you away. Don't be afraid. It's quite quite simple. Moreover, the recipe calls for a sprinkling of yeast. Again, don't worry — no rising or proofing is called for. And lastly, the batter in its final state looks like a curdled mess. But fear not. In the oven, the caramel, pears and batter combine to form, as my mother described, a delectable custardy goodness.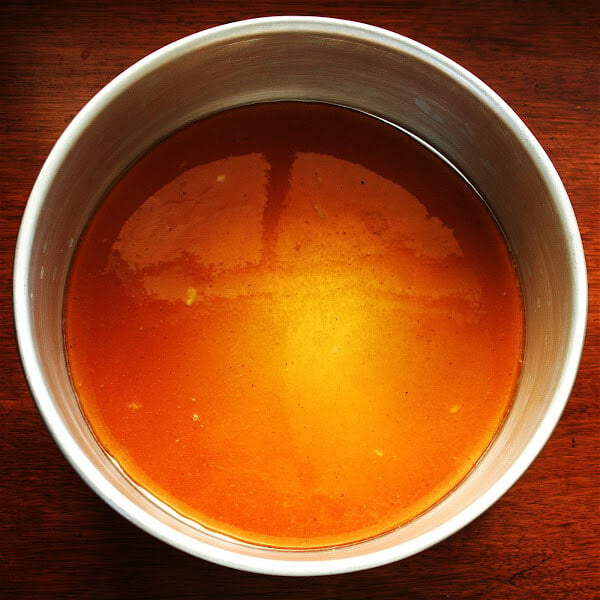 Print
Gateau Tiede Aux Poires Mas De Cure Bourse
---
Total Time:

1 hours 50 minutes

Yield:

4-6 servings
1 cup

sugar

1¼ tsp

. yeast

4

large ripe pears, about 2 pounds, (Bartlett or Anjou), peeled, cored and sliced very thin

1/3 cup

flour

4

large eggs

1 tsp

. vanilla

7

T. unsalted butter, room temperature
---
Instructions
Preheat oven to 300 degrees. Butter a 9"-round cake tin. In a large skillet cook ¾ cup of the sugar over moderate heat until it begins to melt. Continue cooking until it turns a golden caramel. Meanwhile, sprinkle the yeast over one tablespoon of lukewarm water.
Pour the hot caramel into prepared pan. Make sure caramel covers the bottom. (If your caramel has hardened up before you allow it to cover the bottom of the pan, place the pan, using potholders, over one of your stovetop burners and hover it over the heat until the caramel begins to melt.) Arrange thinly sliced pears in slightly overlapping circles on top of caramel.
In a large bowl, beat the eggs, then add the flour, 1/4 c. sugar, the yeast mixture and vanilla. In another large bowl (sorry about all of the bowls!) beat the butter with an electric mixer (or standmixer) until smooth. Add the egg mixture and beat until the mixture is combined well, but do not overbeat. It will look slightly curdled. Pour the mixture over the pears being careful not to dislodge the pears.
Bake the cake on the middle rack for one hour or until golden. Let cool on rack for five minutes and then run a knife around the edges, and invert onto a large dish or platter deep enough so the syrup won't flow over the edges. Serve warm.
Prep Time:

30 minutes

Cook Time:

1 hours 15 minutes
This post may contain affiliate links. Please read my disclosure policy.