The Best Candied Pecans, Delicious on Salad
This post may contain affiliate links. Please read my disclosure policy.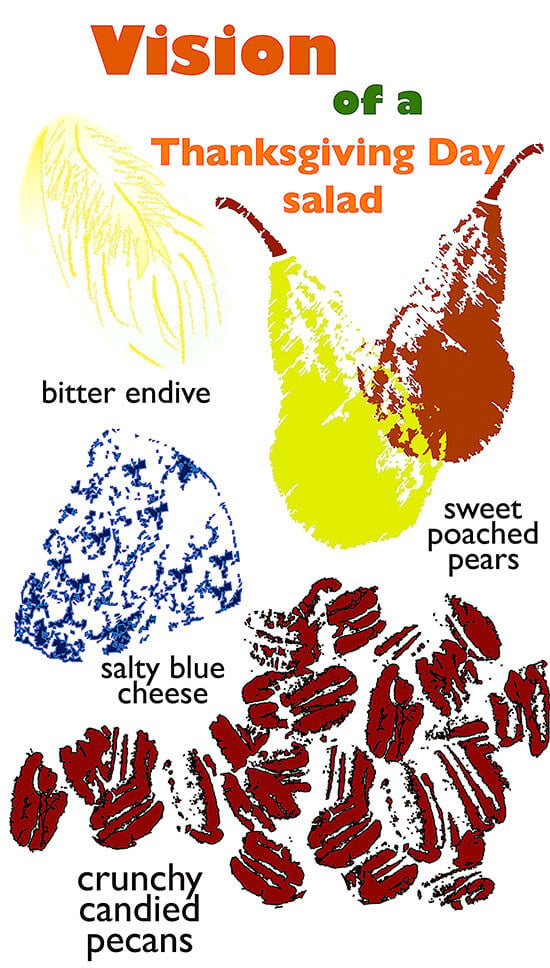 So, you see my vision. It's nothing earth-shattering. A classic combination, really. But a timeless one, and one I think will be festive for Thanksgiving Day.
So, to execute this salad, all I need to finish tweaking is my recipe for poached pears. The pecans I've got down to a science, (for me at least — I'll explain in a bit); the dressing, made with reduced orange juice, white balsamic vinegar and olive oil, has been tested countless times (Aunt Vicki's recipe, to be provided next week); the blue cheese (perhaps Stilton or Maytag) and the endive merely need to be purchased. The pears, however, have been giving me a little trouble this past week. I've been working with a combination of white wine, sugar, orange zest, cinnamon stick and vanilla bean. Something is not quite right yet. Any suggestions are welcome.
Now, about these pecans. I've been making this recipe for several years now, and I find it produces the crunchiest, most delicious candied pecans. I'm not promising a simple and foolproof recipe, however. It's the kind of recipe, in fact, that could potentially lead you to swear off my recipes altogether.
The first two-thirds of the recipe is simple: the pecans are blanched for two minutes, then simmered in simple syrup for five minutes. The final third of the process, which calls for deep-frying the pecans, is where problems can arise. I suggest using a deep fryer with a built in thermometer. My deep fryer continues to exist in my kitchen solely for the purpose of making these pecans — it keeps the oil at 375ºF, which is key for this recipe. I tried deep-frying the pecans in a heavy-bottomed pot on my stovetop once, and the process was so frustrating: At first the oil was too hot, then it wasn't hot enough, and before I had finished frying, I had ruined nearly half the batch.
The key, I've learned, is to let the pecans fry for about 3 to 5 minutes — the longer they fry, the crunchier they will be. However, they must be removed from the oil before they burn, and they continue to cook a little bit once they've been removed from the oil. It's a trial-and-error process, but one well worth it in the end. I highly recommend using a deep fryer with a built-in thermometer, but if you are comfortable with stove-top deep frying, by all means go for it.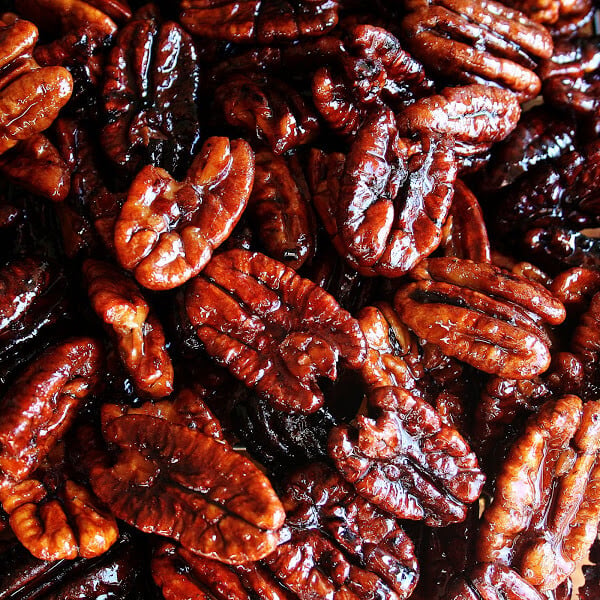 Print
1

lb. raw (unblanched, unsalted) pecans = 4 heaping cups

1 1/3 cups

sugar
---
Instructions
Bring a medium pot of water to a boil. Add pecans and simmer for 2 minutes. Drain and rinse under cold water.
Combine the sugar with 1 cup of water and bring to a simmer. Simmer for 2 minutes, add pecans and simmer for 5 minutes. Drain.
Meanwhile, preheat a deep fryer to 375ºF, or pour canola or peanut oil into a heavy-bottomed pot to reach at least one-inch up the sides and fix a deep-fry thermometer to its side. When oil is ready, fry pecans for 3 to 5 minutes in small batches. This will be a trial-and-error process. The longer the pecans fry, the crunchier they will be. If the oil is too hot, they'll burn before they get crispy. So, fry the pecans in small batches until you can read your oil. Remove pecans from fryer with a slotted spoon or spider and let drain on cooling rack or parchment paper — not paper towels. Repeat process until all pecans are fried. Refrain from sampling until the pecans have cooled completely — they'll be crunchier and tastier when they are completely cool.
Prep Time:

5 minutes

Cook Time:

40 minutes
This recipe begins with raw (unblanched, unroasted, unsalted) pecans: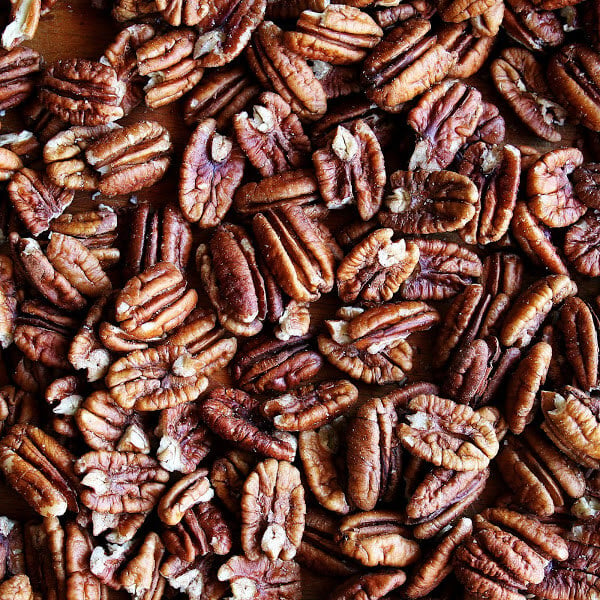 They are blanched for two minutes in boiling water, then drained:


Then they simmer in a sugar syrup for five minutes: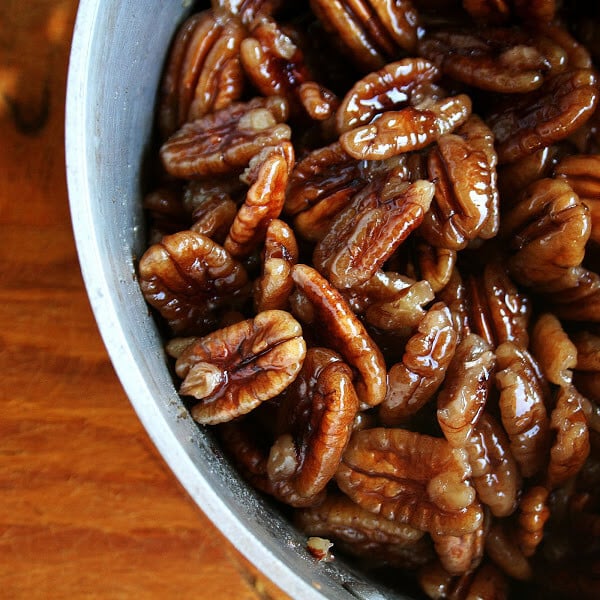 Then they are drained again before being deep-fried for three to five minutes.
This post may contain affiliate links. Please read my disclosure policy.