Honey-Buttermilk Dinner Rolls, Poached Pears & Aunt Vicki's Salad Dressing
This post may contain affiliate links. Please read my disclosure policy.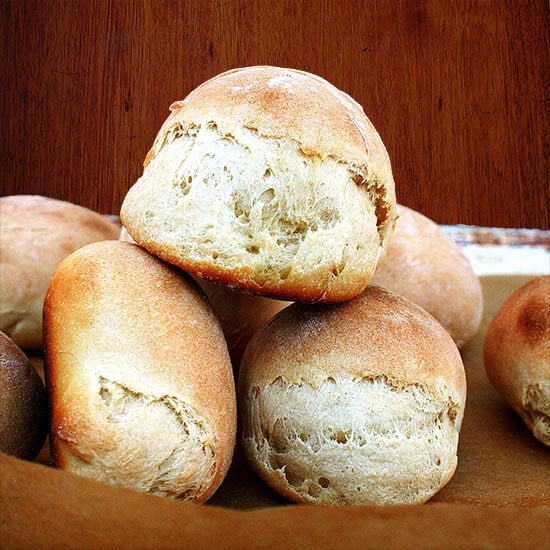 Oh my. I cannot believe Thanksgiving is almost here. I know everyone is very busy preparing, so let's keep this short and sweet, k?
If you get anything out of this post, I hope it is this:
1. A yummy recipe for buttermilk dinner rolls, perfect for the holiday table and a great way to use up a left-over buttermilk.
2. A delectable salad dressing made with reduced orange juice and white balsamic vinegar. This dressing is particularly nice with wintery salads — endive, shaved fennel, apple, pear, oranges, etc.
3. And a simple method to poach pears. Ready? Combine equal parts white wine and sugar in a small saucepan. Bring to a simmer. Add peeled, halved and cored pears. Reduce heat to low. Cover and simmer for about 10 minutes. Check with a paring knife — pears should be tender but not mushy. Turn off the heat, remove pears and let cool to room temperature. Save the poaching liquid for another use. Slice pears further if desired. (Note: I used ½ cup of wine and sugar for about 4 pears. Nice additions to the poaching liquid include orange zest, cinnamon stick and vanilla bean.)
OK, let's get started.
First, these rolls. Looking for a way to use up a half-quart of buttermilk, I stumbled upon this recipe for honey buttermilk bread. I simplified the recipe a little bit, divided the dough into two big portions and made dinner rolls with half the batch and a regular-sized loaf with the other. The dinner rolls I devoured in about a day-and-a-half. The loaf, I sliced and froze and have been toasting every morning, spreading with apple butter, cinnamon and sugar, and sometimes just butter and salt. So yummy.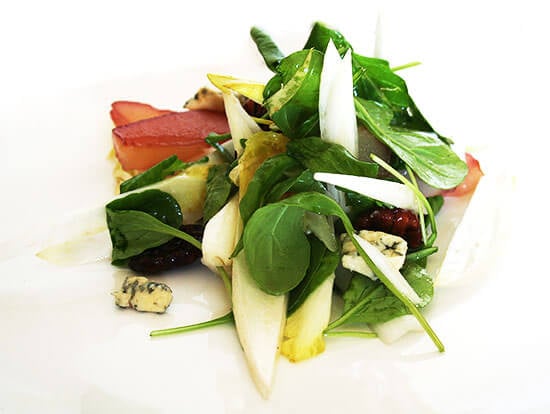 5 Secrets to Foolproof Bread Baking
See how easy bread baking can be in my free ecourse!
Print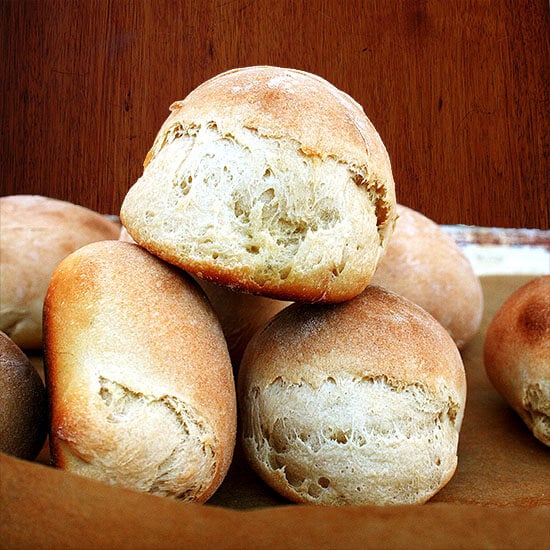 Honey-Buttermilk Dinner Rolls
---
Author:

Alexandra Stafford

Total Time:

3 hours 30 minutes

Yield:

2 Dozen 2-oz. rolls or one large loaf
---
2½ teaspoons

(

8 g

) active dry yeast or instant yeast

2 cups

buttermilk, room temperature is ideal — bread will take longer to rise if you use cold buttermilk

2 tablespoons

honey

4½ cups

(

576 g

) flour, plus more while kneading or mixing

2 teaspoons

(

10 g

) kosher salt
---
Instructions
Combine yeast, buttermilk and honey in the bowl of a stand mixer or, if kneading by hand, in a large bowl. Whisk until combined. It's OK if a few lumps of yeast remain.
Add the flour and salt to the mixer and with the dough hook attachment (or your hands), knead for about 10 minutes or until dough is pulling away from the sides of the bowl and forming a mass around the hook. Add flour as needed.
After 10 minutes, transfer the dough to a large, lightly oiled bowl. Cover with plastic wrap and let rise in a warm spot for about two hours (may take as long as four) or until doubled in bulk. Longer is fine, too. Punch down dough, and decide what you are going to make — rolls, loaves, boules, etc. If making rolls, begin portioning the bread into about 2-ounce pieces — if you don't have a digital scale, just use your eye to judge. It is best to cut with a dough scraper or a sharp knife. (Alternatively, cut the dough in half, then divide each half into about 12 equal portions. Err on keeping the rolls smallish.) Round each portion of dough into a ball and place on a parchment-lined (or oiled) baking sheet. Preheat the oven to 375ºF. Let rolls rise for about 40 minutes. Bake rolls for 15-20 minutes, or until golden brown — check the bottoms of the rolls because they will brown first.)  If making a loaf, place dough in a greased loaf pan. Let rise until almost doubled, about 40 minutes. Bake 45 minutes, until loaf is browned and sounds hollow when tapped. Let cool for 30 minutes before slicing.
Prep Time:

30 minutes

Cook Time:

20 minutes
I first tasted this salad dressing when Aunt Vicki made a Greek salad for a dinner party this summer. I love its versatility — it is delicious with romaine, endive, baby spinach, arugula, etc. I think it is a perfect dressing for this Thanksgiving salad.
Print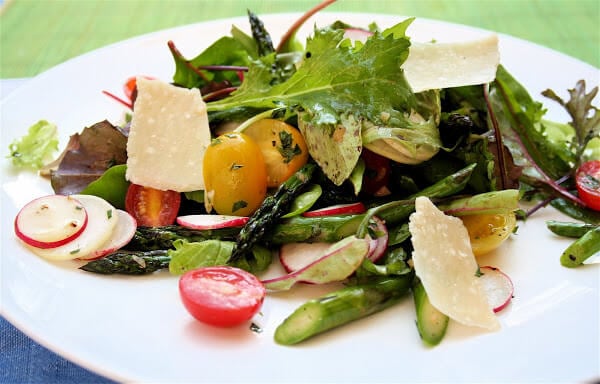 Aunt Vicki's Salad Dressing
---
2 cups

orange juice

¼ cup

white balsamic vinegar, (regular is fine, too)
kosher salt and pepper to taste

1 cup

extra-virgin olive oil

¼ cup

chopped scallions, green part only, cut on the diagonal (optional — I don't add the scallions because I like to keep a jar of this in my fridge for a long time)
---
Instructions
In a small saucepan, bring the orange juice to a simmer over medium-low heat and cook until it has reduced to ½ cup, about 10 minutes. Remove from heat, transfer to a medium-sized bowl and allow to cool to room temperature. Once cool, whisk in the vinegar and salt and pepper to taste. Slowly whisk in the olive oil. Transfer to a jar and store in refrigerator until ready to serve. Bring to room temperature before using.
Prep Time:

10 minutes

Cook Time:

10 minutes
This post may contain affiliate links. Please read my disclosure policy.