Cinnamon-Raisin Bread
This post may contain affiliate links. Please read my disclosure policy.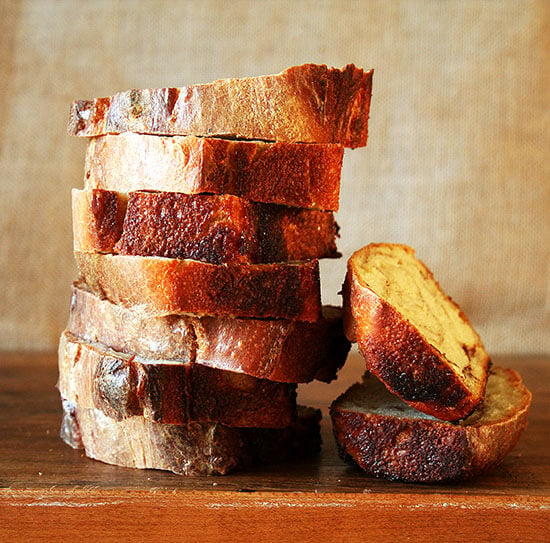 Is there anything better than homemade bread? I mean seriously. I've asked this question before. The answer is always no, there is nothing better than homemade bread. The smell and taste of this buttermilk, cinnamon-raisin bread has confirmed this assertion once again.
I mixed together this batch of dough before bed one night about five minutes after reading an email from a friend raving about the recipe from Artisan Bread in Five Minutes a Day. The following morning I baked off two loaves of bread. One, I sliced and froze. The other, I sliced and ate and ate and ate and ate. And then I tucked the remaining heel in a ziplock back and stowed it in my cabinet. And then several hours later, I opened the cabinet and the bag and ate the heel for dinner. It was a quite a day.
Anyway, thank you, Darcy, for inspiring me to venture into the "enriched breads and pastries" chapter of Artisan Bread In Five. Readers, if you still haven't taken a stab at bread making, pick up this book. Bread making has never been so easy and fun. And while you're at it, order an 8-quart Cambro and lid (odd that the two aren't sold together) for easy mixing and storing. And, if you happen to be ordering flours and other baking staples for the upcoming holidays, order a bulk bag of yeast. I store mine in a cylindrical, plastic tupperware-type vessel in the fridge.
Also, I must confess, I didn't have raisins on hand when I set out to make this bread and so should have titled this post "Cinnamon Bread," but that just sounds wrong. All I'm saying is that with or without raisins, this recipe is a winner.
Also, I am very excited to report that I won an autographed copy of Artisan Bread in Five Minutes a Day simply by leaving a comment on the blog Baking and Books. You, too, have a chance to win a cookbook every month. Stop by Baking and Books for more details.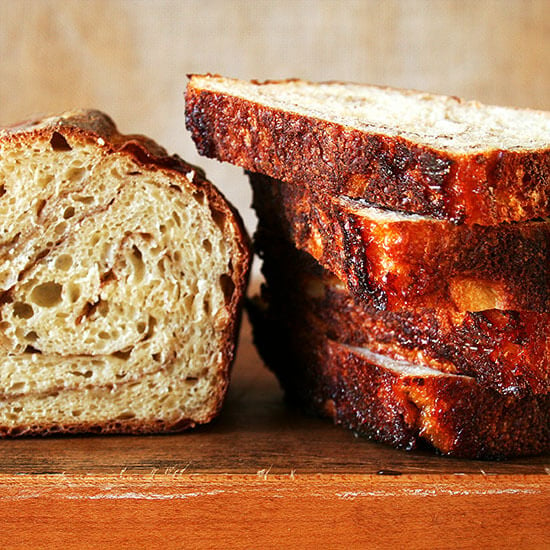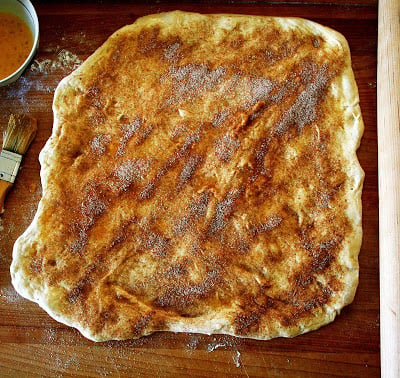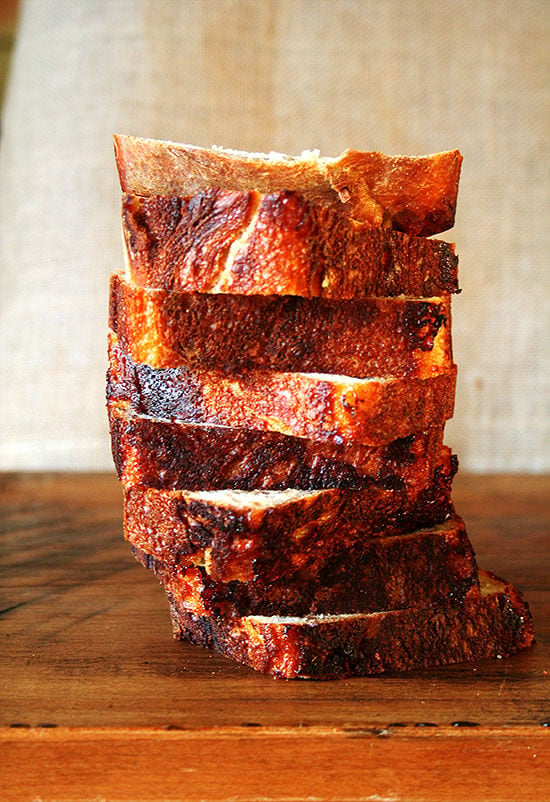 5 Secrets to Foolproof Bread Baking
See how easy bread baking can be in my free ecourse!
Print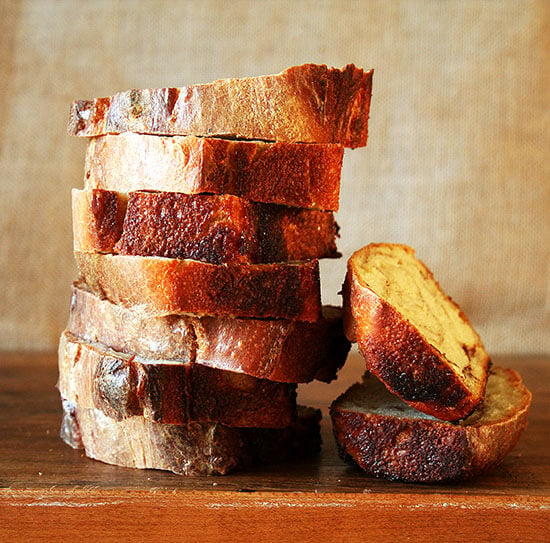 Cinnamon-Raisin Buttermilk Bread
---
Author:

Alexandra Stafford

Total Time:

4 hours 50 minutes

Yield:

3 1½-lb. loaves (these are smallish loaves) or Two loaves (which I prefer)
2 cups

(

454 g

) lukewarm water

1 cup

(

227 g

) buttermilk

1 tablespoon

(

12 g

) yeast

1½ tablespoons

(

14 g

) kosher salt

1½ tablespoons

(

16 g

) sugar

6½ cups

(

832 g

) unbleached, all-purpose flour
butter for greasing the pan

1½ tsp

. ground cinnamon (I tripled the amount of cinnamon the second time around, so make your cinnamon-sugar mix according to taste.)

1/3 cup

(

66 g

) sugar

¾ cup

raisins (if you are using them)
egg wash (1 egg beaten with 1 tablespoon water)
---
Instructions
Mixing and storing the dough: Mix the yeast, salt and sugar with the water and buttermilk in a 5-quart mixing bowl or a lidded (not airtight) food container.
Mix in the flour without kneading, using a spoon, a 14-cup capacity food processor (with dough attachment) or a heavy-duty stand mixer with dough hook. If you're not using a machine, you may have to use wet hands to incorporate the last bit of flour.
Cover (not airtight) and allow to rest at room temperature until the dough rises and collapses or flattens on top, approximately 2 hours.
The dough can be used immediately after the initial rise, though it is easier to handle when cold. Refrigerate in a lidded (not airtight) container and use over the next 7 days.
On baking day, lightly grease a 9x4x3-inch nonstick loaf pan. Set aside. Dust the surface of the refrigerated dough with flour and cut off a 1½-pound (cantaloupe-size) piece. (Note: the original recipe yields 3 loaves. I prefer dividing the total amount of dough in half and making two larger loaves as opposed to three smallish loaves.) Dust with more flour and quickly shape into a ball by stretching the surface of the dough around to the bottom on all four sides, rotating the ball a quarter-turn as you go.
With a rolling pin, roll out the dough to an 18×16-inch rectangle (or about an 11×18-inch rectangle — just wider than the loaf pan) about ¼-inch thick, dusting the board and rolling pin with flour as needed. You may need to use a metal dough scraper to loosen rolled dough from the board as you are working with it.
Using a pastry brush, cover the surface of the dough lightly with egg wash. Mix together the sugar and cinnamon and sprinkle the mixture evenly over the dough. Distribute the raisins, if using.
Starting from the short side, roll it up jelly-roll style. Pinch the edges and ends together, tucking the ends under. Place the loaf seam-side down in the prepared pan. Allow to rest 1 hour and 40 minutes (or just 40 minutes if you're using fresh, unrefrigerated dough.)
Twenty minutes before baking, preheat the oven to 375ºF. Bake for 35 to 40 minutes, or until golden brown. Remove from pan and allow to cool before slicing.
Prep Time:

30 minutes

Cook Time:

40 minutes
This post may contain affiliate links. Please read my disclosure policy.