Orecchiette with Hot Italian Sausage & Wilted Greens
This post may contain affiliate links. Please read my disclosure policy.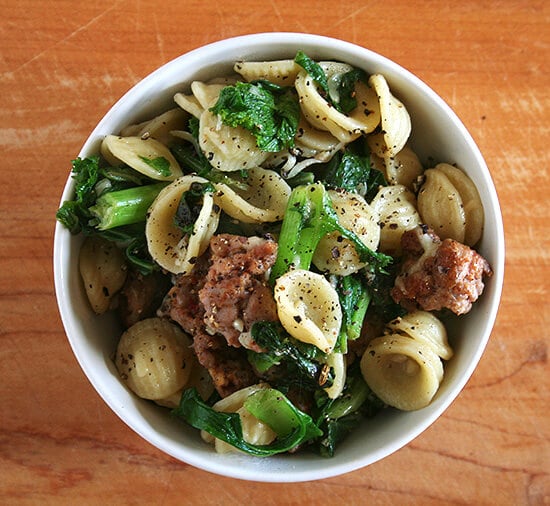 Yipee! I'm back. It has been way too long. I believe the slowness issues on my blog have been resolved. Thank you to all who let me know my blogspot blog was painfully slow to load, and thank you to all who offered thoughtful advice about how I should be saving/resizing photos. So far, the new site seems to be running smoothly. All of the posts have been imported from Blogger and all of the recipes can now be printed (in their own window without images and without all of the sidebar distractions.) Many of the links in various posts still link back to Blogger, but in time, I hope, those will be updated.
Anyway, I am excited to share with you this recipe for orecchiette with sausage and greens. The inspiration for this dish came from this Nigella Lawson recipe, which I spotted in an email blast from The Cookstr 10 regarding vegetarian dishes for everyone. I had a little trouble with the recipe the first time around — the one cup of wine and one cup of water turned my greens to mush — so I've altered the recipe a tad.
Now, as many of you know, when I make pasta, I usually begin with a pound of Delaney's Culinary Fresh delectable homemade linguini. A trip last weekend to visit my adorable nephew, however, kept me from my Sunday farmers' market, forcing me to improvise. Here, I've used orecchiette, which I adore, but I think elbow macaroni (or any pasta really) would make a nice substitute. I'm liking the little shapes these days for whatever reason.
Again, too, because I couldn't stock up on chard last weekend, I found a one pound bag of "Southern" cooking greens, a mixture of turnip, collard, spinach and mustard, at Trader Joe's. Sausage is not a must here, truly, but if you're craving a little meat, the addition of hot Italian sausage adds a nice flavor. For those of you who live in the area, Tina and Vince's homemade sausages are the best. The whole combination of pasta with greens and sausage and grated Parmigiano is so classic and so wonderful. Nothing original here, just a nice, simple, tasty dish. Yum.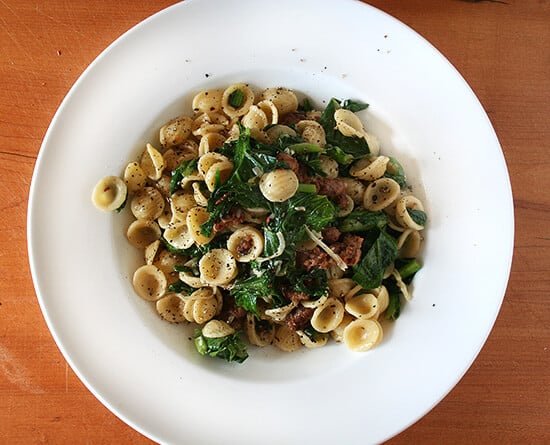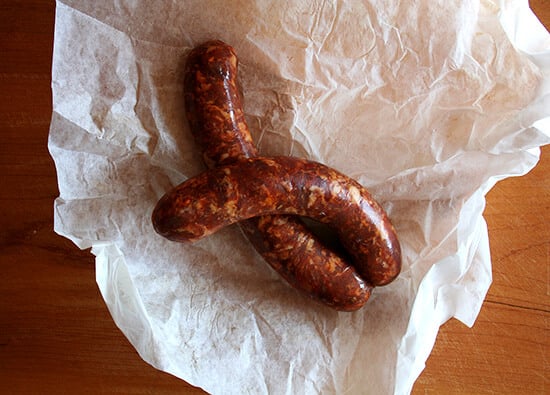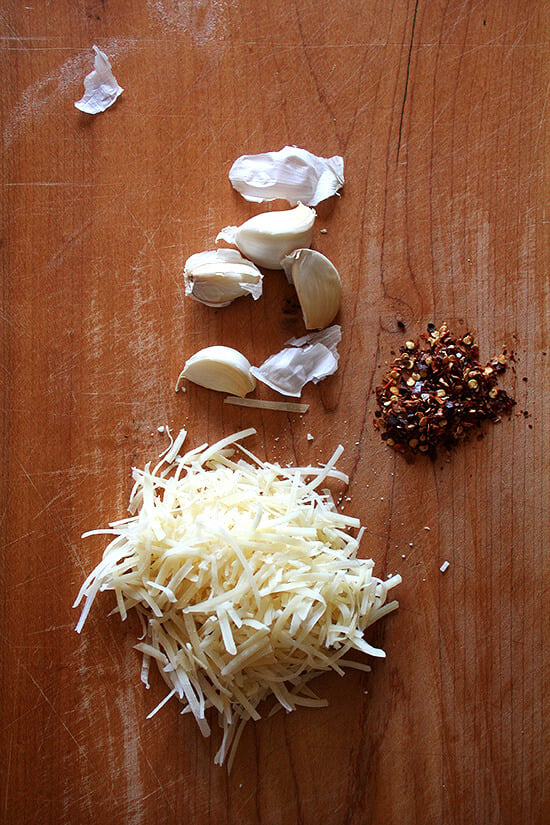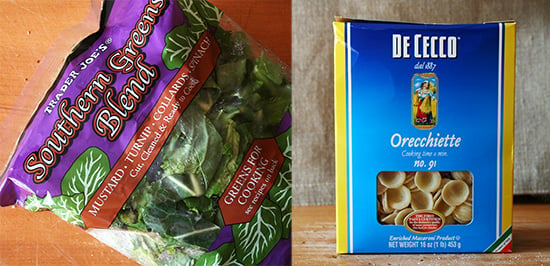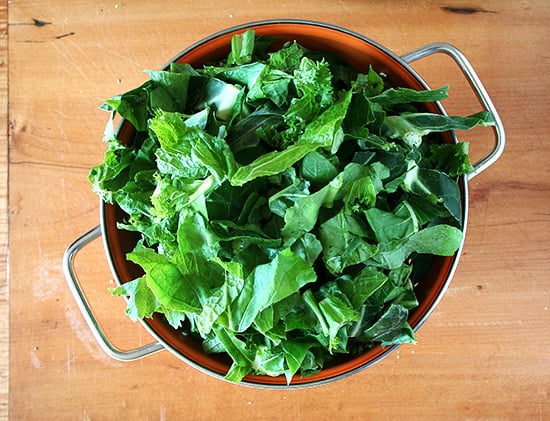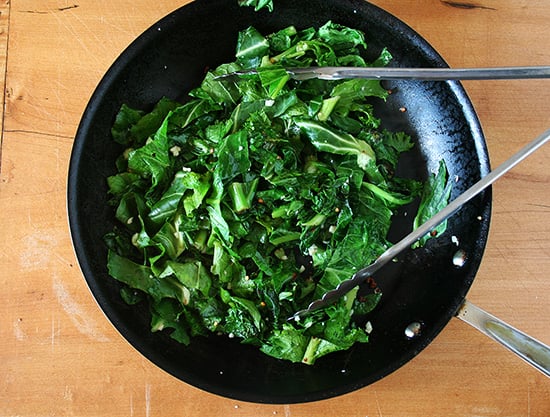 Print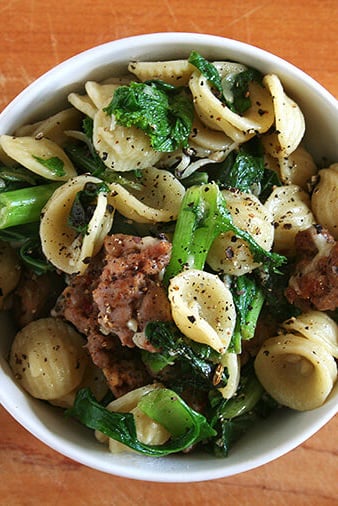 Orecchiette with Sausage and Greens
---
Total Time:

60 minutes

Yield:

4 servings
olive oil

1

lb. fresh, hot Italian sausage

1

lb. greens such as a mix of turnip, mustard, spinach, chard and collard (Trader Joe's sells a

1

lb. bag of Southern cooking greens)

3

cloves garlic minced
kosher saltcrushed red pepper flakes
crushed red pepper flakes

1

lb. orecchiette pasta

1

T. unsalted butter, room temperature is ideal

1/2 cup

. grated Parmigiano Reggiano cheese, plus more to pass
fresh cracked pepper
---
Instructions
Bring a large pot of water to a boil.
Meanwhile, squeeze sausage from its casing. Heat a small amount of olive oil in a large sauté pan over medium heat and cook the sausage until browned and cooked through. Transfer cooked sausage to a large bowl.
In the same pan, add a tablespoon of olive oil and turn heat to high. Once the oil is hot, add half of the greens. Let the greens sit for a minute undisturbed. Season with a pinch of kosher salt and crushed red pepper flakes to taste. Add half of the garlic. Begin to toss the greens around until they start wilting. Once wilted, transfer to the large bowl with the sausage. Repeat with the remaining greens. Transfer greens to large bowl. Don't wash the pan yet.
Add a pinch of salt to the pasta water. Boil the pasta for about 9 minutes. (The box says 11, but check it at 9.) Reserve a cup of the cooking liquid. Drain the pasta.
In the same sauté pan that you cooked the sausage and greens, add about half of the reserved cooking liquid and bring to a simmer. Add the tablespoon of butter and stir, scraping any browned bits from the bottom of the pan. Let simmer until reduced slightly, about a minute. Place the pasta in the large bowl with the sausage and greens. Pour this cooking liquid-butter mixture over top. Add the cheese and stir with a large spoon. Taste. Add more of the reserved cooking liquid if necessary. Place pasta in a big serving bowl.
Dish out the pasta, cracking black pepper over each serving and passing more Parmigiano Reggiano on the side.
Prep Time:

15 minutes

Cook Time:

45 minutes
This post may contain affiliate links. Please read my disclosure policy.