Zuni Cafe's Fried Eggs In Bread Crumbs
This post may contain affiliate links. Please read my disclosure policy.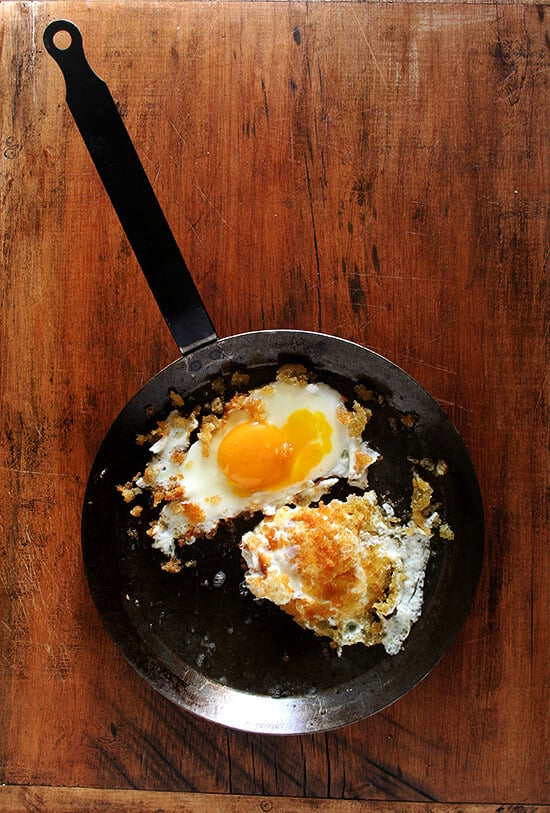 I wish I were a hen;
I wouldn't have much to do.
I'd lay an egg most every day,
And Sundays sometimes two.
— German nursery rhyme
I found this in the book I'm reading: My Fine Feathered Friend by William Grimes. Cute, right?
I've found my latest favorite way to eat eggs: fried in bread crumbs. This recipe comes from The Zuni Cafe Cookbook, which devotes a whole chapter (a very small chapter) to egg recipes. At Zuni, these eggs appear on the Sunday lunch menu accompanied by house-made sausage or bacon (sounds amazing), but Zuni's chef-owner Judy Rodgers likes these crunchy eggs for dinner with a salad of  bitter greens. I couldn't agree more: A simple salad of arugula, oranges, Parmigiano Reggiano, maybe an avocado and a couple pieces of toast couldn't make a better dinner.
These eggs are so yummy. Just after the eggs finish cooking, they get sprinkled with a little vinegar — don't omit this step — which adds the perfect amount of bite. Even I refrain from dousing these eggs with Tabasco. It would ruin them.
For you San Clemente locals, pictured below are Don's eggs, Blue Heron Farm's arugula, and Eli's Ranch oranges, all of which can be found at the Sunday San Clemente farmers' market.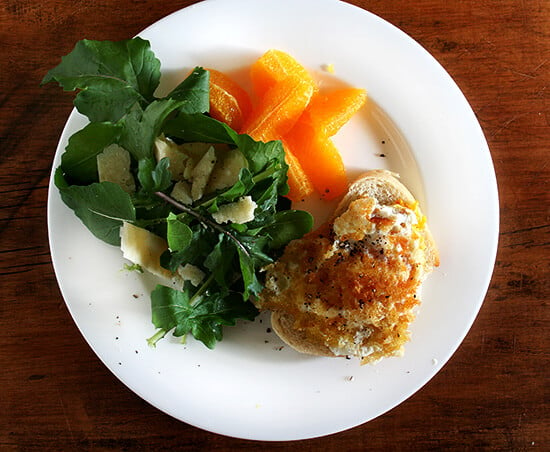 The pan. The Zuni cookbook recommends using a 6- to 8- inch French steel omelet pan. I've used my 9.5-inch carbon steel crepe pan that I bought at Fante's in Philadelphia. A nonstick pan will work just as well.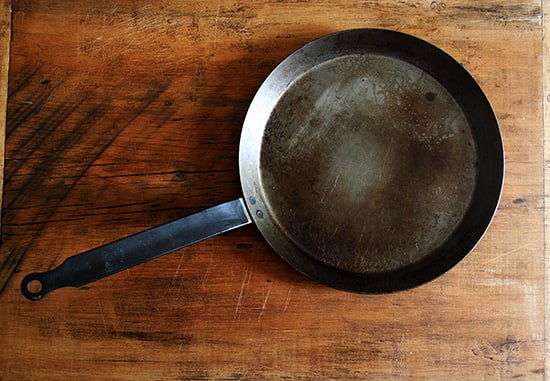 Fresh, soft bread crumbs: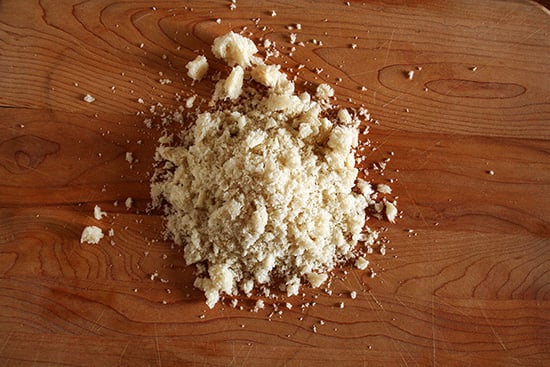 Bread crumbs "oversaturated" with olive oil, as instructed by The Zuni Cafe Cookbook: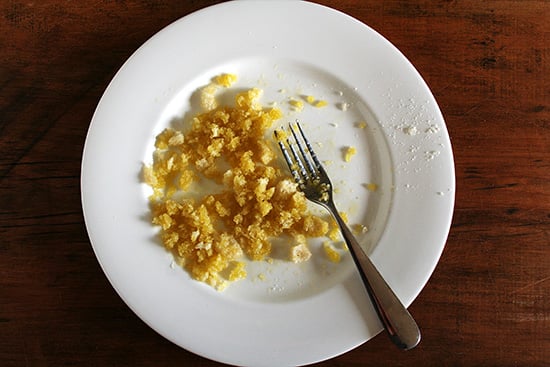 To clean your skillet, dump some kosher salt into it and place it over medium heat. Let the salt heat up and begin to change color. Turn off the heat.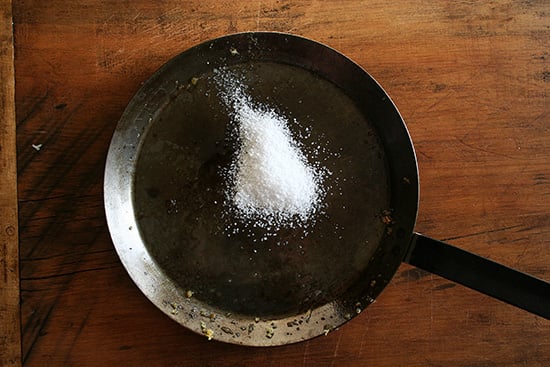 Next, take a paper towel and rub in a circular motion, scraping off all the bits of food from the bottom of the pan. Wipe out all of the contents and discard. Drizzle pan with a tiny bit of olive oil and rub the surface to coat.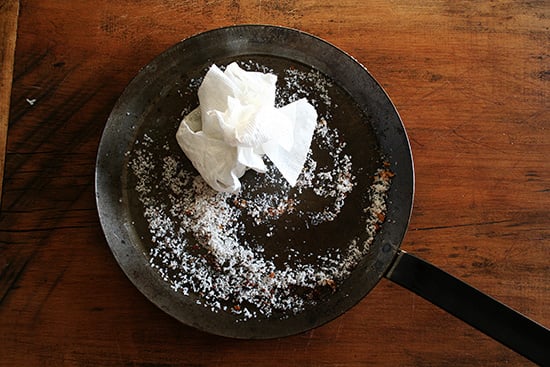 I learned to make salad dressing from Chez Panisse Vegetables. This simple recipe calls for macerating shallots in lemon juice and vinegar for about 20 minutes. Once you master this simple recipe, you can alter it as you wish — use orange juice, lime juice, or any number of vinegars in place of the lemon juice and champagne vinegar. I often add sugar to taste as well.
Print
Champagne-Shallot Vinaigrette
---
Description
Source: Chez Panisse Vegetables
---
2

small shallots, peeled and diced

2 tablespoons

champagne vinegar or white balsamic vinegar*

2 tablespoons

lemon juice*

¼ teaspoon

sugar (optional — this is not in the original recipe, but I always like a pinch of sugar)

½

teapoon kosher salt

1/3 cup

extra-virgin olive oil
freshly ground pepper
*As I noted above, you can substitute what you wish for the vinegar or citrus. You also could use only vinegar or only citrus juice. Use whatever you have on hand or whatever you like best.
---
Instructions
To make the dressing, place the shallots in a bowl with the vinegar, lemon juice, sugar and salt. Stir and let the mixture sit for 20 to 30 minutes. Slowly drizzle in the olive oil, whisking constantly to make an emulsified dressing. Set aside.
Here are some other dressings you might like:
Tarragon-Shallot Vinaigrette
Orange & White Balsamic Vinaigrette
Orange Dressing, Especially nice with Roasted Beets
Sally Schneider's Blue Cheese Dressing
Tartine's Caesar Dressing
Print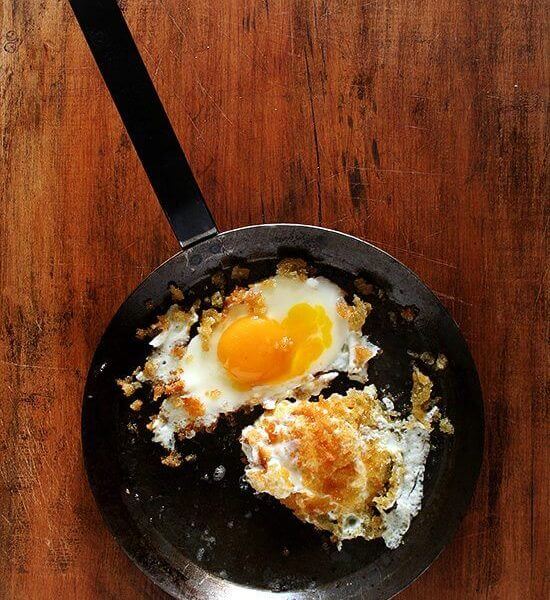 Zuni Cafe's Fried Eggs In Bread Crumbs
---
Author:

Alexandra

Total Time:

15 minutes

Yield:

1
Description
From The Zuni Café Cookbook
Notes from the cookbook:
This recipe has been written for one because these eggs are easy to make and fun to eat when you are alone. If you are making them for more than one person, use a larger pan and cook the eggs in batches of four to six. Also, If you are preparing the eggs for more than a few people, it is a little easier to toast the seasoned bread crumbs in advance in a 425ºF oven instead of in the skillet. In that case, toast them to the color of weak tea. Then scatter them in the skillet, add the remaining olive oil and proceed with the recipe.
Serve these eggs with a simple salad tossed in a citrus vinaigrette (recipe above):
---
1

hunk of white, bakery-style bread such as a peasant loaf or ciabatta or a boule (This is to make the fresh, soft bread crumbs. You only need

3 tablespoons

of crumbs, so you'll need just a portion of this loaf.)
kosher salt
about

2 tablespoons

extra-virgin olive oil
a few fresh thyme or marjoram leaves, optional

2

eggs

1 teaspoon

red wine, white balsamic, balsamic or sherry vinegar
---
Instructions
To make the bread crumbs: Carve the crusts off a loaf of white bakery-style bread such as a peasant loaf or ciabatta or boule. (Discard the crusts or add to your compost pile.) Break the tender insides of the loaf into large chunks, then grind in the food processor. Don't grind too finely or evenly.
Sprinkle the crumbs with a pinch of salt, then drizzle with enough of the oil to oversaturate them.
Place the crumbs in a 6- to 8-inch French steel omelet pan or nonstick skillet and set over medium heat. (If you like your fried eggs over easy, reserve some of the oiled raw crumbs to spinkle on top of the eggs just before you flip them.) Let the crumbs warm through, then swirl the pan as they begin drying out — which will make a quiet staticky sound. Stir once or twice.
The moment you see the crumbs begin to color, quickly add the remaining oil (or a dab of butter) and the herbs if using, then crack the eggs directly onto the crumbs. Cook the eggs as you like. (So far, I've made them two ways: without flipping them, but by finishing them in a heated oven so the tops cooked through a tiny bit; and flipping them, but cooking the eggs only briefly on the second side — the yolks were still runny.)
Slide eggs onto a warm plate ( … right), then add the vinegar to the hot pan. Swirl the pan once, then pour the drops of sizzling vinegar over the eggs.
Prep Time:

10 minutes

Cook Time:

5 minutes
This post may contain affiliate links. Please read my disclosure policy.