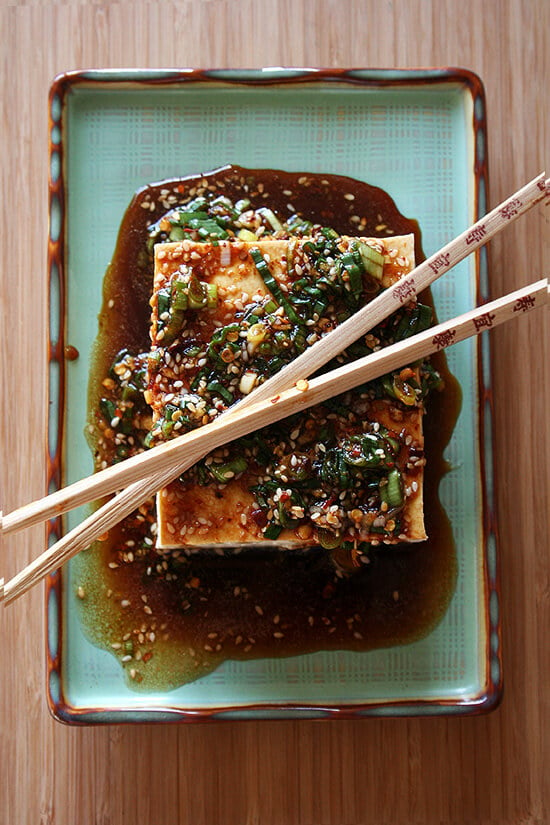 Waywaywaywaywaiiit. Stop. Seriously. I know what you're doing. I can see you. I can't. But I know what you're doing. You're turning your nose. The thought of tofu for dinner, you're thinking, is unacceptable.
I was there once, too. But in the past few months, I have been experimenting with tofu, trying to truly grow to like it. So when I read Ruth Reichl's description of this warm tofu with spicy dipping sauce — "a beautiful dish, which takes ten minutes, costs very little, and is so utterly delicious" —  in this month's Gourmet, I had to try it.
This is by far the easiest easiest easiest (my friends who hate to cook are you listening?) method of preparing tofu I have encountered. The recipe calls for simmering the tofu in water, making a sauce and pouring the sauce over the tofu. And it is delicious. Truly. I think you will be pleased.
PS: Though this rectangular plate is quite pretty, I think bowls are a more appropriate serving dish.
Making the sauce: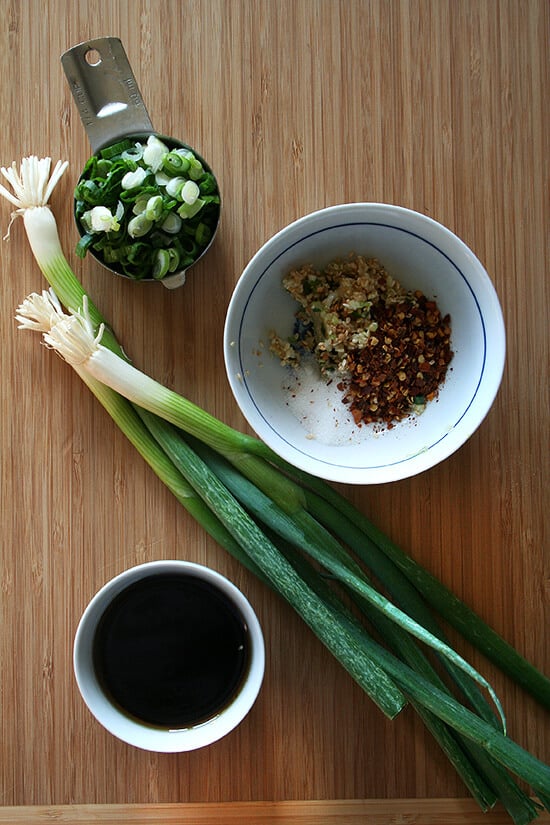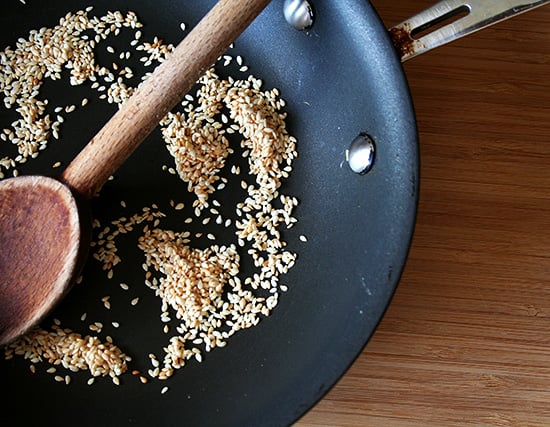 On the side? Way back in the day, I worked at a catering company in Philadelphia. At nearly every party I worked, 'peking duck rolls' served straight from a bamboo steamer were passed with a soy dipping sauce … everyone raved. Of course, I went to Chinatown immediately following the first party I worked to purchase one of these three-tiered bamboo steamers. I must admit, I have hardly used it since, but it is a great gadget to have on hand even so. It steamed my edamame tonight in under five minutes. If you have one, place it right into a wok filled with just enough water to reach below the first tier. Bring the water to a boil and then place edamame pods into one of the tiers. Cover and steam until done. Sprinkle with a nice sea salt according to taste.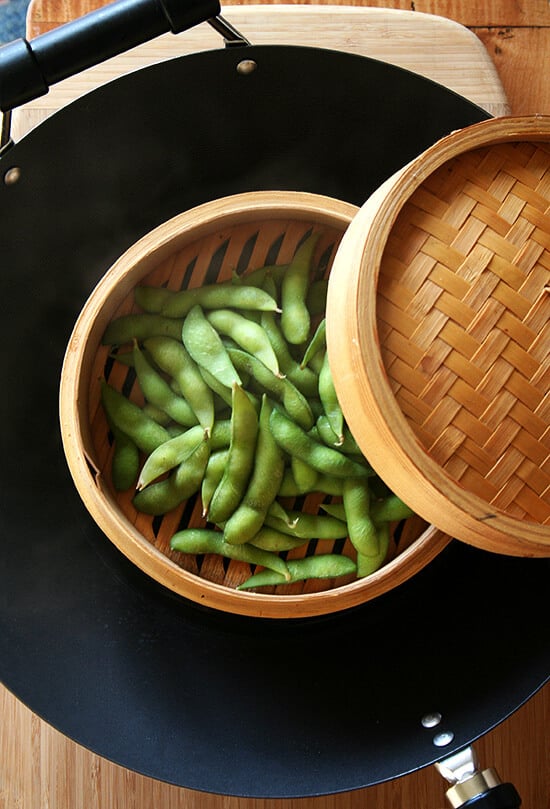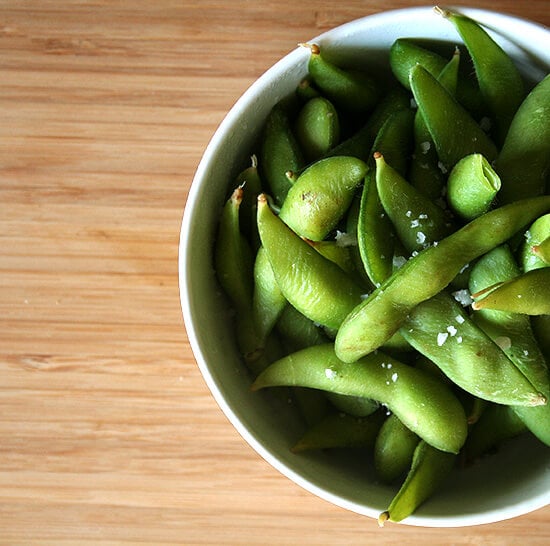 What to drink? What to drink? My day started with soju and has ended with soju. Soju's "neutral flavor," according to Gourmet, makes it a great mixer and "a favored alcoholic beverage in Korea." I can't really tell you how it tastes, only that it tasted very nice in the bloody Mary I had this morning at The Ramos House Cafe and continues to please in the beverage I am drinking now — a grapefruit soju cocktail. If you can't find soju, any vodka will make a fine substitute.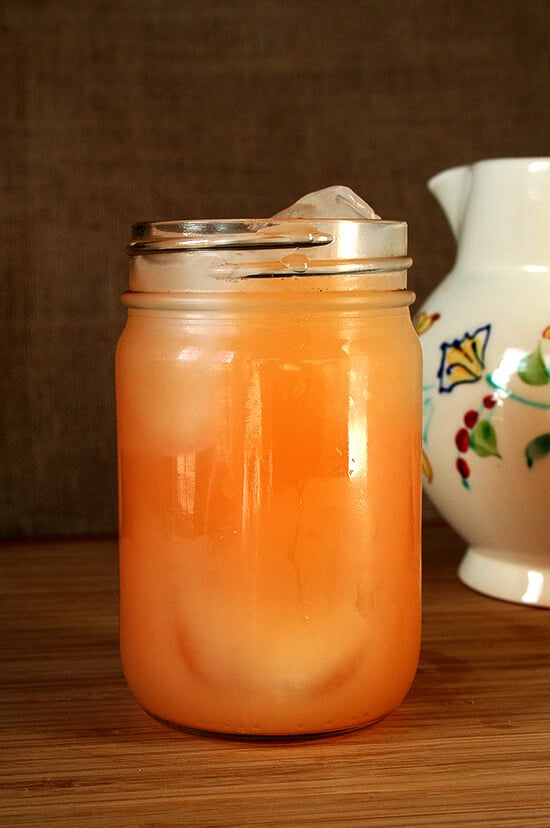 Print
Tofu, Edamame & Soju
---
Author:

Alexandra

Prep Time:

10 minutes

Cook Time:

15 minutes

Total Time:

25 minutes

Yield:

2
Description
Adapted from Gourmet Sauce can be made 1 day ahead and chilled. Bring to room temperature before using. Consider doubling it. Tofu can be kept warm up to 4 hours.
---
Ingredients
1

(14- to 18-oz) package firm tofu

1 teaspoon

chopped garlic

¼ cup

chopped scallion

2 teaspoon

s sesame seeds, toasted and crushed with side of a heavy knife (I mince the seeds with some garlic and scallions, which helped keep the seeds from flying off the cutting board.)

3 tablespoon

s soy sauce

1 tablespoon

Asian sesame oil

1 teaspoon

coarse Korean hot red-pepper flakes (crushed red pepper flakes)

1/2 teaspoon

sugar
---
Instructions
Rinse tofu, then cover with cold water in a medium saucepan. Bring to a simmer over medium-high heat, then keep warm, covered, over very low heat.
Meanwhile, mince and mash garlic to a paste with a pinch of salt. Stir together with remaining ingredients.
Just before serving, carefully lift tofu from saucepan with a large spatula and drain on paper towels. Gently pat dry, then transfer to a small plate. Spoon some sauce over tofu and serve warm. Serve remaining sauce on the side.
---
---
Print
Grapefruit Soju Cocktails
---
Prep Time:

5 minutes

Total Time:

5 minutes

Yield:

10 drinks (according to Gourmet), 5 drinks (according to Ali)
---
Ingredients
1 tablespoon

superfine sugar

1 quart

(

4 cup

s) fresh-squeezed (or not) grapefruit juice

1 cup

soju (sometimes called sochu), sake or vodka, chilled
Club soda or seltzer water chilled
---
Instructions
Stir the sugar and 1/8 teaspoon salt into the juice and stir to dissolve. Stir in soju and add sugar to taste.
Pour into ice-filled glasses and top with a splash of club soda.
---
Notes
Gourmet's note: Grapefruit mixture without soju can be made four hours ahead and chilled. Add soju to mixture just before serving.