The Best Bloody Mary, Breakfast at Ramos House
This post may contain affiliate links. Please read my disclosure policy.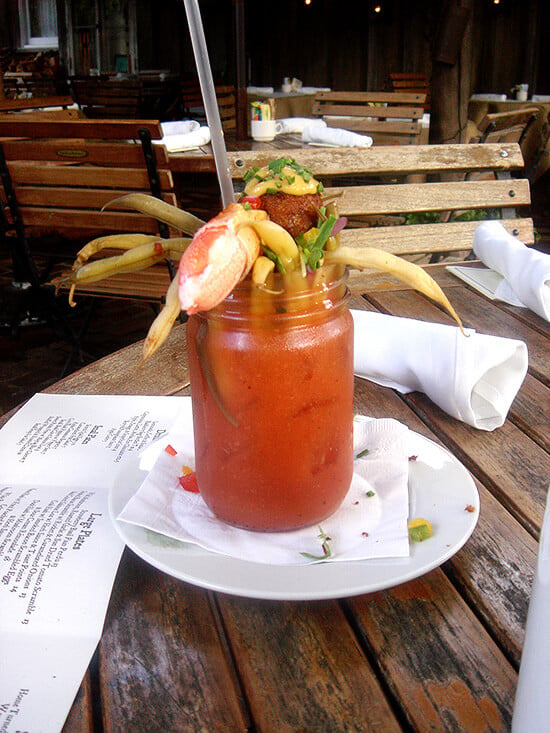 I'm not really the Bloody Mary type. And had my friend not encouraged me so, I wouldn't have ordered one. But I do as I'm told, generally, and I began my breakfast at The Ramos House Cafe with a Bloody Mary — a bloody Mary teeming with pickled green beans, sprinkled with shredded basil and chives, and topped with a scotch quail egg.
What, might you ask, is a scotch quail egg? It's a soft-boiled quail egg, wrapped in ham, breaded and deep fried. And, well, it's delicious. Had I ordered nothing else that morning, I would have been completely content.
That said, I have no regrets about moving forward with the apple cinnamon beignets, the buttermilk biscuits with homemade apple jam, and the wild mushroom scramble with crispy sweet potato shavings.
I've been to Ramos House now several times and can't say enough about it. For one, it's hands down one of the most charming restaurants I've ever stepped foot in. I could spend hours in the bathroom alone. Truly. Go. You'll understand.
But even if Ramos House wasn't rooted in an idyllic garden, flanked by lemon trees and gurgling fountains, stationed next to a railway leading to, perhaps, Hogwarts School of Witchcraft and Wizardry, the food would make up for any lack of ambience.
This place is worth a trip across the country. Seriously. All of you East Coasters who have yet to come visit me in sunny California, here's some more fodder. It has been a little over a year now since I moved, and I am finally feeling settled. Meaning, I have finally found some food outlets that rival, in their own way, Ding Ho noodles, Fisher's soft pretzles, and Melograno's mushroom pappardelle.
My most recent visitors shared my enthusiasm for Ramos House. And, before leaving the OC last week, they managed to so kindly buy me a copy of the Ramos House Cafe cookbook. Words cannot describe my excitement. While I haven't tested the recipe below, I have a feeling it's a winner.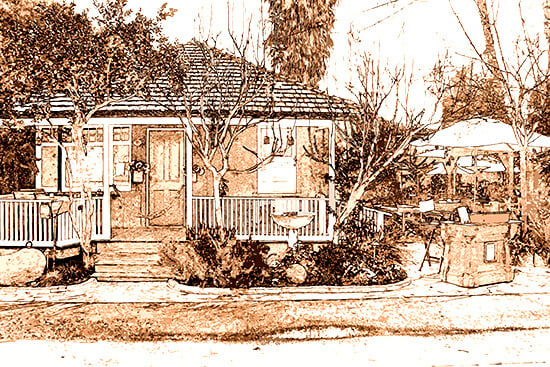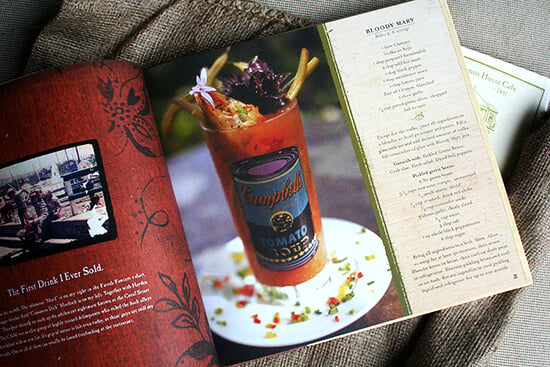 Print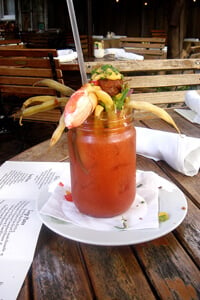 Ramos House Bloody Mary
---
Description
Source: The Ramos House Cafe cookbook
Please use the recipe below as a guide. I can't find good clamato juice, so I use tomato purée or "strained tomatoes" (680 ml) mixed with water (320 ml). I also add more of everything to taste: way more fresh lemon juice (probably 3 tablespoons at least), and more Worcestershire, horseradish, and hot sauce to taste.
For a tall glass, I add about 2 shots of vodka (3 ounces roughly) over ice, then pour the bloody Mary mix over top. Crack more pepper over top and garnish with the pickled green beans. I use this recipe to pickle the green beans.
---
1

liter clamato, see notes above

1

T. prepared horseradish

2

T. hot sauce

1

T. black pepper

1

T. Worcestershire sauce

1

T. lemon juice
zest of

1

lemon

1

clove garlic

¼ cup

pitted green olives, chopped
salt to taste
Vodka or Soju
---
Instructions
Place all ingredients except for the vodka in a blender or food processor and puree. Fill a glass with ice and add desired amount of vodka. Fill remainder of glass with Bloody Mary mix.
Garnish with Pickled Green Beans (recipe below), crab claw, herb salad and diced bell peppers.
---
Print
2

lbs. green beans

5½ cups

rice wine vinegar, unseasoned

½

small onion, sliced

¼ cup

crushed, dried red chiles

1/8 cup

coriander seeds

5

cloves garlic, thinly sliced

¾ cup

water

4

T. salt

1 oz

. whole black peppercorns

6

T. sugar
---
Instructions
Bring all ingredients except for the green beans to a boil. Skim. Allow mixture to steep for at least 30 minutes, then strain.
Bring to a boil, blanch beans in brine (add to water for about 15 seconds, then remove), then cool on sheet trays in the refrigerator.
Strain pickling brine again. Cool. Return vegetables to cool in pickling liquid. Refrigerate for up to one month.
Prep Time:

5 minutes

Cook Time:

10 minutes
---
Print
10

quail eggs

½

pound bulk sausage, raw

2

eggs, beaten
flour for dredging
bread crumbs for dredging
---
Instructions
Place quail eggs in a pot, cover with water and bring to a boil for 1 minute. Drain off hot water and cover with ice to stop the cooking process.
When cool, peel the shells off the eggs. Flatten sausage into 10 pieces. The pieces should be big enough to encase the egg, but not too thick.
Roll the eggs in flour then wrap the eggs with the flattened sausage. Bread the wrapped eggs by rolling them in flour, dipping them in raw beaten eggs and rolling in the bread crumbs.
Deep fry in 350ºF oil for approximately 4 minutes.
Prep Time:

15 minutes

Cook Time:

10 minutes
Serve with:
Print
1 cup

Coleman's dry mustard

1 cup

sugar

1 cup

tarragon vinegar

3

large eggs
---
Instructions
Whisk together all ingredients in a stainless steel mixing bowl. Set bowl on top of a pot of simmering water. Stirring constantly, cook mustard sauce until it thickens. Strain through a fine mesh sieve and chill immediately. Murdock's magic mustard will keep in the refrigerator for up to one month.
Prep Time:

5 minutes

Cook Time:

15 minutes
This post may contain affiliate links. Please read my disclosure policy.