Alice Waters's Baked Goat Cheese Salad
This post may contain affiliate links. Please read my disclosure policy.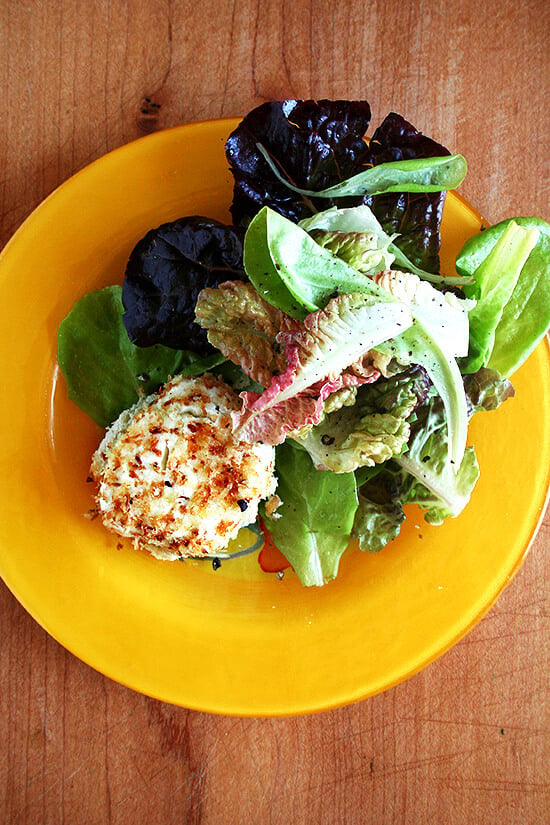 It's hard to find fault in a warm round of herb-marinated, breadcrumb-encrusted goat cheese. But, if you can believe it, the goat cheese was not the star of this salad. See those greens up there? The tender green leaves and the baby red romaine? I cannot tell you how delicious they are. They come from Morning Song Farm, the north San Diego County farm whose CSA I just joined.
I have been meaning to join a CSA since arriving in California over a year ago now, and when I learned that the new wine and cheese bar in town was a drop off spot for CSAs, I jumped. I signed up on a Monday via email and two days later my box of freshly harvested produce arrived at The Cellar.
Before I knew it, the above-pictured greens were in my hands along with a boodle of other treats — lemons, avocados, grapefruits, Swiss Chard, beets, strawberries, herbs and the list goes on and on. (You can see almost everything that arrived in weeks one and two in the pictures below.)
Most of you know what a CSA is, but just in case, there is a quick summary about halfway down the page here. And if you still haven't signed up for one, check out LocalHarvest.org. With 2,500 participating farms listed in their database, Local Harvest has the most comprehensive directory of CSAs in the country.
When I saw these greens, I thought of Alice Waters's recipe for baked goat cheese salad, which Cookstr recently highlighted in their Mother's Day newsletter. It's a wonderful recipe. I followed it mostly, substituting toasted panko bread crumbs for the freshly made ones, a shortcut I'm sure Alice Waters would look down on, but alas, it worked.
Anyway, hooray!, it's Wednesday, which means it's CSA pickup day. I hate to be sentimental, but one of the best parts about belonging to a CSA is actually belonging. I so look forward to walking up to The Cellar every Wednesday and saying hi to Dawn and Zoe, who have become my west coast incarnations of Sarah Cain, Emily Teel, and Joanna Pernick, my friends at the Fair Food Farmstand whom I dearly miss. It is so much fun peaking inside the box each week, inspecting the goods, and sharing a strawberry or a few strands of the most fragrant and delectable mint you have ever seen. Seriously, it is a real joy.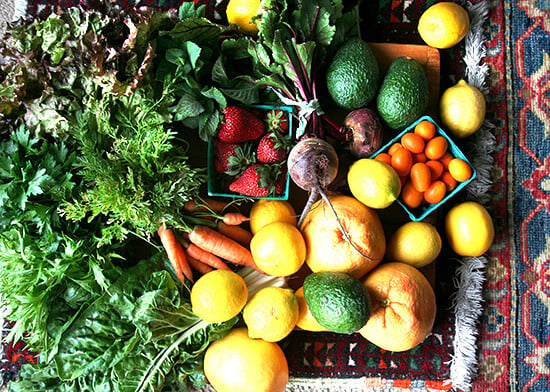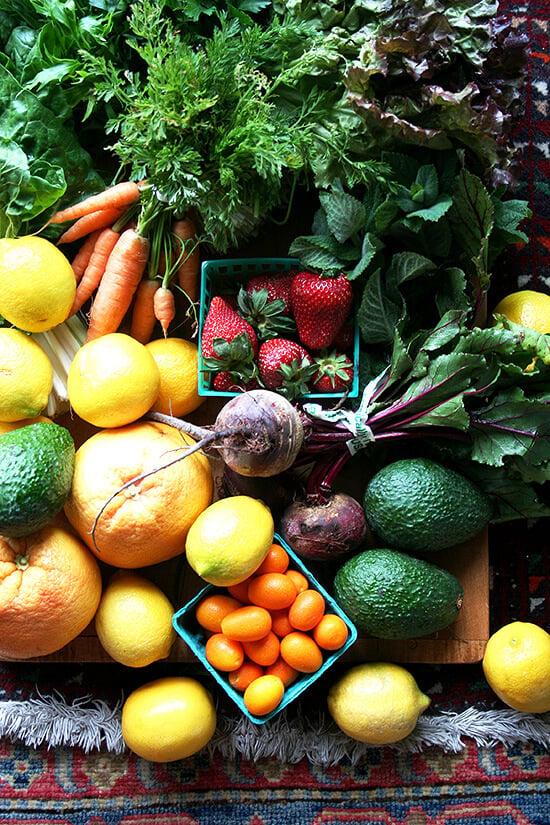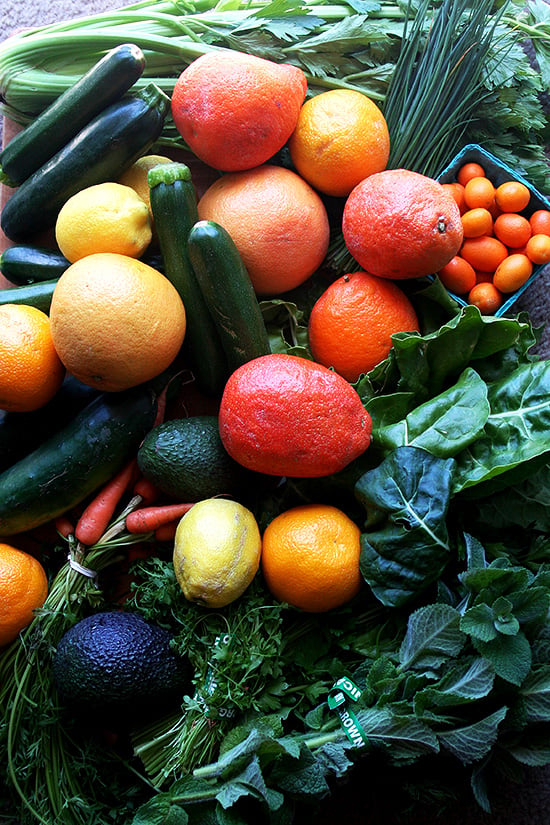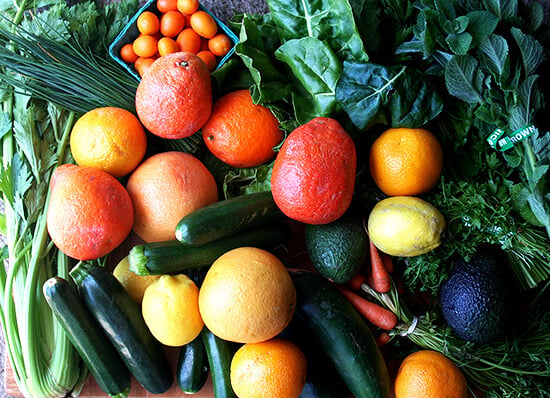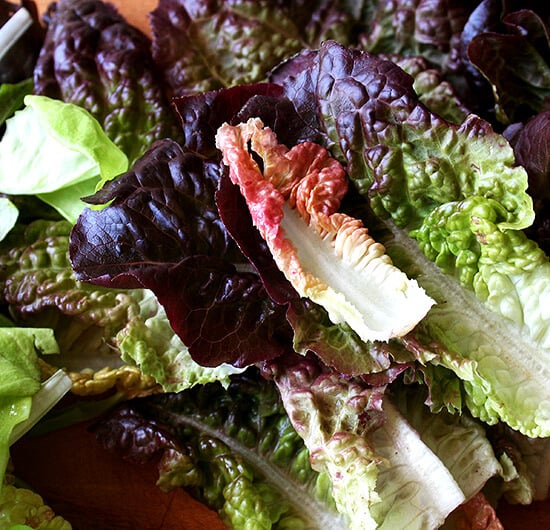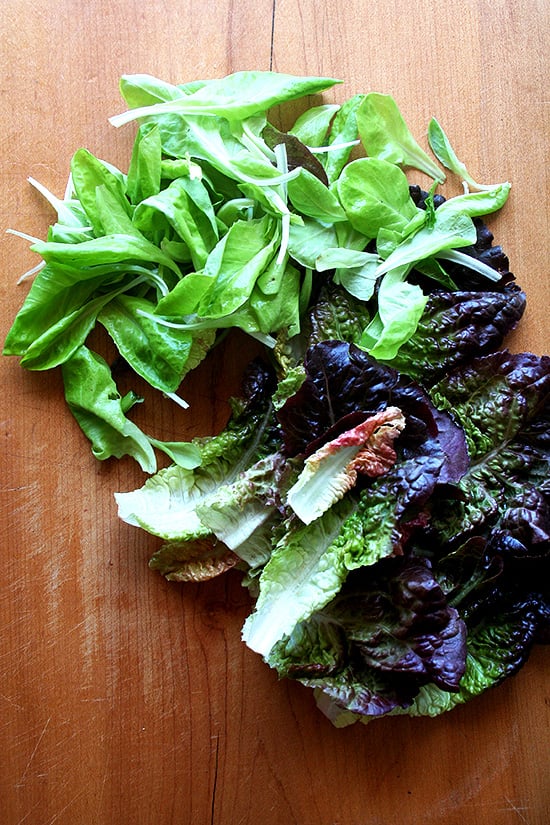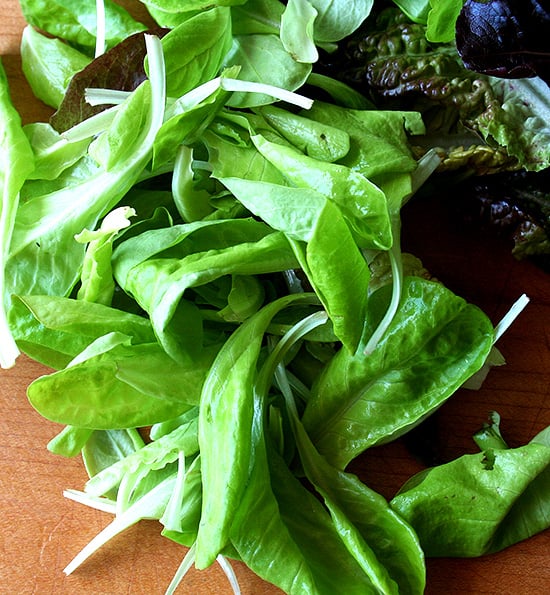 Print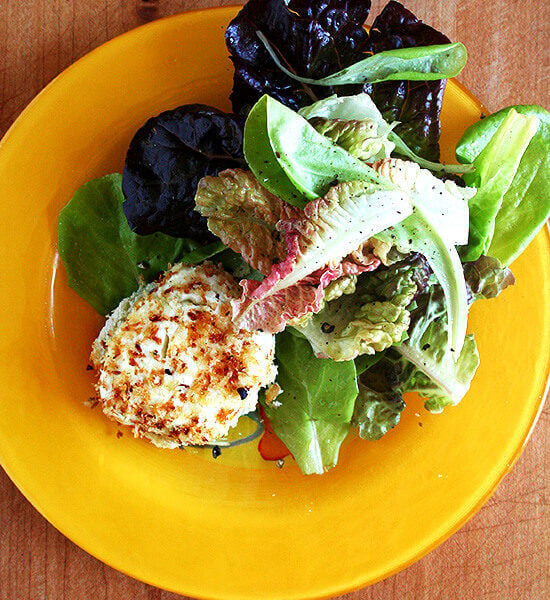 Baked Goat Cheese Salad
---
---
For the goat cheese rounds:
½

pound fresh goat cheese (

one

2

by 5-inch log)

1 cup

extra virgin olive oil

3

to

4

sprigs fresh thyme, chopped

1

small sprig rosemary, chopped

½

sour baguette, preferably a day old (I used panko bread crumbs)
salad greens, however many you need
For the dressing:
Finely dice a shallot or two. Place in a bowl and cover with the juice of one orange. Add 1 tablespoon white balsamic vinegar. Season with a pinch of kosher salt and a pinch of sugar. Let macerate for 15 minutes, if you have the time, or less, if you don't. Whisk in about 1/3 cup extra-virgin olive oil. It's ok if the dressing is not totally emulsified. Just give it a stir when you're ready to use it and make sure to scoop out some of those delicious shallots over your greens when you're ready to toss them.
---
Instructions
Carefully slice the goat cheese into 8 disks about ½ inch thick. Pour the olive oil over the disks and sprinkle with the chopped herbs. Cover and store in a cool place for several hours or up to a week.
Preheat the oven to 300°F. Cut the baguette in half lengthwise and dry out in the oven for 20 minutes or so, until dry and lightly colored. Grate into fine crumbs on a box grater or in a food processor. The crumbs can be made in advance and stored until needed. (Note: Using panko makes this process much simpler)
Preheat the oven to 400°F. (Note: Cookstr says a toaster oven works well.) Remove the cheese disks from the marinade and roll them in the bread crumbs, coating them thoroughly. Place the cheeses on a small baking sheet and bake for about 6 minutes, until the cheese is warm.
Toss the lettuces lightly with the vinaigrette and arrange on salad plates. With a metal spatula, carefully place 2 disks of the baked cheese on each plate and serve.
Prep Time:

20 minutes

Cook Time:

30 minutes
This post may contain affiliate links. Please read my disclosure policy.