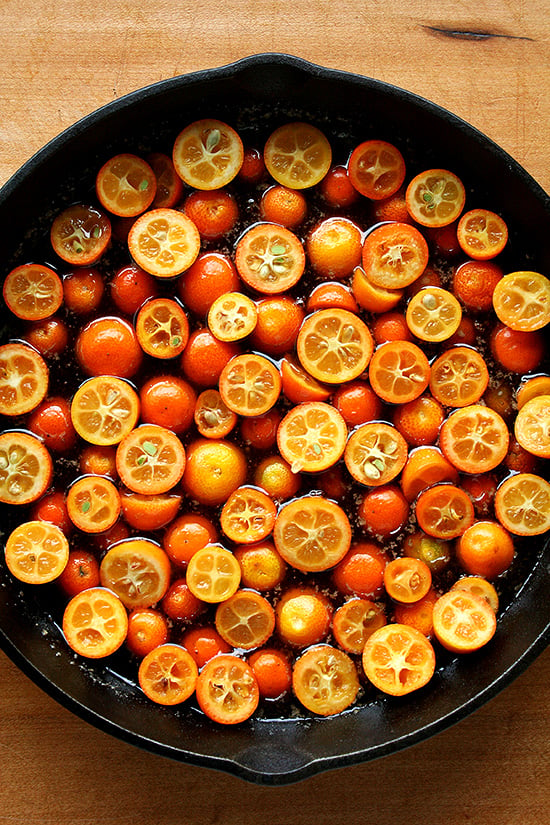 What do you do with two pounds of kumquats? Why you make a kumquat upside-down cake, Silly. What else would you do.
No, seriously, what else would you do? I have been getting them every week in my CSA (which has been awesome), but had it not been for the lovely Huebscher, who pointed me to this recipe, those kumquats would still be sitting in my fridge. I mean seriously, there's only so much no-face* you can play with these tart little gems, though I have found them more bearable in the past few weeks. I have nothing scientific to back this up, but it seems the bigger the kumquat, the sweeter. Can anyone support this theory?
Fortunately, kumquats keep well in the fridge and do make a fabulous upside-down cake. That said, I wouldn't mind exploring some other uses. My mother and I were thinking they might make a nice addition to a braised dish or a Moroccan tagine or something of the sort.
So, I have never done this, but I am feeling creative (— just bought a mat cutter … so much fun — ) and would like to propose a challenge which will result in a gift for one of you. What I would like from you are recipes/ideas featuring kumquats. Whoever supplies the best idea will receive a framed picture, perhaps one of these.
As I suspected, another little baggy of kumquats arrived in my CSA today. I will stash them away until I hear back from you.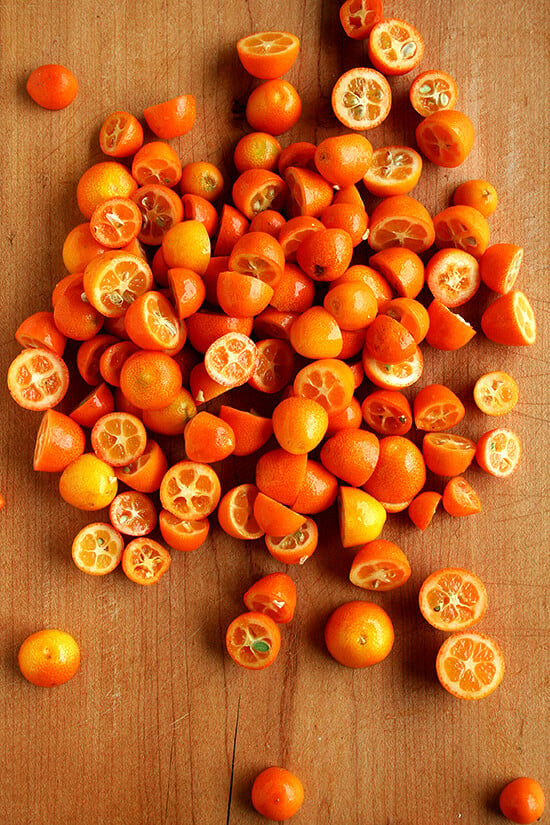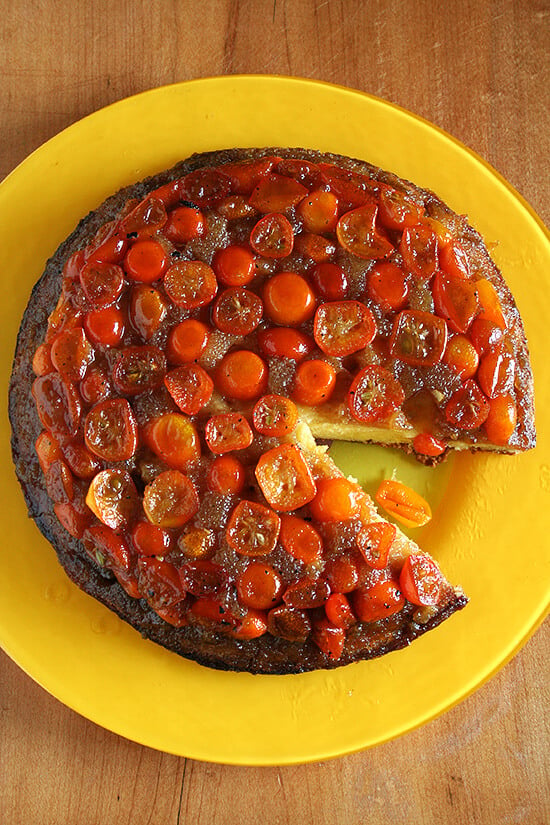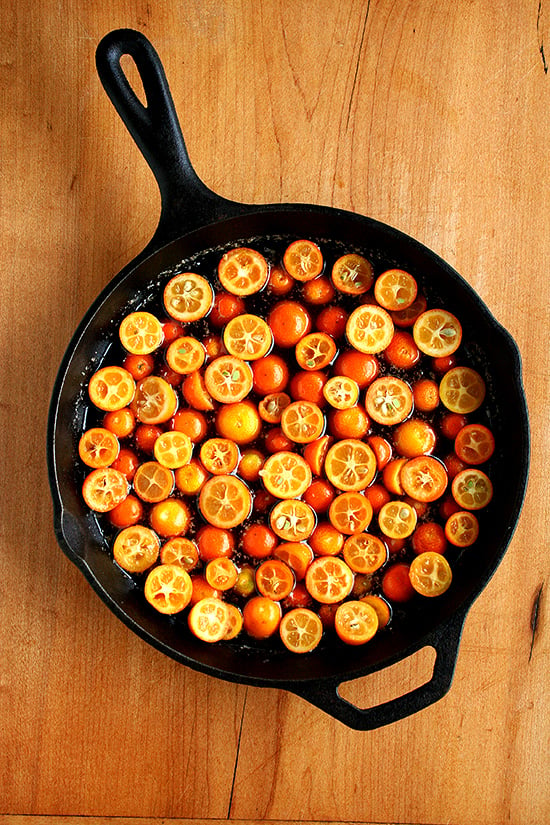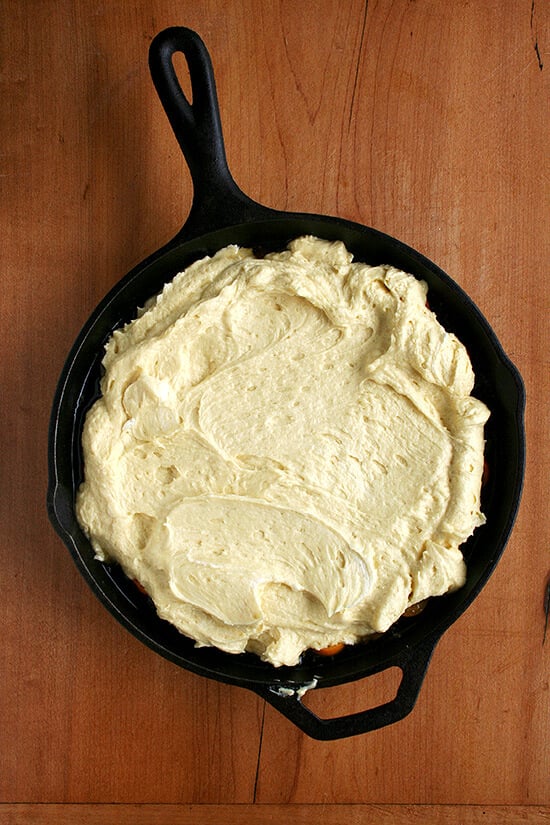 Print
Kumquat Upside Down Cake
---
Prep Time:

15 minutes

Cook Time:

1 hours 5 minutes

Total Time:

1 hours 50 minutes

Yield:

8 servings
Description
Source: Beauty Everyday
---
Ingredients
1½

lbs. kumquats, halved

1

stick (4 oz | 113g) unsalted butter

¾ cup

light brown sugar

3

T. honey

½ tsp

. vanilla

½ tsp

. salt
1 1/3 cup

flour

1½ tsp

. baking powder

¾ tsp

. salt

1 cup

(

8 oz

| 226g) unsalted butter, softened (if using salted use less salt)

1 1/3 cup

sugar

5

eggs, room temperature

1 tsp

. vanilla
---
Instructions
Preheat the oven to 325ºF.
Melt butter in a large cast iron pan over medium heat. Be careful not to burn the butter. Add brown sugar and stir until mixed. Remove from heat. Add vanilla, honey and salt, and stir to combine.
Add the fruit to caramel mixture — fit as much as you can inside. (WARNING: I used about 1½ lbs. of kumquats, and squeezed them all in. About half-way through baking, the syrup bubbled up and spilled out onto my oven floor. Smoke was everywhere. So, you can either place the kumquats in just one layer, or you could take your chances and maybe place a cookie sheet on the rack below the pan to catch any over flow.)Make the batter:
Put softened butter and sugar in a large bowl and beat until fluffy. Add eggs one at a time, beating on high. Add vanilla.
In a separate bowl, sift together dry ingredients. Add to wet ingredients and mix on low speed until combined.
Carefully spoon or pour batter over kumquats, taking caution not to disturb the fruit. Carefully smooth the batter.
Place cake in oven on the middle rack. Bake for about 1 hour, checking after 45 minutes. Test the cake with a toothpick, making sure it is cooked in the middle. Take a butter knife and loosen edges along the pan. Put cake on a wire rack and let it cool for about 30 minutes.
Put a large platter face down over cast iron pan and flip.
---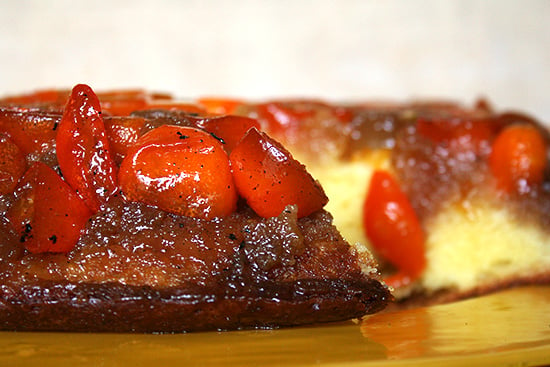 *No-face:  Invented circa 2001 by a Canadian hockey player, no-face is a game that requires participants to take shots of particularly offensive high-octane combinations. Whoever makes no face, wins. Kate Ling, if I recall correctly, is reigning champion.