Tartine's Quiche, Homemade Crème Fraîche & A Little Trip to Napa & Bouchon
This post may contain affiliate links. Please read my disclosure policy.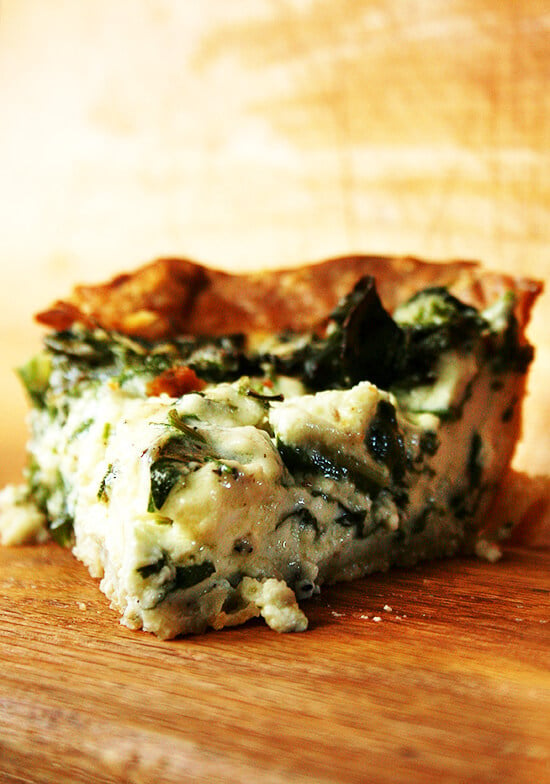 The weekend would begin with quiche. That was a given. My friend would pick me up at the San Francisco airport and before beginning our journey north, we would stop for breakfast. For quiche, that is. I have been dreaming about the Tartine quiche for over a year now, since my last and only other visit to this most adored San Francisco cafe.
The much anticipated weekend arrived, and I found myself at Tartine with two dear friends standing in a line stretching around the corner. As we waited, we contemplated our order, which quickly became apparent would be a feast. None of us was prepared to make a difficult decision this morning, so we decided to keep things simple — we would order everything. Or nearly everything: Quiche. Croque monsieur. Morning Bun. Scone. Croissant. Almond Croissant. Bread Pudding.
The quiche with ham and Swiss chard, my friends confirmed, lived up to every expectation I had created for them. The bread pudding with fresh peaches, too, and the croque monsieur with heirloom tomatoes and Gruyère similarly blew us away. It's rare for a restaurant to offer an across-the-board spread of so many delectables, but it seems that's just how Tartine rolls.
So, what separates Tartine's quiche from others? Well, I have a few ideas, thanks to the Tartine cookbook, which so generously has provided a dead-on recipe. Seriously. I followed the recipe to a T and recreated, what I believe, is the most delicious quiche on the planet.
1. The custard ingredients/ratio. I suspect this is the primary reason why Tartine's quiche is so fabulous. Tartine uses a ratio of 1 cup crème fraîche to 1 cup whole milk to 5 eggs. The mixing method is also interesting — one egg is whisked with 3 T. of flour until smooth. Then the remaining eggs are whisked in. Then the egg mixture is strained over the crème fraîche-milk mixture. Sound fussy? Well, it sort of is. But it's so worth it. I wouldn't recommend straying from the recipe or taking any shortcuts in any way.
When I made this at home, I, for the first time ever, made my own crème fraîche, which was so much fun — it's crazy to see heavy cream transform into a thick, tangy mass of goodness. Making crème fraîche is easy: Mix 2 tablespoons of buttermilk (or 2 tablespoons of yogurt) with 2 cups of heavy cream. Cover the bowl with plastic wrap and let sit at room temperature for 12 to 24 hours. Stir and then store until ready to use.
2. The flaky tart shell is delectable. There is nothing unusual about the Tartine recipe — flour, salt, ice water and lots of cold butter. Blindbaking the shell for about 30 minutes ensures a crisp, perfectly browned crust.
3. Tartine uses uncooked greens. For whatever reason, I have been in the habit of quickly sauteéing any type of green before adding it to a quiche, but Tartine recommends otherwise. The recipe calls for 1 cup of uncooked roughly chopped greens. This is the only step where I strayed a tad — I added more like 2-3 cups of roughly chopped Swiss chard.
The Tartine quiche has completely changed my perception of this classic dish. The texture of the Tartine quiche, which has not an ounce of cheese, is truly a beautiful thing. Prior to tasting Tartine's, quiche for me was all about the fillers — onions, bacon, cheese, zucchini, tomatoes, mushrooms, whatever. Now, it's about the custard, the light, creamy, custard.
I must admit that making this quiche is no simple task. That said, if you have the tart dough made in advance (which I do now since the tart dough recipe yields enough for two 10-inch quiches) and if you have the crème fraîche made in advance (or are using store bought), making this quiche isn't such a process. It's also just a matter of getting familiar with the process.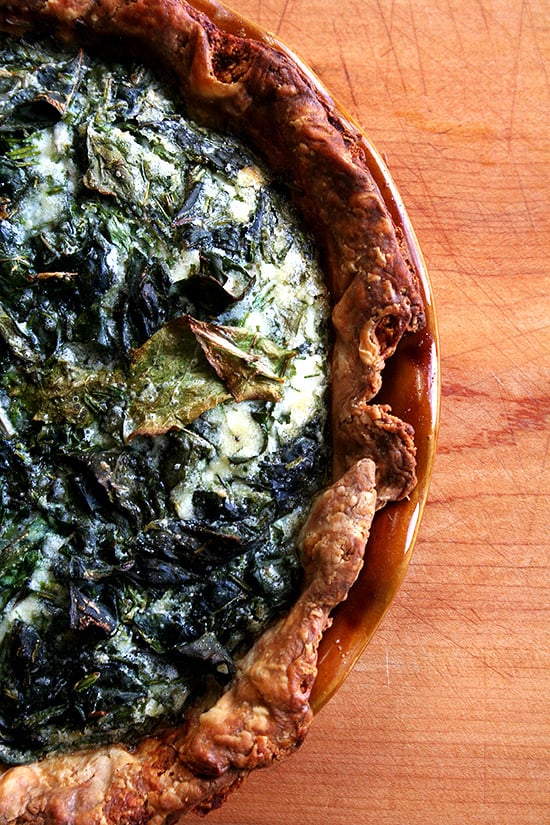 Clockwise from top left: Quiche shell, lined with parchment paper, ready to be blind-baked. Filled quiche shell ready for the oven. Baked quiche. Baked quiche up close.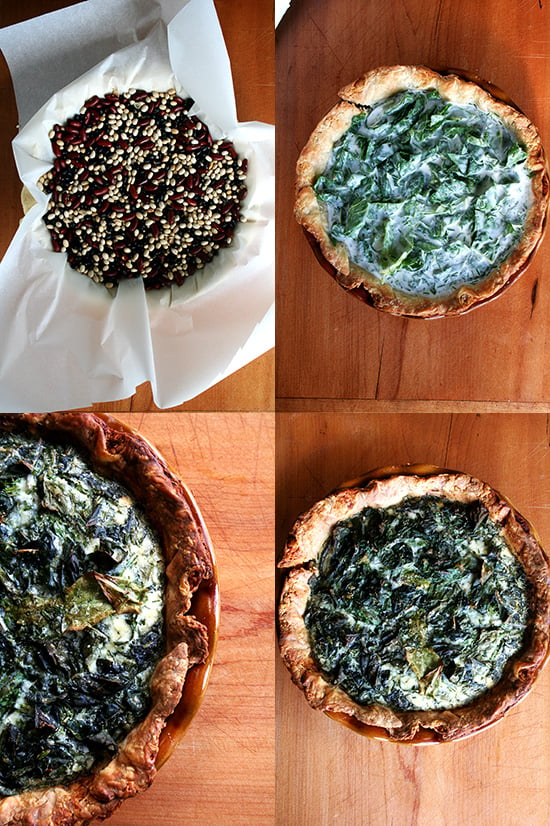 Next on my recipes to tackle in the Tartine cookbook is bread pudding made with homemade brioche bread. Before we head there, however, I just want to share a few highlights of my trip to Napa:
Wine tasting at Cakebread Cellars in Napa Valley. Grapes at Cakebread: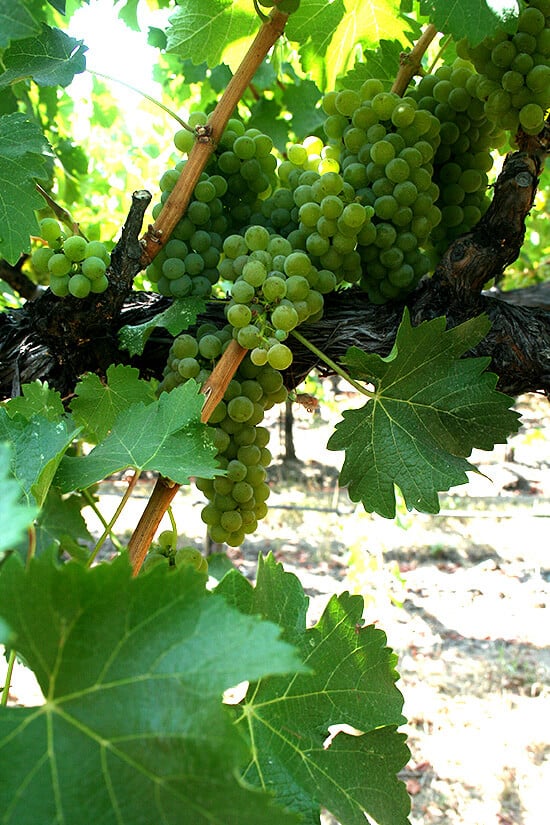 Wine tasting at Hendry's Winery in Napa. The tasting table at Hendry's: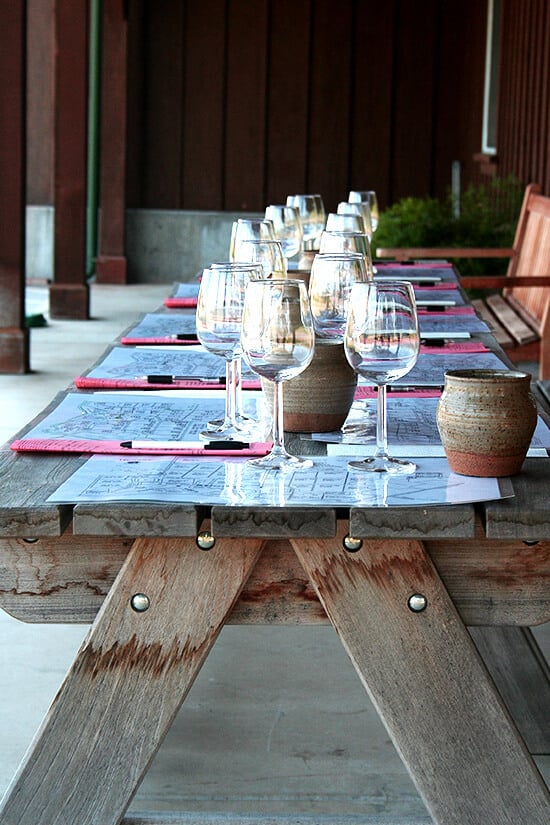 Eating macaroons at Bouchon in Yountville. Incredibly delicious.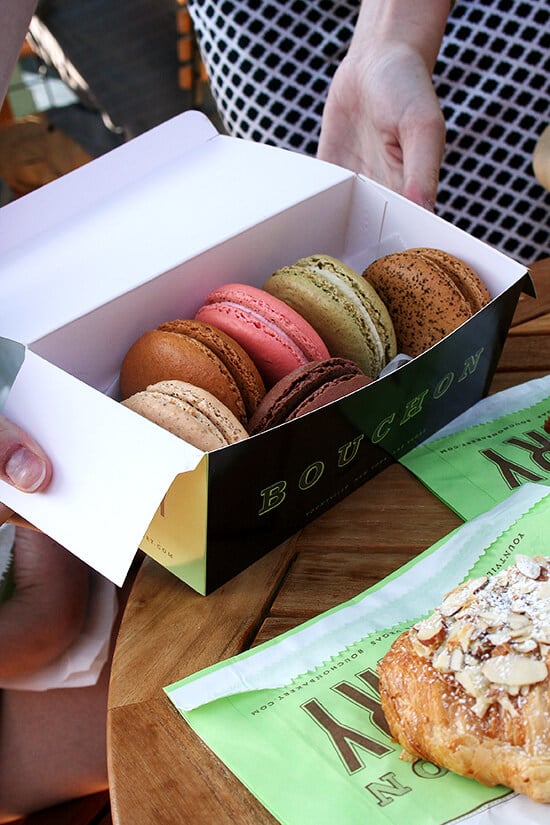 Visiting Bouchon altogher. Here we sampled TKOs (Thomas Keller Oreos…amazing), chocolate bouchons, macaroons, croissants, almond croissants, ham and cheese sandwiches, epi baguettes and quiche. The spread, pictured at the very bottom, was remarkable.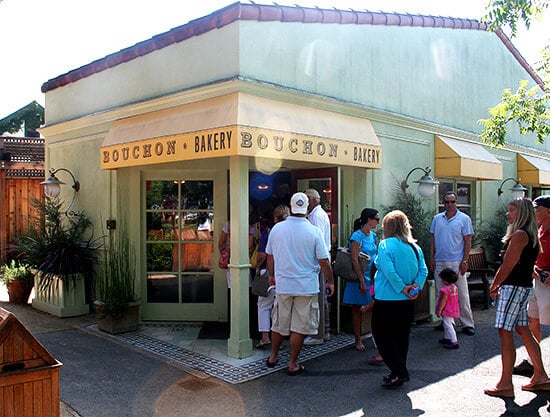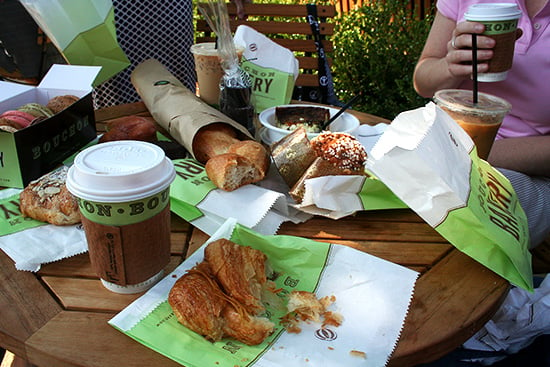 Print
Quiche with Crème Fraîche and Swiss Chard
---
Total Time:

3 hours 30 minutes

Yield:

6-8 servings
Description
Source: Tartine (Chronicle Books, 2006)
---
Flaky Tart Dough
Yield = 2 10-inch tart or pie shells
1 tsp

. salt (I used table salt)

2/3 cup

ice water

3 cups

+ 2 T. all-purpose flour (

1

lb.)

1 cup

+

5

T. unsalted butter, very cold
Quiche with Swiss Chard and Crème Fraîche
1

fully baked 10-inch Flaky Tart Shell Dough

5

large eggs

3

T. all-purpose flour

1 cup

crème fraîche*

1 cup

whole milk

1 tsp

. kosher salt

½ tsp

. freshly ground black pepper

1

T. fresh thyme, finely chopped (I didn't have thyme so I used chives)

1 cup

uncooked coarsely chopped Swiss Chard (I used more like 2 or

3 cups

)
* To make crème fraîche, place 2 cups heavy cream in bowl. Add 2 tablespoons of yogurt or 2 tablespoons of buttermilk. Stir to combine. Cover bowl with plastic wrap and let sit at room temperature for 12 to 24 hours. Stir. Mixture will be nice and thick. Store in the fridge until ready to use. Note: Try to use good heavy cream and not ultra-pasteurized if possible — I used to have no trouble making crème fraîche, but recently I have found that it takes an especially long time for the cream to thicken. If you find that after 12 hours the cream does not look thick at all, add a few more tablespoons of buttermilk or yogurt to the mixture.
---
Instructions
For the dough:
In a small bowl, add the salt to the water and stir to dissolve. Keep cold until ready to use.
Place the flour in a large mixing bowl. Cut the butter into 1-inch (or smaller) pieces and scatter the pieces over the flour. Using a pastry blender or two knives or two forks, cut the butter into the flour until the mixture forms large clumps and the butter is in pieces the size of small peas. Drizzle the water-salt mixture over the flour and stir and toss with a fork until the dough comes together in a shaggy mass. Gently mix until the dough comes together into a ball but is not completely smooth.
On a lightly floured work surface, divide the dough into 2 equal balls and shape each ball into a disk 1-inch thick. Wrap well in plastic wrap and chill for at least 2 hours or up to overnight.
Preheat the oven to 375ºF.
Place dough on a lightly floured surface and roll out to 1/8-inch thick, rolling from the center toward the edge in all directions. (Lift and rotate the dough a quarter turn every few strokes to prevent sticking, and work quickly to prevent the dough from becoming warm.) Transfer the round to the pie dish, easing it into the corners. Trim excess dough.
Cut a piece of parchment paper large enough to fit over the pie plate generously. Fill parchment paper with pie weights or dried beans. Bake for about 25 minutes or until the surface looks light brown. Remove from oven and remove the weights and paper. Return the shell to the oven and bake until golden brown, about 5 minutes longer. Cool shell on wire rack until ready to fill.
For the quiche:
Preheat the oven to 375ºF.
Place 1 egg and the flour in a large bowl and whisk until smooth. Whisk in the remaining 4 eggs until blended.
In a medium bowl, whisk the crème fraîche until smooth. Whisk in the milk. Pour the egg mixture through a fine mesh sieve held over the milk mixture. Whisk in the salt, pepper and thyme (or other herb). Stir in the chard.
Pour the egg mixture into the pastry shell. Place in the oven and bake for 10 minutes. Reduce the oven temperature to 325ºF and bake until the filling is just set, about 30 minutes longer. The center of the quiche should still feel slightly firm, rather than liquidy, when touched. Let cool on a wire rack for at least 20 minutes to allow the custard to set up, so that it will slice neatly. It can be served warm or at room temperature. To serve a fully cooled quiche warm, cover it with aluminum foil and reheat it in a 325ºF for about 15 minutes.
Prep Time:

20 minutes

Cook Time:

1 hours 10 minutes
This post may contain affiliate links. Please read my disclosure policy.