In Honor of Top Chef: Padma's Salad with Rancho Gordo Beans & Bäco Flatbreads
This post may contain affiliate links. Please read my disclosure policy.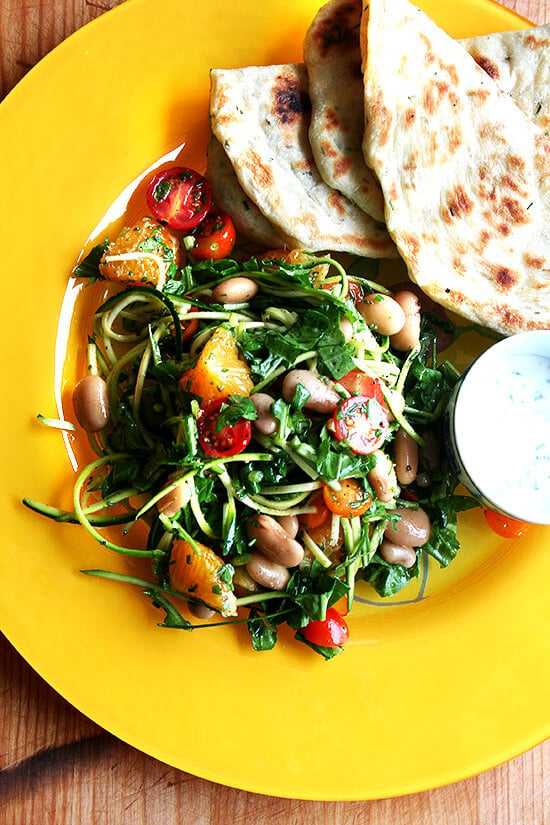 Early last Wednesday morning, before the premier of Top Chef Las Vegas, Padma Lakshmi made a delectable looking salad on the Today Show with Matt Lauer. She chopped up fresh spinach, mixed it with chickpeas, bell peppers and chives, and tossed it all together with olive oil and lemon juice. Served with fresh pita bread, says Padma, this "chickpea tapas" makes a wonderful whole meal.
I couldn't agree more. Upon seeing this segment, I felt inspired to cook up some of the Ranch Gordo beans I had picked up in San Francisco earlier this month. I have been wanting to incorporate more beans — such a healthy, affordable food, filled with protein — into my diet, and this salad has proven to be a great way to do so. I made this salad two nights in a row last week with my Alubia Criollo beans and various other goodies from my CSA — arugula, cherry tomatoes, chives, shaved zucchini and chopped orange.
Beans, I am learning, are really not so much trouble to make from scratch. I soaked mine in the morning and cooked them according to the instructions on the Rancho Gordo website. I'm not a bean connoisseur, but I like RG's description of these small white beans: Alubios have a "rich, buttery flavor and creamy, over-the-moon texture."
I ate my salad with these Bäco flatbreads, the recipe for which I spotted in the LA Times in June 2008 and have had tacked to my fridge ever since. Bäco flatbreads, made with Greek yogurt seasoned with ginger, garlic and lime juice, are similar to the pita breads used for gyros — the pocketless pita breads. They are delicious! The recipe yields more yogurt sauce than needed, but the sauce makes a nice accompaniment to both the flatbreads and the salad. A nice little combination eaten taco style is a bäco flatbread, spread with some yogurt sauce and topped with some salad. So yummy!
Note: I omitted the lavendar and added some chives.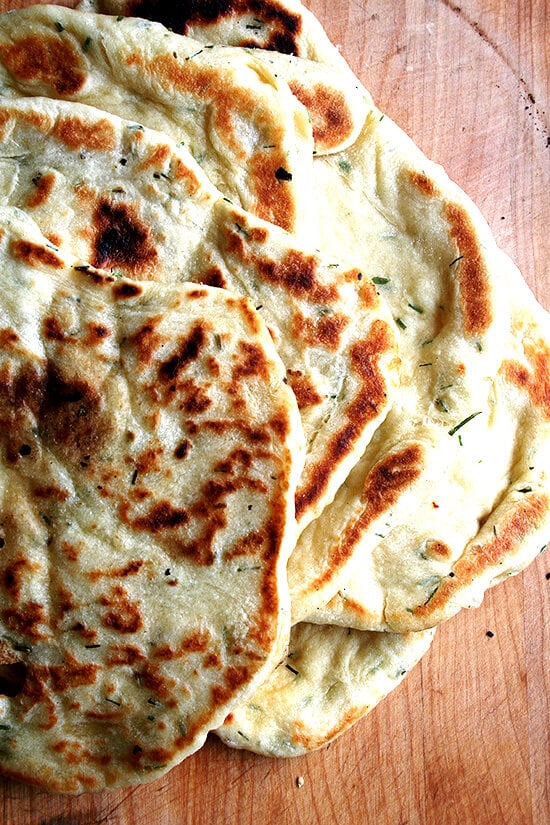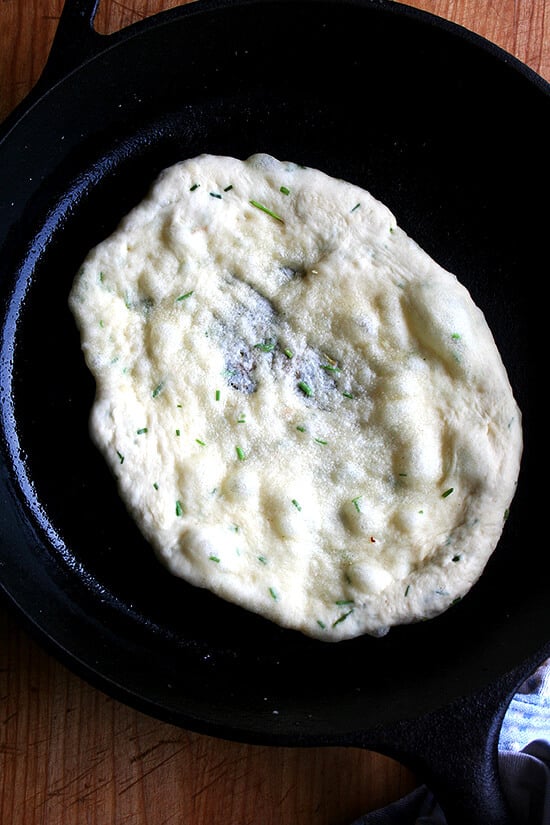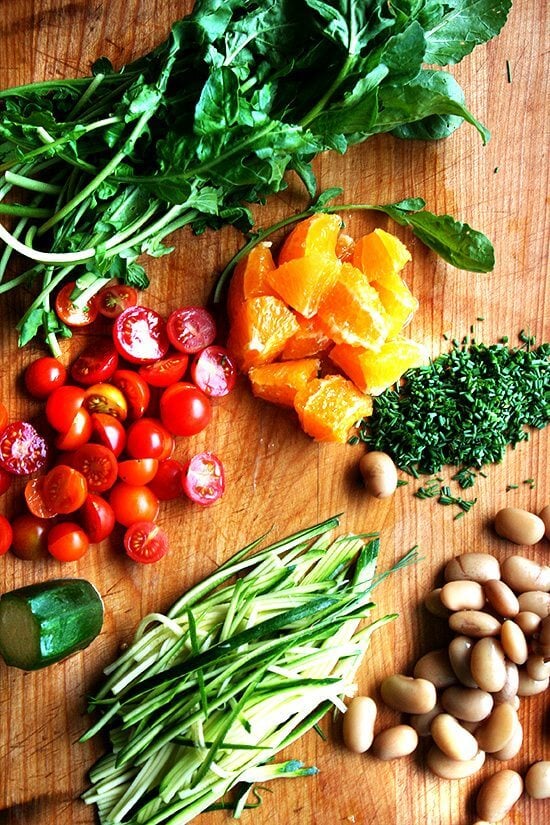 Here is Padma's basic recipe. Please note, however, that Padma prefers making this with raw spinach or arugula — I used raw, chopped arugula — as opposed to cooked, which is what her recipe says to do. Also, any vegetables — tomatoes, zucchini, corn, mushrooms, etc. — can be added to this salad. A nice variety of vegetables makes for a nice variety of flavors and textures. I also used a little balsamic vinegar in addition to the fresh lemon juice.
Here is the Bäco Flatbreads recipe. I added some chives to the yogurt mixture and served some of the remaining yogurt sauce with the flatbread and the salad — this is such a yummy meal!
This post may contain affiliate links. Please read my disclosure policy.