Brioche Bread Pudding & Caramel Sauce
This post may contain affiliate links. Please read my disclosure policy.
Using brioche bread, this bread pudding is perfectly sweet, custardy, and delicious. It's topped with seasonal fresh fruit and homemade caramel sauce, a combination that creates an exceptionally tasty bread pudding.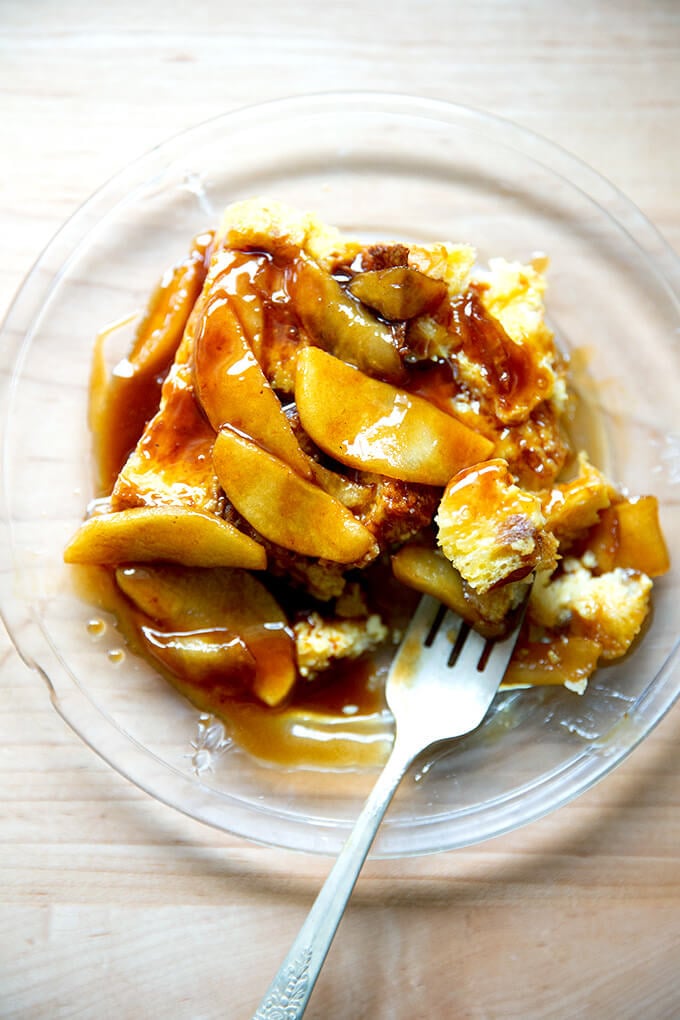 I never expected to receive a return phone call.
I had been agonizing over how I was going to make the bread pudding, wavering between baking it with fruit or without? Did Tartine really not add any fruit to the bread pudding while it baked? Their cookbook says without, but my memory told me bits of warm peaches had dotted the pudding throughout.
I needed affirmation before proceeding, and so I called Tartine. I left a message explaining I had read the preface to the brioche bread pudding recipe in their cookbook, which notes that they serve their bread pudding with seasonal fruit lightly sautéed in butter and heated in a caramel sauce. Was this accurate? I asked. Or did Tartine sometimes bake the fruit right in with the custard and brioche?
I left my number, hung up the phone, accepting I would likely have to make the decision on my own.
Not so. Later that day, I turned on my phone to find a message from Suzanne, a lovely Tartine employee. She confirmed exactly what the cookbook says: Tartine indeed bakes the bread pudding without any fruit in it.
They do in fact warm a seasonal fruit of choice — peaches, berries, apples, pears — in a caramel sauce, the recipe for which I have included below. Moreover, she noted, when they remove the pans of bread pudding from the oven, they poke holes in it to let steam out and to create space, and then they pour the warm fruit in caramel sauce over top. Brilliant!
Thank you, Suzanne.
PS: Easy, No-Knead Brioche Loaf Recipe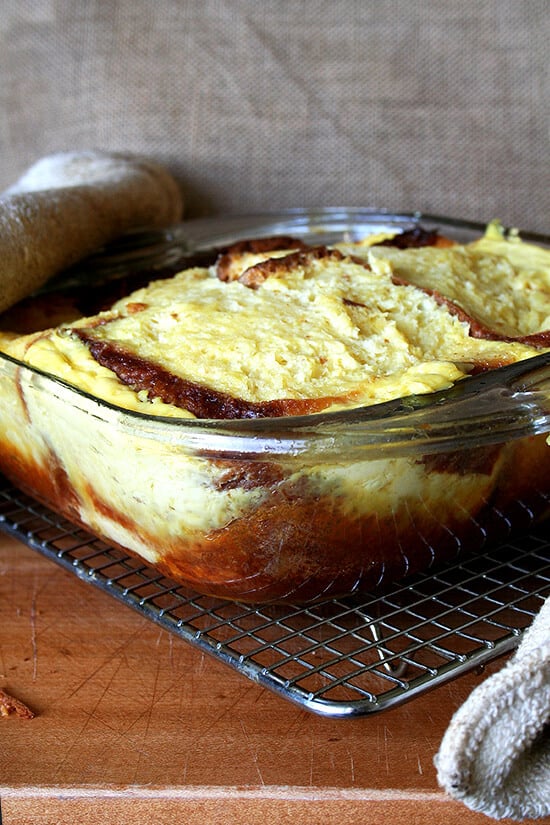 Two Tips for Excellent Bread Pudding Every Time
Weigh the bread. It is shocking how much custard bread will soak up, and if you use too much bread, the bread pudding will be, well, too bready! The key to producing a moist, custardy bread pudding is to not crowd the pan with bread. If you weigh it, you ensure you are using the appropriate amount.
Use egg yolks only (as opposed to whole eggs). This is not something Tartine does, but something I find makes an especially beautifully textured and tasty custard. Think: crème brulée meets bread pudding.
How to Make Brioche Bread Pudding
First, gather your ingredients: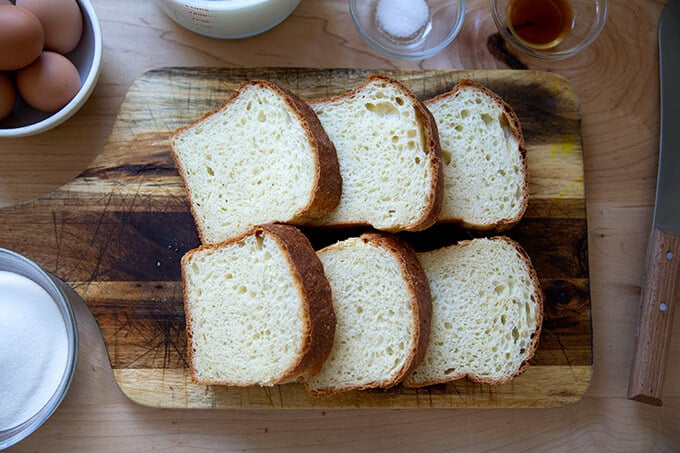 You need about six 1-inch thick slices (about 400 grams) of brioche bread: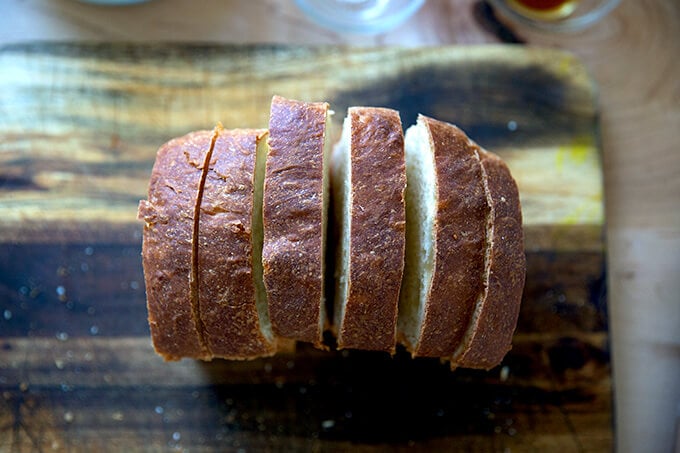 Transfer them to a sheet pan and toast at 325ºF for about 15 minutes or until lightly golden.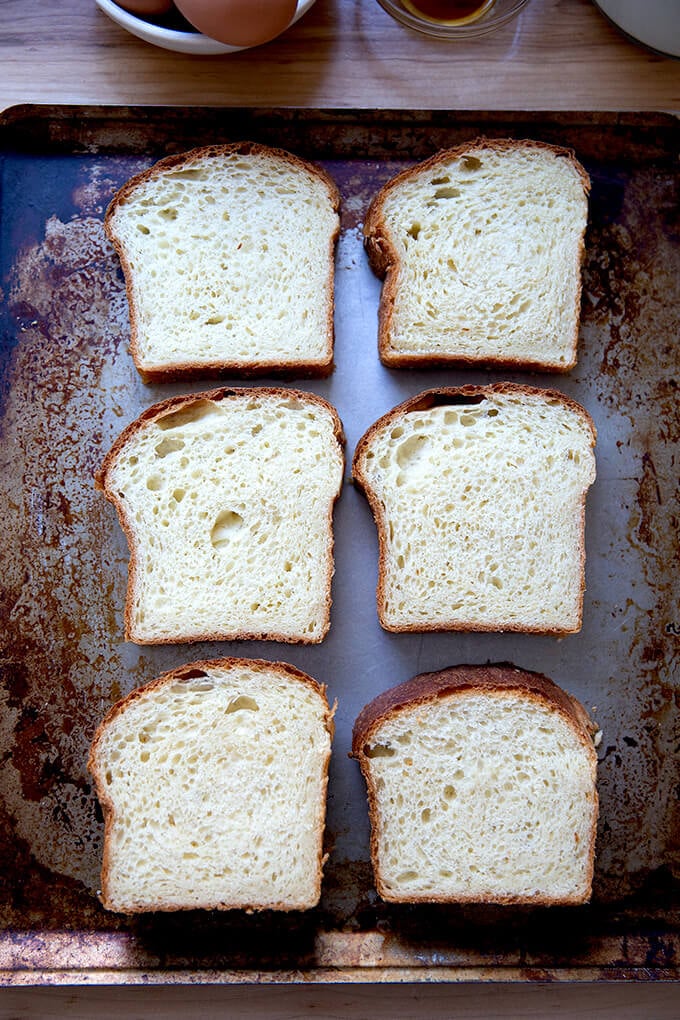 Let cool briefly: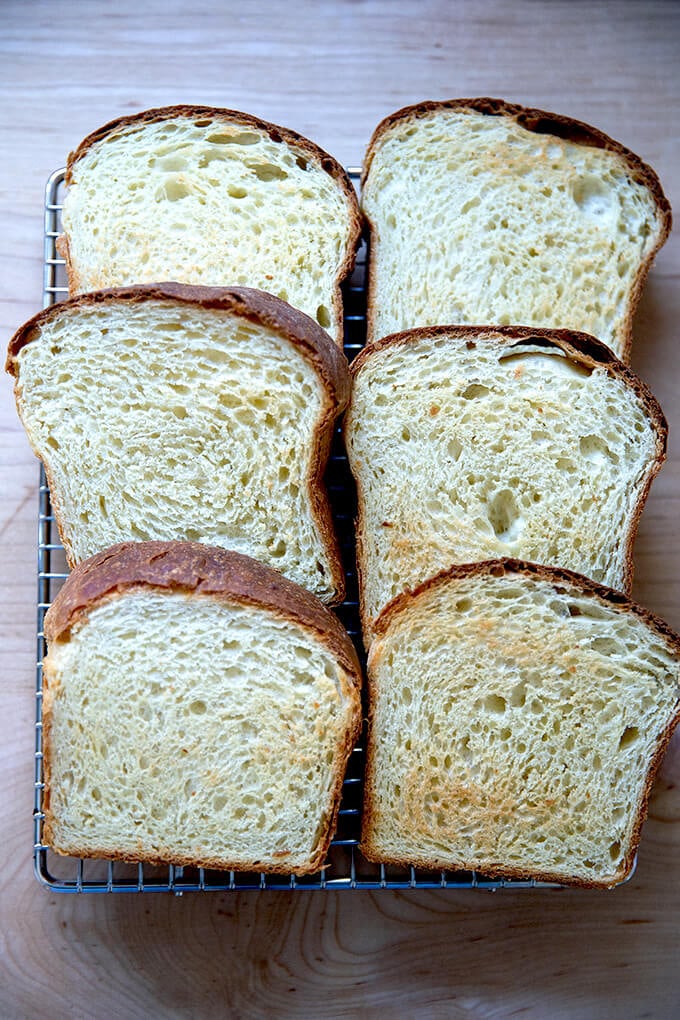 Cut into cubes: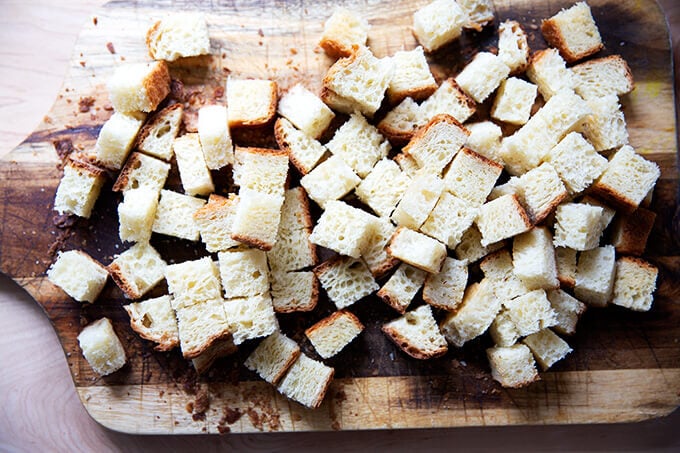 Transfer to a buttered 9×13-inch pan: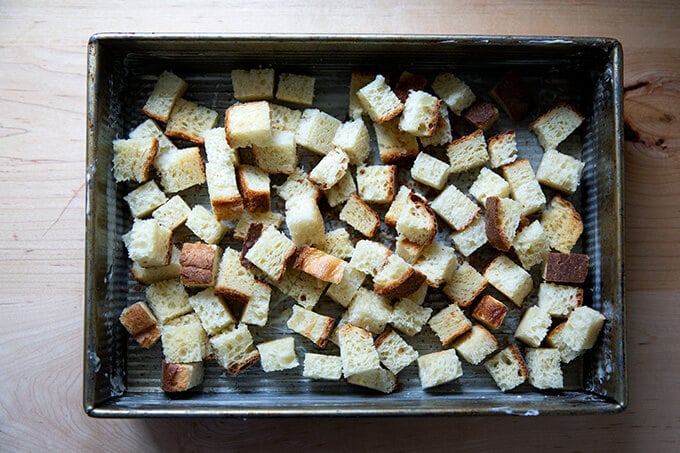 Make the custard by whisking together egg yolks, milk, sugar, salt, and vanilla: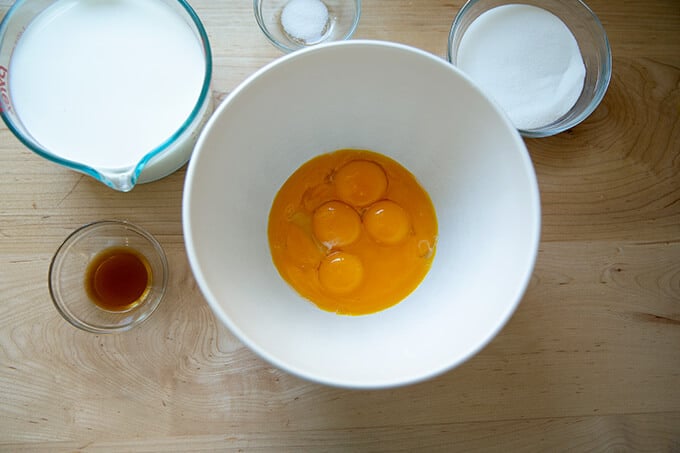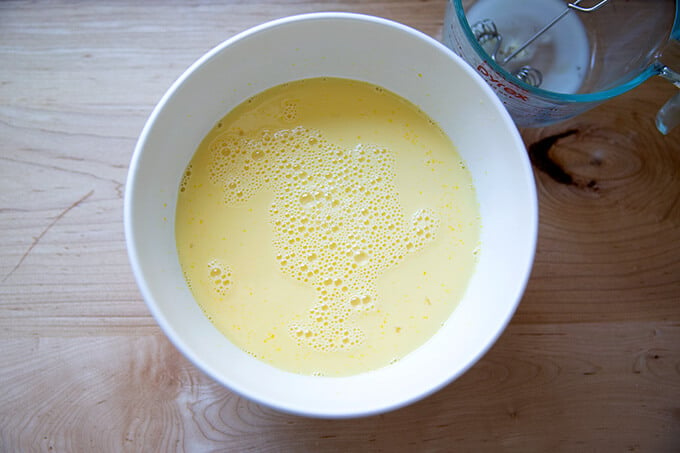 Pour this custard over the cubes of bread and let stand for 30 minutes: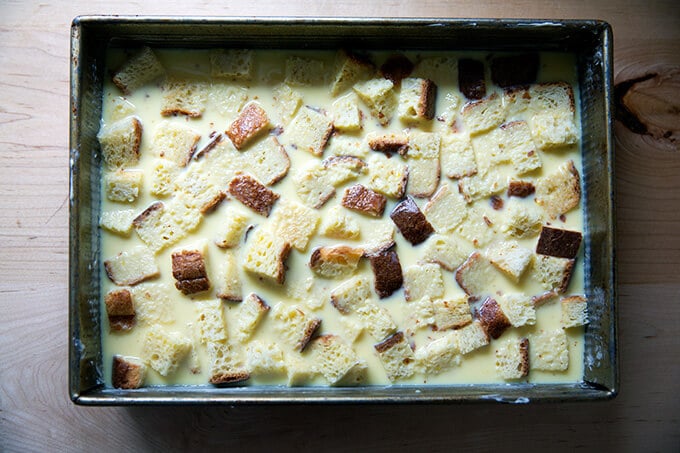 Transfer to the oven and bake for 45 minutes.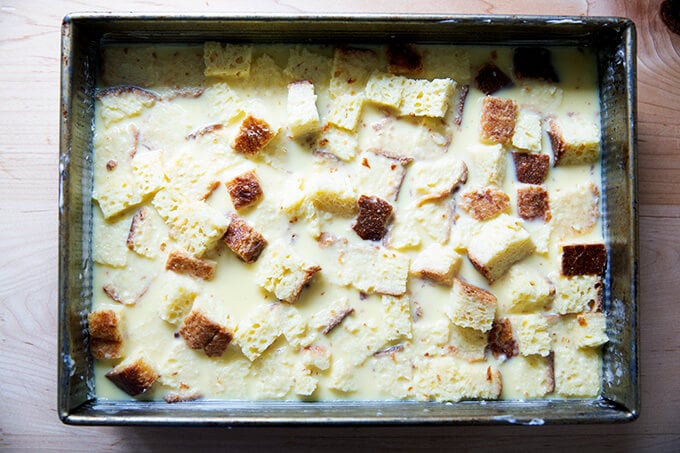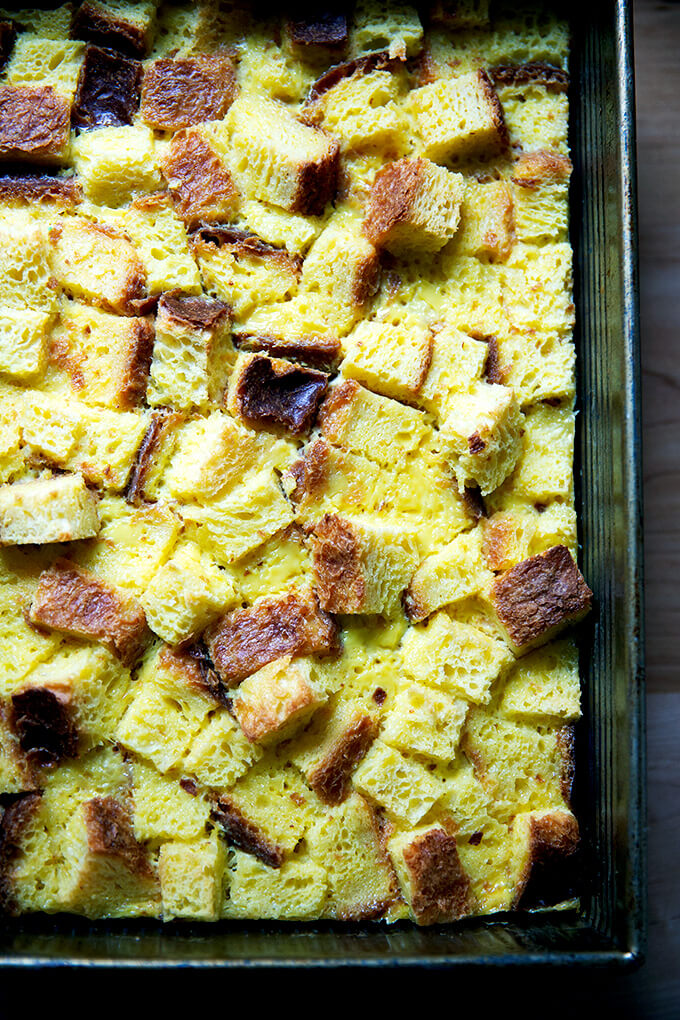 While the bread pudding rests, sauté your choice of fruit in a little bit of butter: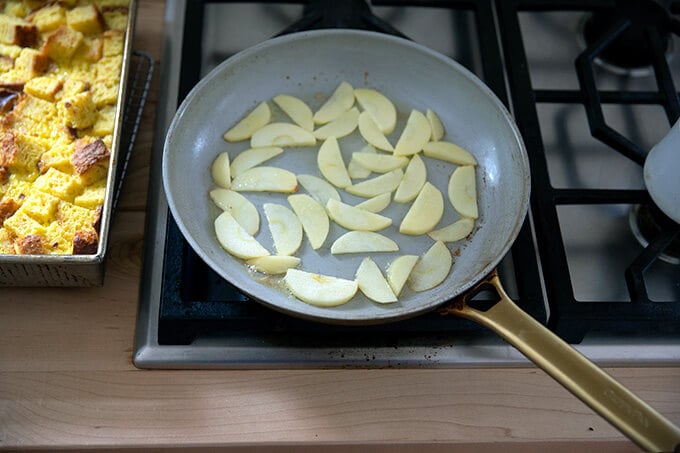 Add caramel sauce (recipe below):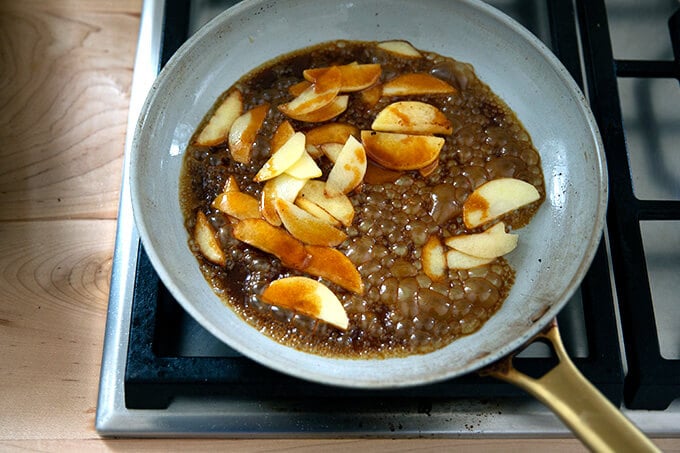 Pour over the warm bread pudding and serve: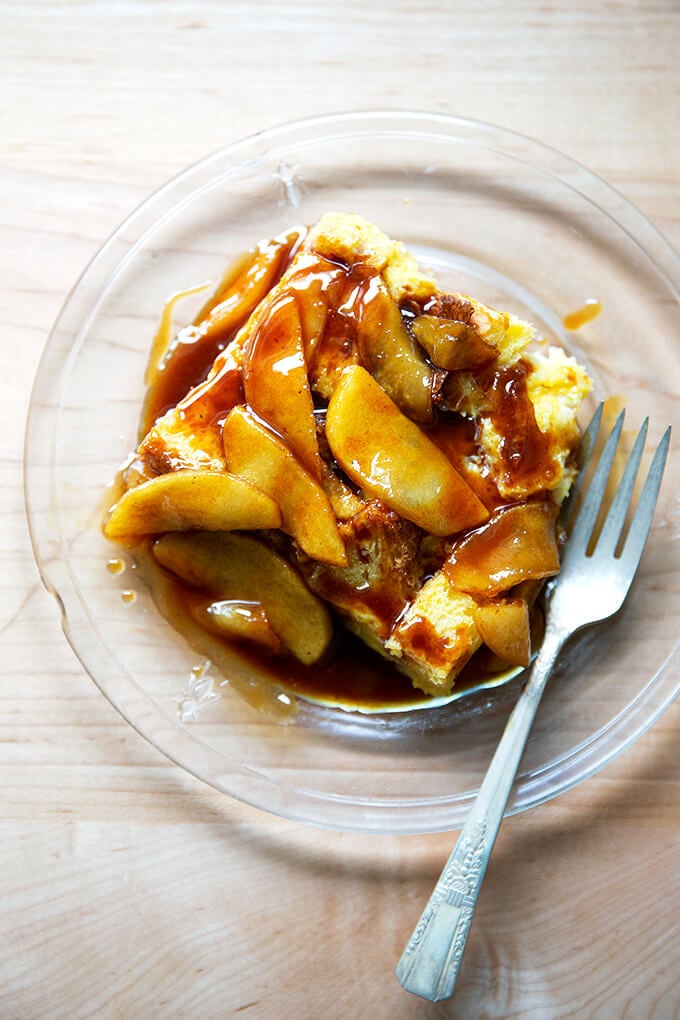 Also delicious with fresh peaches: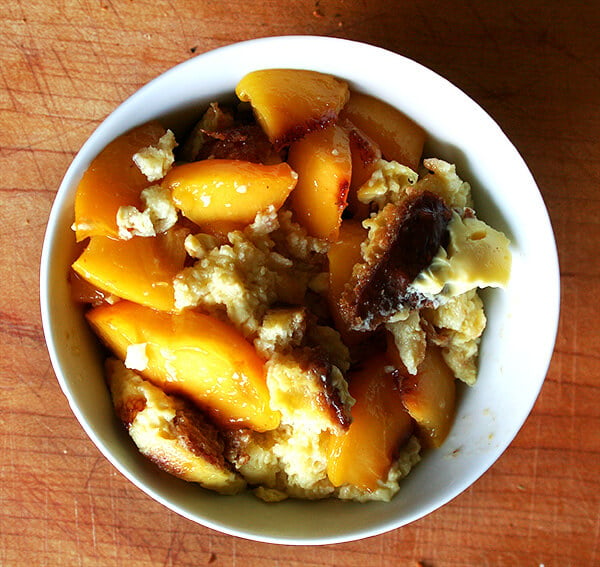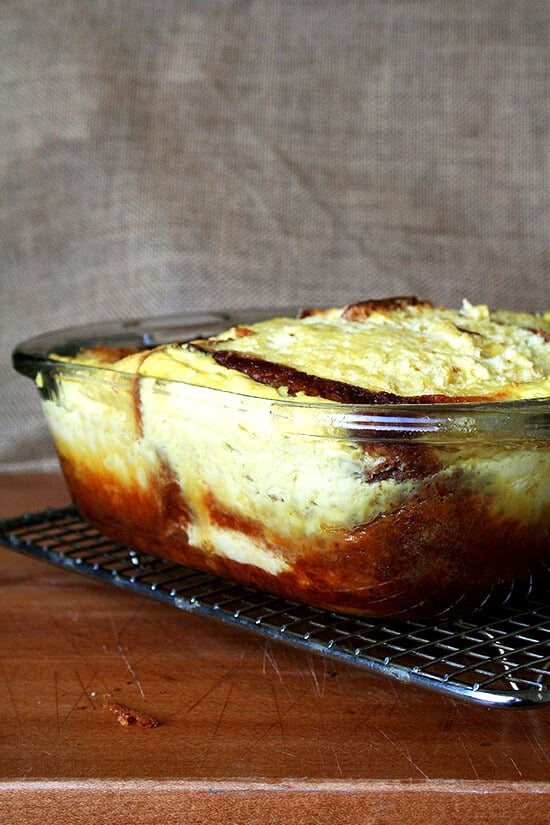 Print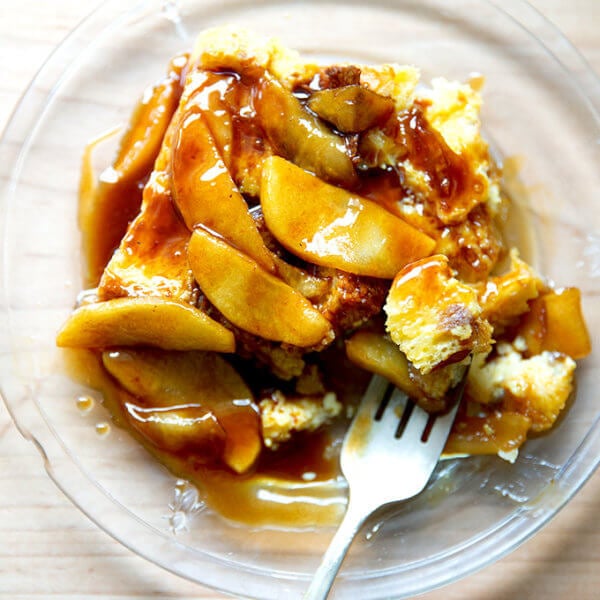 Brioche Bread Pudding & Caramel Sauce
---
Description
A combination of the recipes in Tartine and Bread Toast Crumbs
The keys I think to having success with this recipe include:
Weighing the bread. If you use roughly 394 grams of bread, you will have a beautifully textured, not-too-bready bread pudding. 
Using egg yolks only. Egg yolks create a custard not unlike crème brulée and make for an especially delicious bread pudding. That said, if you don't feel like separating the yolks from the whites, it is delicious with whole eggs as well. Tartine's original recipe calls for whole eggs. I use yolks only in Bread Toast Crumbs. 
Notes:
If you have leftover bread pudding, chill it, slice it, and fry it as you would French toast. Alternatively: simply cut it into squares and warm it in the oven. My children love it with maple syrup — it truly tastes like the best French toast ever.
This recipe works equally well with croissants, chocolate-filled croissants, challah or panettone.
Use a good-sized pan when preparing the caramel. When the hot cream is added, the caramel will boil furiously at first, increasing dramatically in volume. 
---
For the bread pudding: 
6

brioche slices (

400 g

), cut 1-inch thick, see notes above

8

large egg yolks (

155

–

160

g), see notes above

3/4 cup

(

160 g

) sugar +

2 tablespoons

(

25 g

) sugar

4 cups

(

996 g

) 2% or whole milk

1 1/2 teaspoons

(

4 g

) vanilla

1 teaspoon

(

6 g

) kosher salt

2 tablespoons

(

28 g

) melted butter 
For the caramel sauce:
2/3 cup

heavy cream

1/2 teaspoon

vanilla or vanilla bean paste

1 1/4 cups

sugar

1/4 cup

water

1/4 teaspoon

salt

2 tablespoons

light corn syrup

3/4 teaspoon

fresh lemon juice

4 tablespoons

unsalted butter
To finish:
a tablespoon or two of butter
fruit of choice, such as 1 apple or 1 peach
---
Instructions
Preheat the oven to 325ºF. Butter a 9×13-inch baking dish and set aside. Arrange the brioche slices on a separate baking sheet. Place in the oven until lightly toasted, about 10 -15 minutes. Remove from the oven and set aside to cool.
Whisk the egg yolks and the 3/4 cup sugar until smooth. Add the milk, vanilla, and salt and whisk until fully incorporated. 
Tear the toasted bread slices into shards or cut into cubes and place in the prepared pan. Pour the custard evenly over the bread, filling the dish to the top. Let the mixture stand for 30 minutes, so that the bread can absorb the custard.
After 30 minutes, brush the top with the 2 tablespoons melted butter and sprinkle with the remaining 2 tablespoons of sugar. 
Bake the pudding for roughly 45 minutes. Let the pudding cool for about 10 minutes. 
If you'd like to serve it Tartine style, melt a tablespoon or two of butter in a large skillet over medium heat. Add your fruit of choice and cook for 3 to 5 minutes or until slightly softened. Add a few tablespoons of caramel sauce (recipe below) and swirl to coat. Spoon this caramel-y fruit sauce over slices of the warm bread pudding. 
To make the Caramel Sauce:
Pour the cream into a small, heavy saucepan. Split the vanilla bean in half lengthwise and use the tip of a sharp knife to scrape the seeds from the pod halves into the cream. Place over medium-high heat and bring to just under a boil, stirring occasionally. Reduce the heat to low to keep the cream warm.
In a medium, heavy saucepan, combine the sugar, water, salt and corn syrup. Bring to a boil over medium heat, stirring to dissolve the sugar. Then cook, without stirring, until the mixture is amber colored, 5 to 8 minutes. Remove from the heat.
The mixture will continue to cook off the heat and become darker, so make sure to have your cream close by. Carefully and slowly add the cream to the sugar syrup. The mixture will boil vigorously at first. Let the mixture simmer down, and then whisk until smooth. Add the lemon juice. Let cool for about 10 minutes.
Cut the butter into 1-inch chunks and add them to the caramel one at a time, whisking constantly after each addition. Then whisk the caramel periodically as it continues to cool.
Prep Time:

10 minutes

Cook Time:

1 hours 4 minutes

Category:

Dessert

Method:

Oven

Cuisine:

American
Keywords: brioche, bread, pudding, easy
This post may contain affiliate links. Please read my disclosure policy.