Polenta Without Fear + A Huge Thank You
This post may contain affiliate links. Please read my disclosure policy.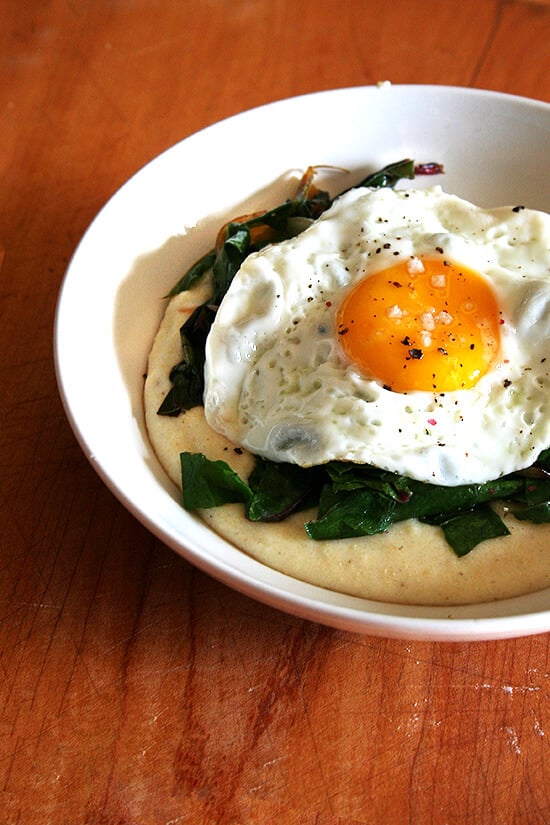 I never thought the day would come when I would consider sautéed greens over polenta topped with a fried egg as the idea of the most delicious dinner. Well, the day is here (has been for a little while now), and I am so glad it is, because nothing could be simpler to prepare.
Before I write another word, however, I just want to extend a huge thank you to the reader who submitted my blog in the comments section of this Bitten post. I am so touched that you thought of me and am so shocked to have been selected. Thank you, too, to the Bitten bloggers for considering alexandra's kitchen as a worthy under-the-radar blog.
I could think of no better way to commemorate this moment than by making one of my favorite Bittman recipes: Polenta without Fear, which recently appeared in the featured recipe section of Bitten. I first made this dish shortly after returning from a dinner party where, upon arrival, I had been charged with polenta-making duties. I went to work, but what I had hoped to produce to complement the host's delectable braised short ribs left me embarrassed. (I must note that it didn't help that the host didn't own a whisk, but I can't turn all the blame elsewhere.) My polenta was lumpy, dry and unflavorful. Why?!
Of course my mother had the answer. Or at least a solution. Have you made Bittman's polenta recipe, she asked? No, I hadn't. But I would soon, and I did. And it's delicious. The recipe uses a ratio of 1 cup stone ground cornmeal to 3 cups of liquid (1 cup whole milk + 2 cups water) with the addition of 1/4 cup grated Parmigiano and 2 to 4 tablespoons of butter at the end. Minimal stirring is required and the addition of a little water towards the end of the cooking process is all the doctoring necessary to produce "creamy, soft, mouth-filling polenta," as described on Bitten.
So, as the title suggests, this polenta, topped with some sautéed greens — chard, kale, spinach — and a fried egg makes a great dinner-for-one. Would I love some braised short ribs on my polenta? Of course, but there are better opportunities for that. Need another dinner-for-one idea? Try these Zuni Cafe Eggs Fried in Bread Crumbs … so yummy!
The ingredients: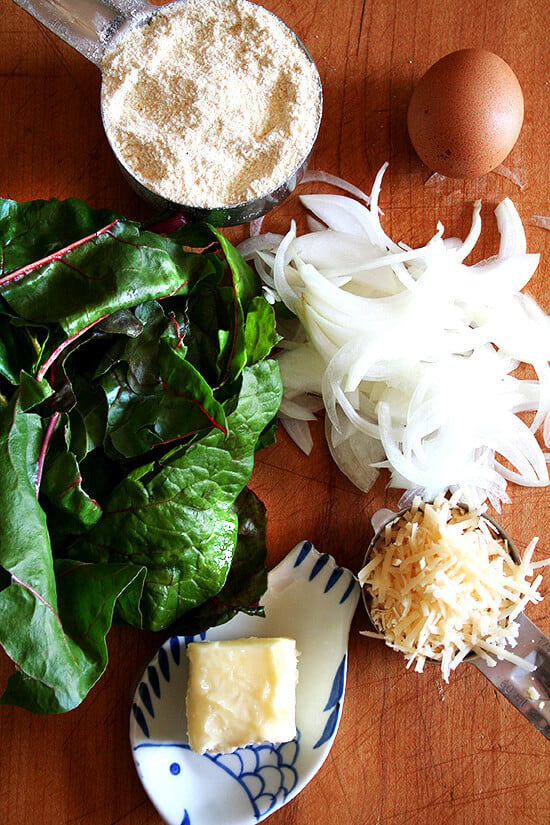 Sautéed onions and Swiss chard from my Morning Song Farm CSA: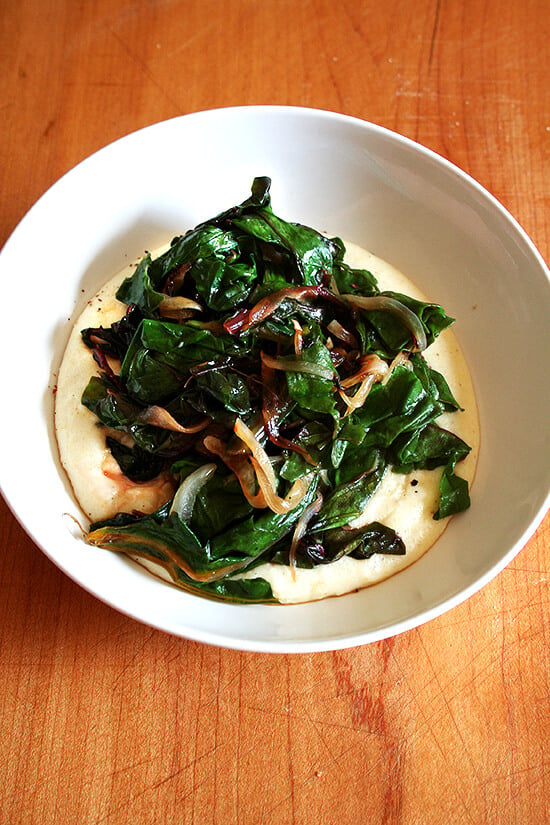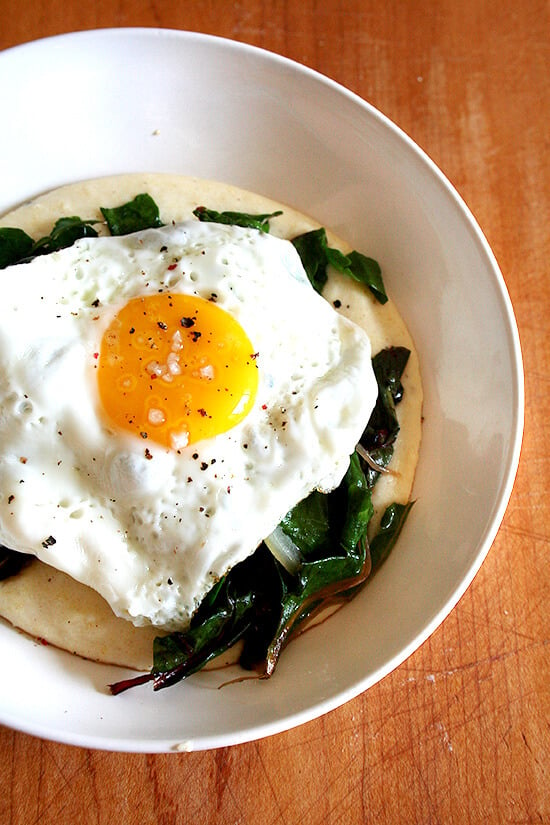 Print
Polenta without Fear
---
Total Time:

30 minutes

Yield:

4 servings
---
1 cup

milk (preferably whole milk)
Salt

1 cup

coarse cornmeal, preferably stone-ground
Freshly ground black pepper, to taste

2

to

4

tablespoons butter or extra virgin olive oil

1/4 cup

or more freshly grated Parmigiano-Reggiano, to taste, optional
---
Instructions
Bring milk to a boil with 2 cups water in a medium saucepan and add a large pinch of salt. Adjust heat so liquid simmers. Add cornmeal in a steady stream, whisking as you do to prevent lumps. When it has all been added, let mixture return to a boil, then turn heat to low. Polenta should be just barely simmering.
Cook, stirring occasionally and being sure to scrape sides and bottom of pan

, for 15 to 20 minutes, until mixture is creamy and cornmeal tastes cooked. If mixture becomes too thick, whisk in some water, about 1/2 cup at a time. (I added about 2/3 cup water in 1/3 cup increments.)

Taste and season polenta as necessary with salt and pepper. Take pan

off

stove

, stir in the butter or oil and the cheese if you are using it, and serve, passing more cheese at the table if you like.
Serve with sautéed greens and a fried egg for a simple simple dinner.
Prep Time:

5 minutes

Cook Time:

25 minutes
This post may contain affiliate links. Please read my disclosure policy.