Bolzano Apple Cake, Revisited
This post may contain affiliate links. Please read my disclosure policy.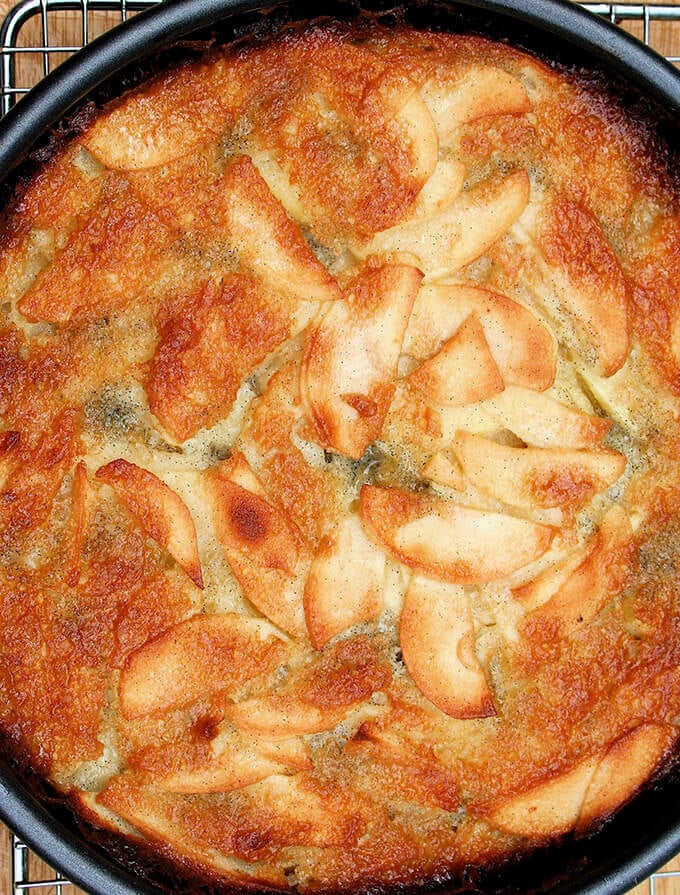 I have blogged about this cake before. It is one of my favorites, and I want it to be one of yours, too.
The roots of Balzano apple cake lie in the Alto Adige region of Italy, where Scott Carsberg of Seattle's Lampreia trained as a young chef. There, Carsberg worked at the Michelin one-star restaurant, Villa Mozart, whose menu reflected the simple foods of the region, and whose chefs taught him how to make Balzano apple cake, a classic northern Italian peasant dessert. Over twenty years later, Carsberg put the cake on his menu, serving it with caramel ice cream. Yum.
(Read more about Carsberg, Lampreia and the Balzano apple cake in this New York Times article: Seattle Grown, Italian Flavored.)
I adore this cake, but classifying it as a cake, I am discovering, is perhaps misleading. The word cake is why several of you, I suspect, have had trouble with this recipe, mostly with the baking time — some of you have had to wait 90 minutes for your cakes to finish cooking.
I know every oven is different and every pan conducts heat differently, so baking times will surely vary, but I worry that cooking this "cake" for over an hour will severely alter its delicate texture and flavor.
You see, Balzano apple cake is more like a cross between a clafouti and a pancake — and the most delicious clafouti-pancake cross you've ever tasted at that. After the cake is removed from the oven, it falls, and the slices of vanilla-seed speckled apples meld together sinking into the tiniest of tiny layers of cake. It is delectable.
If you fear your oven's temperature and dial aren't quite calibrated accurately — mine certainly are not — I recommend getting one of these little oven thermometers. Mine hangs from my top oven rack, and I refer to it every time I use my oven.
When testing the doneness of this cake, inserting a knife will offer little guidance. The paring knife I used emerged covered with little bits of batter. I still removed the cake from the oven after 55 minutes of cooking and let it cool in its pan on a rack for more than 30 minutes before tucking in.
It has been over a year since I made Balzano apple cake, and I have forgotten how much I love it. I most enjoy eating it when it has cooled to room temperature. I'd wager, in fact, that it peaks at breakfast the day after it has baked. Yum yum yum.
Smit Orchards' apples, found at the San Clemente farmers' market: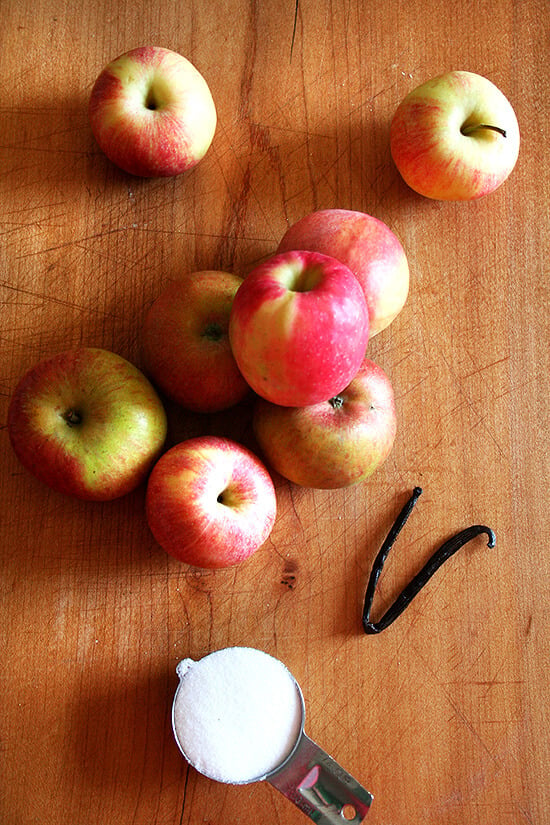 Apple slices: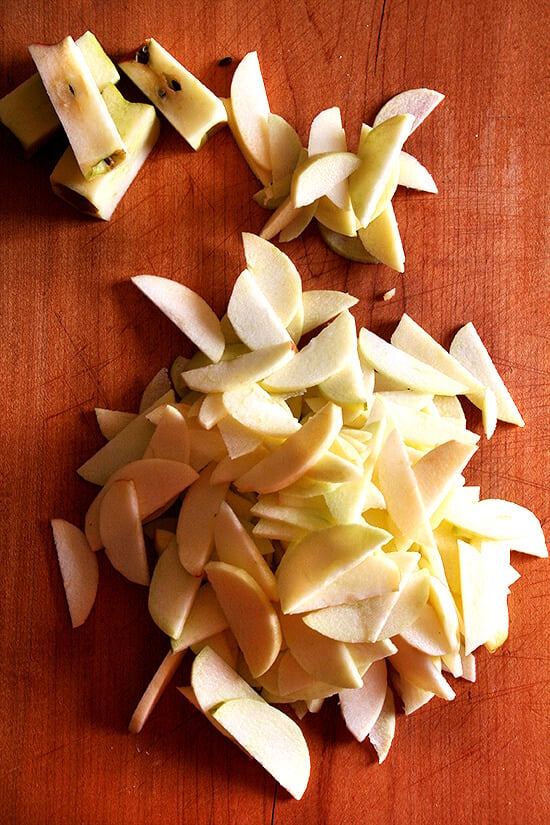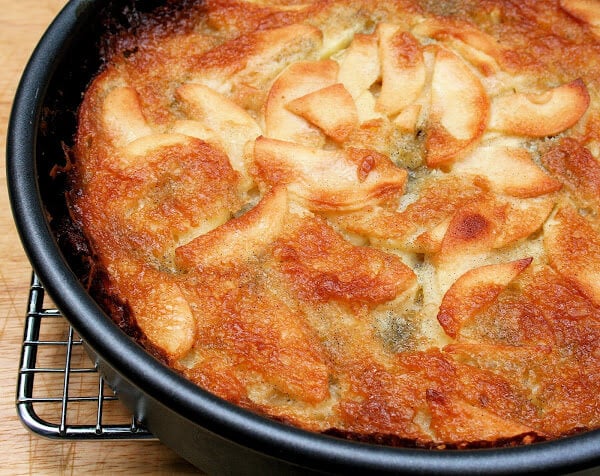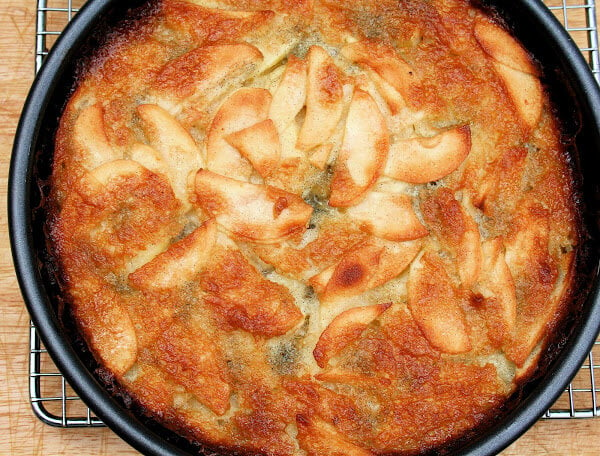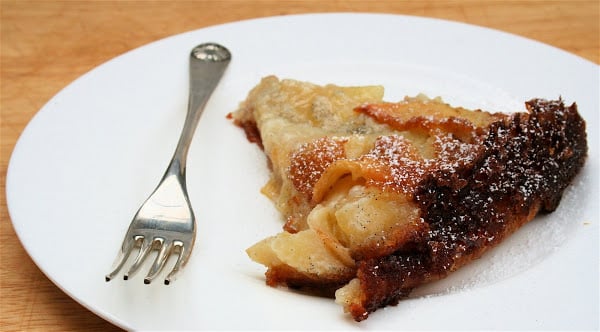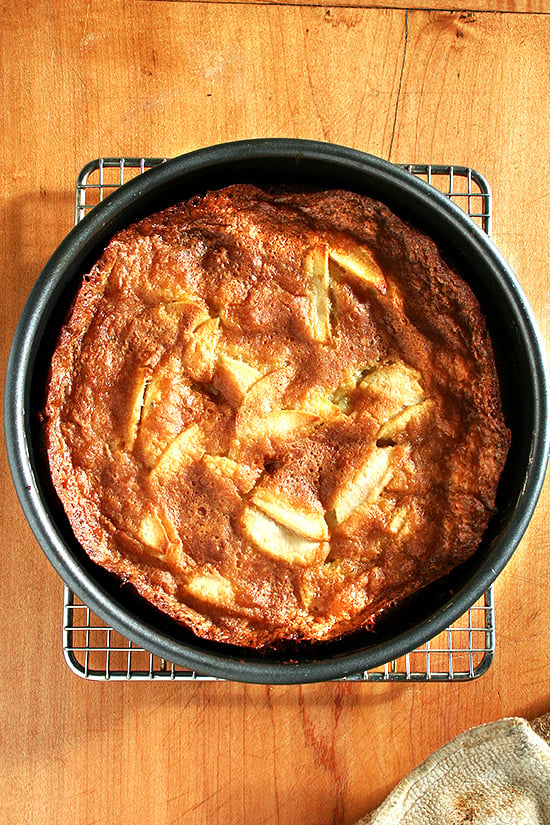 Print
Balzano Apple Cake
---
---
1

stick butter, plus more for greasing
panparchment paper

2

eggs

1 cup

sugar

1

vanilla bean

4

Fuji apples

½ cup

flour

2 teaspoons

baking powder

¼ teaspoon

sea salt such as fleur de sel (or

1/2 tsp

. kosher salt)

½ cup

milk at room temperature
powdered sugar
---
Instructions
Heat oven to 350ºF. Grease a nine-inch-circle pan with butter. Cut a circle of parchment paper to fit the bottom of the pan and place inside pan. Grease sides of pan and parchment round with butter.
Melt butter in small saucepan. Set aside. Beat together eggs and half of sugar in a bowl. Continue to beat while slowly adding remaining sugar until thick — it should form a ribbon when dropped from spoon.
Split vanilla bean in half lengthwise. Scrape seeds into the egg-sugar mixture and add pod to melted butter.
Peel apples and cut straight down around the core into four big chunks. Discard the core then slice the apple pieces thinly.
Remove vanilla pod from butter and discard. Stir butter into sugar-egg mixture. Combine flour, salt and baking powder, then stir into batter alternating with the milk. Stir in apples, coating every piece with batter. Pour batter into pan.
Bake for 25 minutes, then rotate the pan. Bake for 25 to 30 minutes more, but not for much longer, or until cake pulls away slightly from the pan and is brown on top. Cool for at least 30 minutes, then cut into wedges sprinkling each with powdered sugar if desired.
This post may contain affiliate links. Please read my disclosure policy.