Vermont Cheddar Cheese Soup & Beer Bread
This post may contain affiliate links. Please read my disclosure policy.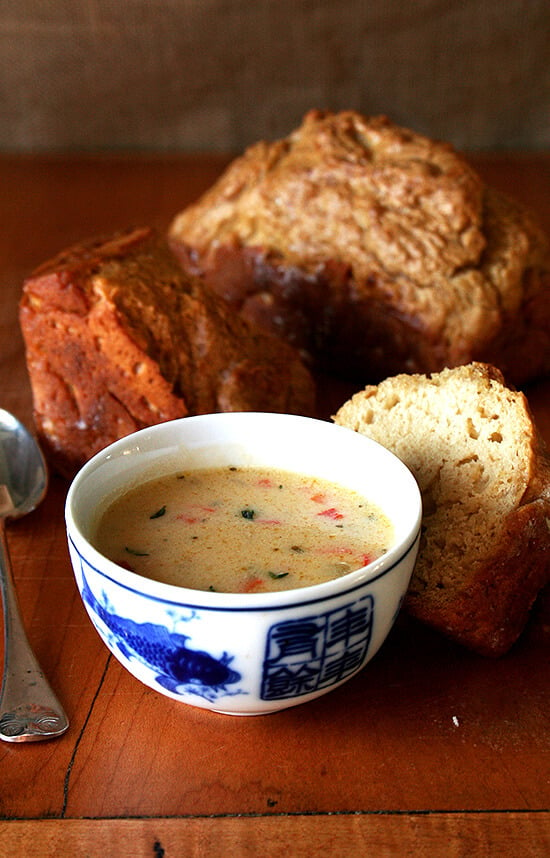 I should just rename my blog "Liza's Daughter's Blog." These days, it seems, I only make dishes that my mother has fed me or told me about. When I was home in CT for my sister's wedding last month, I was welcomed with a steaming bowl of this Vermont cheddar cheese soup, a slice of spanakopita, warm homemade bread, and yogurt cake for dessert. I devoured every morsel then fell into a several-hour-long food coma. It was heaven.
It's hard to find fault in lots of extra sharp cheddar cheese, tons of fresh thyme, and vegetables sautéed in rendered pancetta fat, but several unexpected ingredients — beer, mustard, worcestershire and Tabasco — make this soup truly special. Oh, it is just wonderful!
I find the method for making this soup interesting. Now, I have never made a cheesy soup before, so perhaps this method is standard, but in this recipe, the grated cheese is tossed with flour before being stirred into the hot milk. This mixture thickens in its own pot before being added to the pot of sautéed vegetables, beer, stock and sauces. And while I wouldn't think to err from my mother's detailed instructions, my auntie Marcy reported that this step cannot be omitted — if the cheese and milk (with or without the four) are added directly to the vegetable stock pot, the soup will never come together — it will just curdle and separate into a mess. So, be warned.
And while any bread would go well with this soup, I have been enjoying beer bread with it for the past week. I used to make beer bread all the time. Not sure why I stopped because it is the SIMPLEST bread to prepare. No kneading or rising is required. If ever you want homemade bread with dinner and fear you have no time, consider this recipe — it literally takes five minutes to assemble and 40 minutes to bake. Simps.
For a light but comforting meal, serve this soup with bread (perhaps beer bread) and a wintery salad of arugula, candied pecans, diced pear and blue cheese. Yum yum.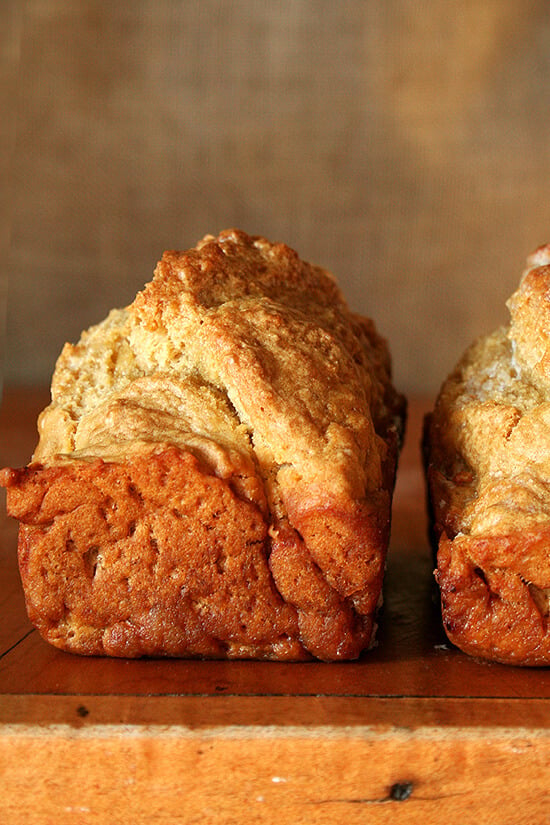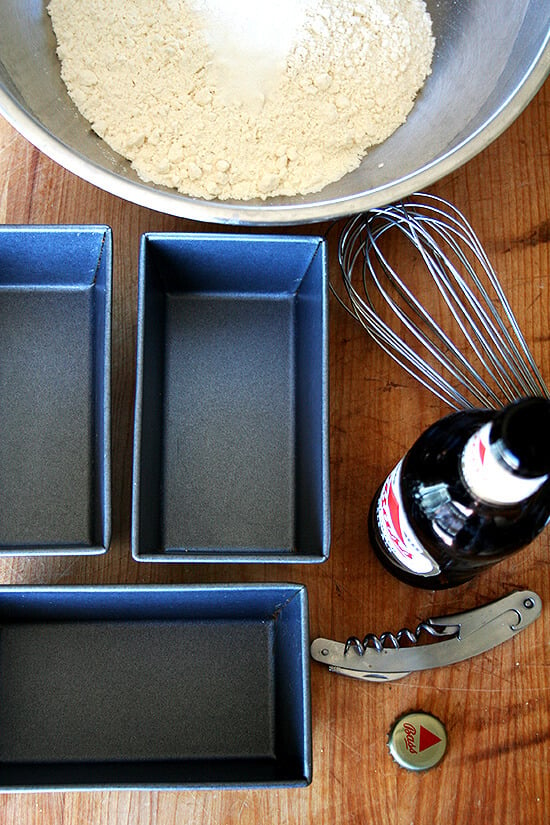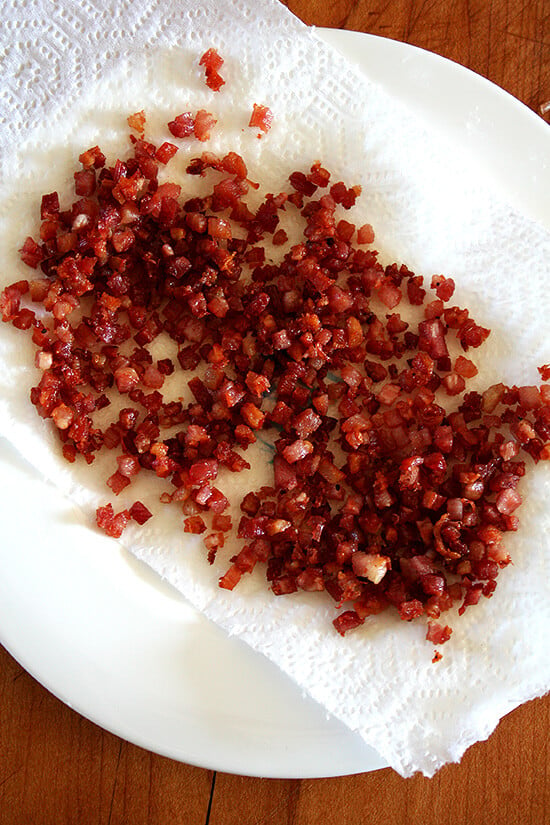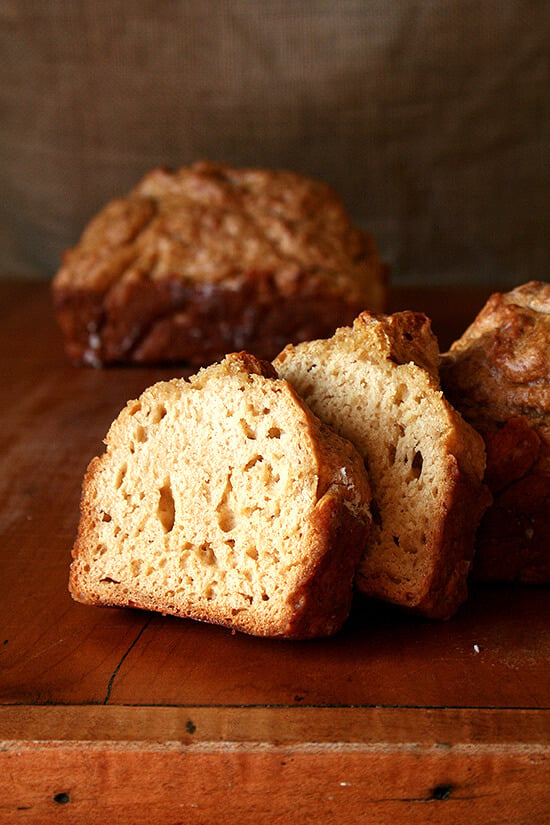 Print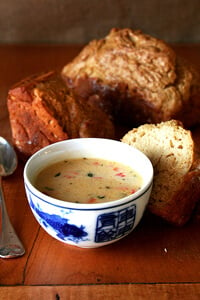 Vermont Cheddar Cheese Soup
---
Description
Source: Mother Liza and Auntie Marcy
---
4 oz

diced pancetta 

2

to

3

 cups diced onions, from 2 to 3 onion

1

to

2

 cups diced celery, from 4 to 5 stalks

2

 cups diced carrots, from 4 to 5 carrots

2

 cups diced red bell pepper, from 1 to 2 peppers

2

 cups diced, peeled red potato, from 4 to 5

2

 teaspoons kosher salt, plus more to taste

3

 tablespoons Dijon mustard
A few sprigs of thyme

6 cups

chicken stock, homemade is best

12

 ounces beer

3.5 cups

milk, 2% or whole

4

 cups grated cheddar cheese, about

1

lb.

2/3

 cup flour
dashes Worcestershire
dashes hot sauce
Fresh cracked pepper to taste
Bread for serving
---
Instructions
In a large soup pot, heat pancetta over medium-high heat, stirring frequently, until crisp and brown. Remove pancetta with slotted spoon and drain on a paper towel.
In the rendered fat, sweat the onions, carrots, celery and pepper over medium heat for 15 minutes until soft. Note: If your pancetta wasn't very fatty, add some oil to the pot. 
Add thyme, potato and chicken broth and simmer until potato is soft, about 10 minutes. Add beer.
Heat the milk in a separate pot until it just barely boils. Meanwhile, grate the cheese on the large-holed side of a grater and place it in a large Ziploc bag. Shake with the 2/3 cup flour. Add this cheese-flour mixture to the hot milk and stir until the cheese has melted and the mixture has thickened slightly.
Add the milk mixture to the pot with veggies and stock. Add mustard, sauces and salt and pepper to taste. Whisk for a few minutes to avoid curdling.
When serving, sprinkle some reserved pancetta in each bowl. Add more hot sauce to taste. Serve with bread.
---
Print
Beer Bread
---
butter for greasing the pan3 cups all-purpose flour1 teaspoon baking soda½ teaspoon baking powder1½ teaspoon kosher salt1 tablespoon sugar1 beer, I like Magic Hat #9 or any amber ale or Bass or whatever4 tablespoons butter
---
Instructions
Preheat the oven to 425ºF.
Grease a 9X5X3-inch loaf pan (a standard loaf pan) with softened butter.
Whisk together flour, baking soda, baking powder, salt and sugar. Add beer, stir until combined and place in prepared pan.
Bake for 10 minutes, then reduce heat to 375ºF and bake for 30 minutes longer (or less) or until golden brown on top. Remove from oven and place pan on a cooling rack. Let bread sit in pan.
Meanwhile, melt butter. Pour the butter over bread. Let sit for five minutes then turn bread out onto a cutting board and serve immediately with more softened butter.
This post may contain affiliate links. Please read my disclosure policy.