Salt Roasted Beets with Goat Cheese & Toasted Walnuts
This post may contain affiliate links. Please read my disclosure policy.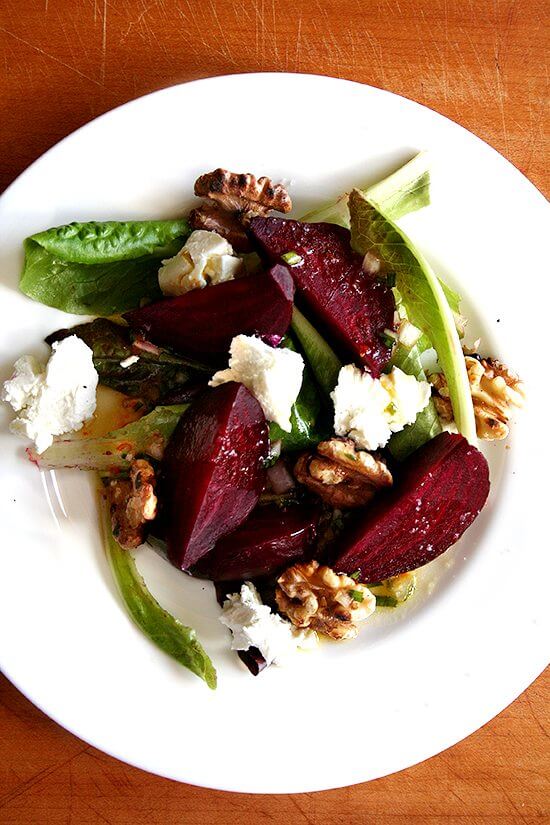 Have you ever salt-roasted beets?
Don't freak out. The beets don't taste overly salty. In fact, they don't taste salty at all. They taste delicious. And sweet. And perfectly firm.
I was inspired to blog about this method after reading an article in the March issue of Saveur — all about where to eat in Los Angeles — which offered a recipe for Wolfgang Puck's beet and goat cheese napoleons, an appetizer served at Spago.
A short article in the back of the issue addresses how to cook beets so that their color doesn't run. To preserve color and nutrients, Saveur recommends placing beets (5 to 6) in a 9×13-inch baking dish, pouring in an inch of water, covering the dish tightly with foil, and roasting until a knife easily slides into the beets, about 1 1/2 hours. I used to cook beets just as prescribed.
That was until I learned the method of the chef (former chef) from the cafe where I used to work. He salt-roasted his beets with rosemary and thyme, and his beet salad, served with a goat cheese-topped crostini, Blue Heron Farm greens and a lemon emulsion, was one of his signature dishes.
When I tried his cooking method at home, I discovered something remarkable: not an ounce of liquid (well maybe a teensy tiny bit) leeches from the beets. If preserving color and nutrients is the goal, then salt roasting is the way to cook beets.
Beets' affinity for orange makes the dressing for this salad, adapted from Saveur's, particularly nice: reduced orange juice, orange zest, shallots, rice vinegar, chives and olive oil. I like to spoon this dressing over the salad rather than toss it with the ingredients — beets turn a tossed salad into one big red mess.
Think you don't like beets? Try salt roasting them. As a final endorsement I'd like to share that my husband never liked beets until he tasted them cooked this way. The first time I salt roasted beets and served them to him, he asked me what was different and why he liked them. Had I not been so impressed by his discerning palette, I might have been offended — I never knew he didn't like beets. And it turns out he didn't. I just didn't know how to cook them.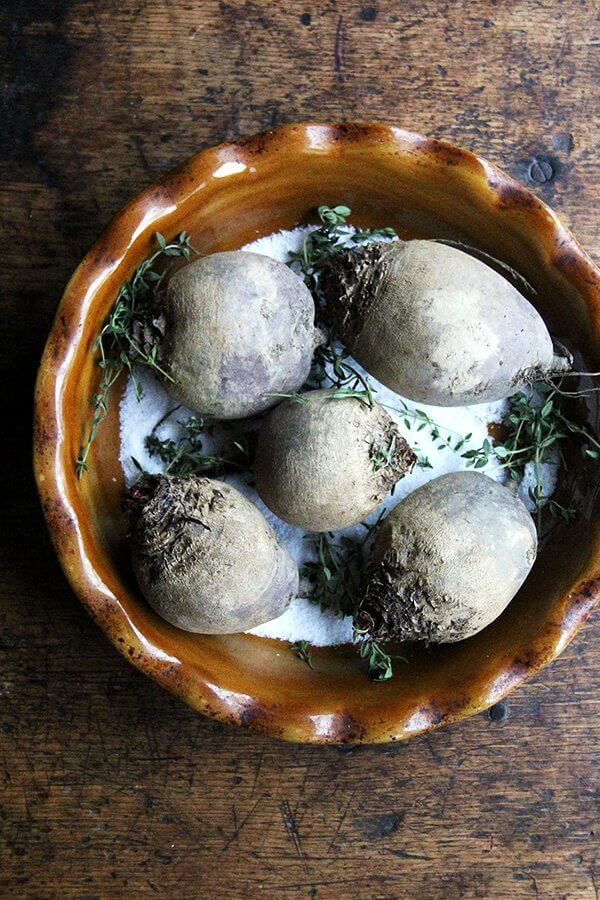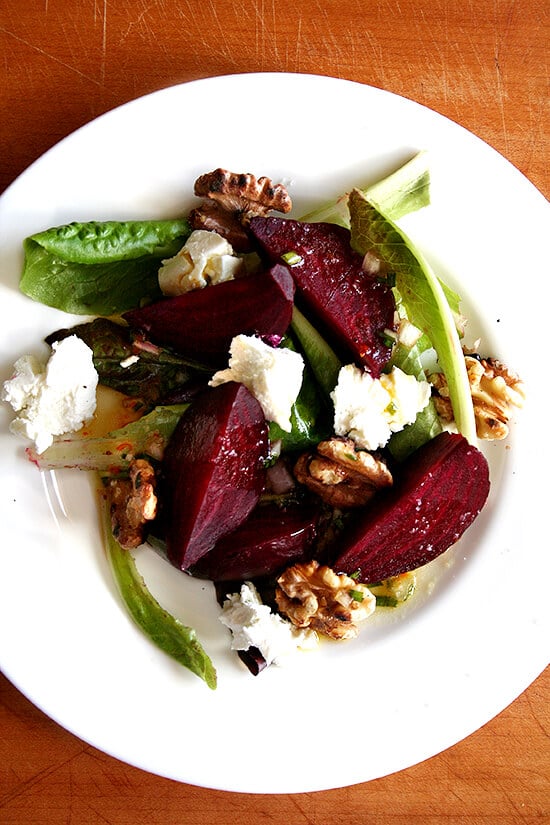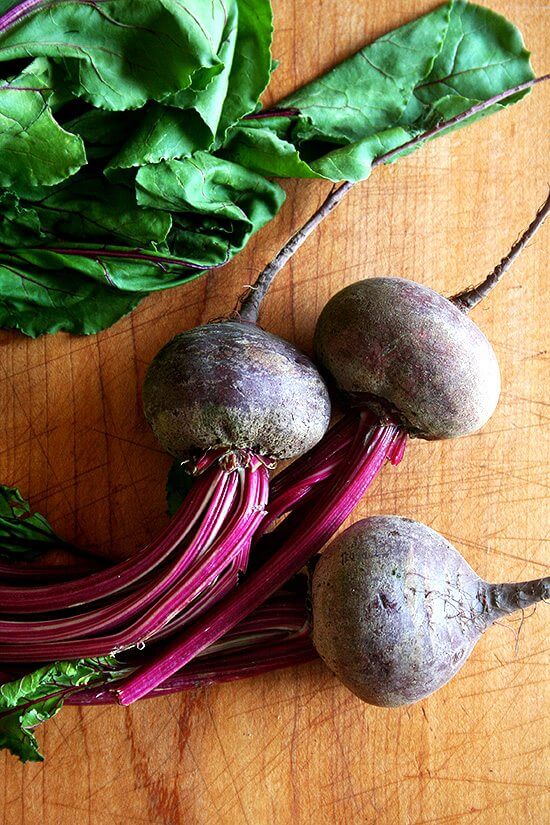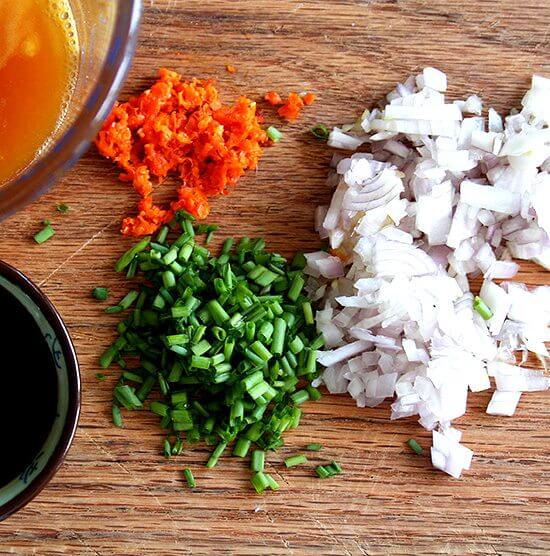 Print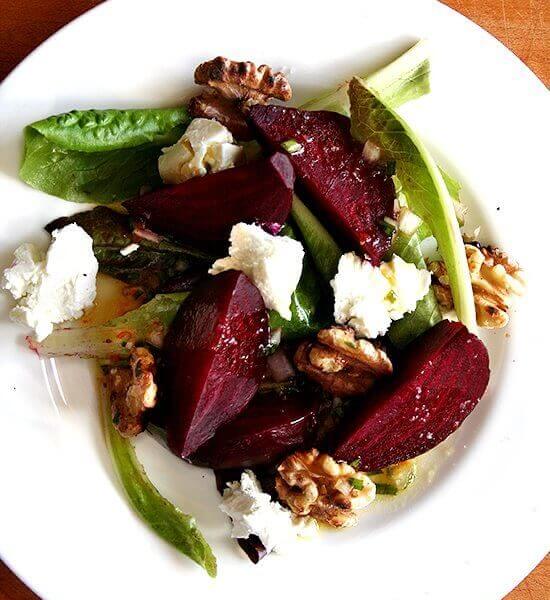 Salt Roasted Beets with Goat Cheese & Toasted Walnuts
---
Author:

Alexandra Stafford

Prep Time:

15 minutes

Cook Time:

1 hours

Total Time:

1 hours 15 minutes

Yield:

4 to 6
beets, washed, greens removed
kosher salt
a few sprigs thyme and rosemary, optionalFor the dressing:

3/4 cup

fresh-squeezed orange juice (store bought works fine, too)

1

T. rice vinegar or white balsamic
zest of an orange

1

small shallot, minced
chives, minced
kosher salt

1/3 cup

extra virgin olive oilFor assembly:
goat cheese
walnuts, toasted
greens, optional
---
Instructions
Roast the beets:Preheat the oven to 425ºF. Pour kosher salt into a shallow roasting vessel to make a thin layer. (See photo to help estimate how much.) Place beets on salt bed. If using herbs, nestle a few sprigs among the beets. Cover pan tightly with foil and place in oven for about one hour, depending on how many and how big your beets are. Note: To test for doneness, remove foil and slip a pairing knife into one of the beets. If the knife meets little resistance, they are done. When beets are done, remove foil covering and let them cool. When cool enough to handle, rub off the skins and discard. Cut beets into nice chunks.
Meanwhile, make the dressing: Place the orange juice in a small saucepan over medium heat and reduce to 1/3 cup. Let cool. Add vinegar, zest, shallots, chives and a pinch of salt. Let sit for 15 minutes. Slowly whisk in the olive oil.
To assemble the salad, arrange greens on a platter. Top with goat cheese, walnuts and cut beets. Season with a pinch of salt and freshly cracked pepper. Spoon dressing over salad. As you plate the salad, the ingredients will all toss nicely together. Note: This method of serving is merely for looks — beets are so messy that if you toss everything together, it becomes one big red mess. If you don't care about looks, go ahead, toss everything together. If you try spooning the dressing over the salad, however, and tossing lightly as you serve it, I think you'll find it both tastes and looks wonderful.
Category:

Salad

Method:

Oven

Cuisine:

American
Keywords: salt-roasted, beet, salad
This post may contain affiliate links. Please read my disclosure policy.