Champagne & Oysters + Solvang, Los Olivos, Los Alamos, Los Angeles Get Away
This post may contain affiliate links. Please read my disclosure policy.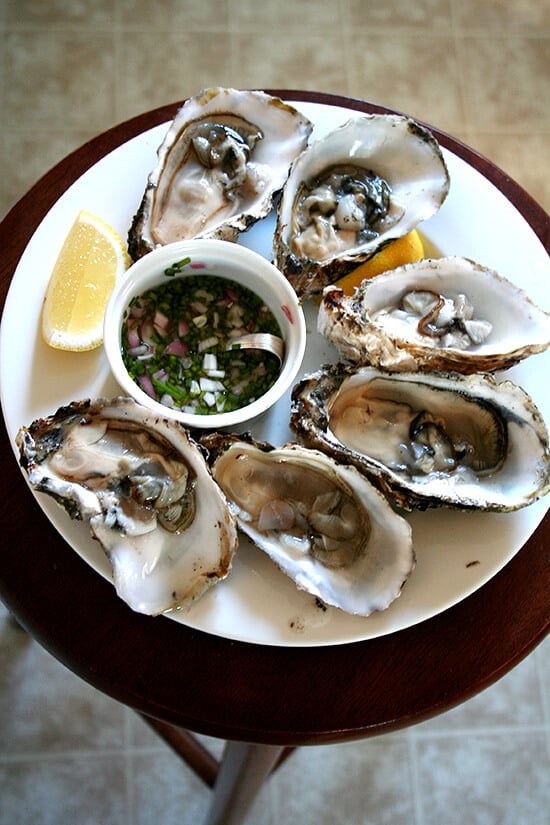 Our great eating adventure 2010 began at home with champagne and oysters.The last time Ben and I had champagne and oysters together was at Balthazar, the morning after we wed, nearly five years ago now … ahhh memories.
Anywho, last Friday, we commenced a little long weekend getaway with a dozen and a half oysters, a bottle of Piper Hiedsieck, a wedge of Tomme de Savoie, Marcona almonds, a beet salad, and grilled flatbread topped with grapes and a wee too much cheese. It was a fun little spread.
The following morning we headed north to Solvang stopping first in Los Angeles for dinner at Ganda, a Thai restaurant reviewed in the March issue of Saveur by James Oseland, the magazine's editor-in-chief. Apparently Oseland, on a recent visit to LA, went to Ganda five days in a row for the pla duk pad ped, or crispy catfish — catfish dry-braised in galangal, Kaffir lime leaves, and an abundance of spices. He declared the dish his favorite thing to eat in LA. Well, what can I say? While I can't see going to Ganda five nights in a row, the pla duk pad ped was delicious, as were so many of the other dishes we ordered. I could eat that food all night long.
Now, where I can see myself going five nights in a row is a little place called Full of Life Flatbread in Los Alamos, CA. Full of Life Flatbread is not dissimilar to my favorite restaurants, Bar, in New Haven, CT, and Pizzeria Mozza, in Los Angeles. What can I say? Ben and I basically fell in love over a thin-crust white clam pizza, and when a restautant offers this very pie, never are we happier. But FLF offered more than just a delectable white clam, bacon and leek flatbread. Our appetizer — a grilled asparagus and chanterelle salad tossed with prosciutto, wilted frisée and Parmigiano — couldn't have been more delicious; neither could the wine, a local Grenache, nor our sausage, onion and cheese flatbread. Yum yum yum.
You've all seen Sideways, right? Well, if you visit these parts, you can do the whole Sideways tour if you'd like, stopping at the various vineyards, tasting rooms, restaurants, attractions, etc. The only Sideways spot we came close to experiencing was the Los Olivos Cafe — where Miles drunk dials his ex-wife Vicki — located in the heart of Los Olivos, an adorable town with a great lunch spot — Panino — and some great tasting rooms and shops.
Los Olivos, Los Alamos, Buellton — I can't say enough about the whole Santa Ynez valley. It is a beautiful part of the country. Ben and I have visited the area three times now and discover new must-try spots every time. If you are looking for a wine country get away but can't fit Napa into your budget, consider this area. It is a blast. Apparently there's a dude ranch in the area as well. We'll have to scope that out next time.
By the way, we stayed in a great hotel, Hotel Corque. A little photo tour of our long weekend continues below: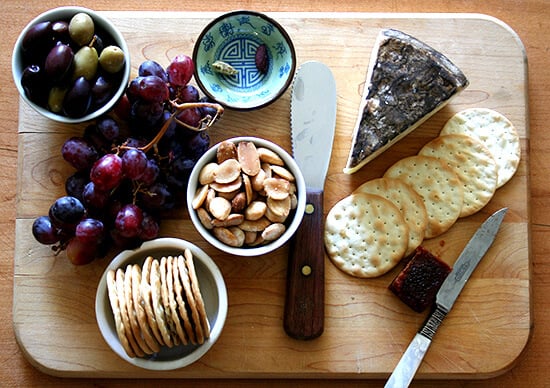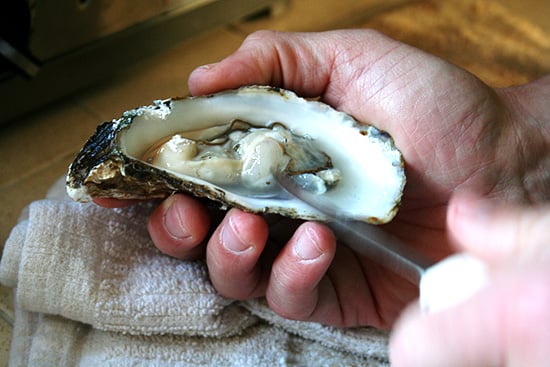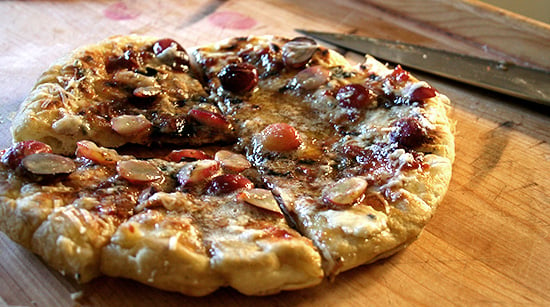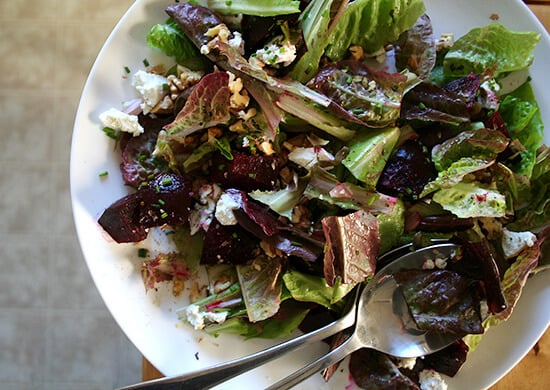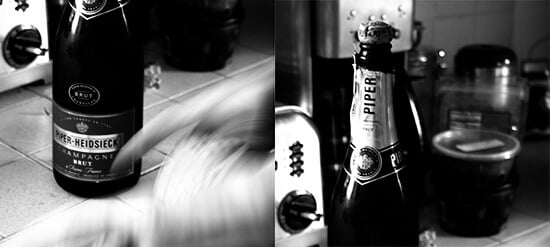 In Los Angeles, we stayed at the Buky House, a wonderful Bed and Breakfast located in the La Brea (maybe?) neighborhood of the city.
Downtown Solvang. We had fun cruising the streets. So did the bebeka.
There are a ton of bakeries in Solvang each offering many Danish specialties. We particularly enjoyed the kringle and cheese danish at Olsen's on Mission Drive.
For lunch both days we picked up sandwiches, once at The Chef's Touch in Solvang and once at Panino in Los Olivos. There are several nice patches of grass in Solvang as well as countless vineyards with rolling hills perfect for picnicking.
Full of Life Flatbread in Los Olivos. Amazing restaurant. Only open Friday, Saturday and Sunday. A must-try spot if you are vising this area.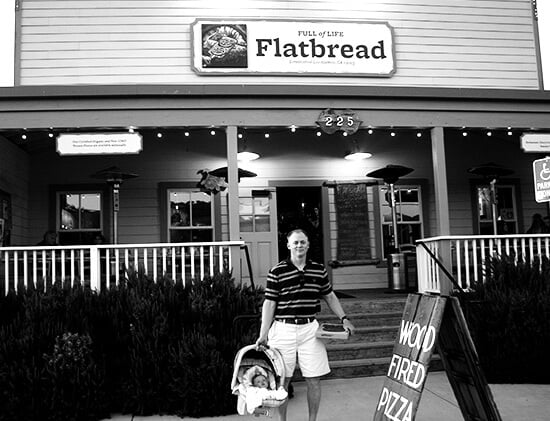 Aebleskivers. Another must-try spot is Arne's Famous Aebleskivers in Solvang. Arne's is a dine-in restaurant but you can also purchase aebleskivers — pancake like donut holes — drizzled with raspberry jam and sprinkled with powdered sugar right from a walk-up window on the street. They are delicious.
Los Olivos. A beautiful little town with great tasting rooms, shops and restaurants.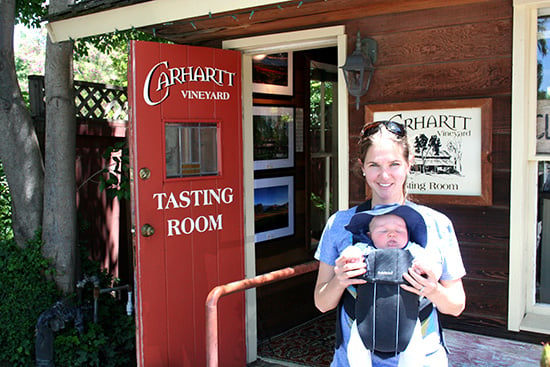 Bridlewood Winery. Bridlewood is located in Santa Ynez. It is beautiful — a perfect spot to picnic. They only have one rule: If you picnic on their grounds, you have to drink their wine. Fair enough. We bought a bottle of Grenache to enjoy with our sandwiches from Panino. It was a beautiful afternoon.
root 246. On Monday evening, we ate at root 246. We kept it simple, splitting a caesar salad topped with a poached egg to start and sharing the burger and a Mexican flatbread as our entrées. Everything was fabulous. root 246 is a must-try spot as well.
Finally, we headed home, stopping in Los Angeles to meet a dear friend for lunch at Cafe Midi and dessert — some amazing cookies — at Milk. Isn't Harry adorable?
This post may contain affiliate links. Please read my disclosure policy.