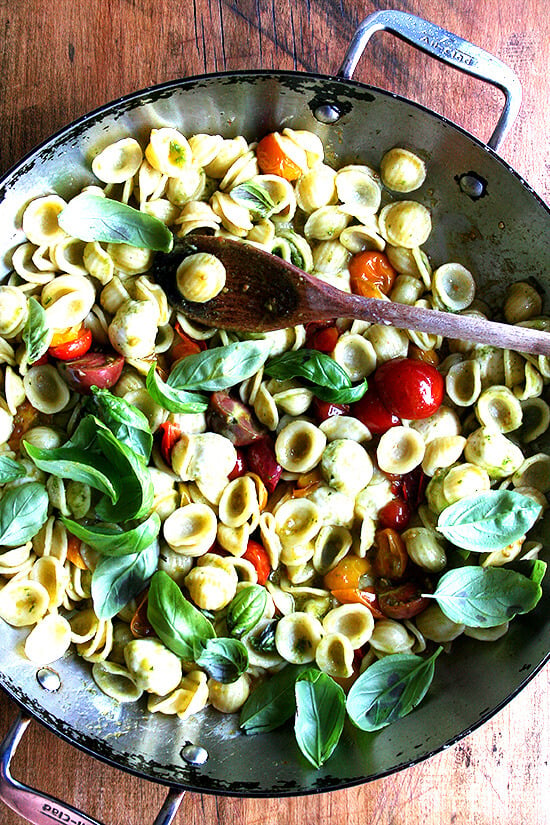 I am obsessed with roasted red peppers at the moment. I have been preparing them by the half dozen and using them all week chopped up in salads or left whole in sandwiches or laid atop a bagel with cream cheese. They are so delicious.
There are no roasted red peppers in this pasta dish, however. But I did discover a revolutionary way to use all of those lovely juices generated by roasting peppers. More on that later.
As for this pasta dish, it's another one I learned while working at that Philadelphia restaurant. As soon as the Branch Creek cherry tomatoes — the sweetest, most flavorful cherry tomatoes I had ever tasted — arrived each summer, this dish would appear as a first course on the menu. And it was a huge hit, a perfect start to a summer dinner.
It's simple to prepare: Sauté cherry tomatoes with orecchiette, ciliegene mozzarella and basil pesto. Add some fresh basil just before plating along with some shavings of Parmigiano Reggiano and fresh cracked pepper. Yum yum yum. Toasted pine nuts, I think, would make a nice addition to this pasta as well.
So, I normally avoid buying jarred sauces, tapenades, pestos, etc. but I have an amazing Italian deli in my town that sells enormous jars of delectable pesto at a very reasonable price. It's hard to pass up and makes for very easy preparations. So, if you have a good local source for pesto, by all means use it in this dish — everything else will take minutes to prepare.
Now, onto my revolutionary discovery regarding roasted red pepper juices. First of all, I cannot believe I have been discarding those juices all these years. I mean, I have always stored my peppers in their juices in a bowl in the fridge but once the last pepper has been consumed, those juices go down the drain. I had never before thought to drizzle them over pasta for added flavor or to reheat them with last night's pasta, as I did yesterday with this very dish, which was extremely delicious.
Oh it pains me to think about! What a waste. Am I the last person on the planet to have discovered this? Have all of you been creatively and resourcefully using your roasted red pepper juices all these years? If so, pray tell how.
I am anxious to try the recipe here with roasted red peppers substituted for the tomatoes, goat cheese for the mozzarella, and red pepper juices for the pesto … ooooh, I think another super summery pasta dish is in the works.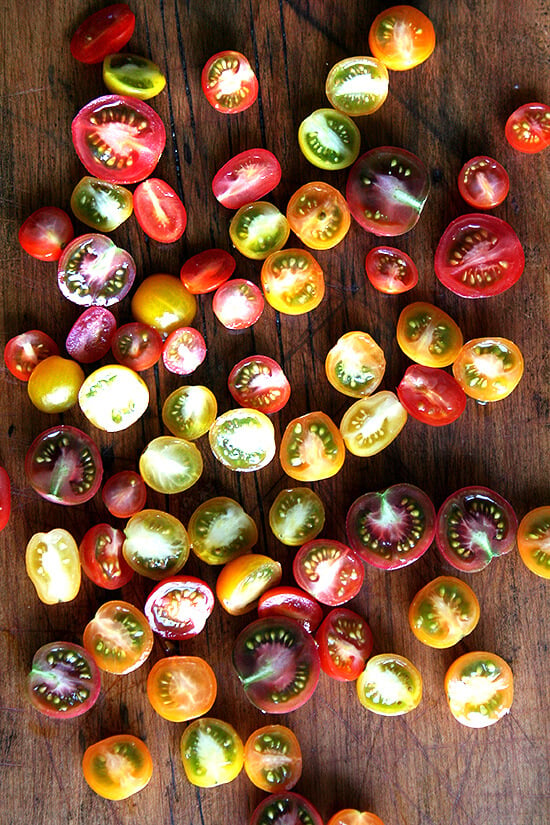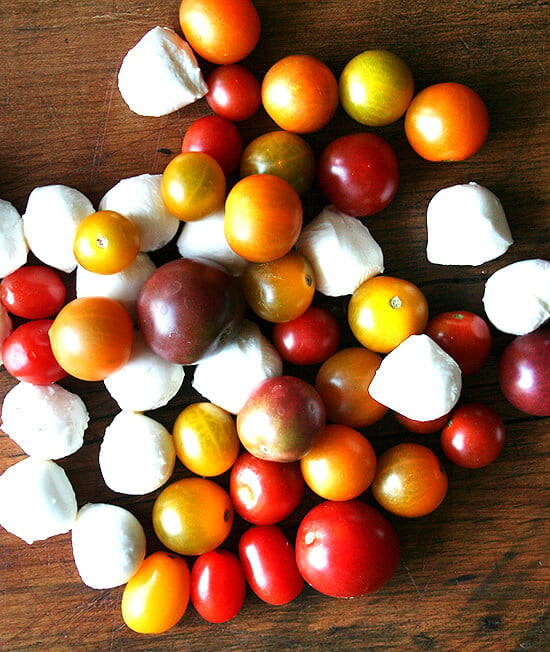 Orecchiette with Cherry Tomatoes, Mozzarella & Basil Pesto
Yield 4 servings
Ingredients
1/2 lb. orecchiette pasta
kosher salt
2 T. olive oil
1/2 lb. cherry tomatoes, halved (I used more like 9oz., and you could probably use even more)
2 T. basil pesto
1/2 lb. ciliegene (small balls) mozzarella*
fresh basil**
shaving of Parmigiano Reggiano (optional)
fresh cracked black pepper
* Goat cheese would be a nice substitute.
** If you have small tender leaves, leave them whole; otherwise, chiffonade the basil
***Toasted pine nuts or walnuts would make a nice addition to this pasta as well.
Instructions
Bring a large pot of water to a boil. Add a pinch of kosher salt. Add pasta and cook till al dente, about 9 minutes. (Package instructions said 11 minutes but the pasta will continue cooking as its tossed with the other ingredients so it's best to undercook it a little bit.) Drain pasta. Do not rinse.
Heat olive oil in a large skillet over high heat. Add the cherry tomatoes and cook for 30 seconds. Add pasta and pesto. Cook 1 minute, stirring to coat pasta with the pesto. Add the mozzarella. Stir to incorporate. Add the fresh basil and remove from the heat.
Divide pasta among bowls and sprinkle each with some fresh shavings of Parmigiano. Crack the pepper overtop and serve.
Did you make a recipe?
Tag @alexandracooks on Instagram and hashtag it #alexandracooks.