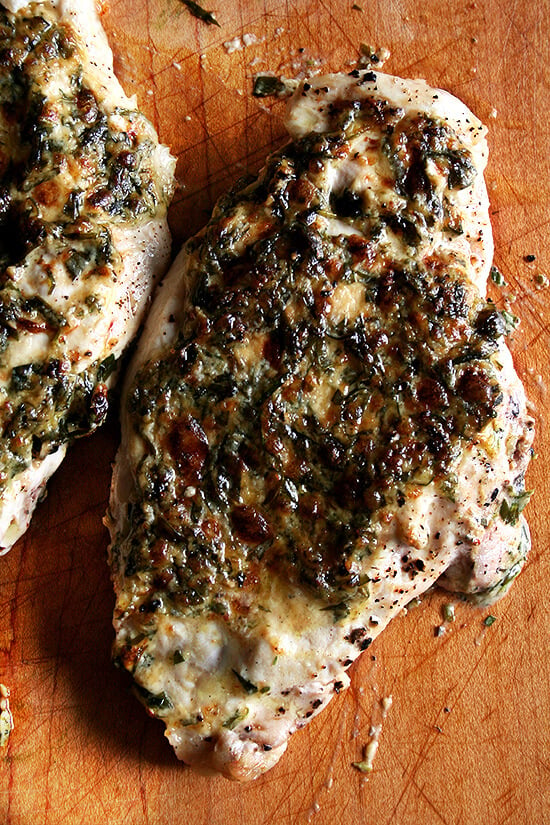 I'll be honest. If I saw a recipe for broiled chicken breasts on a blog, I'd probably stop reading. The words chicken breasts never make my mouth water. Sorry. Blame Liza. I was conditioned at an early age to favor dark meat.
But there's something about this recipe for breasts that just works. The tarragon-mustard-mayonnaise combo browns and bubbles under the broiler keeping the breasts juicy and tender and flavorful. Even Liza adores this recipe. And I adore how my kitchen smells when these breasts are broiling. It's up there with onions sautéing in butter and bread baking in the oven and truffle oil drizzled over just about anything.
I go through phases when I make these breasts once a week. I buy a whole chicken, break it down, save the thighs and drumsticks for one meal and the two breasts for another. For the dark meat, I have many recipes that I love (part two of this post to follow shortly), but for the breasts this is it. Just this one. Try it. It couldn't be simpler. And with the exception of the tarragon, you likely have the ingredients on hand so if you're disappointed, which would shock me, you won't have made a huge investment in time or money.
Now, if you enjoy the convenience of buying boneless, skinless chicken parts, read no further. I understand that people are strapped for time. And before I really thought about it, I enjoyed buying packs of boneless skinless chicken thighs myself.
That said, have you ever tried to bone a chicken thigh yourself? It's hard. Really hard. The process makes you realize just how much these parts have been handled before they reach your kitchen. And while it seems so convenient and cost effective to buy a pack of thighs or drumsticks or boneless breasts, you get so much more out of buying a whole chicken. With one chicken, I can get two meals for two plus 1.5 quarts of chicken stock (at the very least) plus 3 little snacks — 2 chicken tenders and a liver … yum yum yum.
Does the thought of dealing with a whole chicken discourage you? Don't let it. With a little practice, you'll soon discover that it's no big deal. It's actually quite rewarding. And if you're organized, in under five minutes, one meal will be minutes from completion, another will be prepped for tomorrow, and your chicken will be in pieces, its carcass simmering on the stovetop promising you a batch of stock tastier and healthier than anything you could buy at the store.
The key is being organized. I've included a little video below. All of you pros out there, please don't laugh — this video is not for you. This is just how I do it. And this is how I set up my station before I start hacking:
• 2 cutting boards
• 1 sharp knife
• trash can nearby with lid removed
• ziplock back nearby, opened, with top part folded over for easy entering
• stock pot
• plate
• mallet
• plastic wrap
You'll notice in the video that I throw bits of the chicken in the stockpot. When I'm through breaking it down, I fill the pot with water, bring it to a boil, and let it simmer for about 3 hours. That's it. Making homemade chicken stock is no big deal. If you have onions, carrots, celery to add to the pot, great. If you don't, don't sweat it. And this is how you know you've made good stock.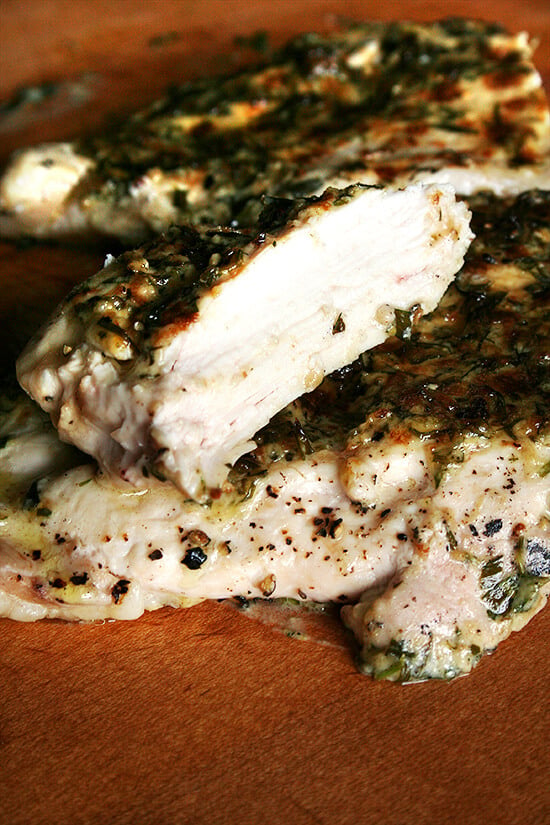 Print
Broiled Tarragon Breasts
Yield 2
Ingredients
2 boneless skinless chicken breasts, pounded to about 3/4-inch thickness
kosher salt and freshly ground pepper
3 T. mayonnaise*
1 T. mustard
chopped fresh tarragon, lots of it, at least 3 tablespoons

* If you want to be really gourmet, make the homemade version, recipe below.
Instructions
Preheat the broiler to high.
Season both sides of each breast with kosher salt and pepper. Mix mayo, mustard and tarragon together. Grease a broiler pan with olive oil. Place breasts on the pan and spoon half (or a little less than half) of the mayo-mustard mixture over the breasts.
Broil 3 minutes. Remove pan. Flip breasts. Spread remaining mayo-mustard mixture over the breasts. Return to the broiler and cook for about 5 to 6 minutes longer, depending on the thickness of the breasts.
Did you make a recipe?
Tag @alexandracooks on Instagram and hashtag it #alexandracooks.
---
Print
Homemade Mayonnaise
Yield 1 .25 cups
You can make this in a food processor as well.
Ingredients
1 egg yolk
1 T. lemon juice
1 T. Dijon mustard
pinch salt and pepper
1 cup regular olive oil (not extra virgin) or grapeseed oil
Instructions
Whisk together the yolk, lemon juice, mustard, salt and pepper.
Start beating vigorously while slowly drizzling in the olive oil. Beat until thick and smooth.
Did you make a recipe?
Tag @alexandracooks on Instagram and hashtag it #alexandracooks.