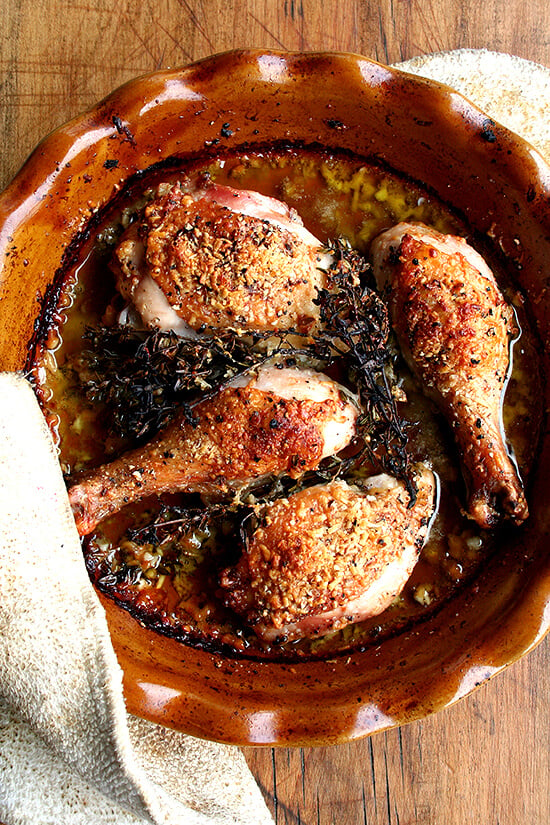 Can you remember one-third cup? That's really all you need to know in order to make this recipe: one-third cup olive oil, one-third cup white wine, one-third cup freshly grated Parmigiano Reggiano. Garlic and thyme are nice additions but optional. Just whisk everything together, season the chicken with salt and pepper, throw it in a 450ºF oven and you're done. Crispy skins. Tender meat. A delicious meal to add to your repertoire.
As the title of this post mentions, this is part two of a making-the-most-of-a-whole-chicken series. I have other recipes for the dark meat, but let's just start with this one, k? It's the simplest one I know and perhaps my favorite as well.
So you have a game plan now, right? Buy a chicken. Cut it up. Make stock. Serve broiled tarragon breasts for dinner one night, chicken legs baked with white wine, olive oil and Parmigiano Reggiano another. Fry up that liver for a snack. And cook up those little tenders to add to a salad or a sandwich? I don't have many creative ideas for the tenders nor much experience with the liver but I'm confident you will not let these bits go to waste. And, any tips you might have for cooking the liver would be much appreciated … I sort of just throw it in a pan and cross my fingers. Yum yum yum.
Print
Chicken Legs Baked with White Wine, Olive Oil & Parmigiano Reggiano
Yield 2
Scale up as needed and use a large roasting pan if you do. Recently I doubled the liquids and used 8 chicken thighs, and it worked beautifully — I just cooked the chicken until the skin looked crisp and golden, probably close to an hour. This is a very forgiving recipe. 
Ingredients
2 chicken drumsticks + 2 chicken thighs (or some other combination), bone-in, skin-on
kosher salt and freshly cracked pepper
1/3 cup white wine
1/3 cup olive oil
1/3 cup freshly grated Parmigiano Reggiano
2-3 cloves garlic, minced
1 shallot thinly sliced
a few sprigs fresh thyme
Instructions
Preheat the oven to 450ºF. Season chicken on both sides generously with salt and pepper.
In a small shallow baking dish such as a pie plate, whisk together the white wine, olive oil, about half of the cheese, the garlic and the shallot. Throw in the thyme sprigs and the chicken and toss all around to coat.
Turn chicken so that the skin is facing up and sprinkle with the remaining cheese. Place in the oven for 30 minutes. Take a peak. If the skin is getting too brown, reduce the heat to 400ºF. Continue baking for about 20 more minutes, or until the meat is pulling away from the bone on the drumstick. The time it takes to cook this chicken will vary depending on your oven, on the size of the legs, if the chicken was cooked directly from the refrigerator or if it had been brought to room temperature before baking, etc. Trust your nose — if you think it's done, take a stab. After you've made the recipe once or twice, you'll have a better idea about the timing.
Did you make a recipe?
Tag @alexandracooks on Instagram and hashtag it #alexandracooks.