Fresh Corn Polenta: Where Have You Been All My Life?
This post may contain affiliate links. Please read my disclosure policy.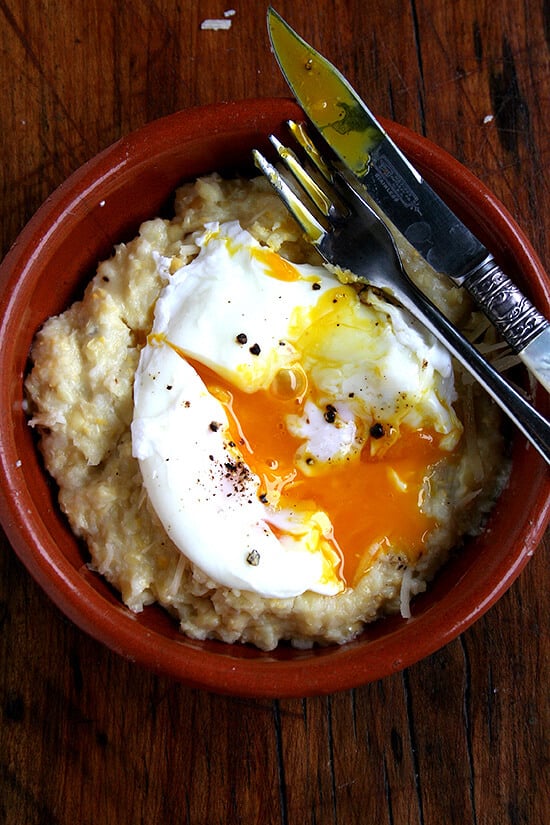 Fresh corn polenta — oh fresh corn polenta! How could I have forgotten about you? I discovered you this time last year. I was out to eat. You were in my bowl. It was love at first bite. You were the very best polenta I had ever tasted, your sweet corn flavor discernible even through the jus of the pair of braised short ribs smothering you. How could this be, I wondered? I chalked it up to lots of butter and cheese and the sort of restaurant trickery that just can't be duplicated at home. And so I forgot about you. For a whole year. Oh fresh corn polenta! I'm so happy you're back in my life. In my home no less. And for good this time.
This is the sort of recipe I want to tell everyone about. I want to call all of my friends and family. I want to spark up conversation with people in checkout lines, knock on my neighbors' doors, stop strangers in the street. It is so good and much to my surprise calls for no sort of restaurant magic — just a box grater, a little butter, and a sauté pan. It's the kind of thing I could eat every night for dinner, and this week I basically have. I love it with sautéed greens or with a poached egg or just on its own with some cracked pepper and parmesan cheese. Before the season ends, I hope to try it with some sautéed mushrooms, too, which is how they serve it at La Toque, the source of this wonderful recipe.
You'll discover it takes no time to whip up, just a little elbow grease during preparations — grating the ears of corn can be tiring. With that in mind, this is not a dish to make for company. It is the perfect dinner-for-1 or-2. It is simple and delicious. It is restaurant worthy certainly, but comfort food at its core. And I hope it will leave you wondering, as it has left me, where have you been all my life?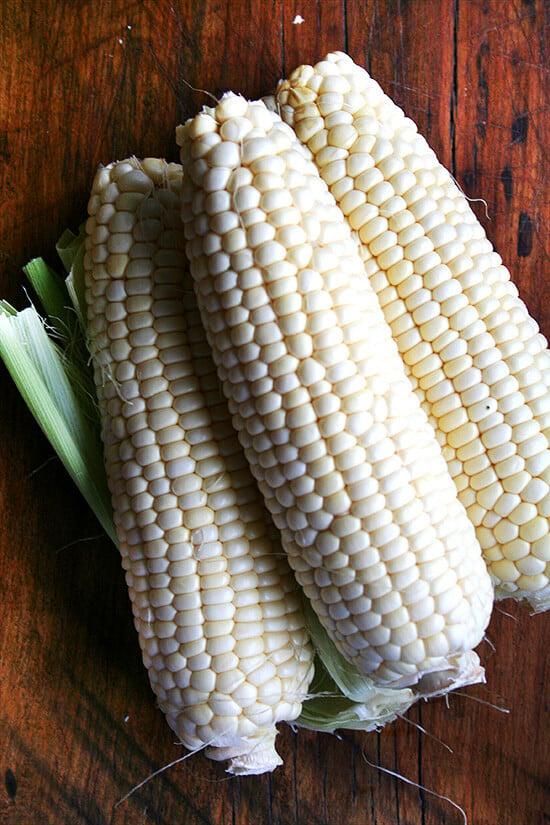 One ear's worth of grated corn: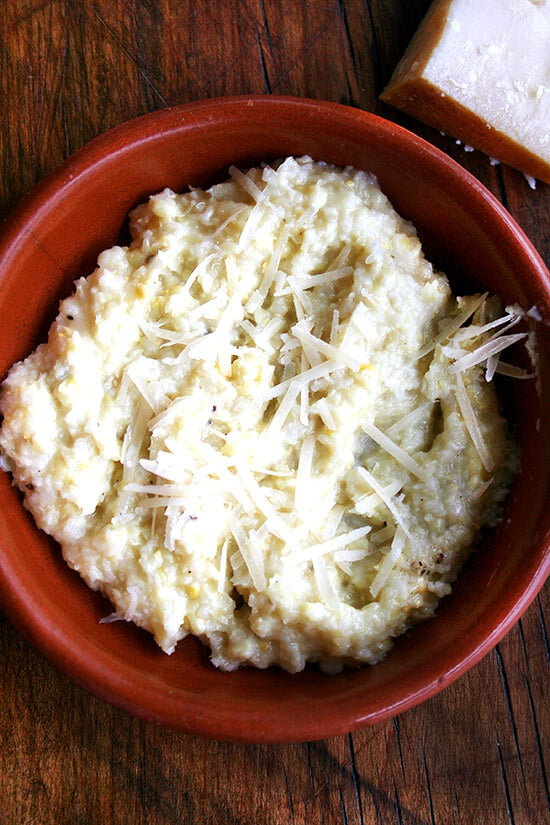 Print
Fresh Corn Polenta: Where Have You Been All My Life?
---
Description
Original recipe hails from La Toque, where they serve it with sautéed chanterelles. Yum.
For video guidance, check out this Instagram Story.
---
2

ears corn

2 teaspoons

butter
kosher salt
grated Parmigiano Reggiano
---
Instructions
Clean the corn, removing all husks and threads. Working over a large bowl, grate the kernels off of the cob on the coarse side of a box grater. You will have a very wet coarse pulpy mixture.
Melt the butter in a small saucepan over medium heat. Add the grated corn and season with a good pinch of salt. Simmer over low heat, stirring to prevent browning, for about 3 minutes. The mixture is ready when it just begins to thicken and set.
Top with some grated Parmigiano Reggiano and/or a poached egg or some sautéed greens.
Prep Time:

5 minutes

Cook Time:

5 minutes

Category:

Dinner

Method:

Stovetop

Cuisine:

American
Keywords: fresh, corn, polenta, parmesan, eggs, poached, summer
This post may contain affiliate links. Please read my disclosure policy.