Homemade Applesauce
This post may contain affiliate links. Please read my disclosure policy.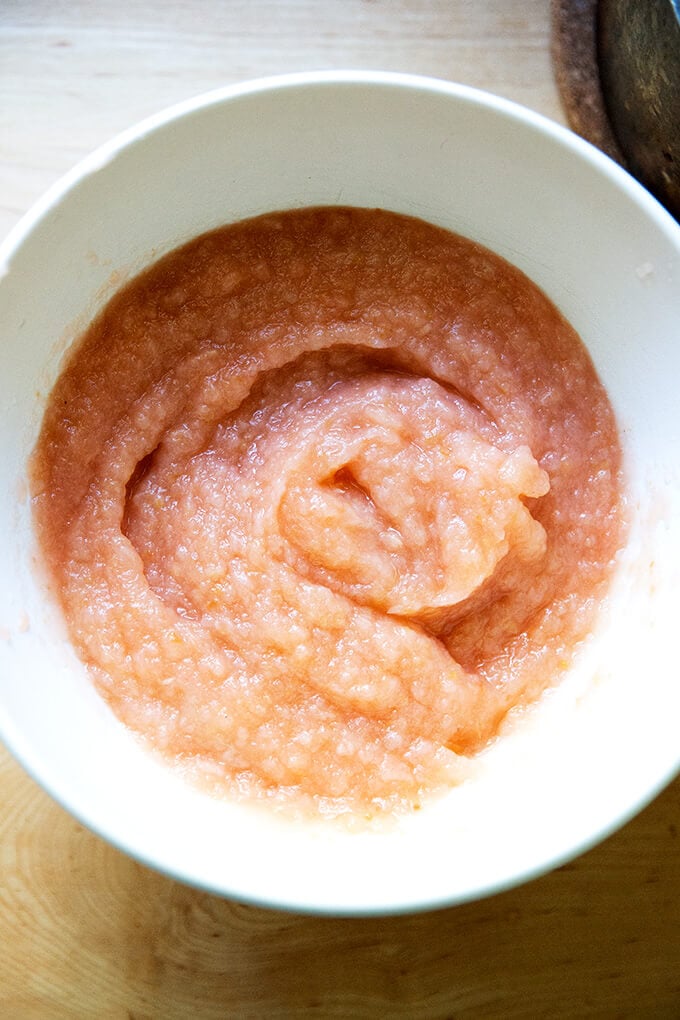 You all know it takes no time to whip up homemade applesauce, right? And you know it requires no peeling, no additional sugar, and no spices, right? It's so tasty, too.
There is one stipulation. You sort of need a food mill. Unfortunately, I only use mine to make applesauce. Am I missing something? Are there other recipes out there requiring a food mill? If you know of any, please share.
Also, I'm afraid my mother would be deeply disappointed if I didn't mention one thing: Apples top the "Dirty Dozen" list. And apparently, scrubbing and peeling won't eliminate chemical residue completely, and you definitely want to keep the skins on when you make applesauce — that's where all the flavor and color live. So with apples, it is ideal if you can purchase organic or if you can purchase from your local-but-perhaps-not-certified-organic-though-organic-in-every-sense-of-the-word apple farmer. Make sense?
PS: Moist Applesauce Bundt Cake
How to Make Applesauce, Step by Step
Grab some apples! Red-skinned apples such as Empire and Pink Lady work well here because their skins imbue the sauce with the loveliest pink hue.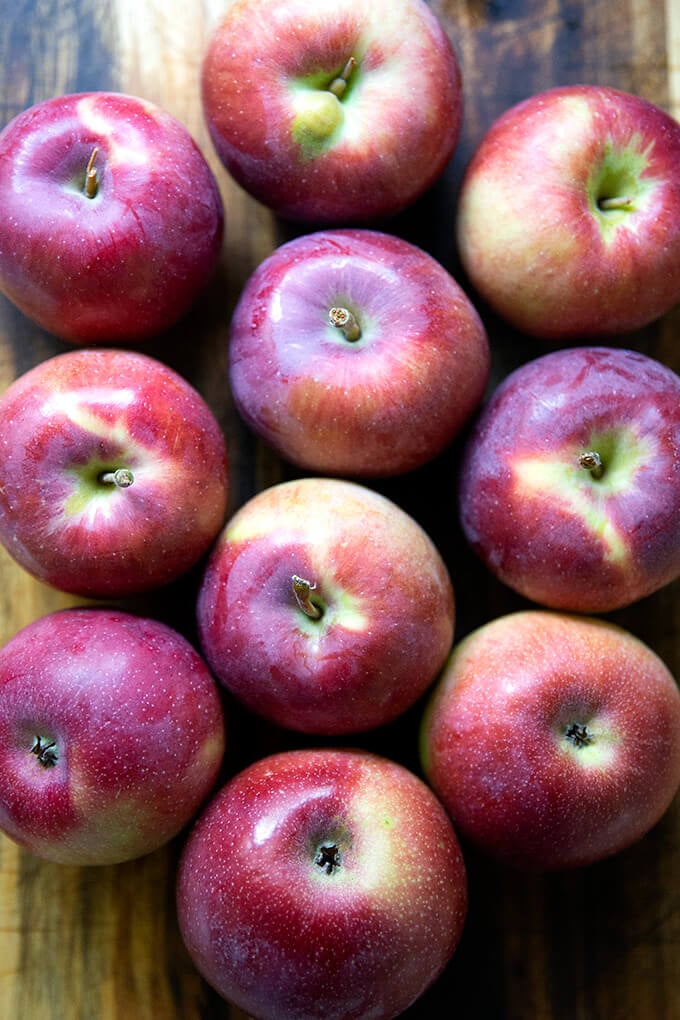 Cut up the apples, leaving the skins on.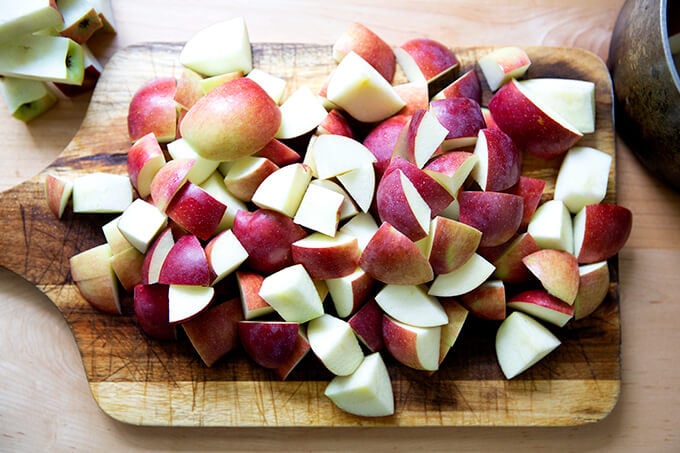 Transfer the apples to a pot. Add a cup of water; then transfer to the stovetop.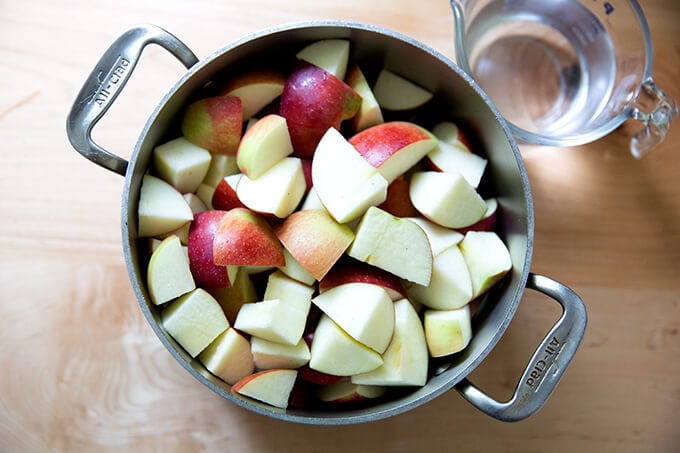 Cook for about 20 minutes or until the apples are very soft.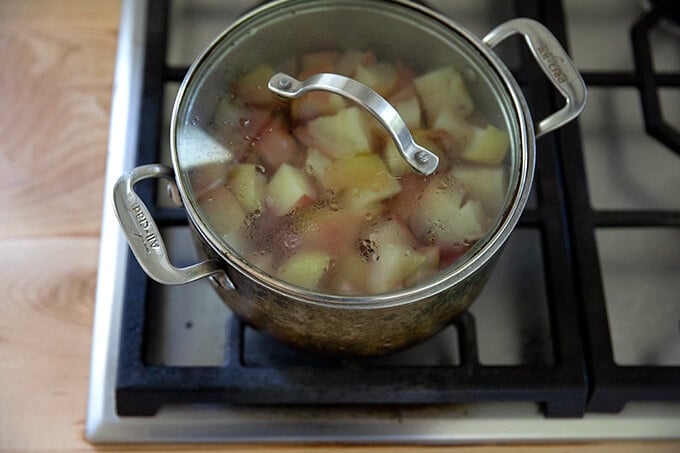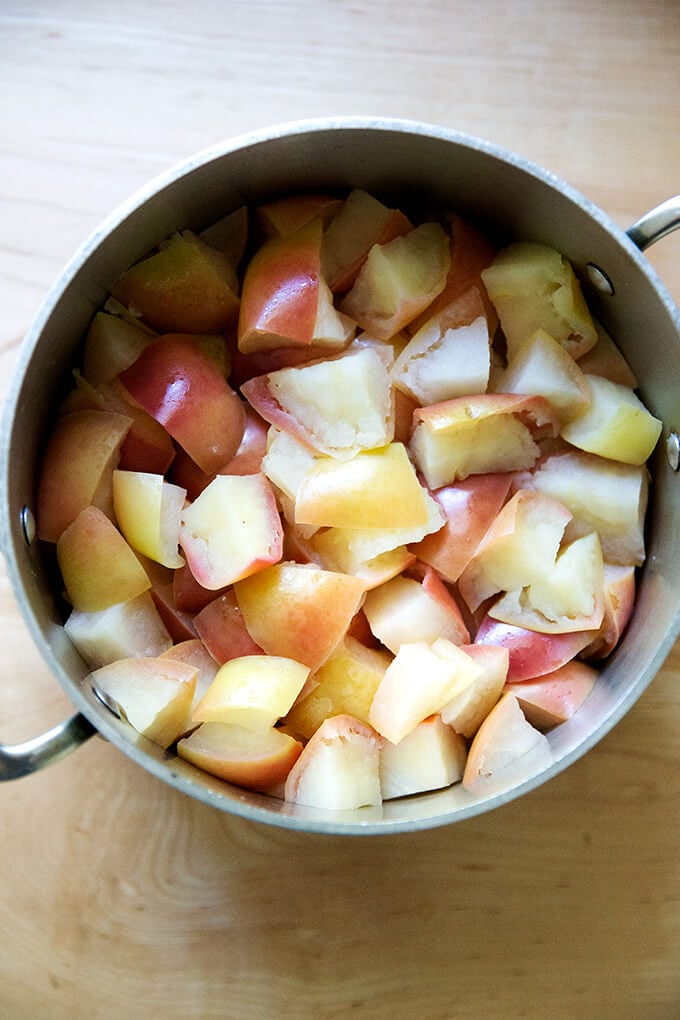 Pass the apples through a foodmill.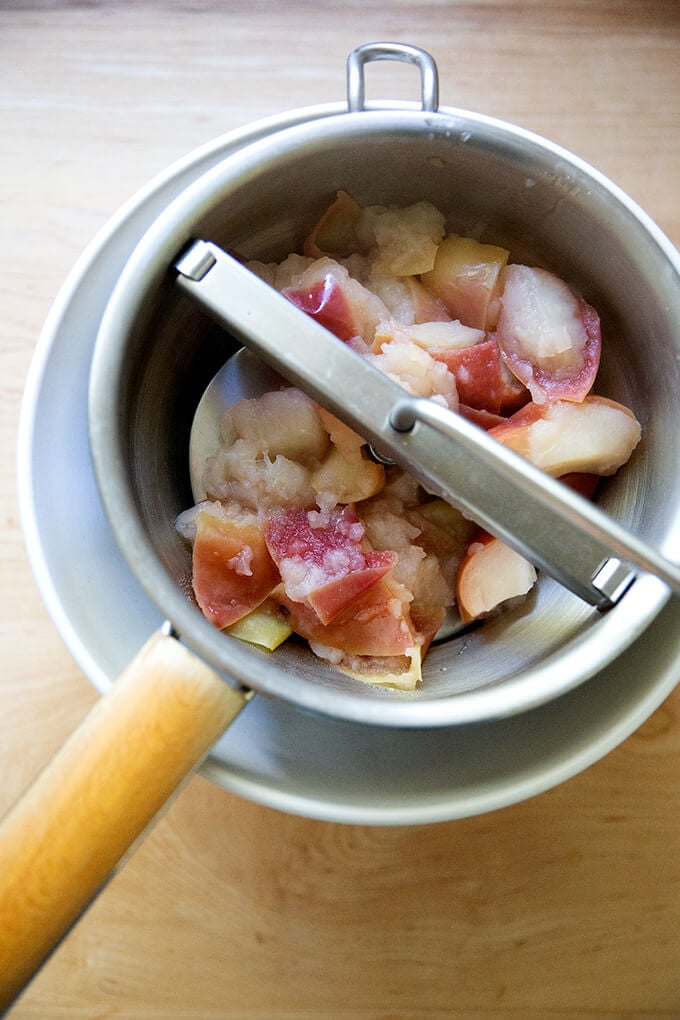 Ta da! Isn't it pretty?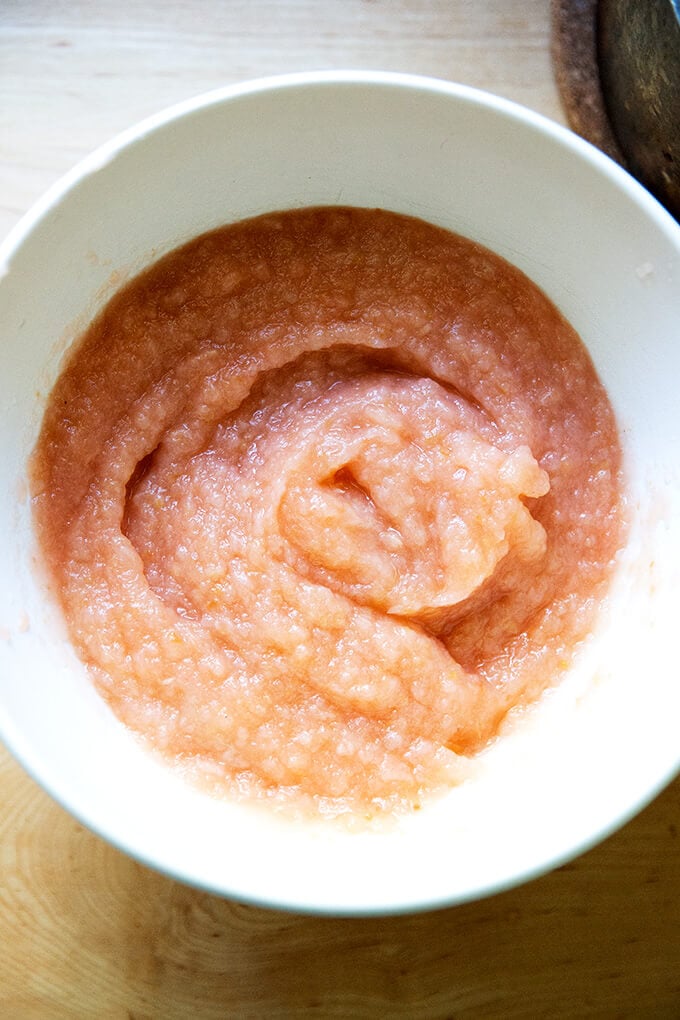 Store in the fridge or use immediately in this applesauce bundt cake — it's a favorite!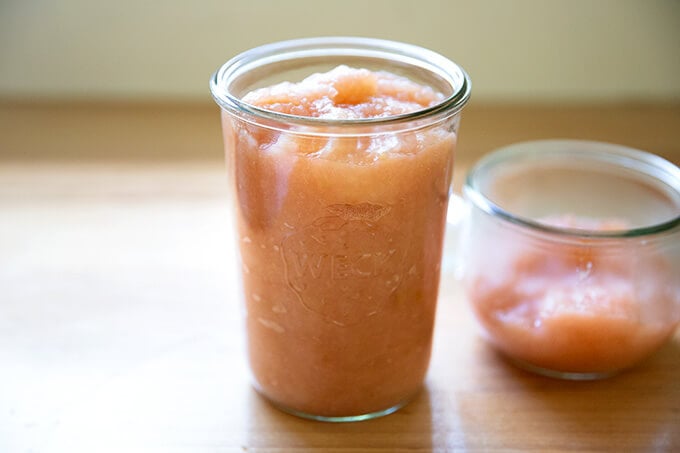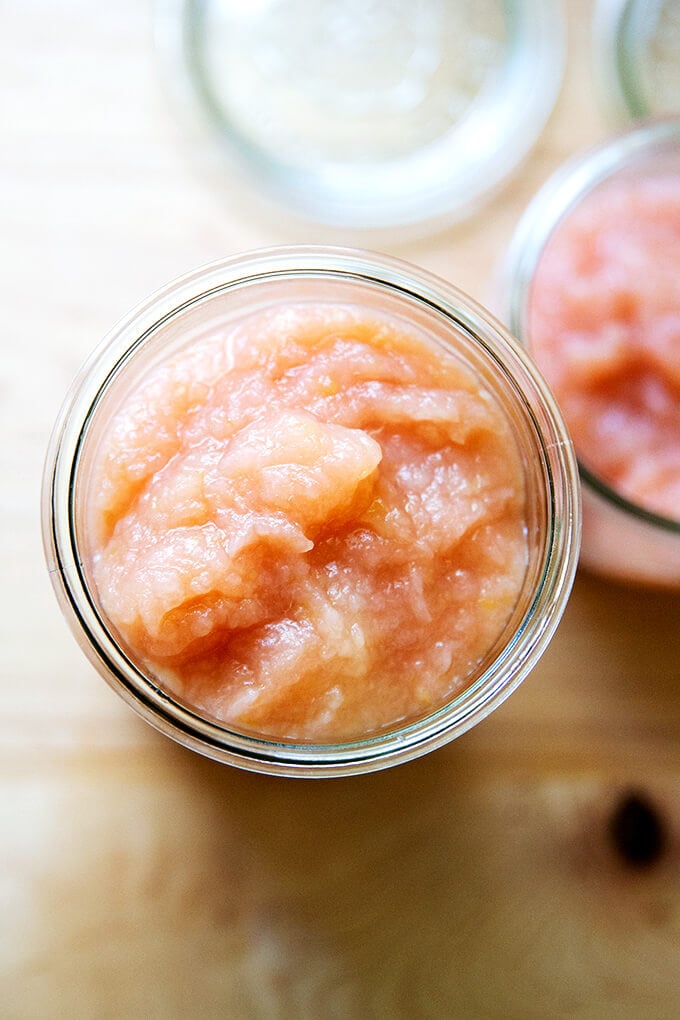 Print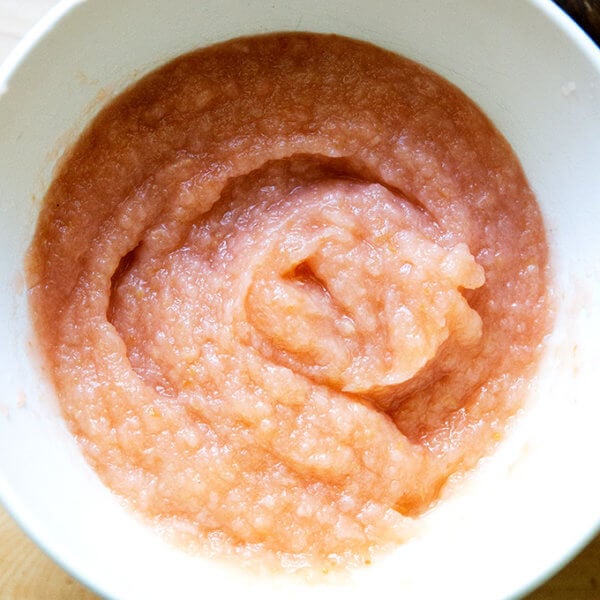 Homemade Applesauce
---
3

lbs. apples, about

8

to

10

apples*

1 cup

water
*Any variety of apples will do, but I have been partial to Fuji and Lady Pink, because I can get those varieties at my farmers' market. Empire apples also make a beautifully hued sauce.
---
Instructions
So, there isn't really a recipe here, just a method. Cut apples into big chunks — cut straight down around the core and discard it. Place them in a large pot with about a cup of water. Cover the pot, bring it to a boil, reduce the heat to medium, and simmer until the apples are very tender, about 20 minutes. This can take more or less time depending on the variety of apples you've chosen to use and the number of apples you have jammed in the pot. After you make this once or twice, you will have a better sense of the water-to-apple ratio.
Once the apples are tender, spoon them into the food mill in smallish batches. Start cranking. You may or may not need all of the liquid remaining in the pot. That's it. You're done!
Prep Time:

10 minutes

Cook Time:

30 minutes
This post may contain affiliate links. Please read my disclosure policy.