Crispy Kale Chips
This post may contain affiliate links. Please read my disclosure policy.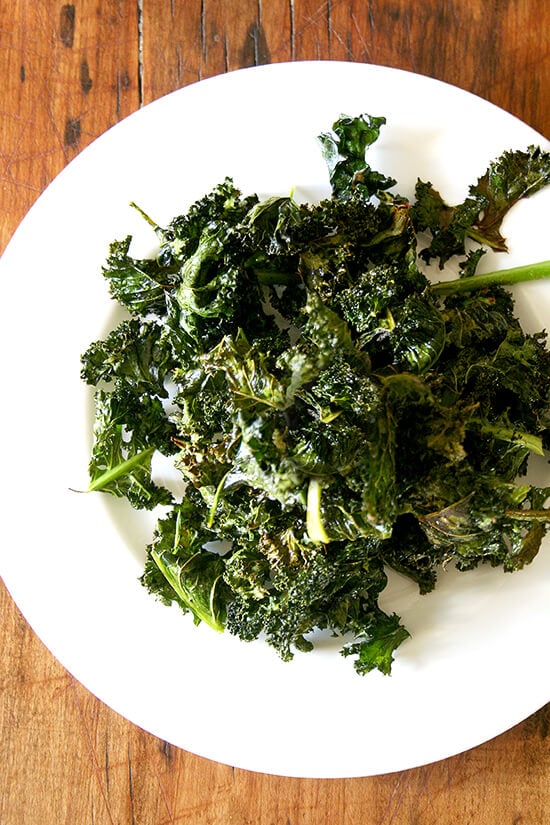 They're sort of one of those things you have to try to believe. When a friend proclaimed she and her husband (who has been known to drive 40 minutes for his favorite burger) preferred kale chips to potato chips and even to french fries, I had my doubts. It was about time I tried for myself, however. I've only been reading about these crisps on the blogosphere for about 3 years.
Well, what can I say? If you think you can't eat a head of kale in one sitting, think again. You can, and you will. In fact you might find that one head is not enough for one sitting. And you might find that 8 heads of kale from the farmers' market won't suffice for the week. And you might find yourself panicking mid-week, making stops to your not-so-favorite market to preemptively restock your supply. I mean it. These kale chips are that good. It would make me so happy if you tried for yourself.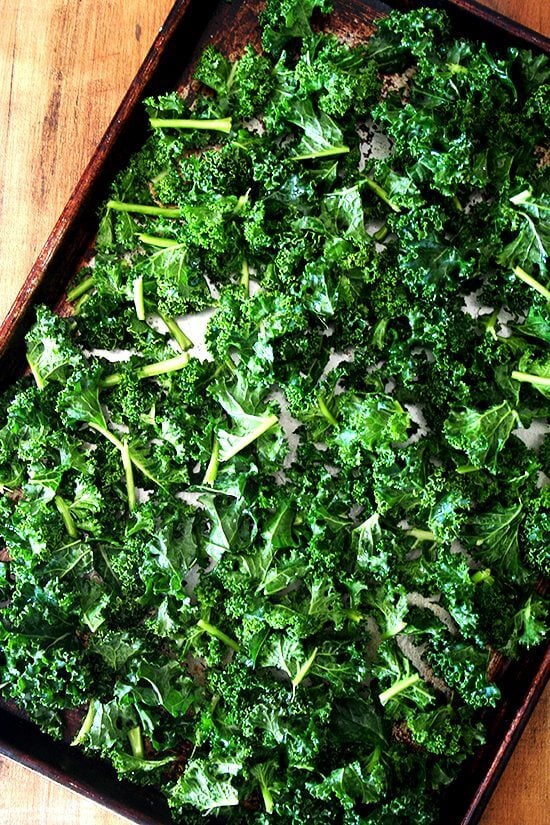 Print
Crispy Kale Chips
---
Total Time:

20 minutes

Yield:

1-2 servings
1

bunch kale*
extra-virgin olive oil
kosher salt
*Of course bunches vary in size, but this recipe is not precise anyway. Also, there are many varieties of kale. I've made this recipe with at least 3 different varieties, and they all are delicious.
---
Instructions
Preheat the oven to 350ºF. Tear kale into smallish-sized pieces as pictured above. Toss lightly with olive oil and kosher salt. Spread evenly on a sheet tray. Don't be afraid to fill it up — it shrinks way down while it bakes (see picture below.)
Place sheet tray in the oven for about 15 minutes. Reach inside being careful not to burn yourself and feel the kale pieces. They should feel slightly crispy. If the pieces are not crispy at all, keep cooking for another couple of minutes.
Remove sheet tray from the oven and place on cooling rack for a minute or two. Eat! Once you make this recipe once or twice, you'll discover how long it takes for a batch to cook. Some pieces will always be overcooked; some will be undercooked; but

most will be delicious! Enjoy.
Prep Time:

5 minutes

Cook Time:

15 minutes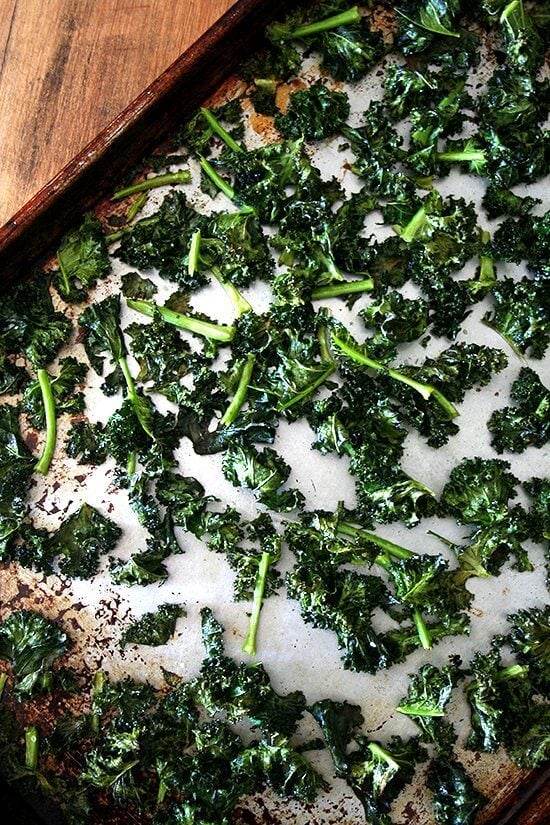 This post may contain affiliate links. Please read my disclosure policy.