Lemony Buttermilk Blueberry Scones
This post may contain affiliate links. Please read my disclosure policy.
If you don't have a go-to scone recipe in your repertoire, try this lemon-blueberry scone recipe. It comes from Tartine Bakery, and it yields a flaky, buttery, sugar-crusted, and berry-loaded scone. Buttermilk makes the crumb especially tender, and a hint of lemon so nicely complements the berries, adding a touch of brightness, too.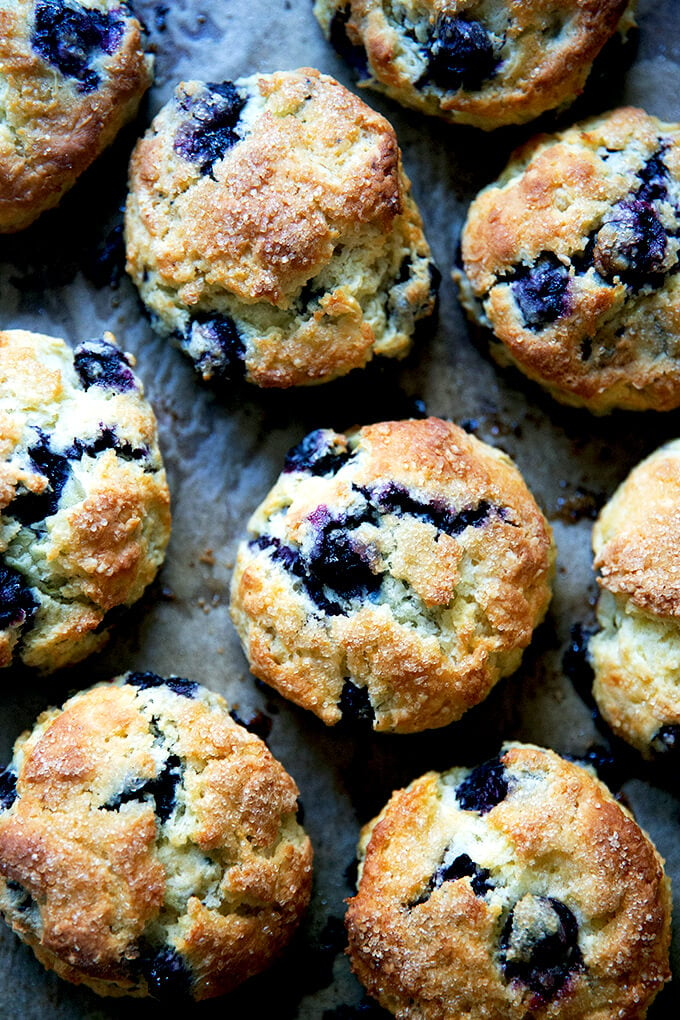 You might recall my obsession with Tartine? Its quiche, bread pudding and croque monsieur in particular. When you live hundreds of miles from this magical bakery, it's good to have a few of their tricks up your sleeve. Scones are a great place to start.
The key to making a good scone is similar to making a good pie crust or a good biscuit:
Use cold butter.
Handle the dough minimally.
Keeping the butter cold creates a flakiness in the finished pastry. Handling the dough with a light touch ensures the crumb will be tender.
There are a few ways to "cut" cold butter into dry ingredients:
A pastry cutter: This hand-held, u-shaped tool works well if you have a sturdy one with solid (as opposed to wire) "blades". I find pastry cutters to be a little tricky initially — they slip and slide — but once you make a few cuts, they beautifully "cut" the butter into the dry ingredients.
The back of a fork: The back of a fork works similarly to a pastry cutter, but will require a little more elbow grease.
Food processor: Ten 1-second pulses in the food processor will quickly cut butter into dry ingredients, as in this pie dough recipe. Finish the scone dough by hand, however: once the butter is cut into the dry ingredients, transfer it to a bowl and add the buttermilk and blueberries; combine using a wooden spoon or spatula.
Box grater: If you freeze the butter before using it, you can run it down a box grater to create fine shreds, which will incorporate easily into your dry ingredients.
Three More Tips for Excellent Scones
Use buttermilk: Buttermilk tenderizes gluten, which promotes a tenderness in the final product. It also offers a nice tang.
Add citrus zest: Fresh lemon or orange zest makes all the difference in a pastry, offering a touch of brightness as well as a nice complement to the sweet fruit.
Use your refrigerator: Chilling the shaped scones before baking, as you do when making a pie crust, will prevent the scones from spreading when baking. You can also freeze the shaped scones. See notes in the recipe.
PS: I use this same base recipe to make Buttermilk Currant Scones and Cranberry-Orange "Snow" Scones.
More Classic Breakfast Recipes
How to Make Blueberry Scones
First, gather your ingredients: flour, salt, baking powder, baking soda, sugar, butter, berries, buttermilk, and a lemon.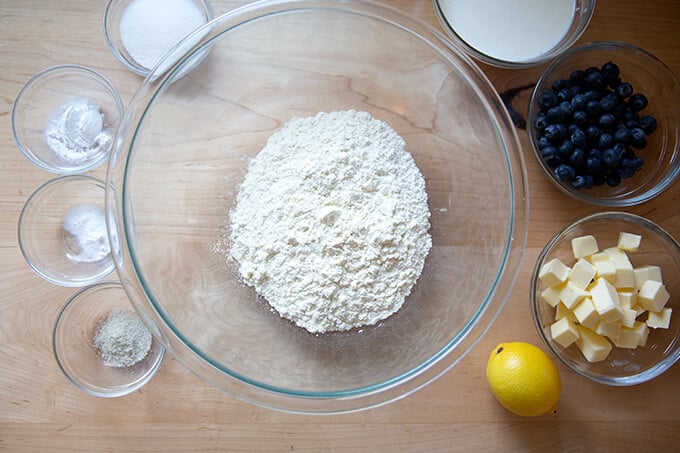 Next, mix the dough just until it comes together (video guidance above and in recipe card):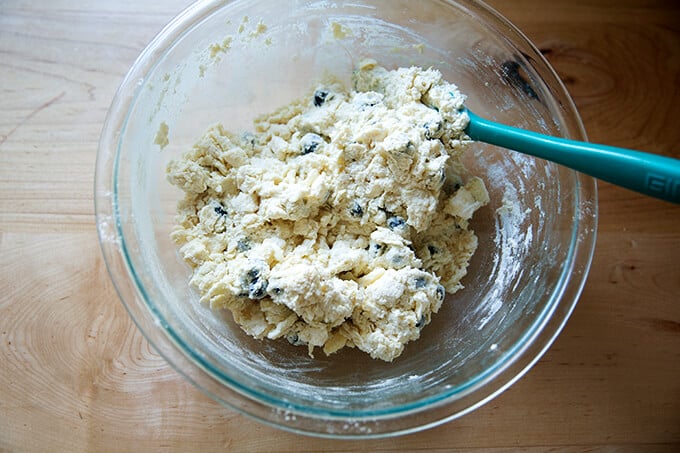 Turn it out onto a floured work surface and shape into a rectangle or square about 1.5 inches thick: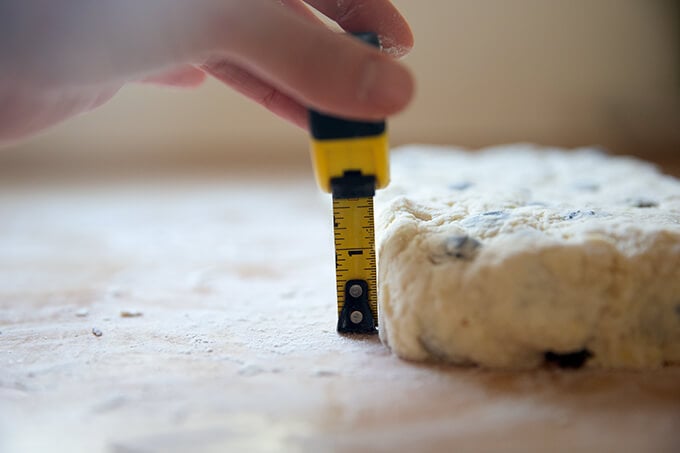 Cut as you wish: rectangles, squares, triangles or rounds, using a biscuit cutter: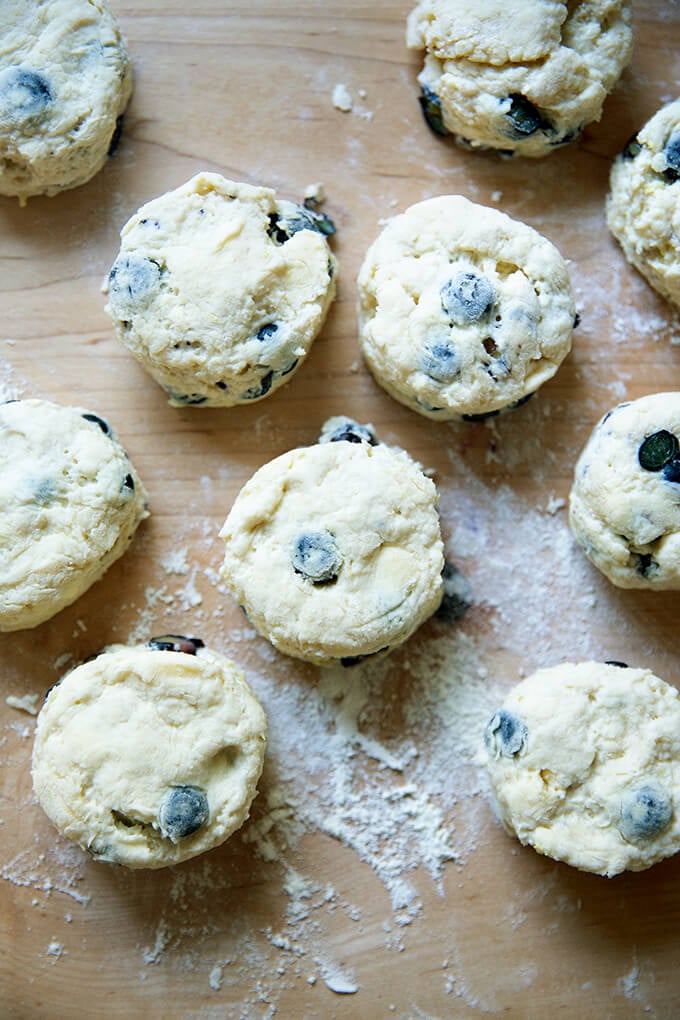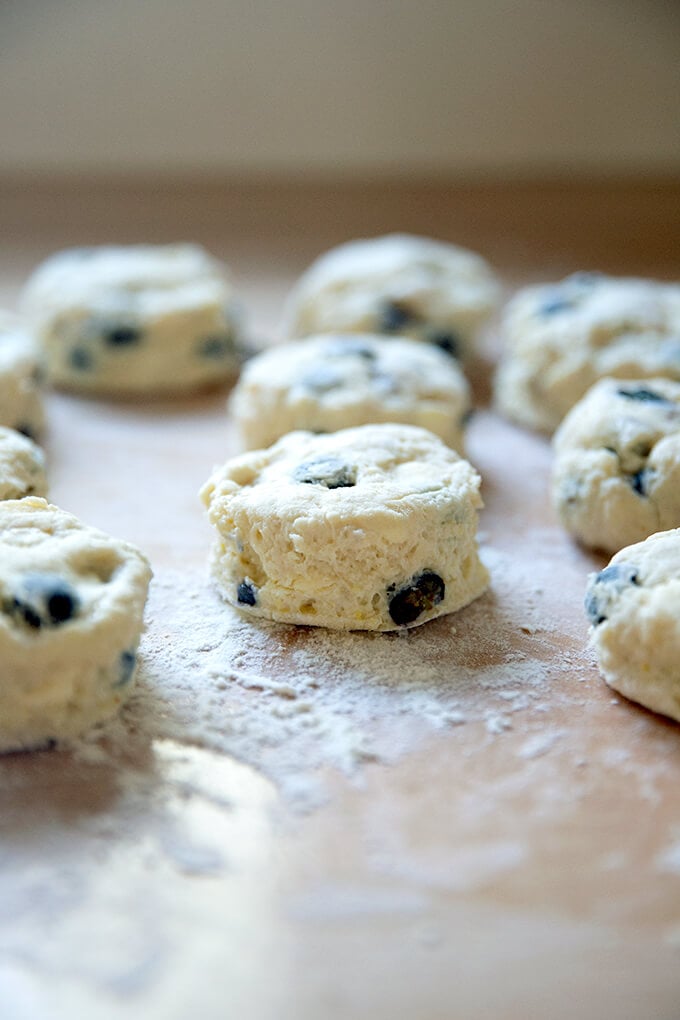 Transfer to a parchment lined sheet pan, and brush with butter and sprinkle with turbinado (or other sugar).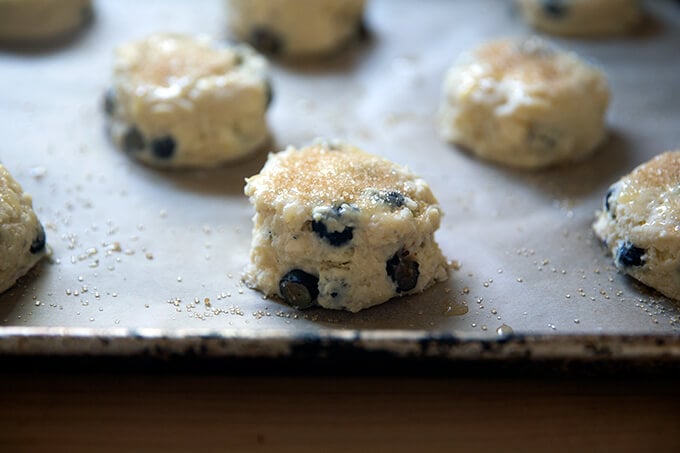 Bake at 400ºF for 20 minutes or until evenly golden: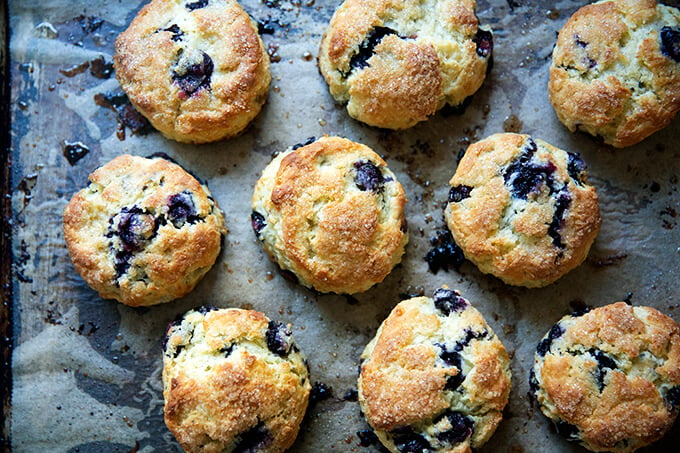 Transfer to a cooling rack for 5 minutes before serving with butter or jam on the side.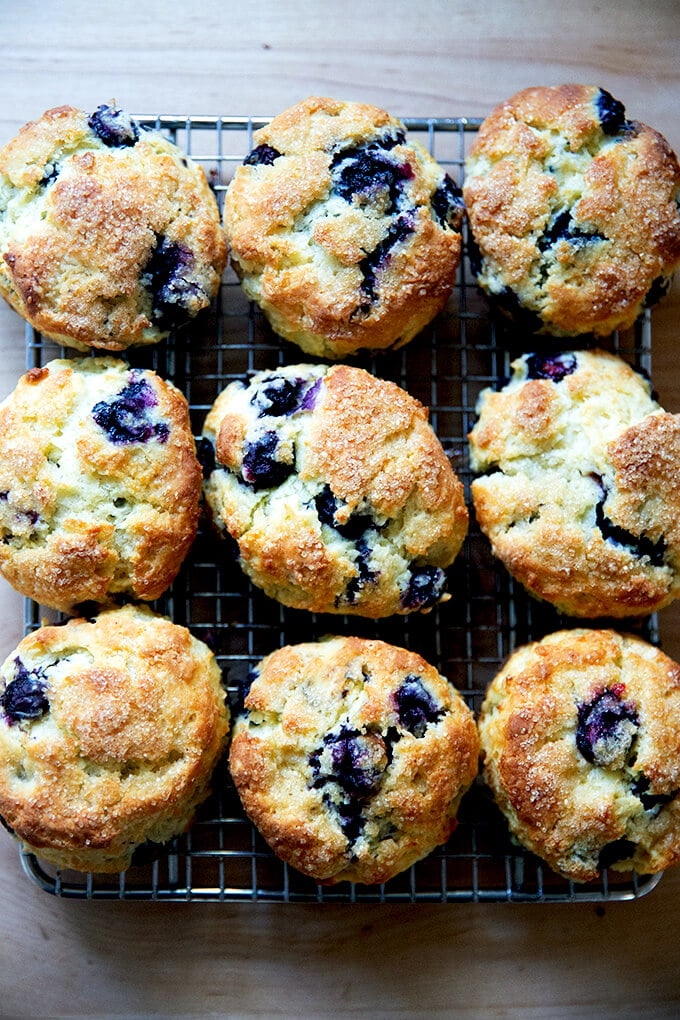 Use this recipe as a guide. These currant scones and cranberry scones are favorites as well: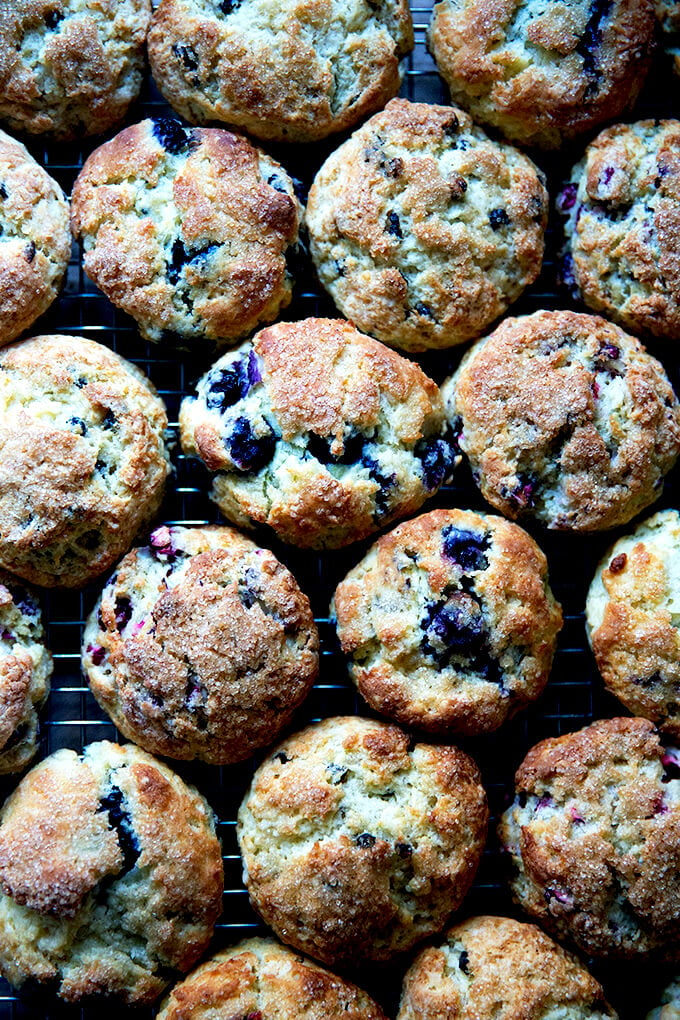 If you don't feel like dealing with scraps and re-rolling the dough, simply cut it into triangles: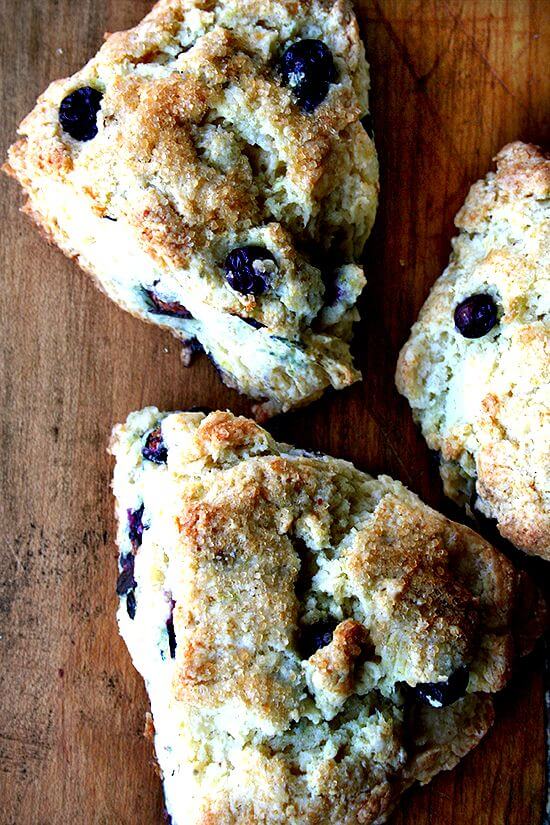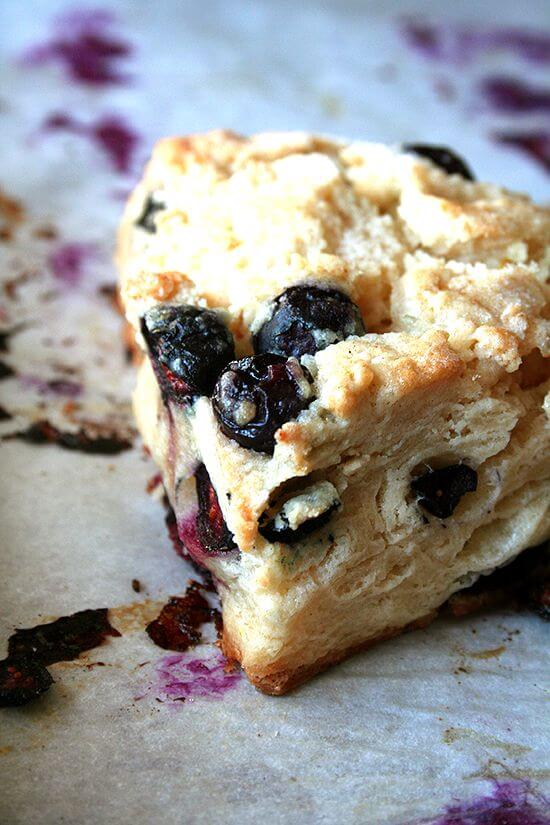 Print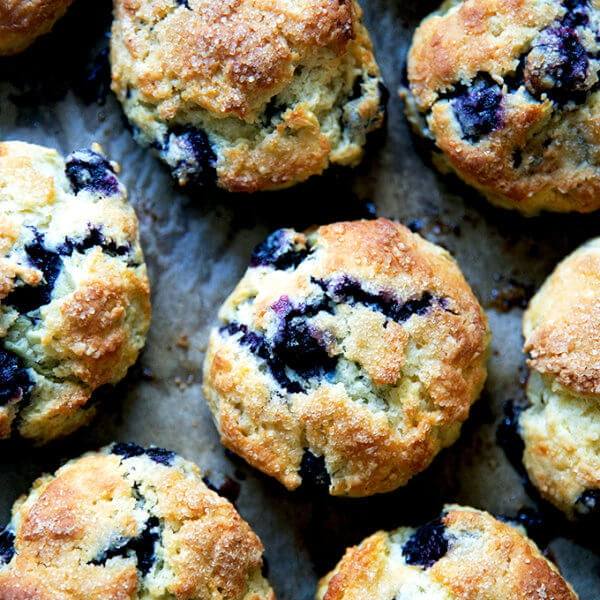 Lemony Buttermilk Blueberry Scones
---
Description
Adapted from Tartine's recipe for currant scones.
UPDATE: I recently re-wrote the recipe as a half recipe, because I found myself always making the half recipe, which yields a more manageable amount (8 to 9 as opposed to 16-18).
As always, for best results, use a digital scale to measure. 
Sugar: You can sprinkle the scones with granulated sugar before baking, but turbinado sugar makes for an especially tasty and pretty crust. 
To freeze: After you place the scones on a sheet pan, transfer them to the freezer. Freeze until solid; then transfer the scones to an airtight container or bag. When you are ready to bake, there's no need to thaw them. Bake as directed below straight from the freezer. (Brust with butter and sprinkle with sugar before baking.) The scones shouldn't take much longer to bake from frozen, but keep an eye on them at the 20-minute mark. 
To make your own buttermilk:
Place 1 tablespoon of vinegar or lemon juice in a liquid measuring cup.
Fill cup with milk (2% or whole is best) until it reaches the 1-cup line.
Let stand for five minutes. Use as directed.
---
1 cup

(

150 g

) fresh blueberries

2 3/8 cups

(

304 g

) all-purpose flour

1.5 teaspoons

(

5 g

) baking powder

0.5 teaspoon

(

3 g

) baking soda

1/4 cup

(

55 g

) sugar

1 teaspoon

(

6 g

) salt 

1 teaspoon

grated lemon zest, from about

1

lemon

1/2 cup

(

113 g

) cold, unsalted butter

3/4 cup

(

180 g

) buttermilk, plus more as needed
For finishing: 
1.5 tablespoons

melted butter
sugar for sprinkling: turbinado makes for an especially pretty and tasty crust, see notes above
---
Instructions
Preheat the oven to 400ºF. Line a rimmed baking sheet with parchment paper. 
Whisk together flour, baking powder, baking soda, sugar, salt, and lemon zest. Cut the butter into ½-inch cubes and scatter the cubes over the dry ingredients. Use a pastry blender or the back of a fork to cut the butter into the dry ingredients. When you are finished, the butter should be dispersed throughout the flour in pea-sized lumps.
Add the buttermilk and the blueberries, and mix gently with a wooden spoon or spatula until the dough holds together. If the mixture seems dry, add a tablespoon more buttermilk (or more as needed). If necessary, knead gently with your hands to help the dough come together. 
Dust your work surface with flour and turn the dough out onto it. Using your hands, pat the dough into a rectangle about 1½ inches thick. Using a biscuit cutter or any round cutter (I use a 2.5-inch biscuit cutter), cut each disk into about 8 circles. Gather the scraps together and repeat. Transfer scones to prepared sheet pan. (I like to chill my scones for 20 minutes at this point before baking them; you also can freeze the scones at this point — see notes above.) Brush the top with melted butter. Sprinkle with sugar. Note: You also can simply cut these into triangles or rectangles, which is easier.
I like to place the pan on another rimmed baking sheet because often the bottom of my scones burn, but if you don't have issues with your baking sheets, just use one sheet. Bake until the tops of the scones are lightly browned, about 20 minutes. Remove from the oven, let cool briefly, then serve with butter on the side.
Prep Time:

20 minutes

Cook Time:

25 minutes

Category:

Breakfast

Method:

Oven

Cuisine:

American
Keywords: breakfast, scone, blueberry, buttermilk, lemon, brunch
This post may contain affiliate links. Please read my disclosure policy.