Summer Squash Gratin
This post may contain affiliate links. Please read my disclosure policy.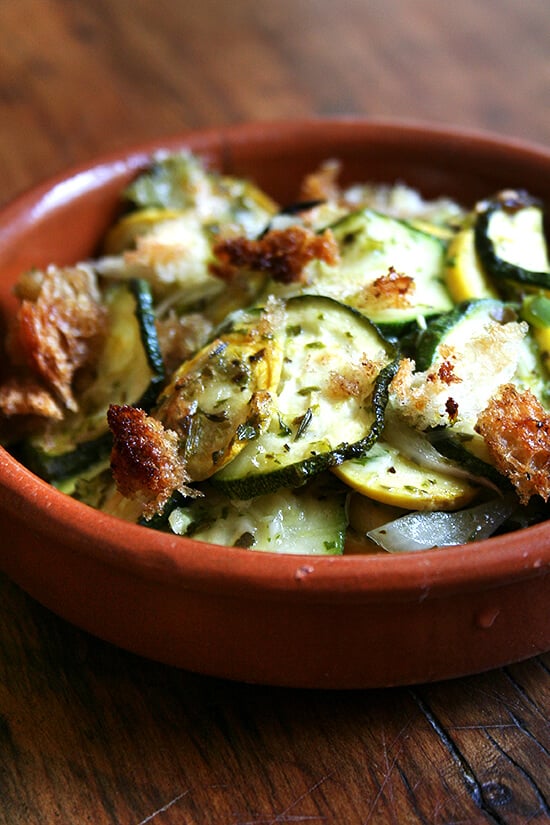 This is the recipe that broke the streak. A two-month-long, five-meal-rotation streak consisting of burgers, meatloaf, roast chicken, burgers and quiche. It was time. It was time to put some effort into dinner; to try something new; to open up a can of anchovies; to crack a jar of capers; to pour some brown butter over fresh bread crumbs. Yes, brown-butter bread crumbs. They are so good.
Let me tell you, my efforts paid off. I'm all about simple recipes these days, and when I have fresh ingredients on hand, simple can be best. But this recipe reminded me of ones I used to attempt all the time, ones with so many layers of flavors and textures, ones that leave eaters guessing, "what is that?" after every bite.
And don't let me scare you: There's nothing complicated about making this dish. It's just that for me these days, anything that requires more than forming burger patties and tossing a salad seems like a chore. I took a few shortcuts, too, opting to make the salsa verde in one step in the food processor, which saved a wee bit of time, but I encourage you to read through the original recipe first on Food 52. It's a fabulous site!
If you're in need of a nice, summery, vegetarian dish to add to the mix, this is the one. It's light — no cream in this gratin — and the vegetables remain firm even after 40 minutes of cooking. I served it as an entrée with a simple salad and some fresh bread, but it would make a wonderful side dish as well.
For all of you fathers out there, have a wonderful Father's Day weekend! And to the four fathers in my life, I love you very much.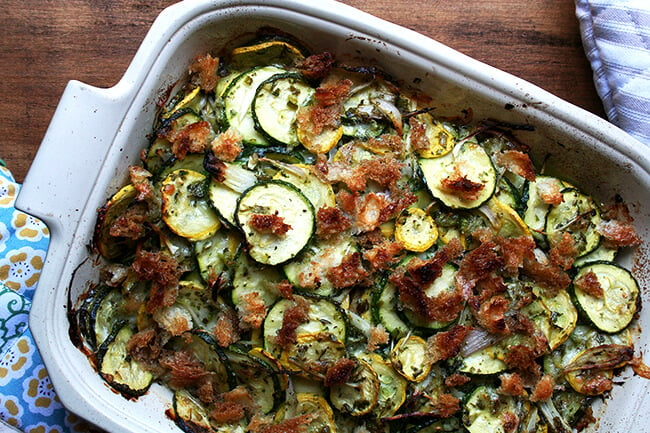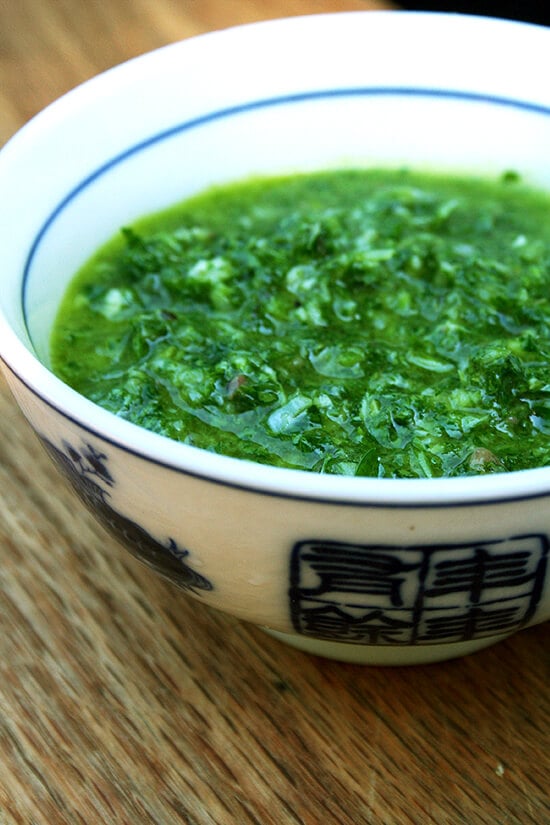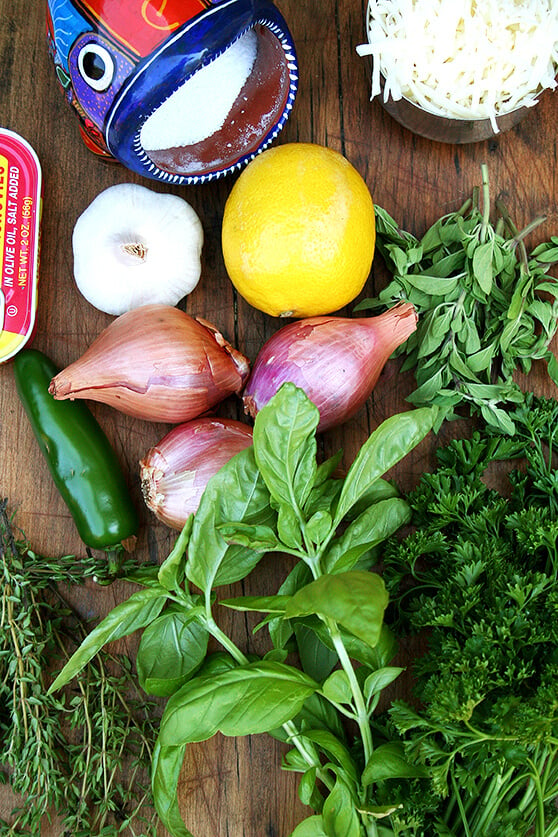 Summer Squash from our Olin-Fox Farm CSA: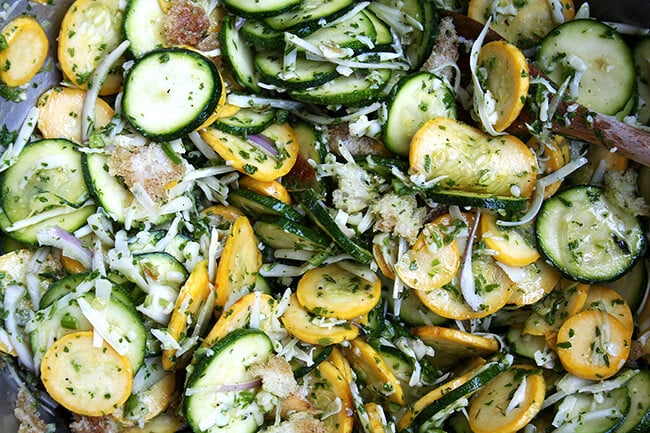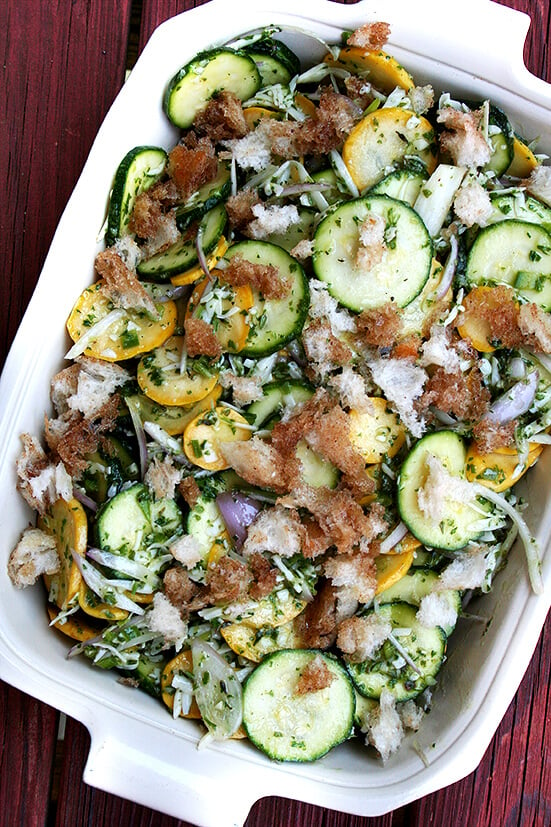 Kitchen assistant sneaking a bite: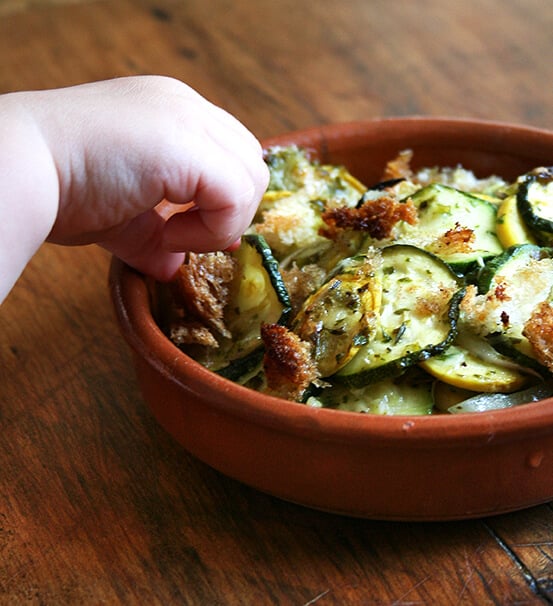 Kitchen assistant caught in the act: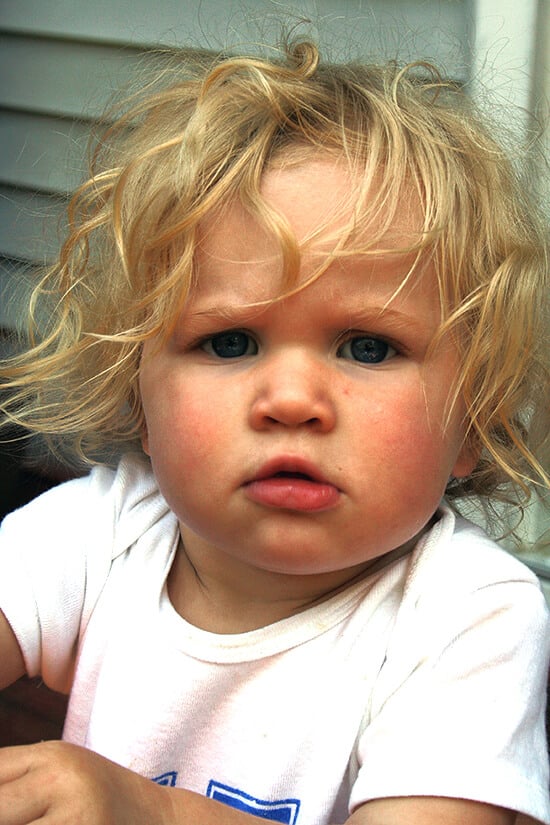 Print
Summer Squash Gratin with Salsa Verde and Gruyère
---
Total Time:

1 hours 5 minutes

Yield:

4 servings as an entree
---
Salsa Verde:
1 teaspoon

fresh marjoram or oregano leaves (

1/2 teaspoon

dried)

1/4 cup

coarsely chopped mint

1 cup

coarsely chopped flat-leaf parsley

3/4 cups

extra-virgin olive oil

1

small clove garlic

1

anchovy

1 tablespoon

capers, drained (rinsed if salt-packed)

1/2

lemon, for juicing
Freshly ground black pepper
Gratin:
2

pounds summer squash

1 1/2 cup

fresh breadcrumbs

3 tablespoons

unsalted butter

3/4 cups

sliced shallot

1 teaspoon

minced garlic

1 tablespoon

thyme leaves

1

New Mexico chile or jalapeno, seeded and finely chopped

1 cup

grated Gruyere cheese
Kosher salt and freshly ground black pepper
---
Instructions
Make the salsa verde. Using a mortar and pestle (or a food processor), pound the herbs to a paste. You may have to do this in batches. Work in some of the olive oil, and transfer the mixture to a bowl. Pound the garlic and anchovy, and add them to the herbs. Gently pound the capers until they're partially crushed, and add them to the herbs. Stir in the remaining oil, a pinch of black pepper, and a squeeze of lemon juice. Taste for balance and seasoning. (Note: I basically made this in one step in the food processor — I pulsed everything with the exception of the capers together, then stirred the capers in at the end.)
Make the gratin. Heat the oven to 400 degrees. Cut the squash into 1/8-inch-thick slices. (A mandolin makes this a quick task.) Toss the slices in a large bowl with 1 teaspoon kosher salt, and let sit 10 minutes.
Place the breadcrumbs in a bowl. Heat a small saute pan over medium heat for 1 minutes. Swirl in the butter and cook for a few minutes, until it browns and smells nutty. Pour the brown butter over the breadcrumbs (being sure to scrape all the brown bits into the bowl with a rubber spatula). Wait a minute or so for the butter to cool, and toss well.
Drain the squash and transfer it to a large mixing bowl. Add the shallots, minced garlic, thyme, chile, 1/2 cup salsa verde, and some pepper. Toss to combine, and add the cheese and half the butter-coated breadcrumbs. Toss again, and taste for seasoning. (The raw garlic will taste strong at this point but will be delicious when cooked.)
Place the squash in a pretty 9-by-9-inch (or equivalent oblong-shaped) gratin dish. Scatter the remaining breadcrumbs over the top, and bake 35 to 40 minutes, until the squash is tender and the top is crisp.
Prep Time:

15 minutes

Cook Time:

40 minutes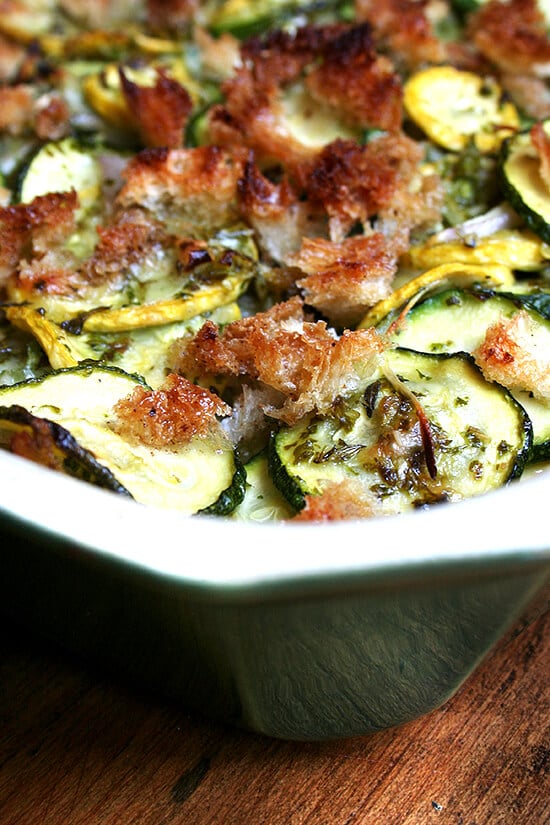 This post may contain affiliate links. Please read my disclosure policy.