Simple Zucchini Fritters
This post may contain affiliate links. Please read my disclosure policy.
Made with 5 ingredients, these simple zucchini fritters are a snap to throw together. This is a great recipe to turn to at the height of the summer when the summer squash is arriving in droves from your farm share or growing before your eyes in your garden. With a squeeze of lemon and a pinch of salt, these fritters make a great summer appetizer.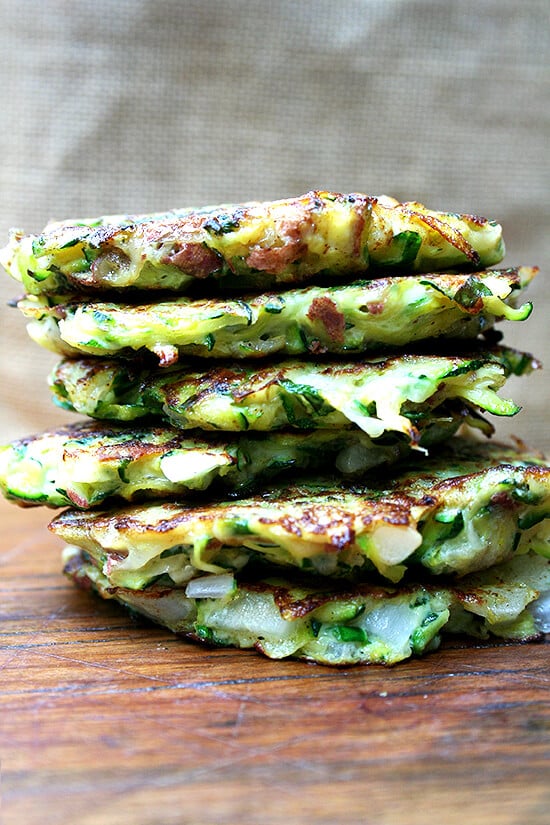 If you find yourself overloaded with zucchini or summer squash, here's a great recipe to turn to: fritters!
Fritters can made from anything from cabbage to corn. In short, they're finely chopped or grated vegetables bound by flour and egg. The key to making good fritters lies in finding the balance of egg and flour: too much flour and the fritters can taste gummy; too many eggs, and the fritters will taste, well, eggy; too much of both, and you'll make pancakes!
As with veggie burgers, I love making a test patty not only to see if the fritter will hold its shape while being cooked but also to test for seasoning. This simple step saves a lot of heartache down the road.
As with making potato latkes, the key when making summer squash fritters is to let the grated squash drain in a colander for at least 15 minutes to allow the excess moisture to drain out. Removing the moisture is key to ensure the fritters brown and crisp properly in the pan.
Made with 5 ingredients, these simple fritters are a snap to throw together. When I'm up for it, I'll make some tzatziki to serve alongside, but they are delicious on their own too, with a squeeze of lemon and a pinch of flaky sea salt. Give them a whirl! I know you'll love them.
How to Make Zucchini Fritters
Gather your ingredients: scallions, zucchini, flour, salt, egg.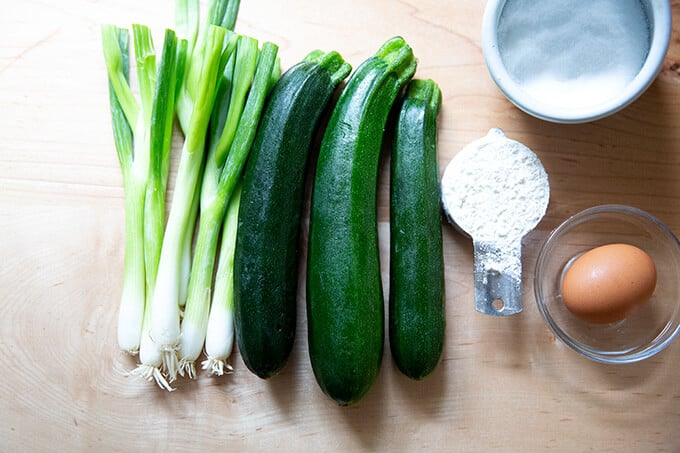 Coarsely grate the zucchini and transfer to a colander. Draining the zucchini or summer squash in a colander for 15 minutes at least is critical to removing moisture and therefore ensuring the zucchini brown and crisp nicely in the pan.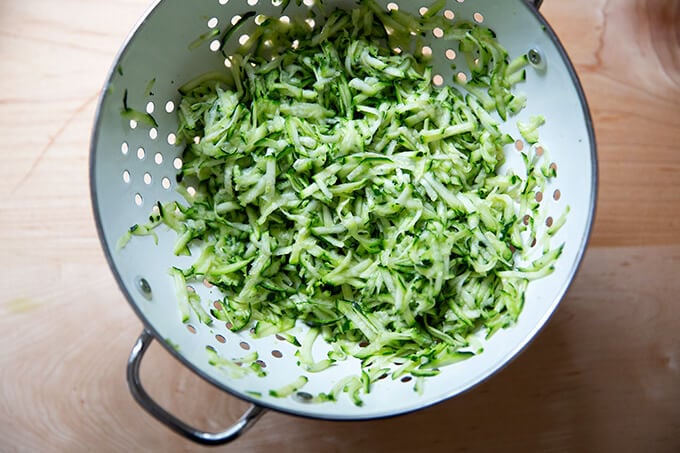 Make the zucchini fritter "batter" by combining all of the ingredients in a large bowl.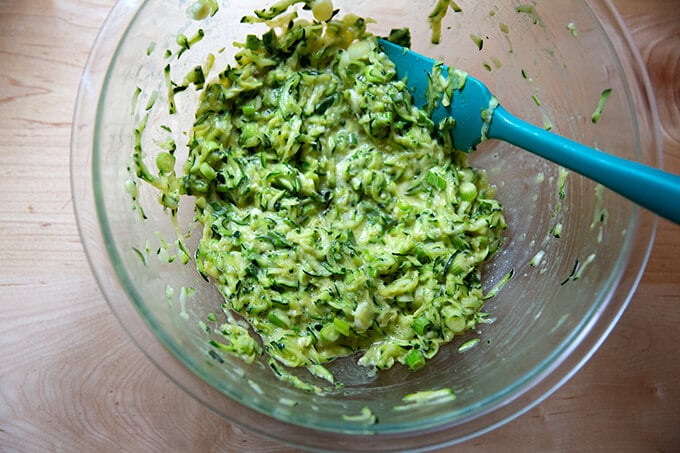 Portion the batter into balls …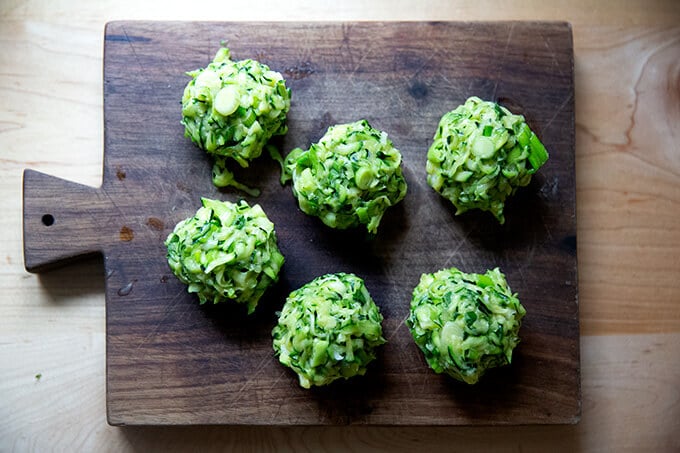 … then fry in a skillet for 2 minutes a side.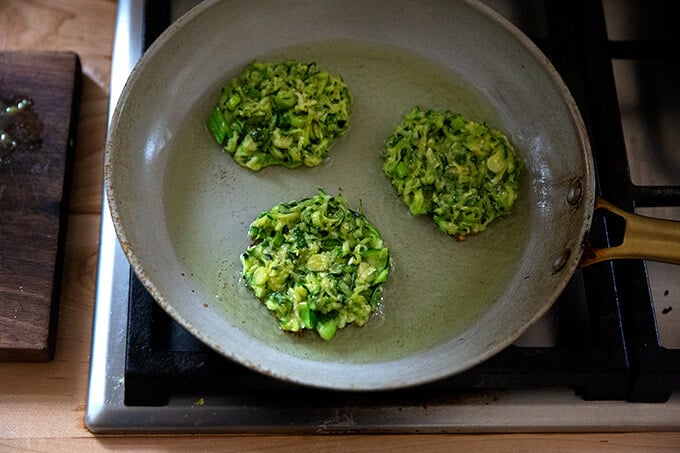 Serve with lemon, sea salt, and tzatziki if you are up for it.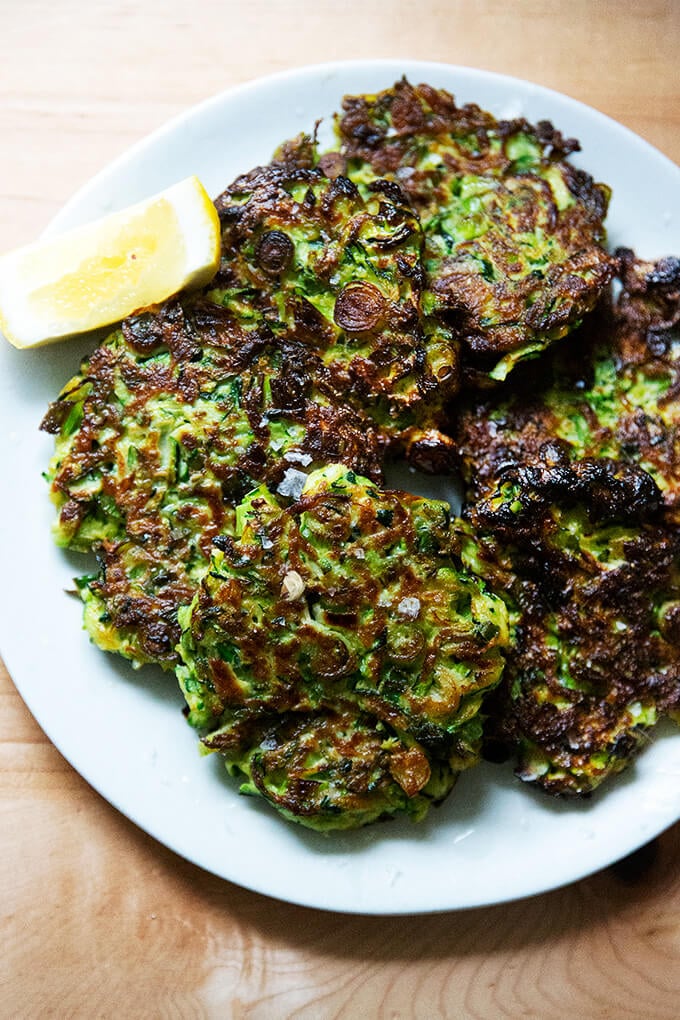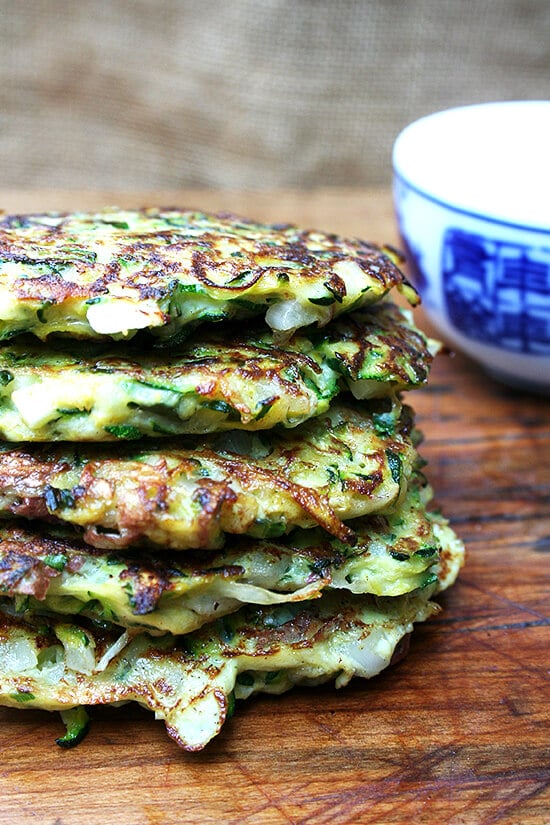 Print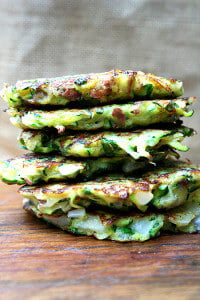 Simple Zucchini Fritters
---
Description
This is an old recipe that I recently updated and simplified, by removing the herbs and onions and replacing them with sliced scallions, which I always have a ton of on hand in the summer thanks to my farm share. I also omitted the lemon zest, opting instead to finish the fritters with a squeeze of fresh lemon juice. Finally, the original recipe called for some grated potato as well, which is a nice addition if you have it, but not missed if you don't. 
---
1

lb. zucchini or summer squash, coarsely grated to yield 4 cups

1 teaspoon

kosher salt

1

egg

4

–

6

scallions, thinly sliced

1/4 cup

flour
grapeseed oil or olive oil for frying
For serving:
---
Instructions
Place the grated zucchini in a colander. Spread the gratings out to allow for maximum surface area exposure and sprinkle all over with 1 teaspoon kosher salt. Toss lightly. Let sit for at least 15 minutes to drain.
After the 15 minutes, transfer the zucchini to a large tea towel, bundle it into a beggar's purse over the sink or a bowl, and squeeze out all of the juices. (Note: The squash will not drain out enough liquid on its own in the collander, so squeezing it out is a critical step to removing that moisture.) 
In a large bowl, whisk the egg. Add the zucchini, the scallions, and the flour. Using a spatula, stir the mixture well to combine. Squeeze a small portion of the mixture in your hands. If it holds together (not perfectly), it's likely good to go. 
Make a test patty to test the mixture for texture and flavor. Pour some grapeseed oil or olive oil into a small skillet. Heat over medium to medium-high heat. Squeeze roughly 2 tablespoons of the batter into a ball in your hands. Flatten the ball into a disc and carefully lower it into the skillet. Season with salt. Cook 1-2 minutes; then peak underneath the fritter to see if it is browning nicely. When it is light brown, flip the fritter over, season again with salt, and cook for another 1-2 minutes. Transfer to a plate or board and let cool for a few minutes. Taste. If it tastes nicely seasoned, leave the batter alone. If it doesn't, season the batter with more salt and pepper if you wish, to taste. If the patty did not hold it's shape, crack another egg right into the bowl and mix to combine. When you have the texture right, portion the batter into balls: I like using a 1/4 cup measure to do this, and I fill it lightly — it's easier to make smaller fritters than larger ones. 
Heat a large skillet over medium-high heat. Pour 3 to 4 tablespoons grapeseed or olive oil into the skillet. Flatten one of the portioned fritter balls into a disc and lower into the pan. Repeat with 2 more. I find cooking 3 fritters at a time is about right. Season with salt. Cook for about 2 minutes. Flip. Season with salt. Cook for another 2 minutes. Transfer to a serving platter while you repeat the cooking with the remaining fritters. 
To serve, squeeze a bit of lemon over top as well as some flaky sea salt. If you have tzatziki, place it in a small ball and serve it alongside. 
Prep Time:

45 minutes

Cook Time:

5 minutes

Category:

Side Dish

Method:

Stovetop

Cuisine:

American
Keywords: fritters, zucchini, summer squash, scallions, simple
This post may contain affiliate links. Please read my disclosure policy.