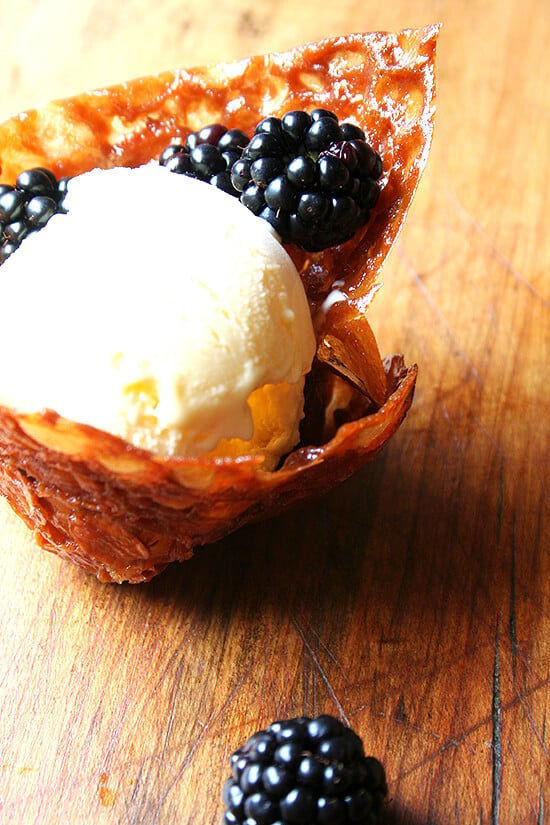 A few weekends ago a couple of dear friends came over for dinner. I served a disappointing steak along side delicious corn and tomatoes followed by a disappointing dessert.
Kitchen fails are such a bummer.
But the wins are glorious. Yesterday I made this crème fraîche ice cream from David Lebovitz' The Perfect Scoop. It's at once sweet and tangy, and it's just darn delicious.
On a hot summer night, is there anything better than a scoop of ice cream?
I don't think so. If you are in need of a summery, entertaining dessert that's really not too much of an effort to put together, this combo is a winner. The cookies, to my surprise, were completely simple to make and quite forgiving (see photo below). Lacy, delicate baskets, these cookies are works of art themselves.
The crème fraîche ice cream tastes particularly good with blackberries, but any berry will do. Hope you give this whole combination a go.
Fruit from our CSA this week. So delicious.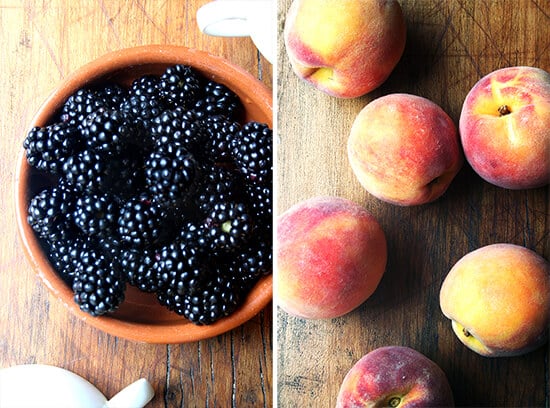 Oopsidasies… here's why you should follow instructions: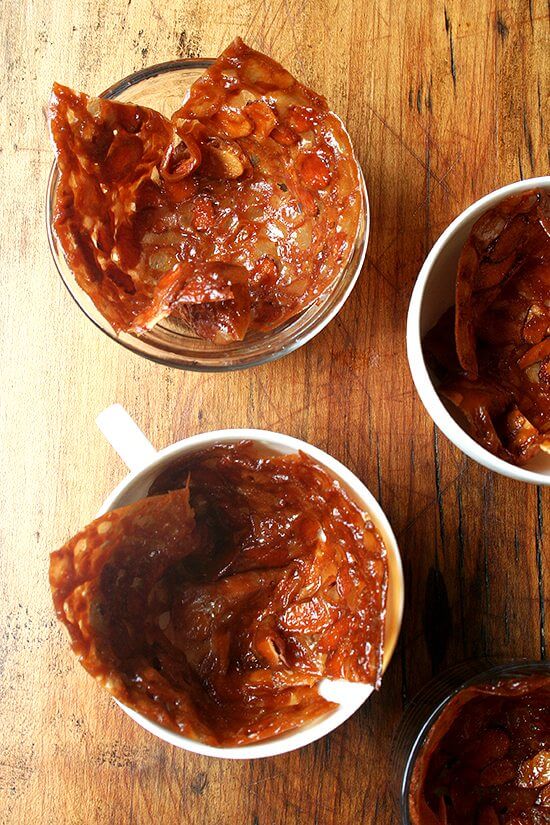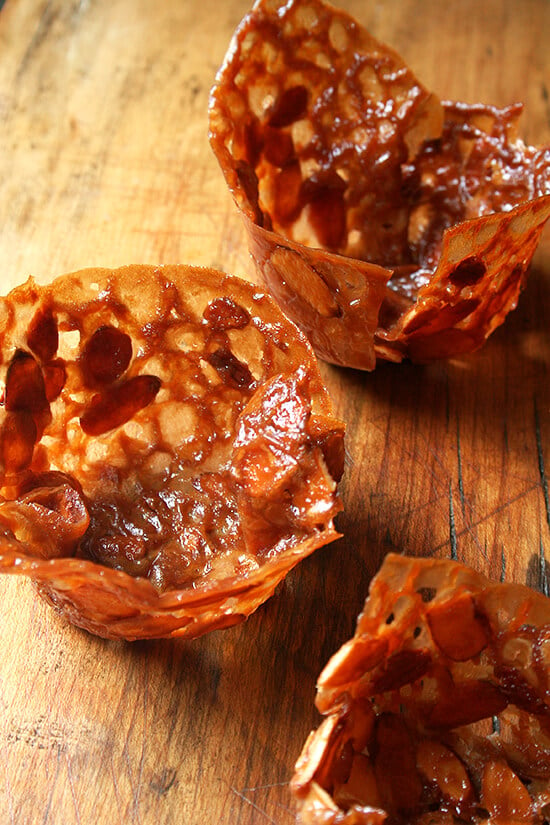 ---
Homemade Crème Fraîche:
To make crème fraîche, place 2 cups heavy cream (try to not use ultra-pasteurized if possible but see note below if it's the only variety you can find) in bowl. Add 2 tablespoons of yogurt or 2 tablespoons of buttermilk. Stir to combine. Cover bowl with plastic wrap and let sit at room temperature for 12 to 24 hours. Stir. Mixture will be nice and thick. Store in the fridge until ready to use.
Notes: If your mixture hasn't started to thicken up after 12 hours, add a couple more tablespoons of buttermilk. I have noticed that when I use ultra-pasteurized cream (all that I can find these days) the mixture doesn't thicken up as well or as quickly. I almost always have to add a couple more tablespoons of buttermilk. I have also found that plain yogurt seems to thicken the cream better than the buttermilk — it probably has to do with the amounts/types of bacteria cultures present in the yogurt.
You may have noticed that I love crème fraîche. I really do. I think I love making it just as much as I love eating it. It's just so magical watching heavy cream transform into this thick unctuous mass. Yum. I've been making it a lot these days in my favorite quiche recipe, which I've been making without the crust — much less work and just as delicious.
Please forgive the videography!
This is what crème fraîche will look like after 12 hours at room temperature:

This is what crème fraîche will look like after 12 hours at room temperature + 12 hours in the fridge:

This is what my ice cream looked like after about 12 minutes of churning: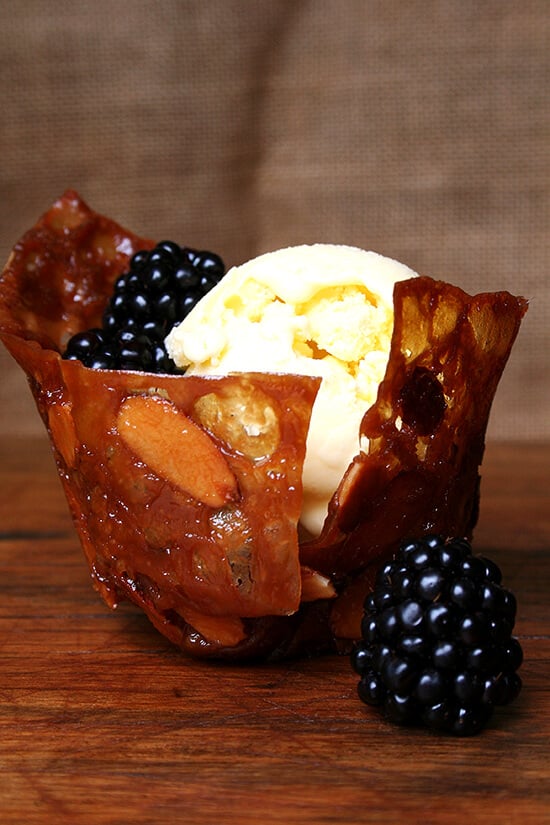 Print
Homemade Créme Fraîche Ice Cream
---
Author:

Alexandra Stafford

Prep Time:

25 minutes

Cook Time:

15 minutes

Total Time:

1 hours 10 minutes

Yield:

1 quart
---
Ingredients
1 cup

whole milk

3/4 cup

sugar
big pinch salt (I used kosher)

5

large egg yolks

2 cups

créme fraíche
---
Instructions
Prepare a medium-sized bowl with a mesh strainer over the top and set it in an ice bath.
Warm the milk, sugar and salt in a medium saucepan. In a separate bowl, whisk together the egg yolks. Slowly pour the warm milk into the egg yolks, whisking constantly, then scrape the warmed egg yolks back into the saucepan.
Stir the mixture constantly over medium heat, scraping the bottom as you stir, until the mixture thickens and coats the back of a spoon. Pour the custard through the strainer and stir until cool over an ice bath. Chill thoroughly in the refrigerator.
Once cool, whisk in the crème fraîche, then freeze the mixture in your ice cream maker according to the manufacturer's instructions. Note: Mine thickened up really quickly. After about 12 minutes, I stopped my machine.
---
Category:

Ice Cream

Method:

Ice Cream Maker

Cuisine:

American
Keywords: ice cream, creme fraiche, dessert
Print
Almond-Butterscotch Cookie Cups
---
Author:

Alexandra Stafford

Prep Time:

10 minutes

Cook Time:

20 minutes

Total Time:

40 minutes

Yield:

12 cookie cups
Description
From David Lebovitz's The Perfect Scoop
I recently made these with maple syrup as opposed to corn syrup, and it worked beautifully, so I've adjusted the recipe accordingly.
---
Ingredients
4 tablespoons

butter, unsalted or salted

1/4 cup

maple syrup

1/4 cup

packed light brown sugar

1/2 cup

sliced almonds

6 tablespoons

(

60 g

) flour
pinch sea salt, such as Maldon
---
Instructions
Preheat the oven to 350ºF. Line a baking sheet with parchment paper. Have ready 4 teacups or custard cups or small bowls.
Melt the butter in a small saucepan with the maple syrup and brown sugar. Stir in the almonds, flour, and salt.
Drop 4 slightly rounded tablespoons of batter (don't be tempted to use more batter), evenly spaced, on the baking sheet. Bake the cookies for 9 to 12 minutes, until they're golden brown. Let rest for 30 to 45 seconds, then lift each cookie off the baking sheet with a flexible metal spatula and flip it into your teacup or bowl. (If the cookies get too firm to shape, return the pan to the oven for 30 seconds to soften them.) Let the baking sheet cool, then repeat with the remaining batter.
---
Category:

Cookie

Method:

Oven

Cuisine:

American
Keywords: cookie, cups, almonds