Cinnamon Rolls — Artisan Bread in Five Minutes A Day Style
This post may contain affiliate links. Please read my disclosure policy.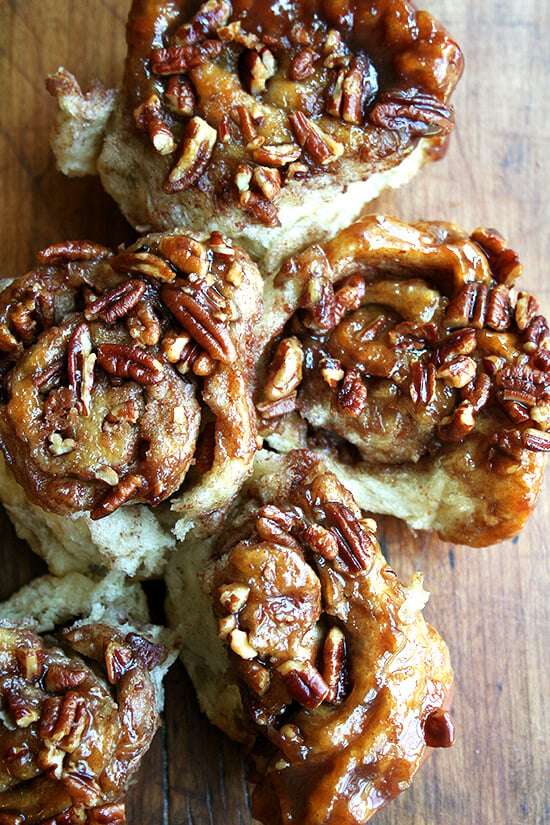 I had no expectations for these cinnamon rolls. I'm still in disbelief in fact about how incredibly delicious they tasted. I mean, I knew the brown sugar and butter and pecans slathered in the pan and rolled into the dough would create a cinnamon roll affect, but I didn't expect the dough itself — just a standard bread dough (water, flour, yeast, salt) — to have that enriched brioche-like flavor. How could a no-butter, no-sugar, no-egg, no-milk dough yield a nearly perfect if not perfect cinnamon roll? That's a question perhaps better answered by all of you experienced bakers out there. I'm stumped. Replete, content and stumped.
I made this recipe on a whim. I had already baked off 3 smallish loaves of bread from my batch of Artisan Bread in Five dough — the master recipe yields 4 loaves — and I wanted to try something new. In the preface to the book's Sticky Pecan Caramel Roll recipe, the authors note that the recipe works — and works well — with their standard boule dough, and so I went for it. And I'm so glad I did. Oh man were these good. I don't know how an enriched-dough could improve the flavor, but I'm curious. As soon as I recover from my sticky bun binge, which might take a few more weeks, I'm going to give the ABin5 brioche dough a go. I'm already looking forward to that happy morning.
If you like this recipe, check out the ABin5 blog. Oh my, this monkey bread looks fabulous. And here are some other ABin5 loaves I have tried:
Traditional Boule
Cinnamon Swirl Bread — an absolute favorite
Partially Whole Wheat Boule
Broa — Portuguese Corn Bread – not sweet corn bread but bread with cornmeal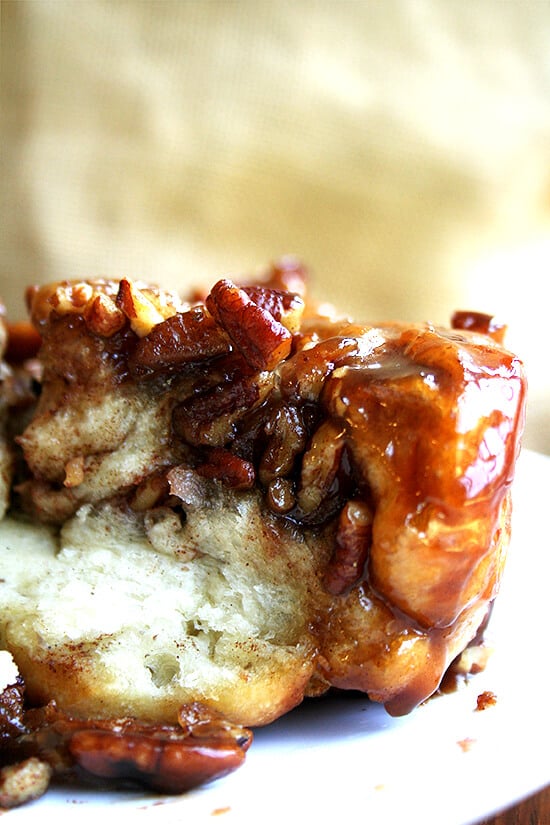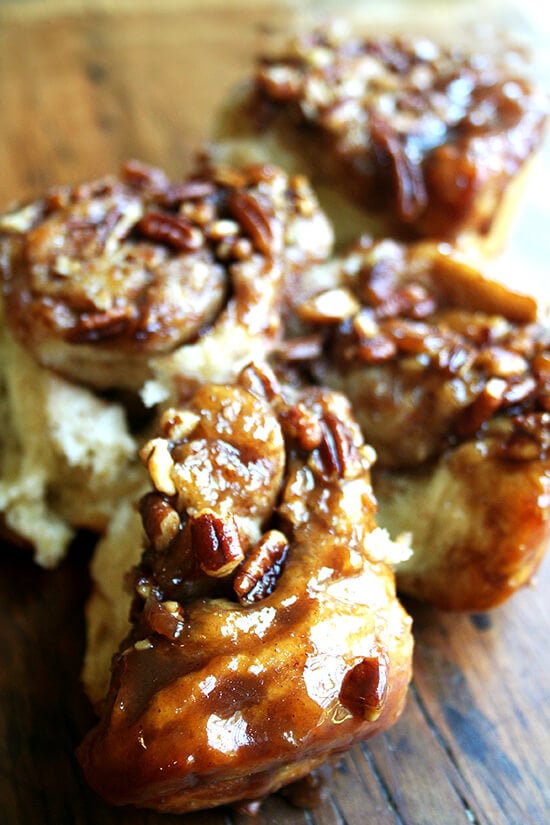 Print
---
3 cups

lukewarm water

1½

T. active dry or instant yeast (

1½

packets)

1½

T. kosher or other coarse salt

6½ cups

(

29.25 oz

.) unsifted, unbleached, all-purpose white flour, measured with the scoop-and-sweep method
---
Instructions
Mixing and Storing the Dough
Warm the water slightly: It should feel just a little warmer than body temperature, about 100ºF.
Add yeast and salt to the water in a five-quart bowl, or preferably, in a resealable, lidded (not airtight) plastic food container or food-grade bucket. Don't worry about getting it all to dissolve. (I added the yeast, then the flour and then the salt on top of the flour to avoid killing any of the yeast, but apparently this is unnecessary.)
Mix in the flour: Add all of the flour at once, measuring it with dry-ingredient measuring cups, by gently scooping the flour, then sweeping the top level with a knife or spatula; don't press down into the flour as you scoop or you'll throw off the measurement by compressing. Mix with a wooden spoon. If necessary, reach into your mixing vessel with very wet hands and press the mixture together. Don't knead! It isn't necessary. You're finished when everything is uniformly moist, without dry patches. Dough should be wet and loose enough to conform to the shape of the container.
Allow to rise: Cover with a lid (not airtight) that fits well to the container you're using. Allow the mixture to rise at room temperature until it begins to collapse (or at least flattens on the top), approximately two hours. You can use a portion of the dough any time after this period, but fully refrigerated dough is less sticky and is easier to work with. So, the first time you try this method, it's best to refrigerate the dough overnight before shaping a loaf.
If you want to make standard boules, continue with step 5 here.
---
Print
Sticky Pecan Caramel Rolls
---
1 1/2

lbs. of pre-mixed dough (recipe above)
Note: My portion of dough weighed 1 lb 12 oz., so the recipe is relatively flexible in this sense. I did have to whip up a little bit more butter-cinnamon-and-sugar filling, however, to compensate for the larger surface area.
The Caramel Topping
6

T. unsalted butter, softened

1/2 tsp

. salt

1/2 cup

brown sugar

30

pecan halves (I crushed up my pecan halves, but feel free to leave them whole if you wish)
The Filling
4

T. salted butter, softened (I used unsoftened)

1/4 cup

sugar

1 teaspoon

ground cinnamon

1/4 tsp

. freshly grated nutmeg (I did not use)

1/2 cup

chopped and toasted pecans (I did not toast)
Pinch of ground black pepper (I did not use.)
---
Instructions
On baking day, cream together the butter, salt and brown sugar. Spread evenly over the bottom of a 9-inch cake pan. Scatter the pecans over the butter-sugar mixture and set aside. (Note: I experienced terrible spillage, which resulted in a burnt oven floor. Soooo, if you have a pan with high sides, that might work best. Otherwise, place a pan (disposable or not) on the rack below your pan to catch the spillage.
Dust the surface of the refrigerated dough with flour and cut off a 1.5 lb piece. Dust the piece with more flour and quickly shape it into a ball by stretching the surface of the dough around to the bottom on all four sides, rotating the ball a quarter-turn as you go. (Note: I didn't really do this. I simply placed my piece of dough (Which was a little bit larger than 1.5 lbs.) on my work surface and stretched it out into a rectangle.)
With a rolling pin, roll out the dough to a 1/8-inch thick rectangle. As you roll out the dough, use enough flour to prevent it from sticking to the work surface but not so much as to make the dough dry. If the dough is being stubborn, let it sit for 20 minutes, then come back to it with the rolling pin.
Cream together the butter, sugar and spices. Spread evenly over the rolled-out dough and sprinkle with the chopped nuts. (I had to make a little bit more of this mixture to cover the surface area of my dough.) Starting with the long side, roll the dough into a log. If the dough is too soft to cut, let it chill for 20 minutes. (Note: My dough was very soft, but I was too impatient to chill it.)
Preheat the oven to 350ºF. With a serrated knife, cut the log into 8 equal pieces and arrange over the pecans in the prepared, with the "swirled" edge facing upward. (Not sure what the "swirled" edge means — they were both swirled as far as I could tell?) Cover loosely with plastic wrap and allow to rest and rise 1 hour. Note: I basically just let my rolls rise for 20 minutes. As soon as the buns started filling up the pan, I popped the pan in the oven.
Bake buns about 40 minutes or until golden brown and well set in center. While still hot, run a knife around the inside of the pan to release the caramel rolls, and invert immediately onto a serving dish. If you let them sit too long, they will stick to the pan and be difficult to turn out.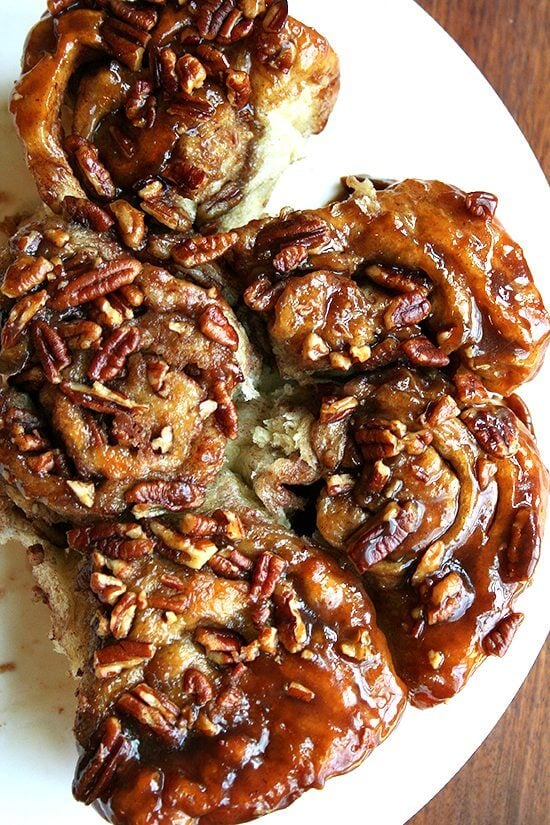 This post may contain affiliate links. Please read my disclosure policy.