Addictive Kale Caesar Salad with Brioche Croutons
This post may contain affiliate links. Please read my disclosure policy.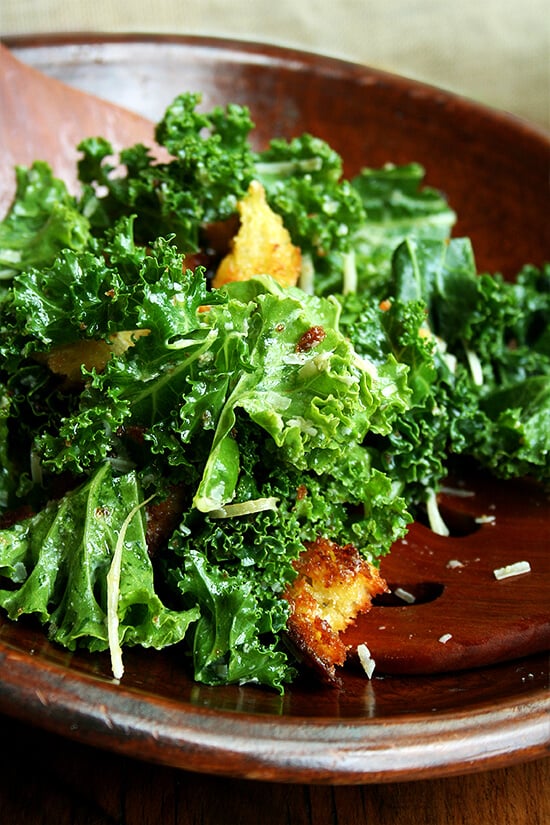 I have a question for all of you mortar and pestle users out there: Do you find us knife-wielding, blender-pulsing, whisk-twirling folk offensive? You probably do. I suspect Tartine's Chad Robertson would not approve of my adaptation of his caesar dressing recipe. I used a knife first, and then a whisk. I'm not going to lie. I didn't even reach for the mortar and pestle.
I suppose I shouldn't be so skeptical of a technique before trying it, but the idea of using a pestle to work olive oil into a stable emulsion scared me. I'm just not that hard core. And as I read the recipe over and over again, I couldn't help but think about who I was dealing with — did you know that Robertson doesn't even own a toaster? It's true. He and his wife, Liz Prueitt, toast their bread in a black steel omelet pan instead. That's hard core. I'm just not there. I reached for an old standby: Whisk. He did not fail me. This dressing, made without mayonnaise or cheese, is lemony and lighter than most caesar dressings and is a wonderful complement to kale, an unsuspecting substitute in a classic dish.
I find this salad addictive. I've always loved kale wilted in soups or sautéed with garlic and tossed into pastas. And I love it in the form of chips. But I never imagined enjoying it raw until I dined at True Food Kitchen, where they serve a Tuscan kale salad made with bread crumbs, grated Pecorino and crushed red pepper flakes. It's a delicious combination. Since discovering Robertson's kale caesar last week, I've made it twice more, and I suspect it will be a mainstay on the dinner table this fall and winter. I'm already looking forward to it.
Kale from our Olin-Fox Farm CSA: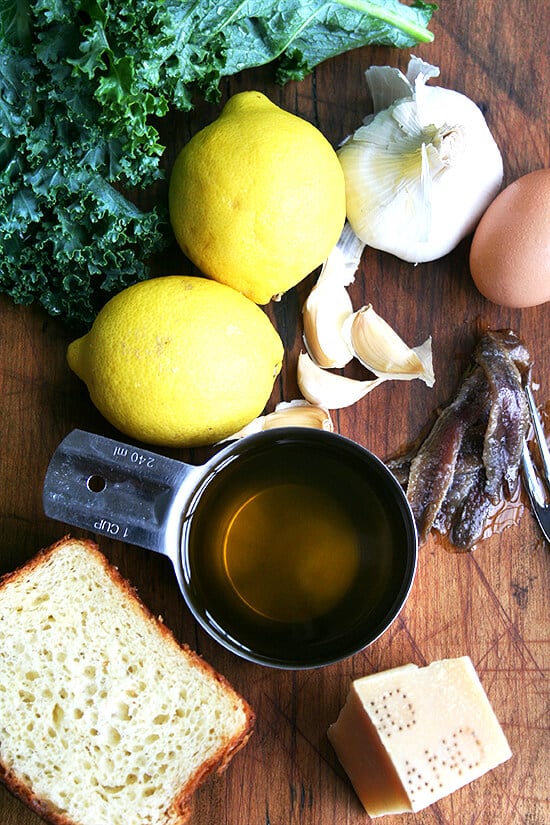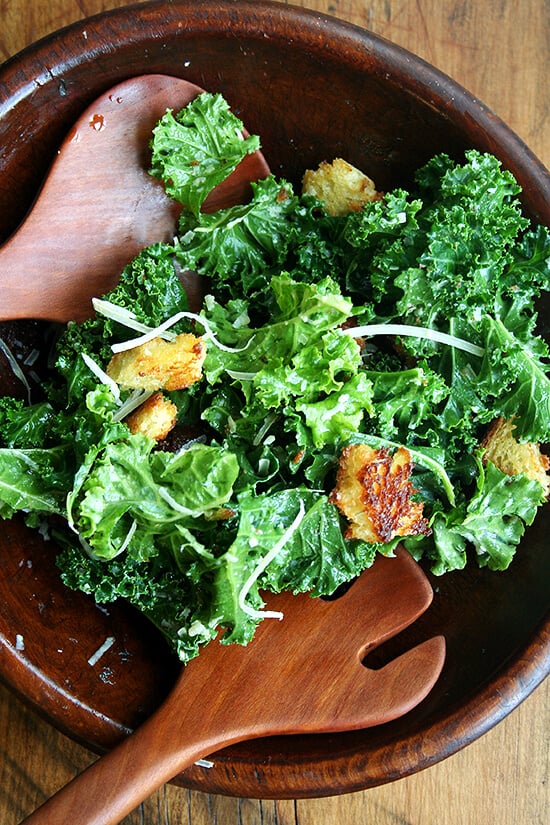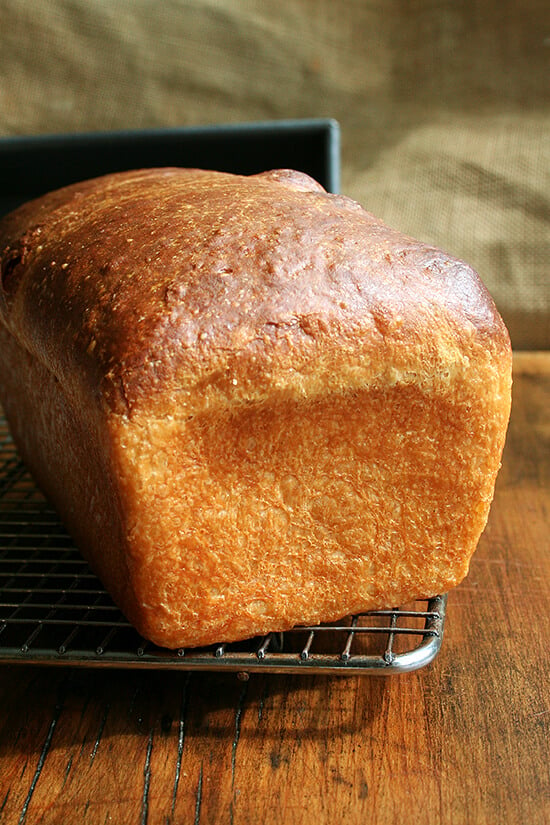 The Tartine Bread crouton recipe calls for an optional pinch of herbes de provence, which added a surprisingly nice flavor to the croutons.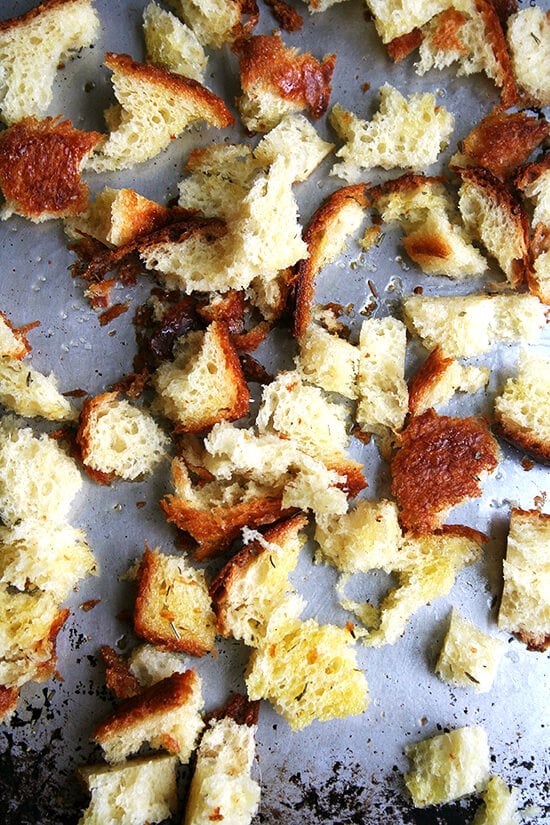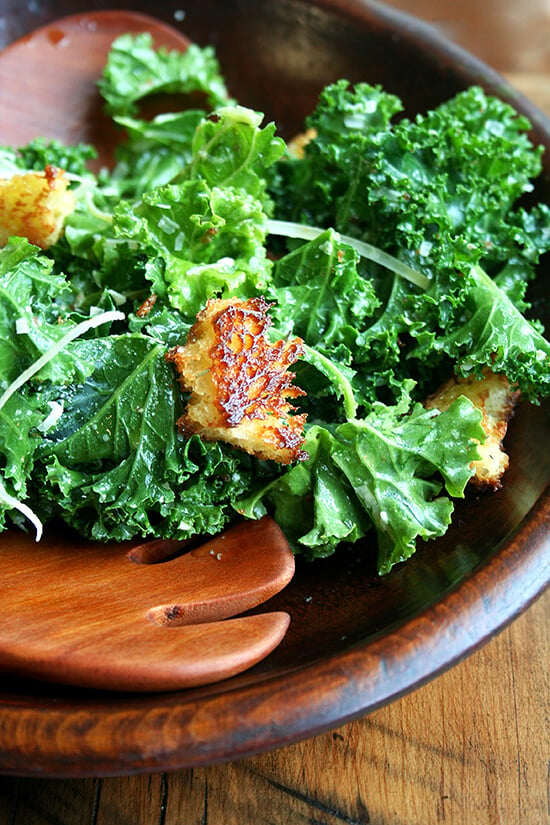 Print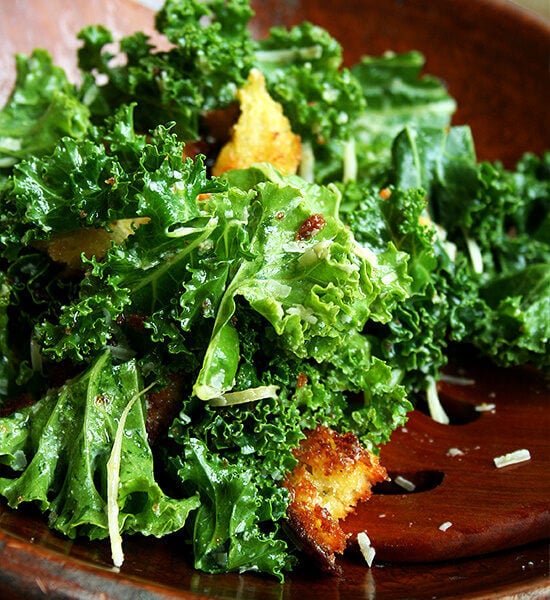 Addictive Kale Caesar
---
Description
Adapted from Tartine Bread
Note: The measurements below are those that are given in the book. Obviously, adjust quantities as needed. I tossed enough kale for two people with dressing to taste. I also added the croutons and Parmigiano Reggiano to taste.
---
2

lbs. black, Tuscan or dinosaur kale, or curly kale center stems removed, and torn
croutons (recipe below)

2/3 cup

grated Parmigiano Reggiano
Caesar dressing (recipe below)
---
Instructions
In a large bowl, combine the kale and croutons. Pour the dressing to taste over top and toss to coat. Add the Parmesan, toss again, and serve.
---
Print
Description
*I prefer making this dressing with white balsamic vinegar as opposed to lemon juice, which is what the original recipe calls for. It is so easy and delicious. Original recipe, from Tartine Bread, also calls for making this in a mortar and pestle. Do that, if you are comfortable. This can also be made in a food processor.
---
1/4 cup

white balsamic vinegar*

3

cloves garlic

6

olive oil-packed anchovy fillets

1

large egg yolk
kosher salt

1 cup

olive oil or grapeseed oil 
---
Instructions
Mince the garlic and anchovies together on a cutting board. Add a pinch of salt, and mince further. Every so often, using the side of your knife, drag the mixture against the cutting board to create a paste. Transfer to a bowl.
Whisk in the egg yolk and the 1/4 cup white balsamic. Slowly drizzle in olive oil, whisking constantly until a thick dressing forms. Taste the dressing and add more salt or vinegar to taste. Add water, a small spoonful at a time, stirring to thin dressing to the consistency of heavy cream.
---
Print
Description
From Tartine Bread
* I love using day-old brioche, which is what is pictured here, but any good (non-enriched) bread will do.** This is normally an ingredient I would just as soon leave out, but I was surprised at what a nice subtle flavor the herbes added. I did not add 1/2 tsp. — a pinch was enough.
---
3

slices day-old bread*, each 1-inch thick, torn into 1 1/2-inch chunks

2

T. olive oil
kosher salt

1/2 tsp

. herbes de provence** (optional)
---
Instructions
Preheat the oven to 400ºF. In a bowl, toss the torn bread with the olive oil and a pinch of salt. Add the herbes if using. Spread the bread evenly on a baking sheet and bake until golden brown and crisp, about 15 minutes. Midway through baking, redistribute the croutons if they are coloring unevenly.
This post may contain affiliate links. Please read my disclosure policy.