Eggplant Involtini
This post may contain affiliate links. Please read my disclosure policy.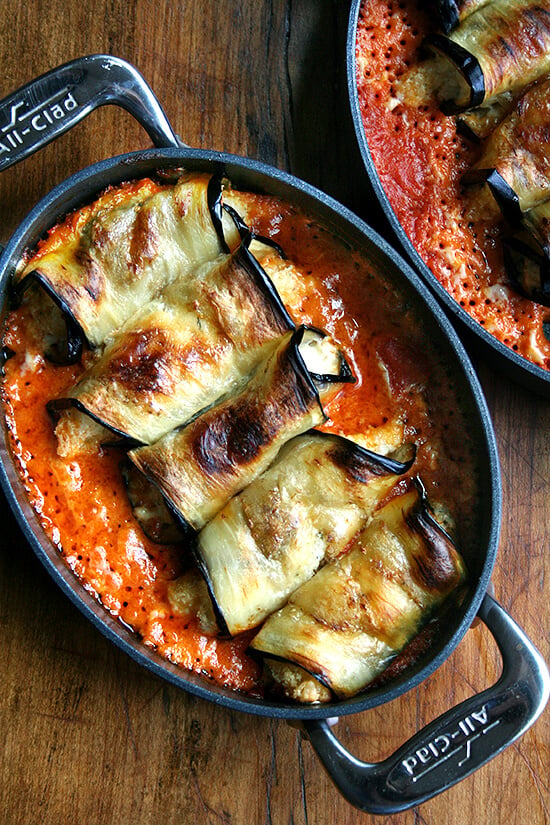 On the fussiness scale, this recipe is up there. I hate to start on a negative note, especially when these little ricotta-stuffed rolls turned out to be so stinking good, but I'm not so drawn to these types of recipes anymore — the ones that call for salting and draining and blotting  and deep frying and rolling … as adorable as they may be.
But I've had this recipe bookmarked since last Christmas when I first opened Tartine Bread. And with eggplant season peaking and with my homemade tomato sauce and ricotta cheese obsession persisting, the timing seemed right. And right it was.
Oh boy. Somehow the flavors of lemon and thyme in the ricotta cheese pervade the eggplant shells, all of which meld together with the fresh tomato and cream sauce base, a perfect combination in this early fall dish.
Don't let the involtini process deter you from making them. I think you might enjoying getting lost in the monotony of stuffing and rolling and assembling. With a good podcast streaming in the background, the ricotta-stuffed parcels will be ready before you know it.
Weekend Baking:
Are you thinking about baking this weekend? Perhaps with plums? If so, I recommend you take a look at these posts, one from The Garden of Eden and the other from House to Haus. I made the zwetschgentorte today actually — delicious! — and I can't stop thinking about Darcy's Plum crumble.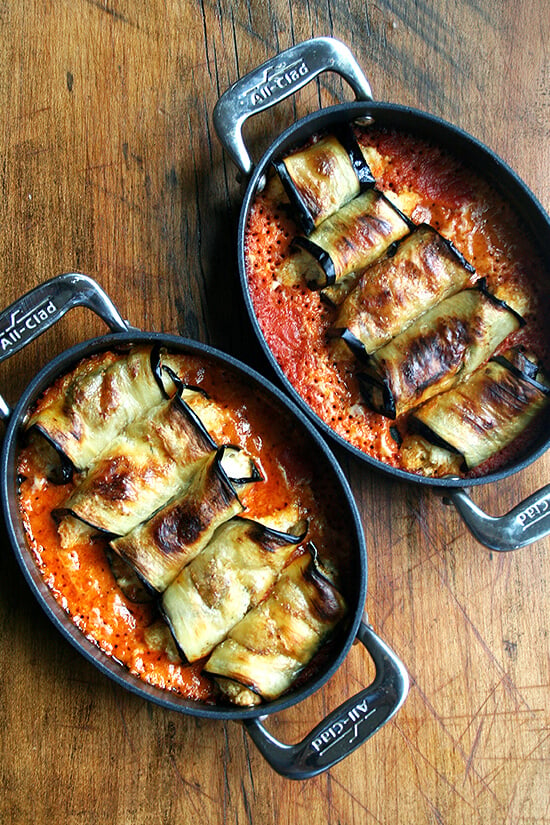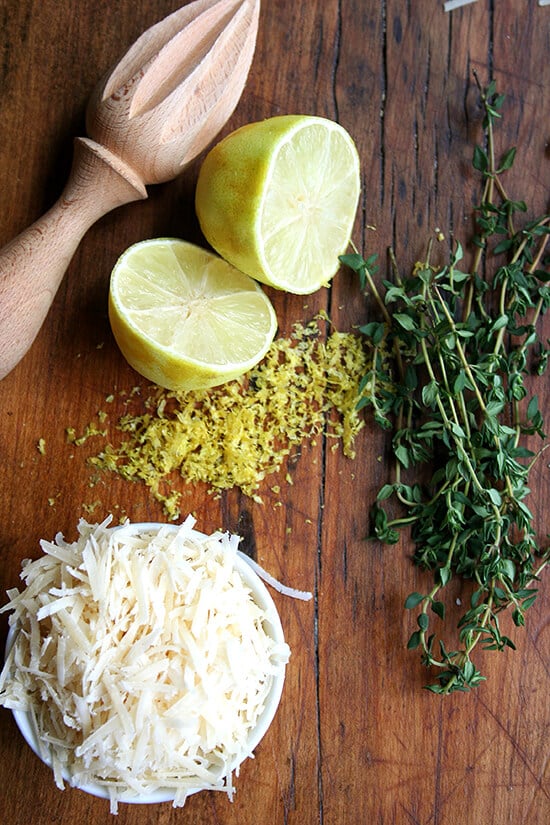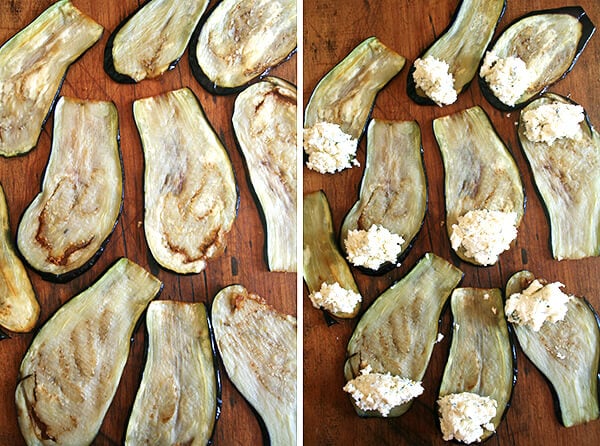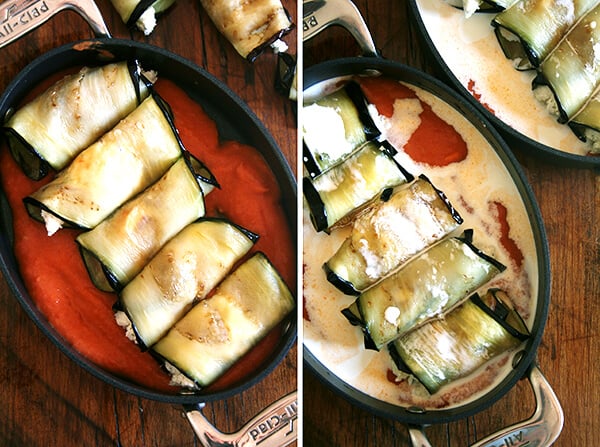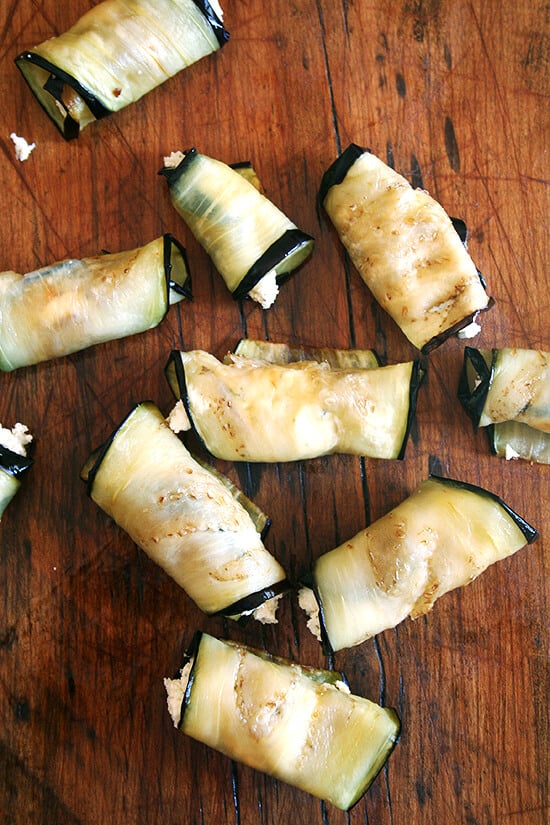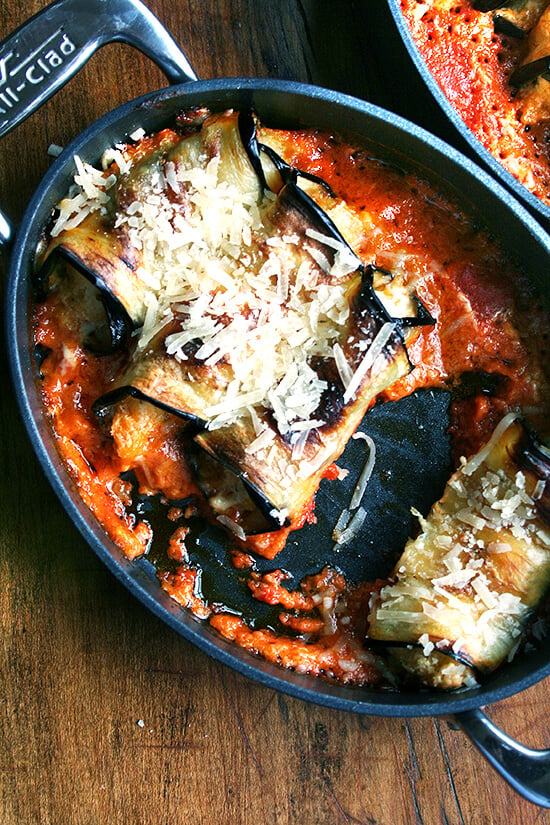 Print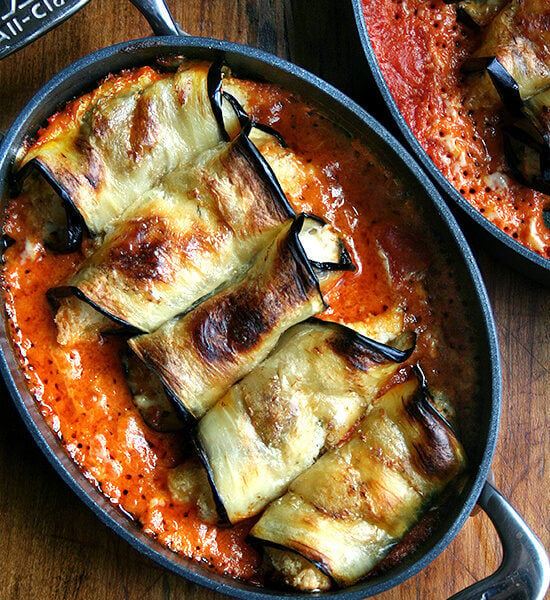 Eggplant Involtini
---
Description
Adapted from Tartine Bread
Notes:
Below is a half recipe of the book's.
The book offers a recipe for tomato sauce, which I'm sure is delicious, but I have been hooked on Marcella Hazan's recipe
I used these fabulous mini gratin dishes but feel free to use a standard-sized baking dish.
Recently I made these by roasting the eggplant for 10 minutes on one side, 8 minutes on the other, brushed with olive oil, seasoned with salt and pepper. I also simplified the filling by omitting the thyme and lemon juice—I just used lemon zest and salt.
---
1

large eggplant
kosher salt
olive oil or canola oil for frying
heavy cream
freshly Parmigiano Reggiano for servingfor the filling:

1/2 cup

fresh, dried, or panko bread crumbs

1 cup

whole milk ricotta or homemade, which is easy and delicious
grated zest of 1 lemon
juice of

1/2

lemon

1 tsp

. fresh thyme leaves, minced

1/4 tsp

. kosher salt
---
Instructions
Trim the stem end of each eggplant. Using a mandoline, cut the eggplant lengthwise into 1/4-inch thick slices. You should have about 12 slices. Sprinkle the eggplant on both sides with kosher salt, layer them in a colander, and let stand for 1 hour. (Alternatively, skip the salting and the frying, and roast the eggplant, see notes above.)
If you are frying: Press the moisture from the eggplant and blot them dry with paper towels. Pour olive (or canola) oil to a depth of 1 inch in a deep, heavy saucepan or large skillet (such as a cast iron pan) and heat to 360ºF on a deep-frying thermometer. Place 3 to 4 eggplant slices in the hot oil and cook until the slices take on some color, 3 to 4 minutes. Using tongs, transfer the slices to a colander (or paper-towel lined plate) to drain. Repeat with remaining slices. (Alternatively, pan fry in less oil till eggplant soften and are lightly golden.)
Meanwhile, make the filling. In a bowl, stir together the bread crumbs, ricotta, lemon zest, juice, thyme and salt.
Preheat the oven to 425ºF. Spoon tomato sauce into a medium-sized baking dish or individual gratin dishes (see above) till bottom of dish is covered in a thin layer. Place a spoonful of filling at one end of each of the eggplant slices. Roll the slice around the filling and place it seam-side down in the dish on top of the tomato sauce. Spoon a tablespoon of cream (or less) over each roll to moisten. Bake until the edges of sauce around the sides of the dish are dark and the rolls are nicely caramelized, 20 to 25 minutes. Garnish with the parmesan before serving.
Prep Time:

20 minutes

Cook Time:

25 minutes

Category:

Dinner

Method:

Oven

Cuisine:

Italian
Keywords: Italian, eggplant, involtini, tomato sauce, ricotta
This post may contain affiliate links. Please read my disclosure policy.