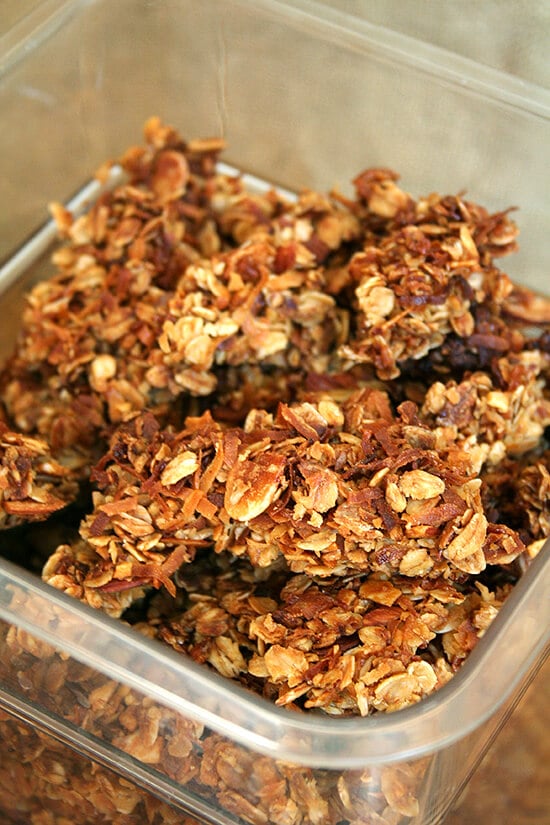 …it's always nice to have some baked goods on hand. Here are four that never fail to please.
1. Granola. I don't know anyone who doesn't welcome a bowl of homemade granola with milk or yogurt topped with fresh berries or sliced banana first thing in the morning. This also is my go-to gift for a host or hostess and my most-often requested recipe. (Note: I've made a few changes, which are listed below. It's now much less fussy, a teensy bit less sweet, and still just as delicious.)
2. Biscotti. I've never had anyone pass on a homemade biscotti with their morning beverage. These are perfect with coffee, tea, hot chocolate…anything really.
3. Salted Oatmeal Cookies. While I consider numbers 1 and 2 to be essentials, it doesn't hurt to have a jar filled with these salted oatmeal cookies on hand either. I've been making this Washington Post recipe since 2007, when my teensy grandmother snipped it out of her Wednesday paper and saved it for me. She was so wonderful. A perfect balance of sweet and salty, these cookies are one of my favorites. Your guests will adore them (and you), too.
4. Honey Whole Wheat Toasting Bread. Finally, if you're feeling particularly domestic, it's especially nice to have a couple of loaves of honey whole wheat bread kicking around. Made with leftover coffee, this good-old-fashioned recipe — no no-knead-super-slow-rise tricks here — hails from the Bakery Lane cookbook. I wish I had a photograph of my mother's copy, now held together by rubber bands and twine. It's filled with goodies.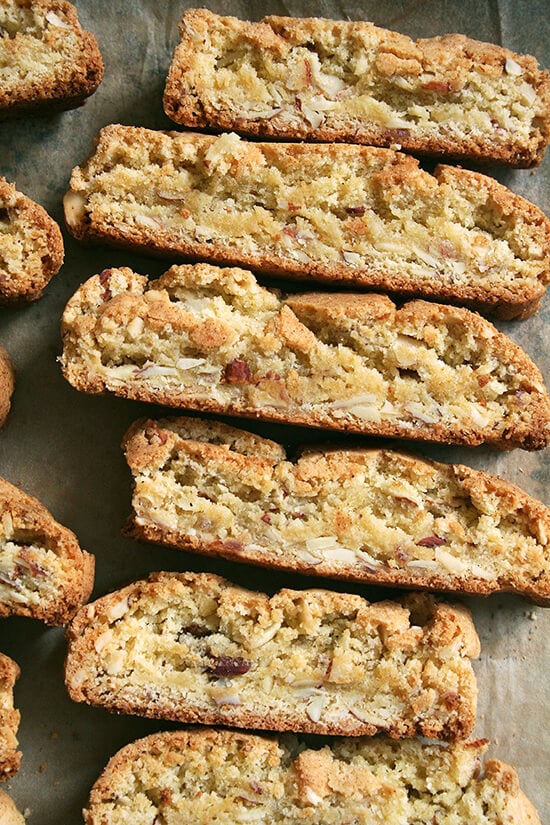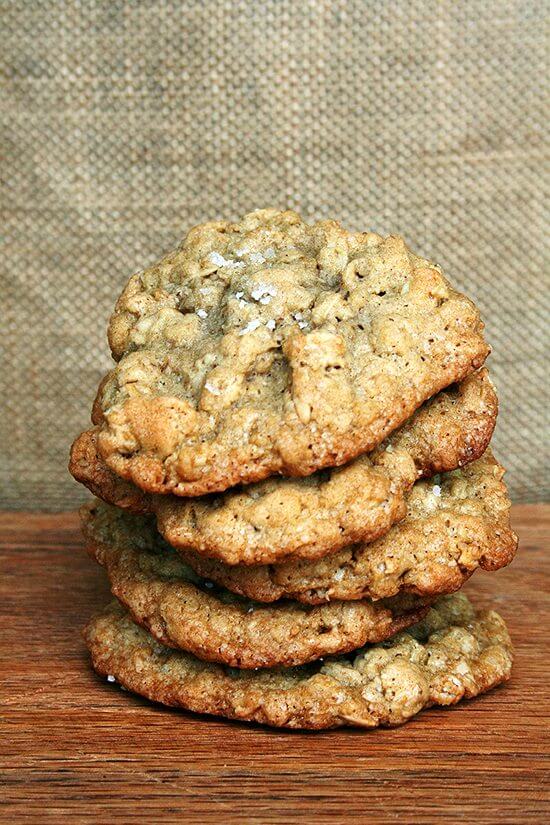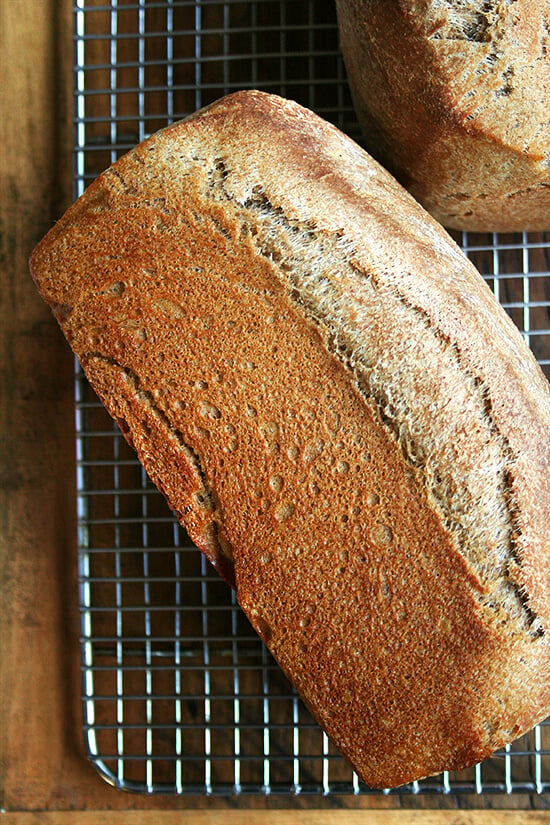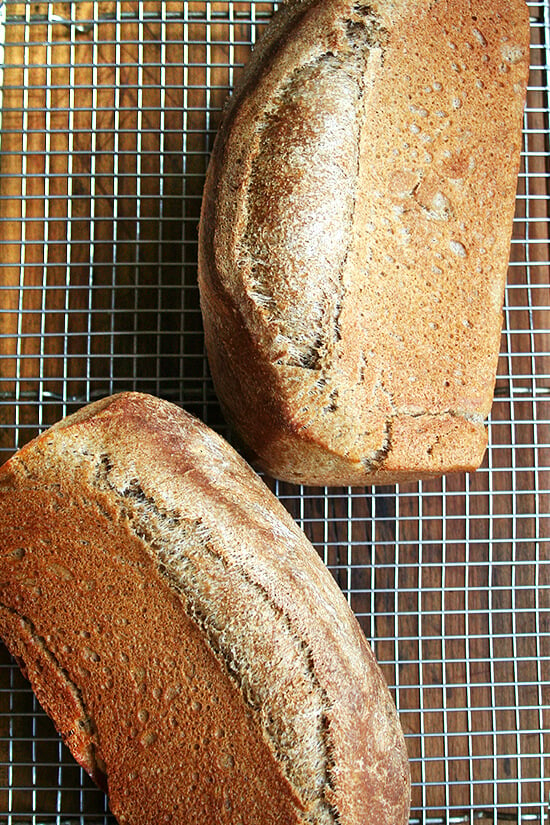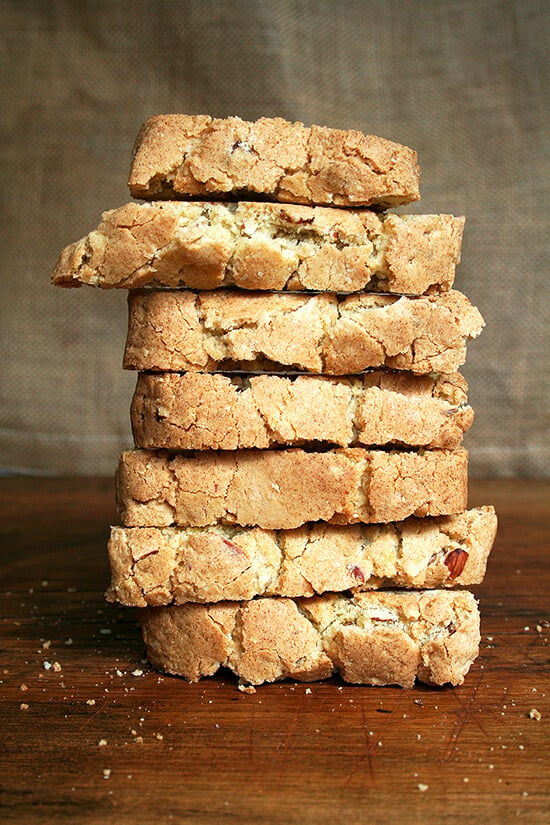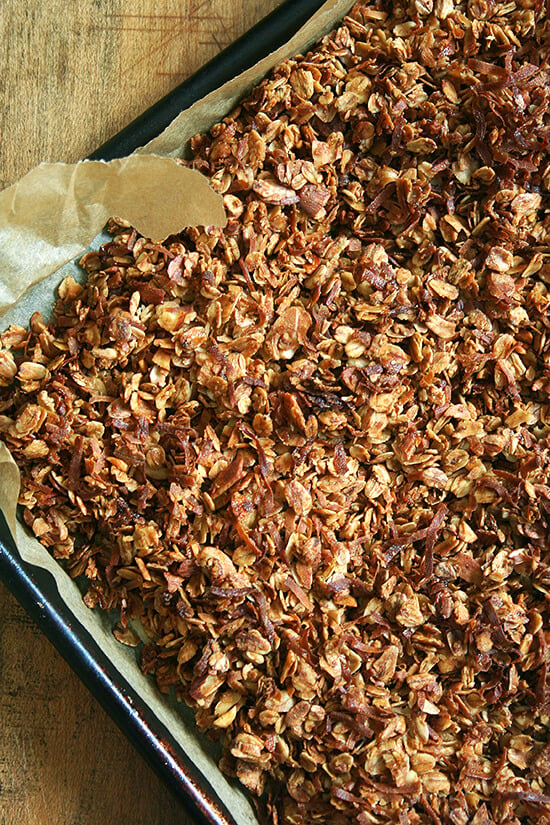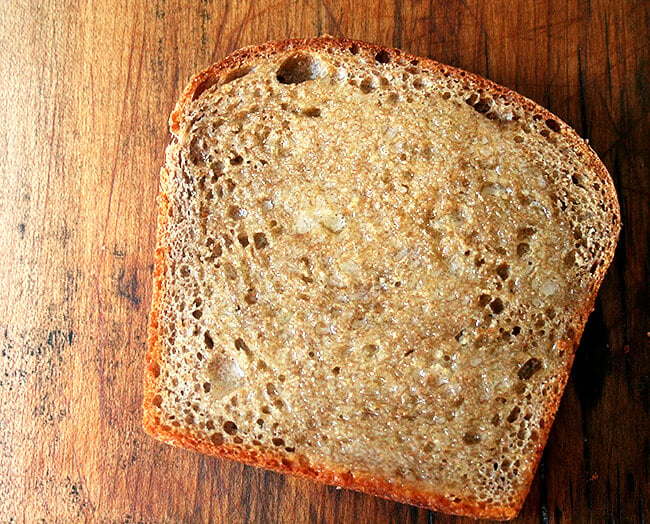 Recipes
Notes: I've posted the granola and biscotti recipes before but I have updated them a tiny bit. I am preferring things less sweet these days, so I've cut back the sugar in the biscotti by a quarter cup, and I don't bother with the egg wash and sugar glaze before baking — the biscotti are just as delicious. And for the granola, I rarely bother making the candied almonds and cashews, (though they do add a nice touch if you plan on giving the granola as a gift.) I also have cut back the amount of coconut a teensy bit and replaced that amount with more sliced almonds. Again, the granola is just as delicious.
Print
Vanilla-Almond Biscotti
---
Author:

Prep Time:

20 minutes

Cook Time:

40 minutes

Total Time:

2 hours 10 minutes

Yield:

30 biscotti
Description
My original recipe, which is a little more fussy, offers instructions for folding in pistachios and dried cherries as well as for dipping in white or dark chocolate. It can be found here. Also, and I know this is weird, but I kind of like my biscotti to be a little soft and chewy on the inside, not rock hard. So, if you like yours harder, bake them longer the second time around.
---
Ingredients
½ cup (1 stick) unsalted butter
1¼ cups sugar
¼ cup light brown sugar
2 eggs
1½ teaspoons vanilla
3 cups all-purpose flour
1½ teaspoons baking powder
½ teaspoon kosher salt
½ cup sliced almonds
---
Instructions
In the bowl of a standing mixer fitted with the paddle attachment, cream the butter with the sugars until well blended. Add the eggs one at a time, mixing after each addition. Add the vanilla and blend again.
In a separate bowl, whisk together the flour, baking powder and salt. Stir in the sliced almonds. Add the dry ingredients to the mixer and blend on low-speed until just combined.
Remove the dough from the mixer and divide into two equal portions. Plop one portion onto a parchment paper- or Silpat- lined baking sheet. Form into a longish rectangle about an inch high. Repeat with remaining log. If you have the time, chill logs for an hour. (At this point, too, the logs can be wrapped in plastic wrap and chilled for as long as 3 days (maybe longer…never tried it).)
Preheat oven to 350˚F. Bake for 30-35 minutes, until the logs are evenly golden brown. Remove from oven and place on cooling rack. Let cool for 5 to 10 minutes. Carefully transfer logs to a cutting board. Cut the log crosswise on a slight bias (or not) with a sharp knife or a bench scraper. Lay the cut slices on their sides on the baking sheet. Return pan to the oven for another 10 minutes. Remove from the oven and let the biscotti cool on baking sheet for 5 minutes before transferring to a cooking rack. Cool completely.
Print
Homemade Granola
---
Author:

Prep Time:

15 minutes

Cook Time:

35 minutes

Total Time:

1 hours 50 minutes
Description
Notes: As I mentioned above, I have blogged about this recipe before. The original recipe is much fussier, but take a look if you feel like adding more nuts and dried fruit in the mix. Also, I am now actually partial to this toasted muesli recipe — it's less sweet and easier to throw together.
---
Ingredients
4 cups (14 oz.) rolled oatsa scant 2 cups (6 oz.) unsweetened or sweetened, shredded coconut*
a scant 2 cups (6 oz.) unsweetened or sweetened, shredded coconut*
a heaping 2 cups (7.25 oz.) sliced almonds*
½ cup (4 oz.) vegetable oil
2/3 cup (7.25 oz) honey
1 teaspoon vanilla extract
½ teaspoon sea salt or 1 teaspoon kosher salt
*Sorry for the imprecise measurements here. Originally, I used 2 cups of coconut and 2 cups of almonds. I now use my digital scale when I measure out these dry ingredients, so the 6 oz. of coconut (which comes out to be 1.8 cups) is accurate and the 7.25 oz. of almonds is accurate, but I've never used my dry measuring cups to figure out precise dry measurements. If this is your first time making this and you want to play is safe, just measure out 2 cups of each the coconut and the almonds. Next time around you will know how to adjust the quantities to get the sweetness right for you. Also, I recently (March 2013) stopped using sweetened shredded coconut in this recipe. Read this post if you are curious as to why.
---
Instructions
Preheat the oven to 350ºF. In a large bowl, combine oats, coconut and almonds and gently stir or toss with your hands to mix well.
In a small saucepan, combine oil, honey, vanilla and salt and heat for 2 to 3 minutes, stirring to emulsify slightly. (Note: Sometimes I don't even bother heating this — I just whisk it really well and then pour it over. It is a little harder to incorporate into the oats if you don't heat it up, but I hate having to clean an extra pan. A quick zap in the microwave might be a good option? I don't own one so I can't advise on time.) Pour the oil mixture over the oat mixture and with a spatula stir until evenly coated.
Spread mixture onto a rimmed baking sheet and bake for 20 minutes. Remove from oven and stir well, bringing the oat mixture closest to the edges into the center and pushing the center mixture towards the edges. Return to the oven and bake for 10 more minutes, checking when 1 to 2 minutes remain. Be very careful at the end: the coconut will burn easily, leaving the granola with a bitter, burnt taste. Remove pan from the oven, place on a cooling rack and leave undisturbed until completely cool, at least one hour.
Print
Salted Oatmeal Cookies
---
Author:

Prep Time:

15 minutes

Cook Time:

15 minutes

Total Time:

1 hours 30 minutes

Yield:

18 cookies
Description
Source: The Washington Post, June 13, 2007
Notes from the Washington Post:
This cookie is all about the oats, without much spice to interfere with their earthy taste. It's also a great dough to make ahead and keep on hand to bake off a few when the urge hits. Refrigerate the dough for several days. The cookies can be stored in an airtight tin for up to 1 week.
---
Ingredients
12 tablespoons (1 1/2 sticks) unsalted butter, at room temperature
1 cup light brown sugar
1/2 cup sugar
1 3/4 cups flour
1 teaspoon baking powder
1/4 teaspoon baking soda
1/4 teaspoon ground cinnamon
1 teaspoon table salt (This is my addition — the original recipe calls for no salt in the actual cookie, but I think it needs it.)
2 cups rolled oats (not quick-cooking)
2 large eggs
1 teaspoon vanilla extract
Sea salt, for sprinkling
---
Instructions
(Notes: I've adjusted the order of instructions.)
In a large bowl of a stand mixer fitted with the paddle attachment, beat the butter for a few minutes on medium-high speed until light and fluffy. Scrape down the sides of the stand mixer bowl and add the sugars, beating until the mixture is well blended. In a separate bowl, whisk together the flour, baking powder, baking soda, cinnamon and table salt. Stir in the oats, and set aside.
Reduce the speed to medium and add the eggs and vanilla extract, mixing until incorporated. Reduce the speed to low and add the dry ingredients, scraping down the sides of the bowl as necessary and mixing just until they are incorporated. Cover the bowl with plastic wrap and chill the dough for at least an hour before baking. (Notes: I like to portion my cookies before chilling because the dough is easier to work with. I also weigh my cookies — I know, it's totally anal — but doing this does ensure even baking of the cookies. I portion this dough into 1.25 oz balls and then chill all of the balls for at least an hour before baking.)
Preheat the oven to 375 degrees. Line a large baking sheet with parchment paper.
Form the dough into golf ball-size balls and place about 2 inches apart on the baking sheet. (I bake 6 at a time and flatten the balls slightly when placing them on the cookie sheet.) Sprinkle sea salt generously on top of each ball of dough. Bake 1 sheet at a time for 11 to 15 minutes or until the cookies are puffed and beginning to turn golden, being careful not to overbake. (Notes: Bake one batch and let cool completely before deciding on the time. I find that these cookies really continue cooking (like most cookies) once they've been removed from the oven, and these really are best when the center of the cookies is on the chewy/doughy side. I find 13 minutes to be about right.) Place the cookie sheet on a wire rack to cool completely.
Print
Honey Whole Wheat Bread
---
Author:

Prep Time:

25 minutes

Cook Time:

45 minutes

Total Time:

4 hours 15 minutes

Yield:

2 traditional loafpan-sized loaves
Ingredients
2 + 2/3 cups coffee (at the most — I used less than 1 cup of coffee in this batch and substituted water for the remainder)
2/3 cup water
1/3 cup honey
1 package active dry yeast
1 T. kosher salt
1/2 cup yellow cornmeal
4 1/2 cups whole wheat flour
4 cups all-purpose flour
---
Instructions
Combine coffee, the 2/3 cup water and the honey in a large bowl or in a large bowl of a stand mixer. Stir yeast into 1/2 cup of lukewarm water. Let stand until dissolved then add to coffee mixture.
Whisk together salt, cornmeal and flours. If using a stand mixer, add all of the dry mixture to the wet mixture. Knead for about 8 minutes or until the dough is smooth and wrapped around the dough hook. If kneading by hand, stir in about half of the dry mixture. Add more and more of the mixture until you need to turn the dough out onto a work surface to get it all incorporated. Knead for about 8 minutes or until the dough is smooth.
Place dough in a large bowl greased with a light layer of olive oil. Turn dough to coat. Cover with plastic wrap or a damp kitchen towel (run a tea towel under hot water, ring it out, then place on top of bowl) and let rise until doubled in bulk (this may take as long as 2 hours). (Tip: If you are looking for a warm spot to let your dough to rise, turn your oven to its highest setting and let it warm for 1 minute. Turn off the heat, place your tea towel-covered bowl of dough inside and close the oven door.)
Once dough has doubled, punch it down. Grease two standard sized loaf pans generously with butter. Divide dough into two equal portions. Quickly shape each portion into a loaf-like mass and plop into prepared pans. Let rise until dough reaches just below the top of the pan. This may take as long as 45 minutes. (I like to place my loaf pans on top of the oven while it preheats. This usually speeds up the second rising.) Preheat oven for 375ºF.
Bake loaves for 45 minutes. Turn loaves out onto cooling rack. If you can refrain, let cool for at least 20 minutes before cutting.