Pizza with Roasted Butternut Squash and Crispy Sage
This post may contain affiliate links. Please read my disclosure policy.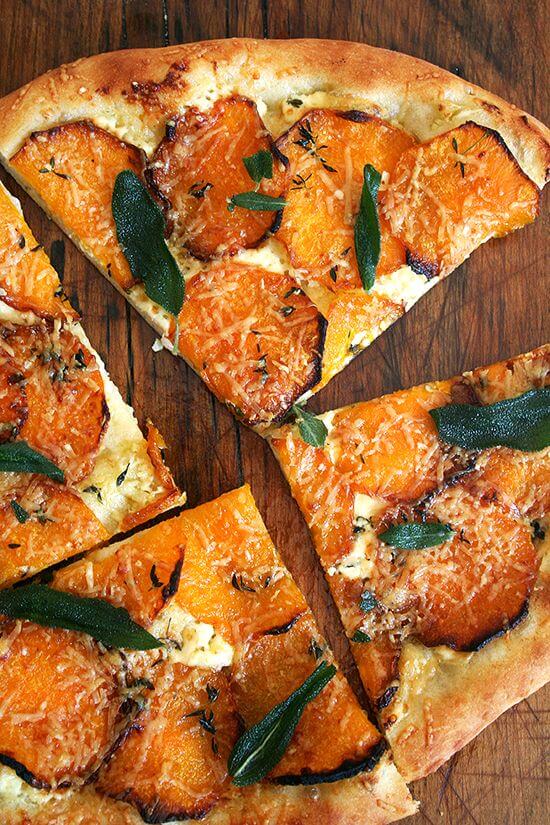 I have a pizza dough recipe I adore. I swore in fact I would never attempt another recipe. But then I saw this. Yes, the Hertzberg-Francois team has released another book: Artisan Pizza and Flatbread in Five Minutes a Day. I couldn't resist. Oh wow, where to begin, where to begin?
Perhaps with Tuesday, when I made the book's goat cheese and onion pizettes – so delicious! — a Balthazar recipe made with APin5 dough? Or with Wednesday's pre-dinner snack, a bubbling flatbread topped with pear, gorgonzola, and arugula, a classic combination made even more delectable by a record-short prep time?
No, no. I need to begin with the above-pictured creation, a Chez Panisse Vegetables recipe made with five-minutes-a-day dough. Garlic oil, homemade ricotta, roasted butternut squash, fresh thyme and crispy sage, this pizza captures fall in every bite. Sure, preparing the toppings will take more than five minutes, but with homemade dough on hand, this recipe becomes nearly effortless.
Let's just say it's been a strong week in the kitchen thanks to this little genius of a recipe.
I have much more to report about the book and the dough and the various recipes beyond flatbread and pizza — breadsticks and dips and bread bowls to name a few — but I'll have to check back next week on those. I just wanted to give you all a head's up: if you think you might enjoy making homemade pizza in a moment's notice, this book is for you.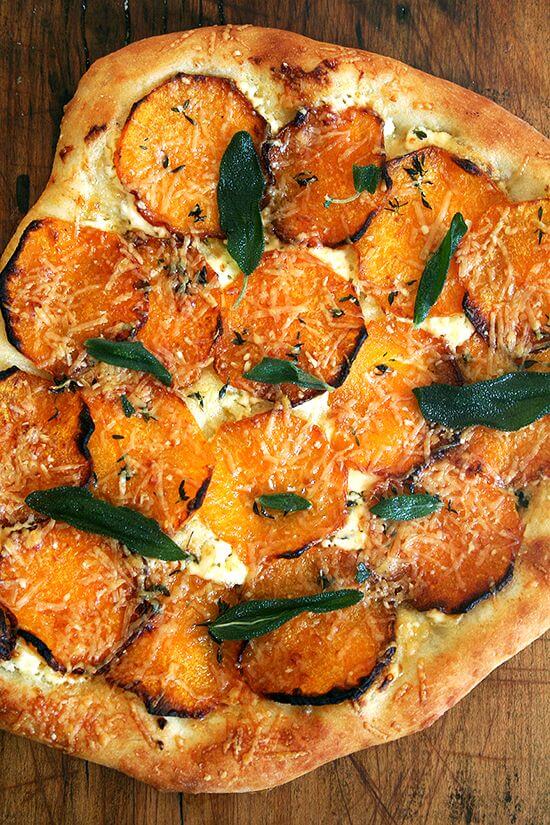 Butternut Squash from our Olin-Fox Farm CSA: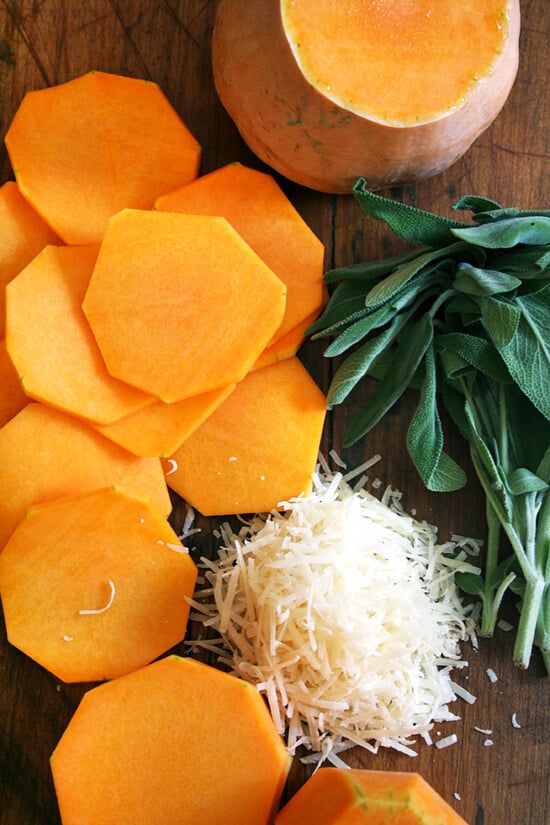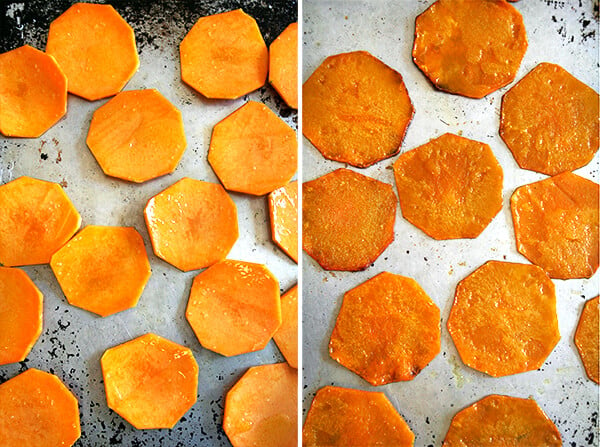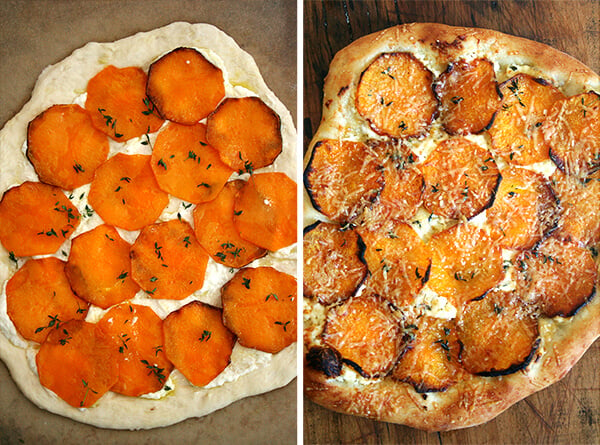 Pizza Perfected
7 Secrets to Mastering Pizza at Home
Always Free. Unsubscribe Anytime.
Print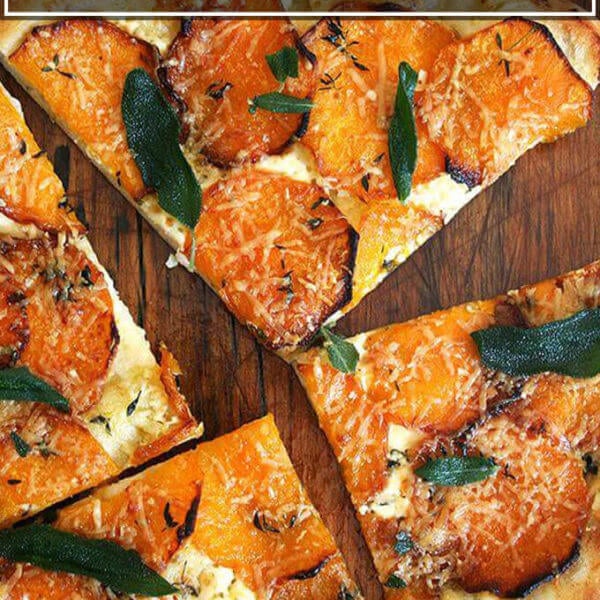 Roasted Butternut Squash Pizza with Crispy Sage
---
---
For the dough:
3 1/2 cups

Lukewarm water

1 tablespoon

yeast

1 1/2 tablespoons

kosher salt

7 1/2 cups

(2 lbs.

6 oz

.) unbleached all purpose flour
For the pizza:
1

small butternut squash (about a pound, but you will likely have leftover squash)
olive oilkosher salt
kosher salt

2

cloves garlic
a few sprigs thyme, leaves removed

1/4 cup

freshly grated Parmigiano Reggiano

10

–

15

sage leaves
canola oil for frying
Notes: Original recipe called for mozzarella and Gruyère cheeses as well as parsley and fresh squeezed lemon as final seasonings.
---
Instructions
For the pizza:
Add yeast to the water in a 5-qt bowl or, preferably, in a lidded (not airtight) plastic food container or storage bucket. Don't worry about getting the yeast to dissolve completely. Add the flour and salt and mix with a wooden spoon (or food processor or stand mixer) until incorporated.(Note: Recipe in book calls for adding salt and yeast to the water together, but I always get nervous adding salt to yeast. If you don't share this fear, just mix the water, yeast and salt together in the same step.) You might need to use wet hands to get the last bit of flour to incorporate (I did not) if you're not using a machine. Do not knead; it isn't necessary. You're finished when everything is uniformly moistened without dry patches. This step is done in a matter of minutes and yields dough that is loose enough to conform to its container.
Cover vessel with a non-airtight lid and allow dough to rise at room temperature until it begins to flatten on the top, about two hours, depending on the temperature of the room and the initial temperature of the water. Do not punch down the dough!
Refrigerate the dough overnight or for at least 3 hours. Once it's refrigerated, the dough will collapse, and it will never rise again in the bucket — that's normal for this dough. Store the dough in the refrigerator and use over the next 14 days.
On Baking Day
Prepare toppings in advance. See recipes below.
Thirty minutes before you're ready to bake, preheat a baking stone at your oven's highest temperature, placed in the bottom third of the oven. Note: If you do not own a stone or Baking Steel, you can get great results by simply baking the pizza on a parchment lined jelly roll pan. Do not use an insulated baking sheet — this will not yield as crispy a crust as traditional baking pan.
If you are using a baking stone, prepare a pizza peel with flour, cornmeal or parchment paper to prevent sticking. Sprinkle the surface of your refrigerated dough with flour. Pull up and cut off a 1/2-pound (orange-size) piece of dough, using a serrated knife or kitchen shears. Hold the piece of dough in your hands and add a little more flour as needed so it wont stick to your hands. Gently stretch the surface of the dough around to the bottom on all four sides, rotating the dough a quarter turn as you go to form a ball. Most of the dusting flour will fall off; it's not intended to be incorporated onto the dough. The bottom of the dough may appear to be a collection of bunched ends, but it will flatten out and adhere once you roll it into a pizza or flatbread. The entire process should take no longer than 20 to 30 seconds.
Flatten the dough with your hands and a rolling pin on a work surface or directly onto the pizza peel (if using) to produce a 1/8-inch-thick round, dusting with flour to keep the dough from adhering to your work surface. The dough round should be about 12-inches across. Use a dough scraper to transfer the round to pizza peel or to a parchment paper-lined baking sheet.
Add your toppings (see recipe below if you wish.)
Slide pizza onto baking stone or place sheet pan in oven. Bake 8 to 10 minutes, turning half way if one side is browning faster than the other. Bake for as long as five minutes more if necessary.
For the roasted butternut squash toppings:
Preheat the oven to 400ºF. Remove the skin: Slice the top of the squash about 1/2-inch under the stem to create a flat edge. Repeat with the other end. Cut crosswise through the squash just above the bulb — cutting the squash into two pieces makes the peeling process easier. Note: I made only one pizza, so I only peeled the longer portion (the non bulb portion) of the butternut squash. Stand the squash (whichever piece you want to peel first) upright and, being careful not to slice off your fingers, run your knife down the sides of the squash removing the peel along the way. Repeat with bulb portion if desired. After peeling the bulb portion, cut it in half, scoop out seeds and discard. Cut the peeled squash crosswise into 1/4-inch thick slices. I used a mandoline, which saves time and creates uniform pieces, but using a knife works just fine, too.
Place the slices of squash on a baking sheet, drizzle with olive oil, season with kosher salt to taste, toss to coat, redistribute onto sheet in one layer and place in the oven for about 20 minutes, or until fork tender.
Meanwhile, peel and finely chop the garlic and add it to about 1/4 cup of olive oil. After rolling out a pizza round and placing it on a prepared baking sheet (see recipe above), brush dough with the garlic olive oil. (I spooned some of the oil into the center of the dough and then, using the back of my spoon, spread it over the dough to coat evenly.) Spread a thin layer of fresh ricotta over the garlic oil. Sprinkle with fresh thyme to taste. Top with baked squash slices. Top with grated Parmigiano. Bake for 8 to 10 minutes.
Meanwhile, fry the sage. The book recipe does not give detailed instructions for this step, and after a few burnt batches of leaves, I turned to the internet for some advice. The sage leaves should take no longer than 5 seconds in hot oil to crisp up. I didn't use a thermometer or a deep fryer, so it was a trial and error process, but I found that frying the leaves one at a time in a small sauté pan filled with a layer of canola oil worked well ultimately. I had to take the pan off the heat every so often, but once I got the hang of it, it was a simple process and well worth the effort — the crispy sage adds a really nice flavor.
Remove the pizza from the oven and top with the crispy sage. Yum!
Prep Time:

15 minutes

Cook Time:

40 minutes

Category:

Pizza

Method:

Oven

Cuisine:

American, Italian
Keywords: pizza, artisan, bread, butternut, squash, sage, ricotta
This post may contain affiliate links. Please read my disclosure policy.