Apple Hand Pies with Cheddar Crust— So Delicious!
This post may contain affiliate links. Please read my disclosure policy.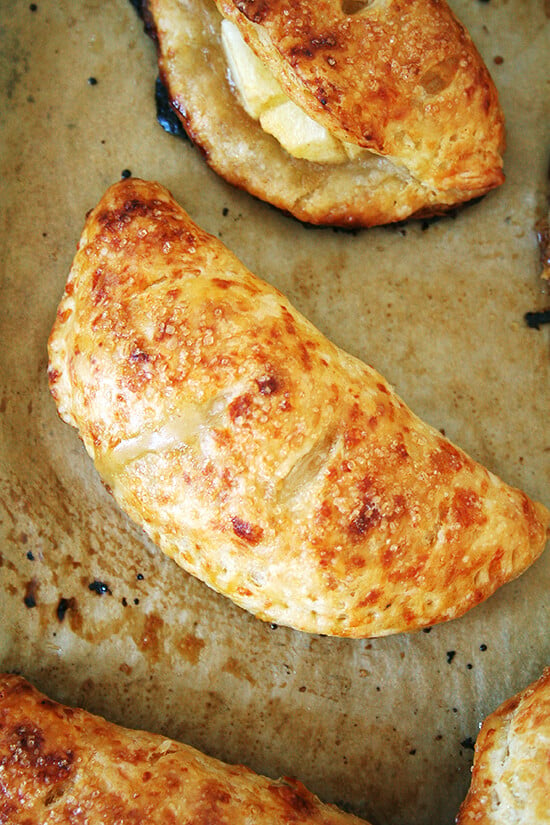 This is the sort of discovery that inspires me to host a dinner party. After just one bite, I began envisioning the scene: my guests' hands reaching to the center of the table; the plate piled high with steaming, half-mooned pastries slowly disappearing; the silence as first bites are taken. Just anticipating the reactions — "apple and cheddar?!" — makes me giddy. And giddy were we (my mom, my aunt and I) as we stood around the cutting board in my kitchen, tucking into one after another hand pie, analyzing the flaky cheddar crust, adoring the adorable shape, oohing and ahing over the whole package. These hand pies are a home run.
I've been wanting to make an apple pie with a cheddar crust for several years now. Hand pies of course are a little fussy — much more work than making a traditional-shaped pie – but oh so good, and oh so much fun for a party. The pies can be assembled ahead of time and baked just before serving — 20 minutes in the oven and these babies are done.
While apple with cheddar is an age-old pairing, their union in a pie, for me at least, still came as a surprise. A most delicious surprise! I have a feeling you'll all think so, too.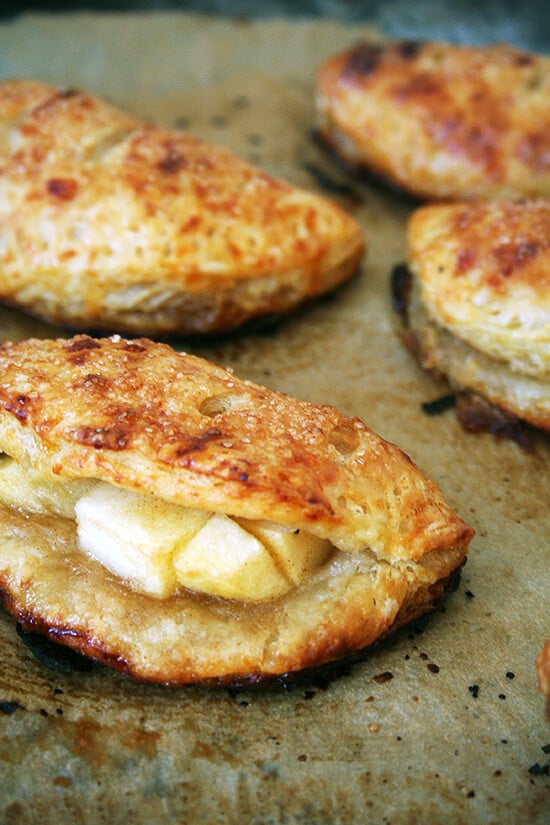 Cameo and Fuji apples from Catoctin Mountain Orchard. The Cameo apples were some of the best apples I have ever tasted.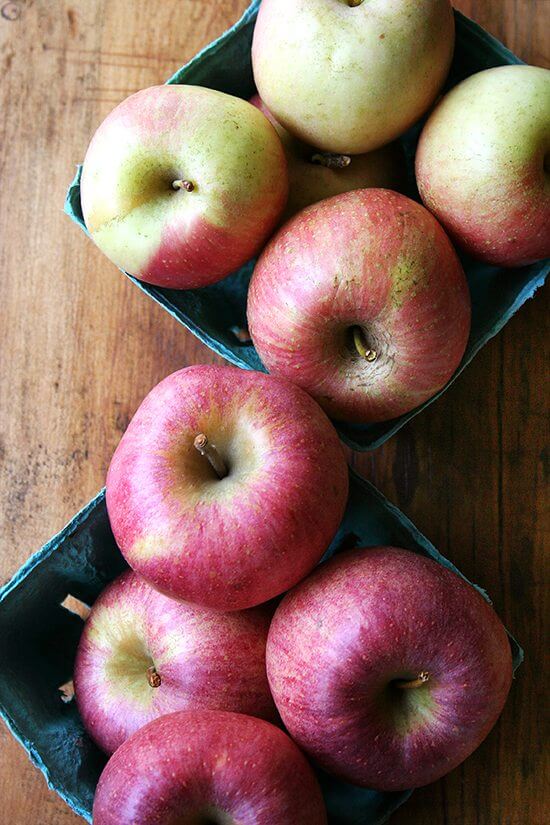 I adore this cheddar.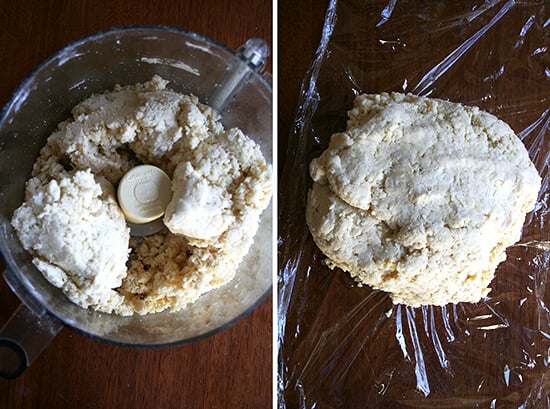 Print
Apple Hand Pie with Cheddar Crust
---
Total Time:

2 hours 35 minutes

Yield:

1 10-inch pie or 10 hand pies + 1 mini pie
---
Cheddar Crust
2 1/2 cups

all-purpose flour, plus more for dusting

1 teaspoon

sugar

1/2 teaspoon

salt

14 tablespoons

(

1 3/4

sticks) cold unsalted butter, cut into small pieces

4 ounces

white cheddar cheese, coarsely grated (about

1 1/2 cups

)

1/2 cup

ice water
Filling
Note: This amount of filling is for a traditional sized pie. If you are making hand pies, you will have way too much filling. Halving the amount of filling will yield enough for the hand pies. Or, if you are creative, you could find a way to use up that extra filling…perhaps a crumble or a crisp of some sort?
1 1/2

pounds (about

3

) Granny Smith apples, peeled, cored, and cut into small cubes*

2

pounds (about

5

) Cortland apples, peeled, cored, and cut into small cubes*

1 cup

sugar

1/2 cup

all-purpose flour

2 teaspoons

fresh lemon juice

3/4 teaspoon

ground cinnamon

1/4 teaspoon

freshly grated nutmeg

1/4 teaspoon

salt

1/8 teaspoon

ground cloves (optional, I didn't use b/c I didn't have)

2 tablespoons

unsalted butter, cut into small pieces (I forgot to dot filling with butter — so I would mark this as optional, too.)
1

egg yolk beaten with 2 tablespoons of water
turbinado or demerara sugar or regular granulated sugar for dusting
vanilla ice cream for serving (optional)
*These are the apples and amounts recommended in the Martha Stewart recipe. I used a variety of apples — Fuji, Gala, York — it came out beautifully. I think you could basically use any combination of crisp-textured apples.
---
Instructions
For the crust:
Process flour, sugar, and salt in a food processor. Add butter; pulse until pea-size lumps appear. Pulse in cheese. With processor running, add ice water; process just until dough comes together.
Turn dough out; gather into a block. Wrap in plastic wrap. Refrigerate until cold, at least 30 minutes or up to 2 days.
For the pie:
Preheat oven to 450 degrees. Divide dough into two pieces. On a lightly floured work surface, roll out one half of the dough to 1/8-inch thickness. Using a 4 1/2-inch-round cutter (something about the size of a martini glass, which worked quite well in fact) cut five to seven circles out of the rolled dough. (I was able to get five circles initially and had to gather the scraps, re-roll and cut again to get seven out of one half of the dough.) Transfer the circles to a parchment-lined baking sheet, and place in the refrigerator to chill for about 30 minutes. Repeat the rolling, cutting, and chilling process with the remaining half of dough.
Make the filling: Stir together apples, sugar, flour, lemon juice, cinnamon, nutmeg, salt, and cloves.
Remove the chilled dough from the refrigerator. Spoon about 1 to 2 tablespoons of filling onto one half of each circle of dough. Using your finger, brush a little cold water around the circumference of the dough. Fold the circle in half so the unfilled side comes over the filling, creating a semicircle. (You might need to let the circles stand at room temperature for a couple of minutes so they become pliable.) Seal the hand pie, and make a decorative edge by pressing the edges of the dough together with the back of a fork. Repeat process with remaining dough. Place the hand pies back on the parchment-lined baking sheet, and return to the refrigerator to chill for another 30 minutes.
Remove the chilled hand pies from the refrigerator, cut a small slit in each and lightly brush with the egg yolk wash. Sprinkle a pinch of the sugar lightly over the pies, and place pies in the oven to bake. Bake pie 10 minutes. Reduce oven temperature to 350ºF. Bake until the hand pies are golden brown, about 20 minutes. Remove the pies from the oven, and let stand to cool slightly before serving. Serve with vanilla ice cream if desired.
Prep Time:

35 minutes

Cook Time:

30 minutes
A mini apple-cheddar pie…yummmm.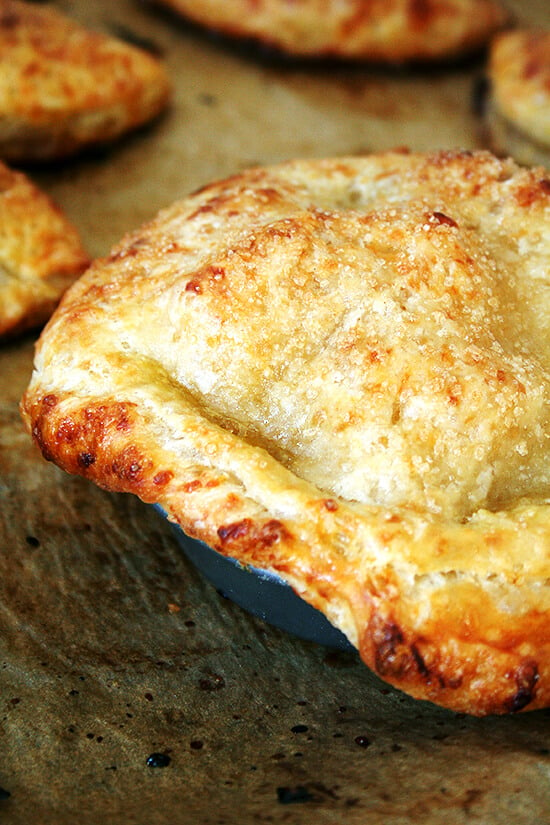 This post may contain affiliate links. Please read my disclosure policy.