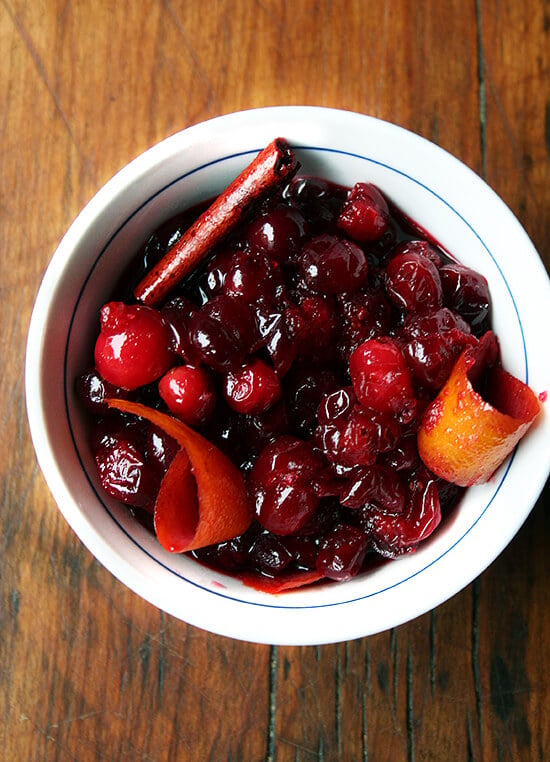 This homemade red wine cranberry sauce with orange zest and cinnamon has become a staple on the Thanksgiving table. It's a fun and delicious twist on traditional cranberry sauce, and it's a touch less sweet than classic cranberry sauce recipes, too.
Don't be afraid to double it and make it ahead of time. It reheats nicely. The sauce can be made with frozen cranberries and start to finish can materialize in 20 minutes.
---
The Story …
My sister Lindsey LOVES cranberry sauce. And by LOVES I mean she enjoys a little turkey and stuffing with her cranberry sauce.
When I think of Thanksgiving, I think of Lindsey mounding cranberry sauce onto every food group on her plate.
And then I think of her finishing up her meal, dragging mom's homemade bread across her plate, mopping up every last morsel of sauce.
And then I think of the days following Thanksgiving, when she would assemble cranberry sauce sandwiches — yep, just two slices of bread flanking as much sauce as their structure will allow.
And then I picture her sitting at the kitchen table, elbows bent as she holds her creation in front of her face, laughing as she bites into her favorite sandwich, giddy that this time of year has once again arrived.
My sister would not approve of the above-pictured sauce. If Peeps, Lindsey's favorite candy (food?), are any indication of her sugar preferences, you understand why. She likes the traditional ratio of sugar to liquid to cranberries prescribed in most recipes.
I on the other hand feel otherwise. I do not love the sweetness of cranberry sauce, and I suppose I sort of feel indifferent to the sauce in general. But I like this recipe a lot. It takes no more time to prepare than traditional recipes — I certainly would not fuss over making cranberry sauce — and the flavors of orange zest, cinnamon stick and red wine (or Port) are nice. It's also a touch less sweet than traditional recipes.
If you're a cranberry-sauce purist, this recipe is not for you. If, like me, you don't really care one way or the other and want to spruce up your cranberry sauce a bit, give this recipe a go.
---
How to Make Homemade Cranberry Sauce
See recipe below for more specific quantities and details. 
Combine sugar, dry red wine, and cinnamon stick in a saucepan over medium heat.
Simmer 4 minutes.
Add fresh or frozen cranberries and slivered tangerine, clementine or orange zest. This peeler is great for oranges.
Simmer for 10 minutes, or until the cranberries are soft and the sauce has thickened. Serve at room temperature or chilled.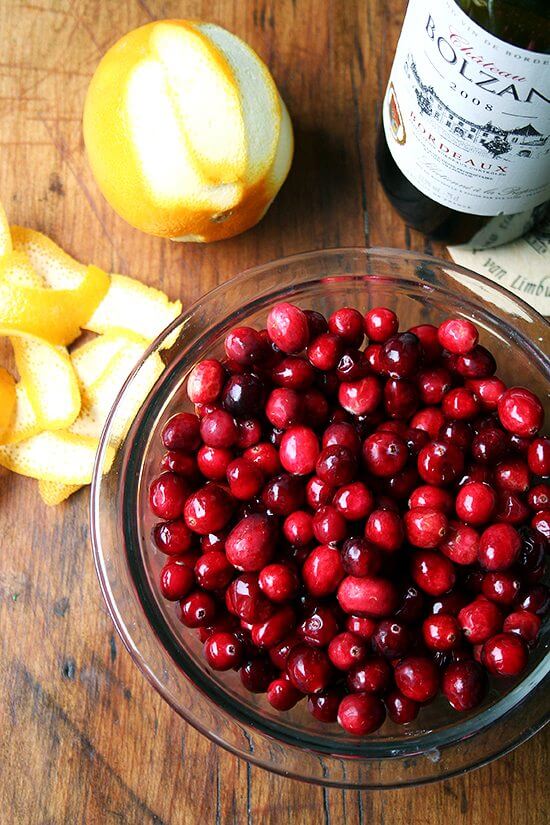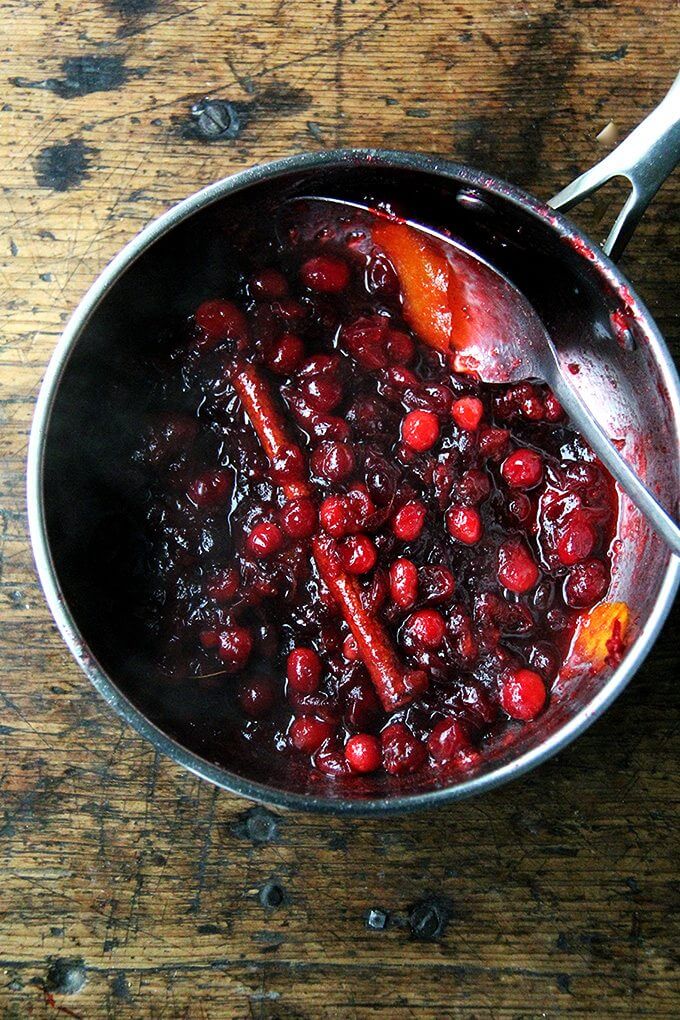 Print
Homemade Red Wine Cranberry Sauce
---
Author:

Alexandra Stafford

Prep Time:

5 minutes

Cook Time:

15 minutes

Total Time:

20 minutes

Yield:

2 cups
Description
Adapted from Sally Schneider's A New Way to Cook
---
Ingredients
2/3 cup

sugar

3/4 cup

dry red wine or Port (an inexpensive Tawny Port)

1/2

cinnamon stick (

1 1/2

inches)

1

package fresh or frozen cranberries (about

12 oz

.)

1 tablespoon

slivered tangerine, clementine or orange zest, or more to taste
---
Instructions
In a saucepan over moderate heat, combine the sugar, red wine and cinnamon stick; bring to a boil. Reduce the heat and simmer for about 4 minutes, stirring occasionally, until the sugar is dissolved and the wine is reduced slightly. Add the cranberries and zest. Simmer for 10 minutes, or until the cranberries are soft and the sauce has thickened. Serve at room temperature or chilled.
---
Category:

Condiment

Method:

Stovetop

Cuisine:

American
Keywords: red, wine, cranberry, sauce, orange, cinnamon