Pasta Carbonara — Easiest Weeknight Dinner
This post may contain affiliate links. Please read my disclosure policy.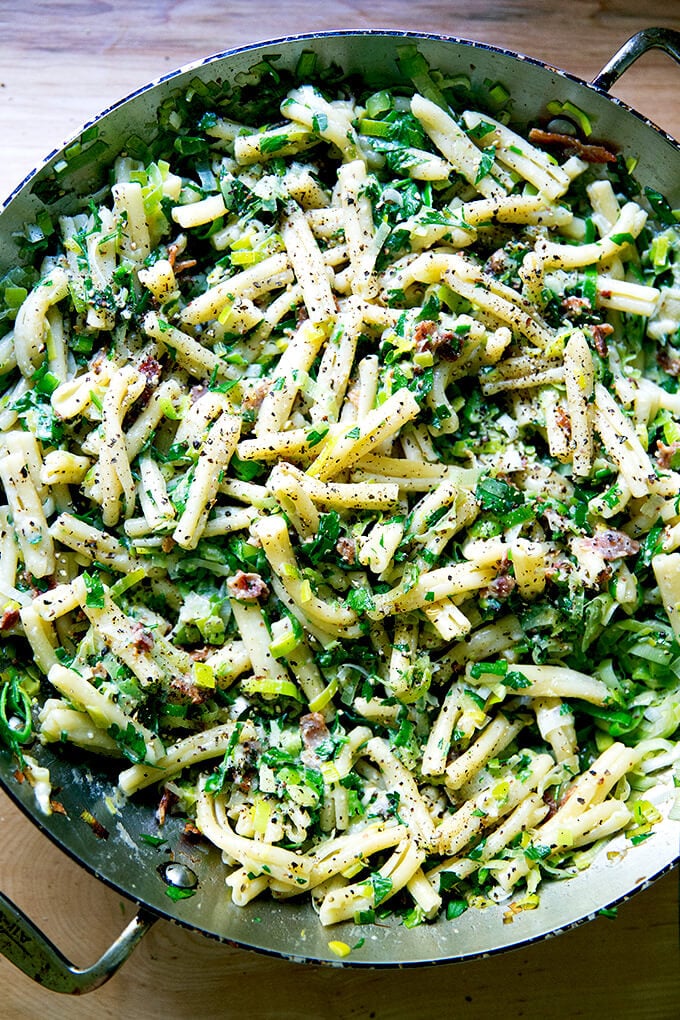 I know what you're thinking: Pasta carbonara? The week after Thanksgiving? Thanks, but no thanks.
But, and forgive me if I'm wrong, I think you might be thinking of an entirely different dish, one containing vast amounts of cheese and butter?
I had misconceptions, too. But true pasta carbonara is in fact light, and this recipe, from Everyday Food, calls for sautéed leeks, grated lemon zest, and freshly squeezed lemon juice, flavors that make this carbonara preparation particularly fresh and light. What I love most about this dish is the sauce, made with two whisked eggs, 1/4 cup of the pasta cooking liquid, and 1/4 cup of grated Parmigiano Reggiano, an incredibly creamy mixture (despite containing no cream at all) that coats the pasta so well, making every bite especially tasty. Oddly, it tastes not the least bit eggy. Just creamy and delicious. Yum.
With bacon and eggs on hand, dinner can be assembled in a flash. I've made this dish once a week since my Everyday Food magazine arrived in mid-October. Nothing makes me happier than whisking that pasta cooking liquid with the eggs and cheese, watching it transform into a magically flavorful sauce, and throwing dinner on the table. I think you'll enjoy it, too.
PS: Pasta Carbonara with Asparagus
PPS: No-Bacon Carbonara with ALL the Greens
How to Make Pasta Carbonara, Step by Step
First, slice up some leeks. Transfer them to a large bowl of cold water to soak and to let the dirt settle — leeks can be very dirty.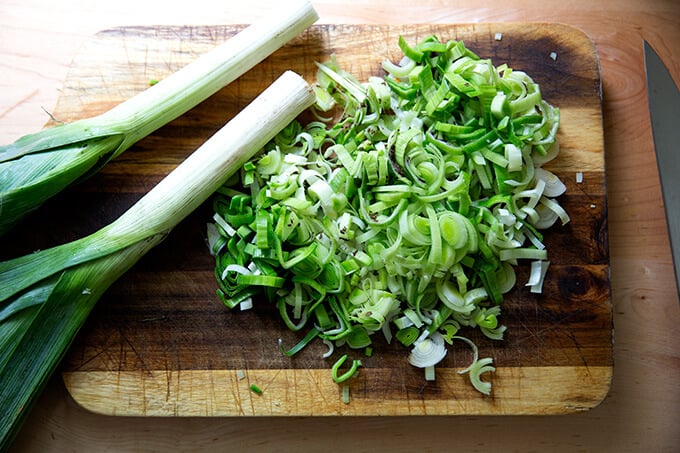 Then, dice up some bacon and …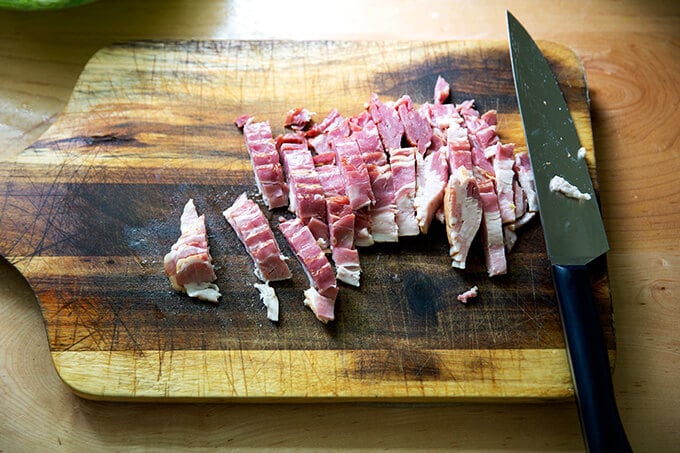 … crisp it up in a pan.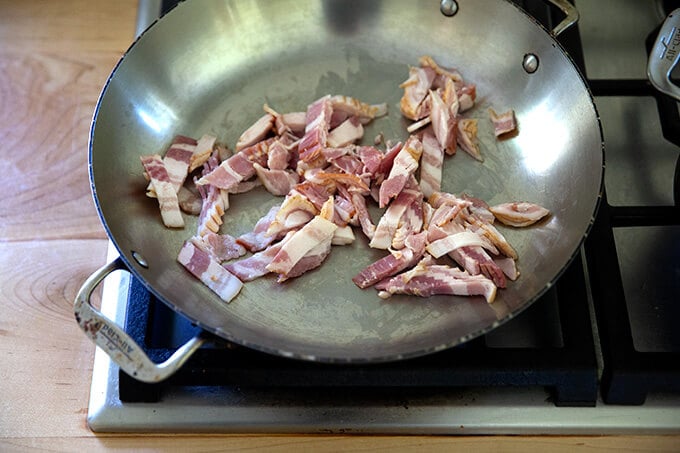 Set it aside; then cook the leeks in the bacon fat.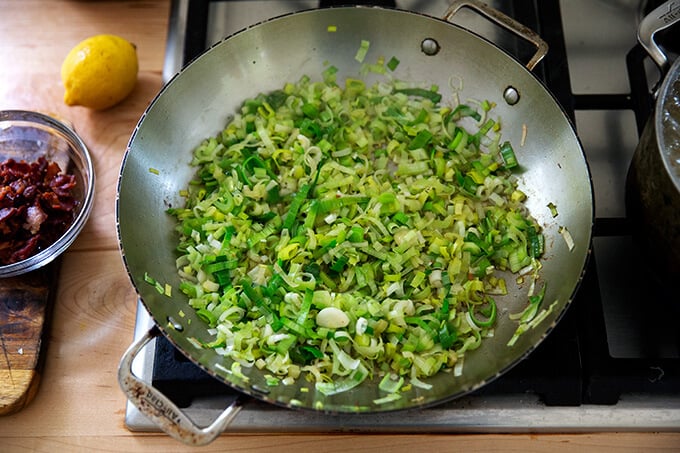 Boil a pot of water; then cook whatever pasta you like till al dente.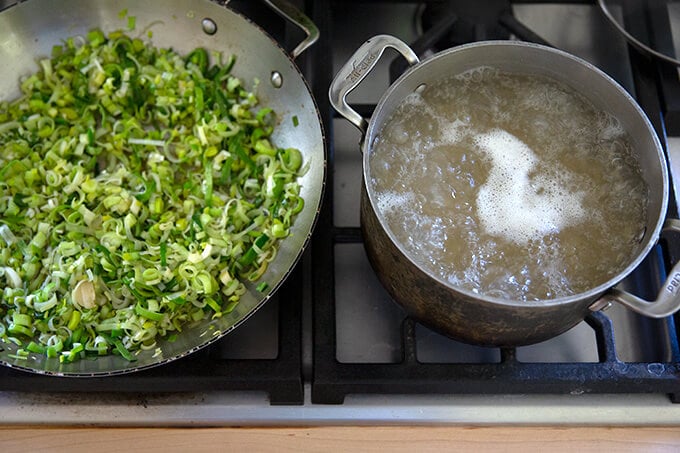 I've been loving this Casarecce: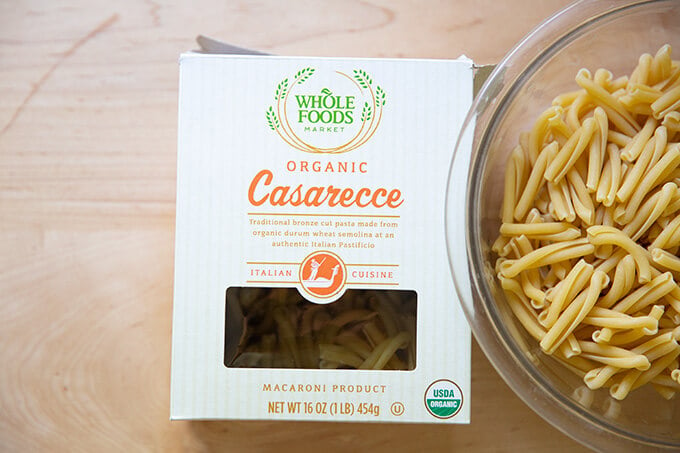 This is the key step: be sure to reserve some of the pasta cooking liquid. You only need 1/4 cup initially, but I suggest reserving much more because it's so nice having on hand for reheating.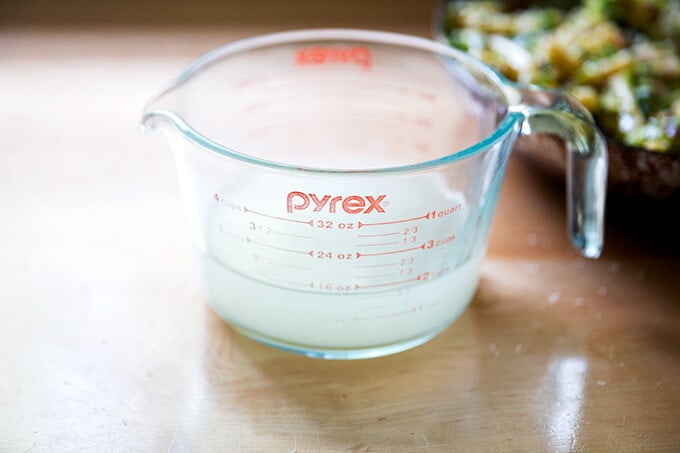 Whisk together the sauce: 2 eggs, 1 tablespoon lemon juice, 1/4 cup parmesan, and 1/4 cup reserved pasta cooking liquid.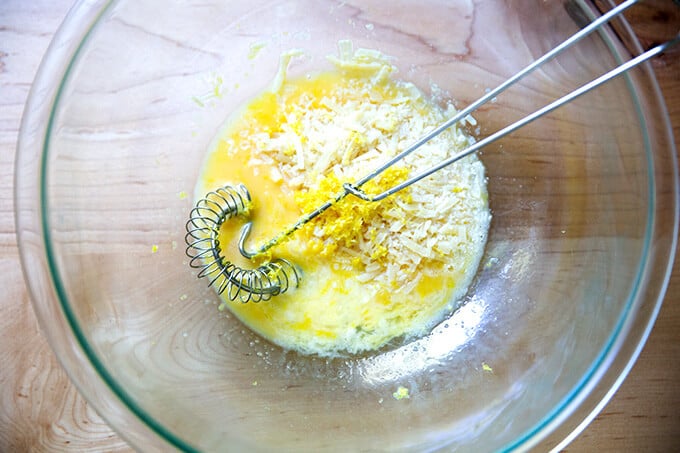 Drain the pasta.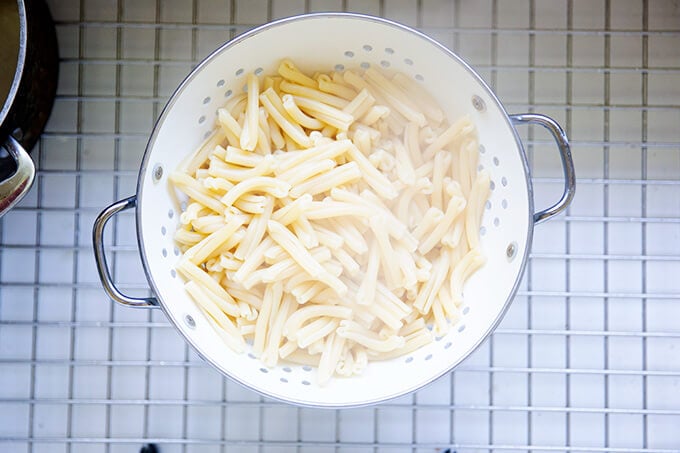 Add it to the skillet with the leeks, the crisped bacon, and the sauce.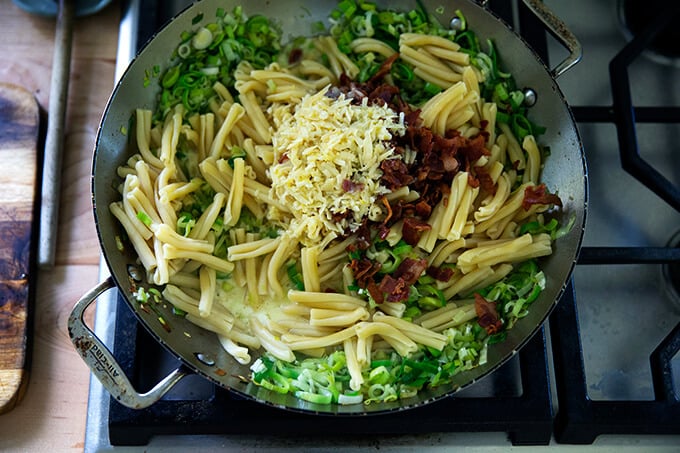 Chop up some parsley.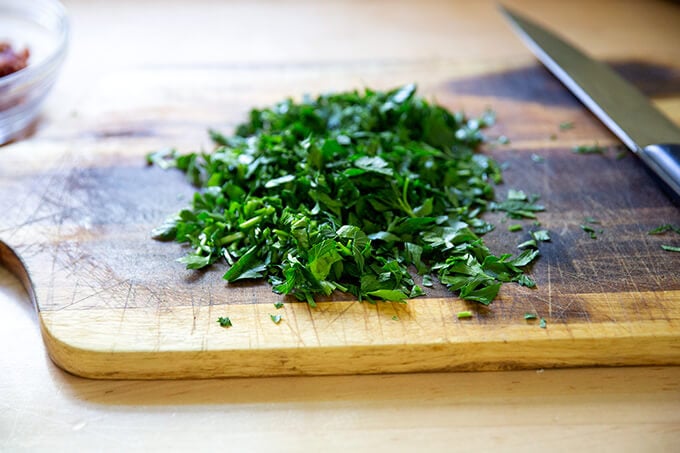 Add it to the skillet and stir to combine.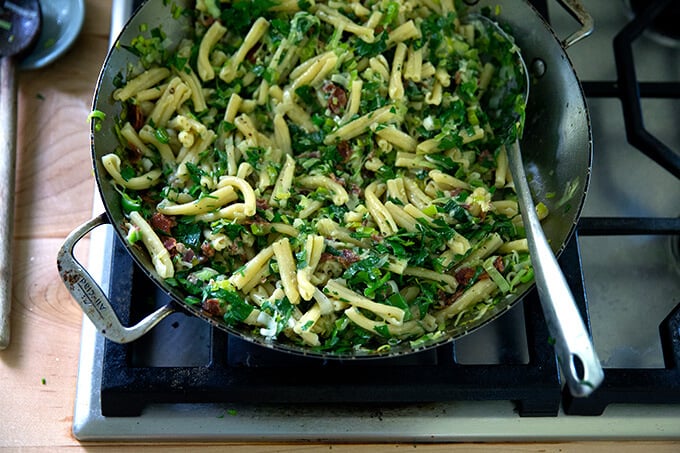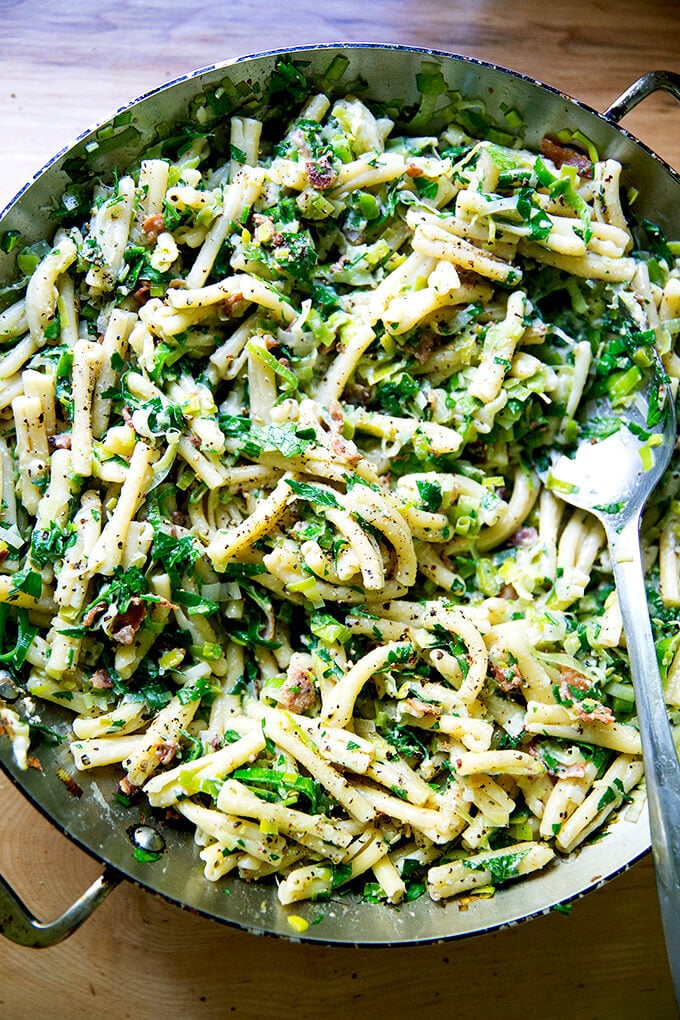 Shave more parmesan and crack more pepper over top to taste.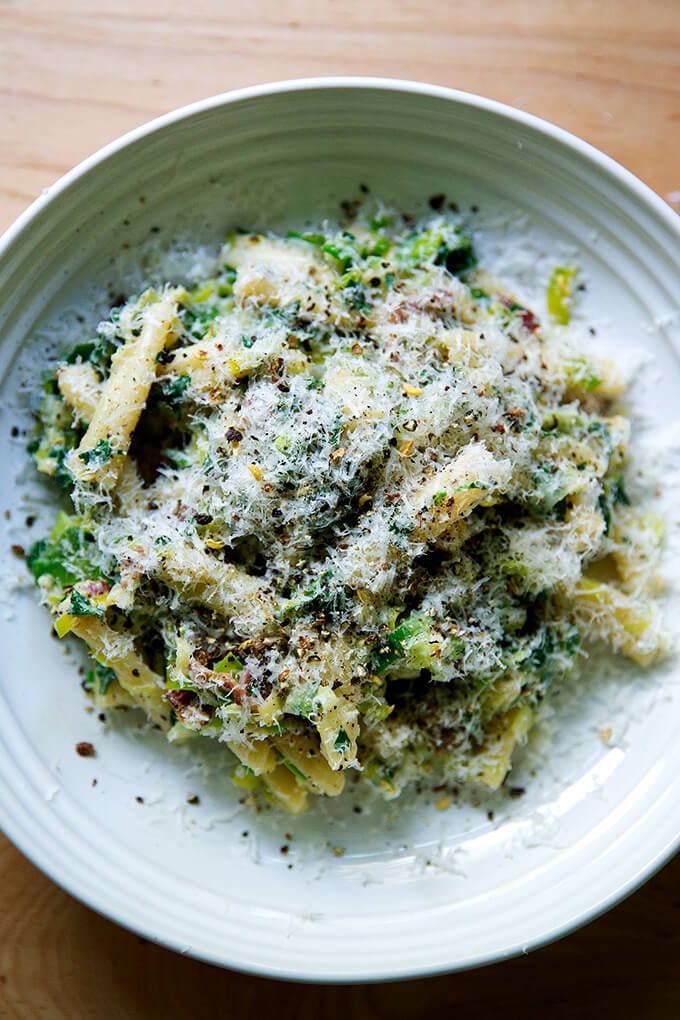 Soooo good.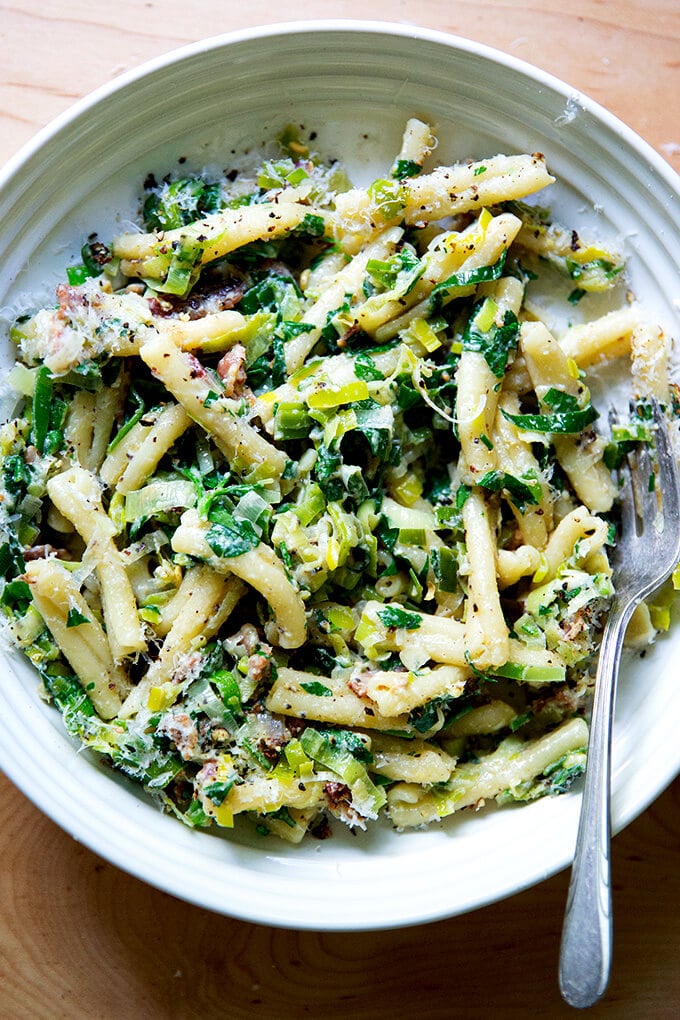 Print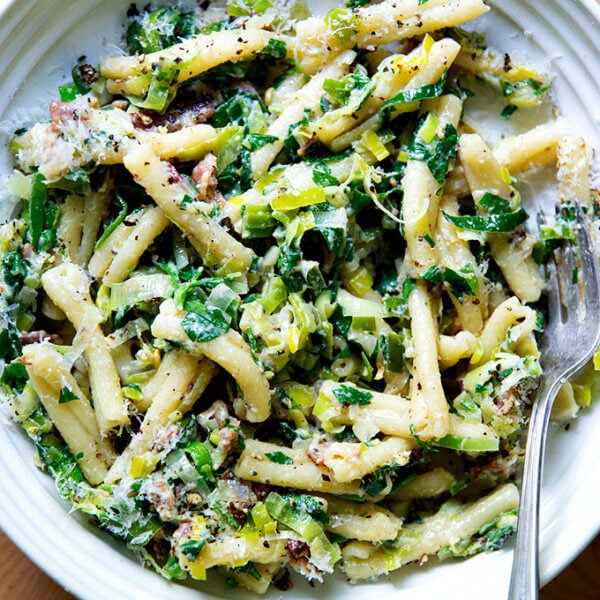 Pasta Carbonara — Easiest Weeknight Dinner
---
Description
Adapted from: Everyday Food
Note: If you want to make this vegetarian, use 3 tablespoons of olive oil in place of the bacon. 
---
Coarse salt and ground pepper

6

slices bacon, cut crosswise into 1-inch pieces or

3 tablespoons

extra-virgin olive oil

4

leeks (white and light-green parts only), halved lengthwise, thinly sliced, soaked in cold water and drained

3/4

pound pasta, such as campanelle, orecchiette, or gemelli 

2

large eggs

1/2 cup

grated Parmigiano Reggiano, plus more for serving 
zest of

1

lemon

1 tablespoon

fresh lemon juice

1 cup

fresh parsley leaves, roughly chopped 

1

pound of asparagus, finely chopped (optional)
---
Instructions
Set a large pot of salted water to boil (I use 1 tablespoon kosher salt).
In a large skillet, cook bacon over medium heat, stirring occasionally, until crisp, 8 to 10 minutes. With a slotted spoon, transfer bacon to paper towels to drain. Pour off all but 3 tablespoons fat from skillet. (Alternatively use 3 tablespoons of olive oil in place of the bacon.) Add the leeks, season lightly with salt to taste, and cook over low heat, stirring occasionally, until leeks are soft and beginning to brown at the edges, about 10 minutes.
Add pasta to pot and cook al dente according to package instructions. Reserve 1 to 2 cups of the pasta cooking liquid. In a medium bowl, whisk together eggs, parmesan, lemon zest, and lemon juice. Whisk 1/4 cup pasta water into egg mixture.
If using the asparagus, add it to the pot of pasta, then drain the pot immediately. Add the pasta and asparagus to the skillet with the leeks and immediately add the egg mixture, along with the bacon, and parsley. Season with salt and pepper to taste and add more pasta cooking as needed. Serve immediately with more parmesan and pepper on the side.  
Prep Time:

15 minutes

Cook Time:

10 minutes

Category:

Pasta

Method:

Stovetop

Cuisine:

Italian, American
Keywords: leeks, lemon, pasta, carbonara
This post may contain affiliate links. Please read my disclosure policy.