Kristina's Molasses Crinkles
This post may contain affiliate links. Please read my disclosure policy.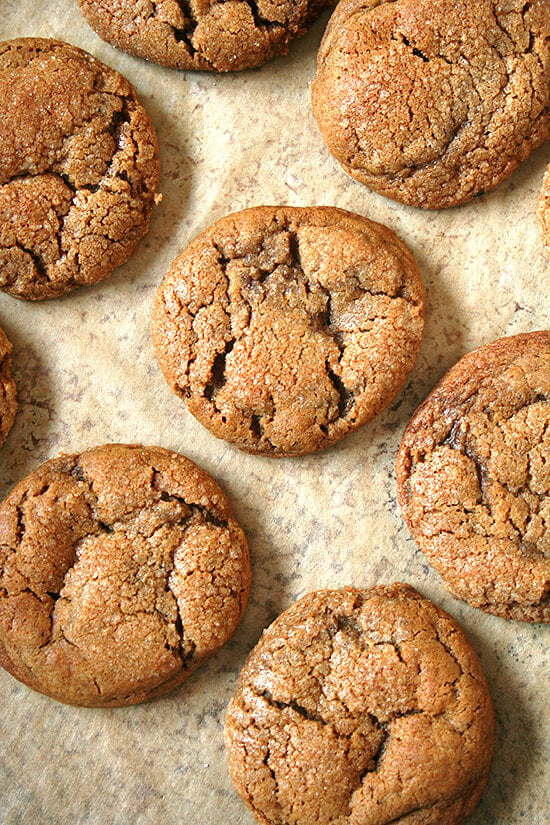 I couldn't believe the cookies were made with shortening. I'm an all-butter kind of girl. Until a week ago in fact, the thought of shortening, a product I reserved solely for seasoning cast iron skillets, sort of repulsed me. Until a week ago, I also would have told you I could detect the difference between a cookie made with butter and one with shortening. I mean, it's a rookie skill, right?
So I thought. My cousin Kristina makes the very best molasses cookies I have ever tasted. And they're not just the best molasses cookies ever; they're one of the best cookies ever. Last December when I received Kristina's recipe in the mail and discovered that her legendary molasses crinkles were made with shortening, my earth sort of shattered. I would have bet money they had been made with butter.
But perhaps this was an opportunity, I thought. I would substitute butter for the shortening and then blog about the nearly perfect cookie I had perfected with butter. But once again, my earth shattered. The cookies I prepared with the butter-for-shortening substitution were terrible. The texture lacked the softness and chewiness of Kristina's, and the flavor, perhaps tarnished by over baking, was just not as I had remembered. Did Kristina in fact use shortening in her cookies? I was still in disbelief.
It was time for me to try shortening. And since I was venturing into the realm of repulsive ingredients, I thought why not try something truly repulsive? This past spring, a friend in CA introduced me to a little product called buttered-flavored shortening, an ingredient she had used in a batch of phenomenal chocolate chip cookies she was so graciously sharing with me.
Butter-flavored shortening. I mean, it doesn't get much more repulsive than this. Have any of you ever opened a can of this stuff? Have you seen its color? Have you smelled it? Have you ever tried washing it off your hands? Have you reviewed the ingredient list? It's filled with all of the worst sorts of things — fully and partially hydrogenated oils, mono and diglycerides, to name a few. It's a list that might appear in Michael Pollan's worst nightmare. Butter-flavored shortening. Truly, it doesn't get more repulsive than this.
I couldn't help but wish my butter-flavored-shortening molasses crinkles to fail. As they baked, I kept thinking, there's no way my adorable cousin Kristina could use such a vile product. No way. But when I pulled from the oven a pan with nine perfectly golden domed mounds crinkling up at me, I began to believe. And then, after they cooled and I took a bite, and the soft and chewy texture was just as I had remembered, and the flavor, too, was buttery and not at all artificial tasting and spiced with those wintry flavors of cinnamon and cloves, I was convinced. These were Kristina's molasses crinkles. I had never been so happy to have such a vile product in my pantry.
I had to call Kristina to discuss. "So Kristina," I said when she answered the phone, "your molasses cookies and I have been on a long journey together, and I've finally accepted that you do in fact use shortening, right?"
"Shortening?" she replied. "No, I always use butter. I don't know what shortening is."
I had to laugh. I couldn't believe what I was hearing. What had gone wrong the first time I had attempted Kristina's recipe? Was it just a terribly off day for me in the kitchen? And had I now gone crazy to welcome to my pantry such a product as butter-flavored shortening? What was going on? All of a sudden I heard myself trying to convince Kristina of the virtues of butter-flavored shortening. Kristina, rightly so, would hear nothing of it.
So where does that leave us? Well, I'm afraid, the conclusion to this long-winded post is that my quest to create Kristina's molasses crinkles continues. The above- and below-pictured cookies were in fact made with butter-flavored shortening and truly were delicious. That said, I know my cousin's cookies are better, and as soon as I can, I am going to make another batch of each — Kristina gave me some tips, which I enclosed below — and do a side by side comparison.
In the meantime, I guess I'm just going to have to embrace the repulsive yet remarkable ingredient that has entered my pantry. Butter-flavored shortening is here to stay.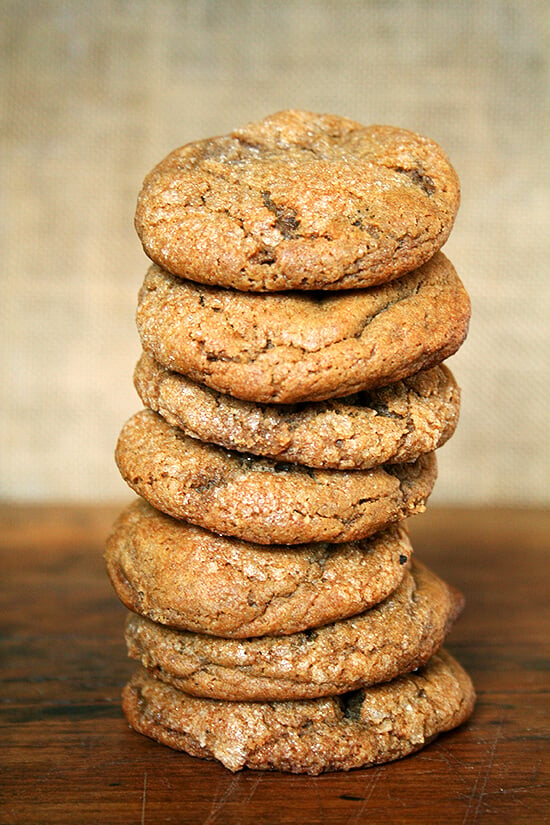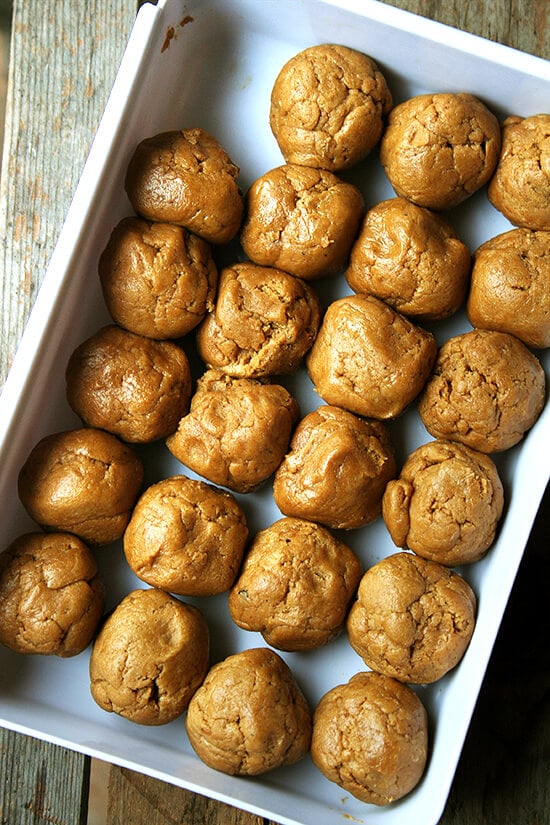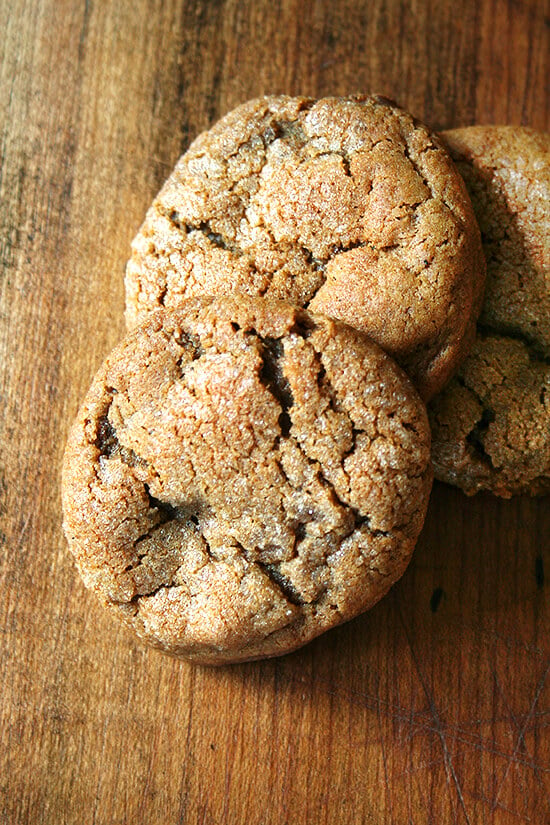 Print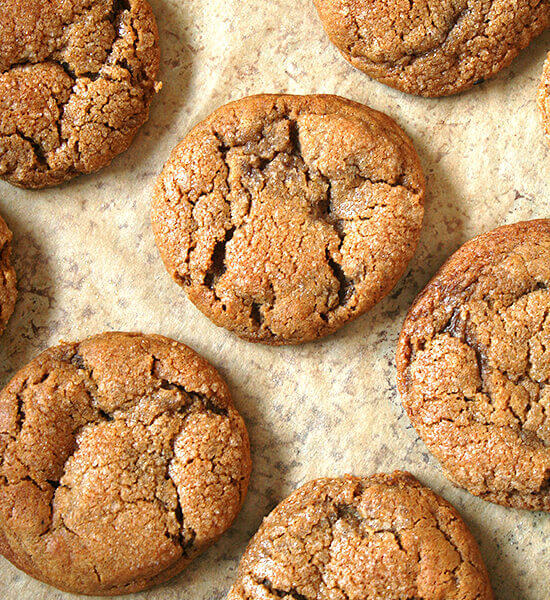 Molasses Crinkles
---
Description
Source: Cousin Kristina via Betty Crocker's Best Cookies
Note: Butter-flavored shortening is an ingredient that may repulse you. The thought of it repulsed me until I tried it and made very tasty cookies with it. You can read more of the backstory above. These can be made with butter or shortening—whatever you like best.
---
3/4 cup

butter, softened, or butter-flavored shortening

1 cup

brown sugar (packed)

1

egg

1/4 cup

molasses

2 cups

(

260 g

) all-purpose flour

2 teaspoons

baking soda

1/4 teaspoon

table salt

1/2 teaspoon

cloves

1

 teaspoon cinnamon

1 teaspoon

ginger
granulated sugar
---
Instructions
Mix butter or shortening, sugar, egg and molasses thoroughly using a stand mixer. Sift or whisk all of the dry ingredients together. Add dry ingredients to wet and stir until combined. Chill for at least three hours.
Heat oven to 350ºF. Roll dough into 1 1/4-inch balls. (I portion my dough into 7/8-oz (28g) balls using my digital scale.) Dip balls in sugar and place sugared side up on a parchment-lined baking sheet. Bake 8 to 10 minutes. Remove from oven and let cool completely on sheet pan before eating.
Prep Time:

10 minutes

Cook Time:

10 minutes

Category:

Cookie

Method:

Oven

Cuisine:

American
Keywords: molasses, crinkles, sugar, christmas, holidays, betty, crocker
This post may contain affiliate links. Please read my disclosure policy.