Soft and Chewy Molasses Cookies
This post may contain affiliate links. Please read my disclosure policy.
These sugar-crusted molasses cookies are soft and chewy thanks to brown sugar and molasses and perfectly seasoned with all of the wintry, warm spices of the season: ginger, cinnamon, and cloves, oh my! This recipe can be made with or without a mixer, and the cookies stay soft and moist for days, so don't be afraid to make them ahead of time.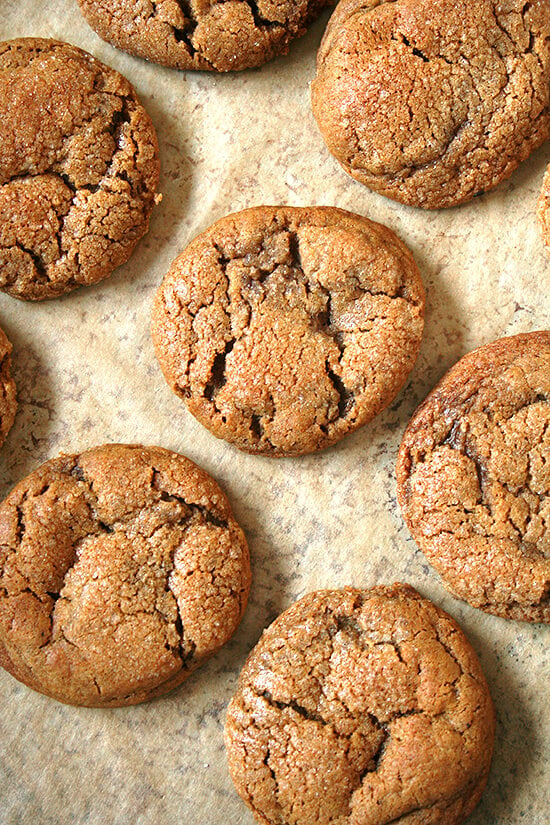 My cousin Kristina makes the very best molasses cookies I have ever tasted. And they're not just the best molasses cookies ever; they're one of the best cookies ever. Last December when I received Kristina's recipe in the mail and discovered that her legendary molasses cookies were made with shortening, my earth sort of shattered. How was it possible for me to really really love a shortening-based cookie?
But perhaps this was an opportunity, I thought. I would substitute butter for the shortening and then blog about the nearly perfect cookie I had perfected with butter. But once again, my earth shattered. The cookies I prepared with the butter-for-shortening substitution were terrible. The texture lacked the softness and chewiness of Kristina's, and the flavor, perhaps tarnished by over baking, was not as I had remembered. Did Kristina in fact use shortening in her cookies? I was still in disbelief.
It was time for me to try shortening. Throughout the process, I wished the shortening molasses cookies to fail. But when I pulled from the oven a pan with nine perfectly golden-domed mounds crinkling up at me, I began to believe. And then, after they cooled and I took a bite, and the soft and chewy texture was just as I had remembered, and the flavor, too, was buttery and not at all artificial tasting and spiced with those wintry flavors of cinnamon and cloves, I was convinced. These were Kristina's molasses cookies.
I had to call Kristina to discuss. "So Kristina," I said when she answered the phone, "your molasses cookies and I have been on a long journey together, and I've finally accepted that you do in fact use shortening, right?"
"Shortening?" she replied. "No, I always use butter. I don't know what shortening is."
I had to laugh. I couldn't believe what I was hearing. What had gone wrong the first time I had attempted Kristina's recipe? Was it just a terribly off day for me in the kitchen?
Butter or Shortening, Which to Use?
I have no idea what went wrong that day in the kitchen many years ago, but what I do know now is that I always use butter. I just can't get myself to buy shortening despite my success with it in the kitchen.
The key here to ensure your cookies don't flatten into thin disks is to chill the portioned dough balls. You can chill them for as few as 3 hours, but overnight is ideal.
And to ensure the cookies emerge soft and chewy, do not overbake them — the cookies will puff way up in the oven, and they might look slightly underdone at the time of removal, but they will continue to cook on the sheet pan as they cool.
PS: Rum Balls: The Best, Easiest, Most Festive Cookie to Make and Gift All Season Long
How to Make Soft and Chewy Molasses Cookies, Step by Step
First, gather your ingredients: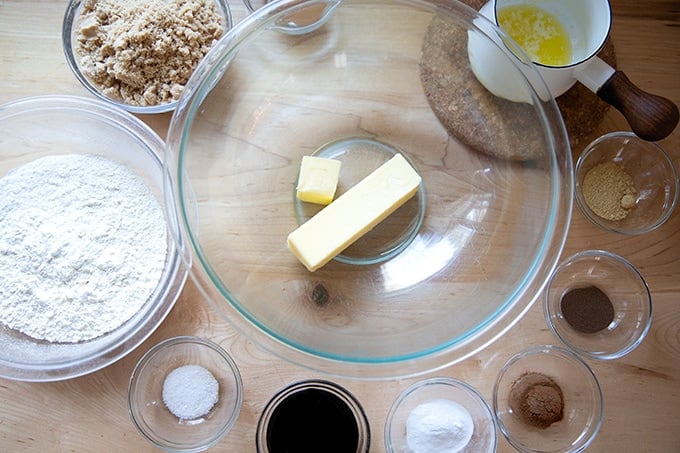 If your butter isn't completely soft, melt 2 tablespoons of it; then mix it into the remaining butter. It works like a charm to get your butter into that super soft, mayonnaise-like texture.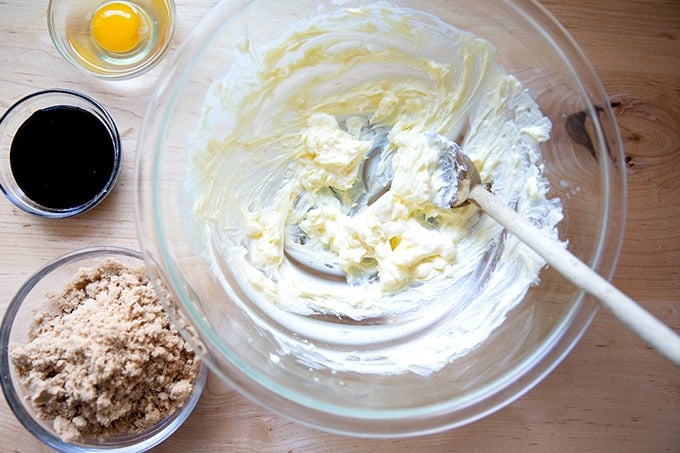 Add the brown sugar, molasses, and beaten egg, and stir to combine.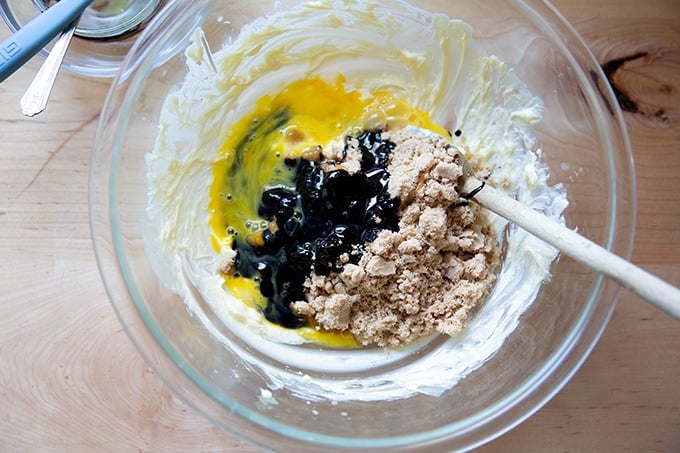 Whisk together the dry ingredients.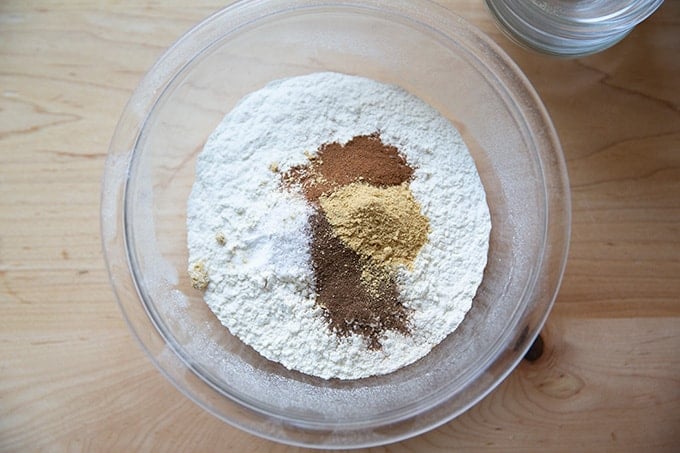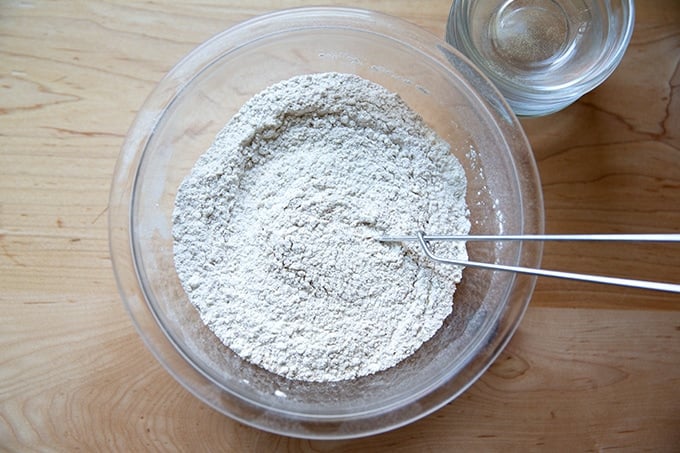 Then add the dry ingredients to the wet ingredients.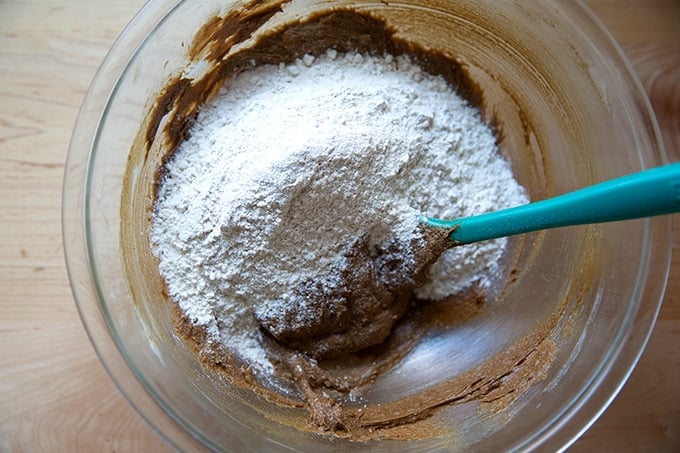 Stir to combine.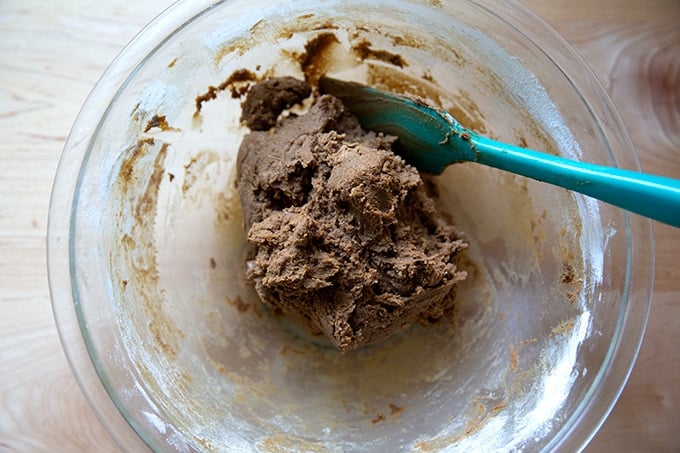 Portion the dough into 25- or 50-gram balls. I've been liking the 50-gram size for my cookies, but the 25-gram size is nice especially if you are gifting or making a variety of cookies for a cookie box.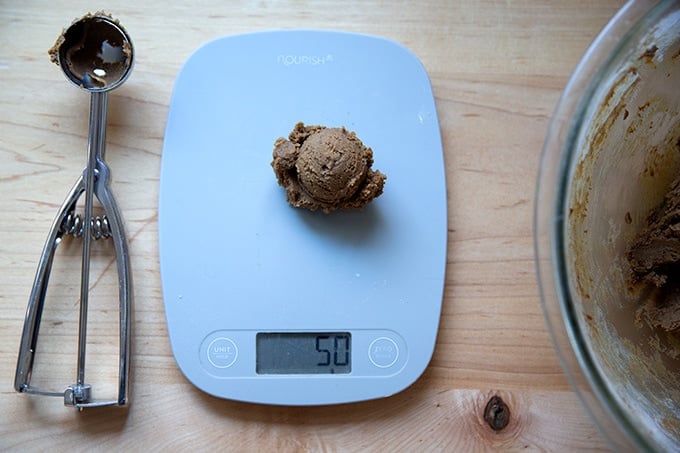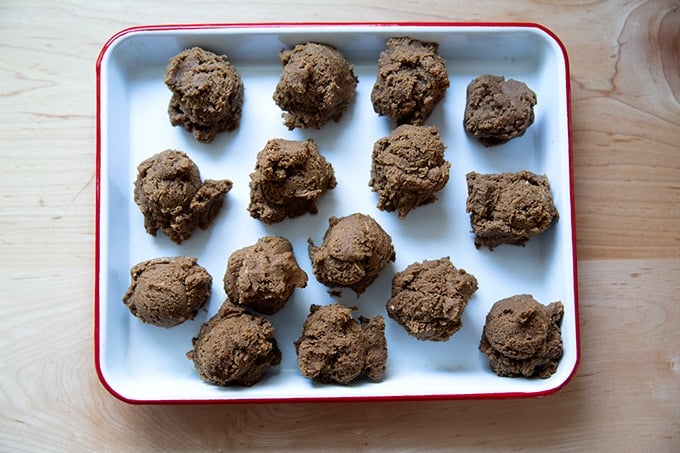 Roll the dough portions into balls…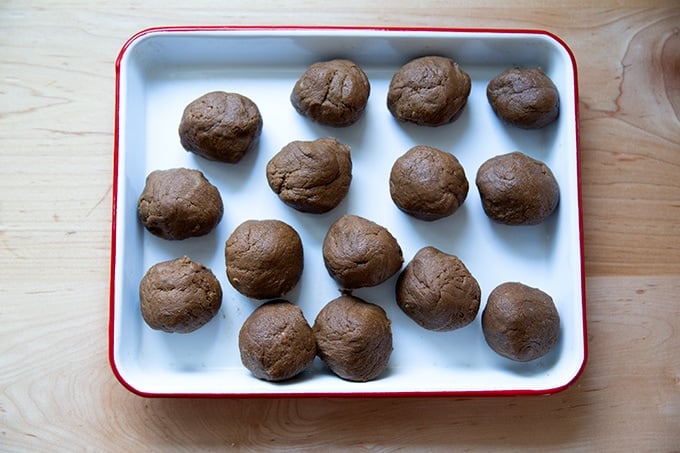 … then dip each ball into sugar.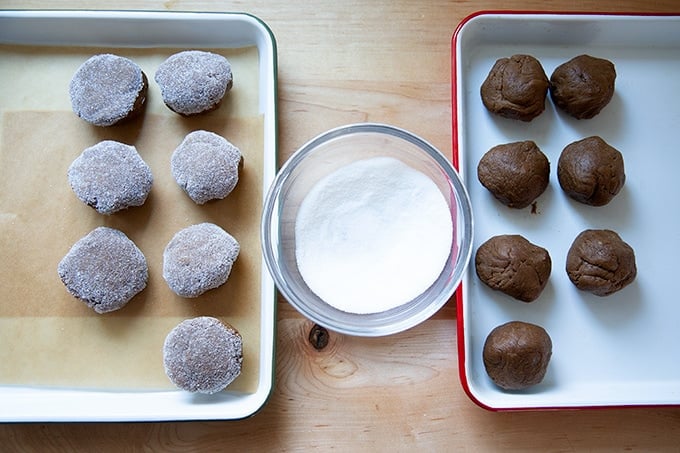 Chill the balls for at least 3 hours.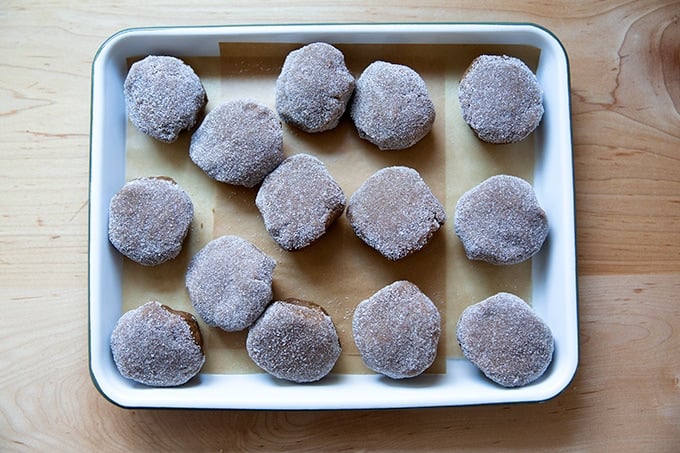 Transfer the chilled balls to a sheet pan and bake for 8 to 11 minutes.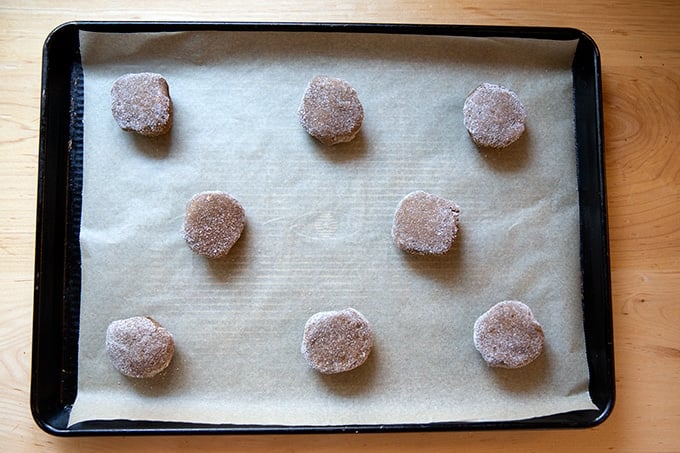 The cookies will puff way up in the oven, but will collapse and crinkle as they fall.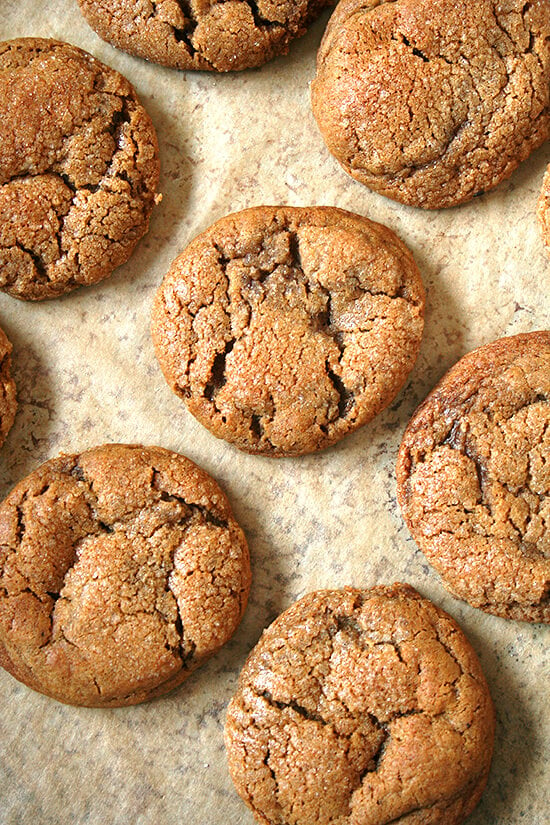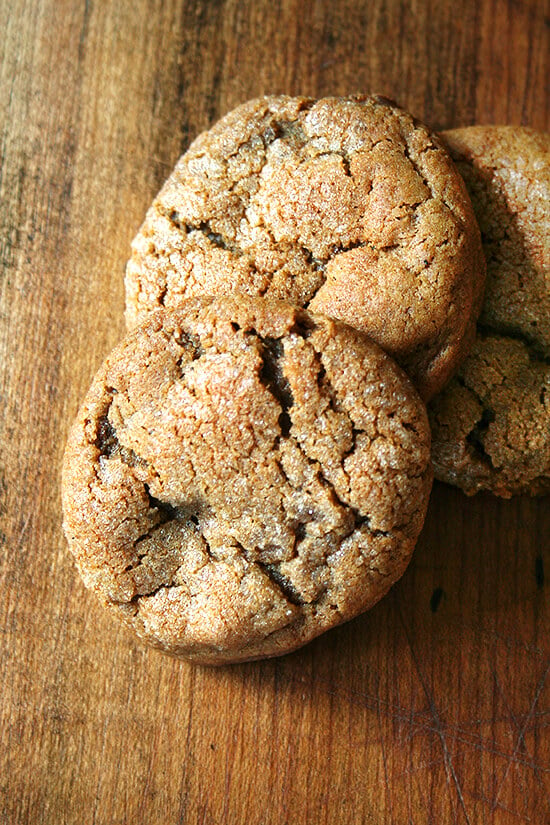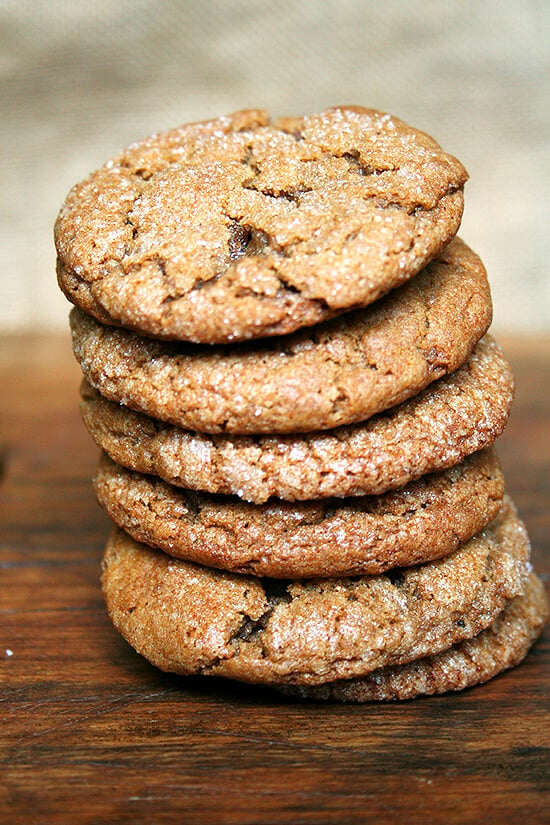 Print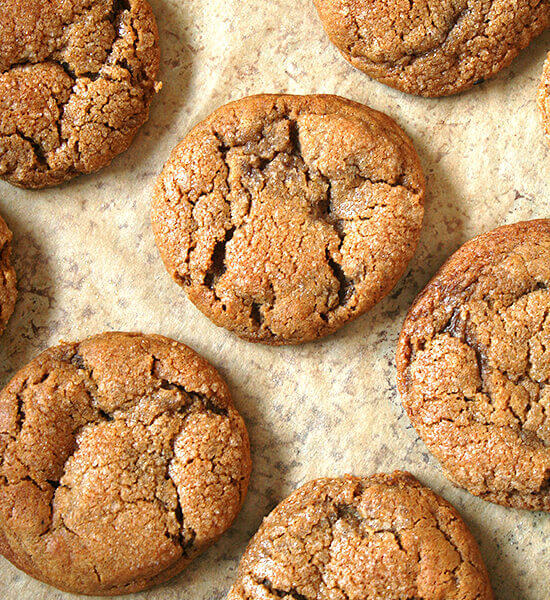 Soft and Chewy Molasses Cookies
---
Description
Source: Cousin Kristina via Betty Crocker's Best Cookies
---
3/4 cup

(

170 g

) butter, softened

1 cup

(

200 g

) brown sugar (packed)

1

egg, beaten

1/4 cup

(

70 g

) molasses

2 cups

(

260 g

) all-purpose flour

2 teaspoons

(

11 g

) baking soda

1/2 teaspoon

(

2 g

) kosher salt

1/2 teaspoon

cloves

1 teaspoon

(

4 g

) cinnamon

1 teaspoon

(

2 g

) ginger

2

to

4

tablespoons granulated sugar
---
Instructions
Make the dough: Mix butter, sugar, egg and molasses thoroughly using a stand mixer. Sift or whisk all of the dry ingredients together. Add dry ingredients to wet and stir until combined. (If you do not have a stand mixer, you can make these by hand: melt 2 tablespoons of the butter; then stir it into the softened butter until the texture is mayonaisse-like. Add the sugar, beaten egg, and molasses and mix to combine. Add the whisked-together dry ingredients, and stir until the dough comes together.)
Portion the dough: I portion my dough into either 25 gram or 50 gram balls using my digital scale. Alternatively, use your scoop of choice. Roll each portion into a ball. Place the granulated sugar into a small bow. Dip each ball into the sugar, then place sugar-side up on a small, parchment-lined tray.  Chill for at least three hours. If you are going to chill for longer, wrap the tray with plastic wrap or place it in a large ziplock bag. 
Bake the cookies: Heat oven to 350ºF. Place 8 dough balls sugar side up on a parchment-lined sheet pan. Bake for 8 to 11 minutes (8 minutes for the smaller size cookies, 11 minutes for the larger cookies). Remove from oven and let cool completely on sheet pan before eating.
Prep Time:

10 minutes

Cook Time:

10 minutes

Category:

Cookie

Method:

Oven

Cuisine:

American
Keywords: molasses, crinkles, sugar, christmas, holidays, betty, crocker
This post may contain affiliate links. Please read my disclosure policy.