Cheddar Biscuits
This post may contain affiliate links. Please read my disclosure policy.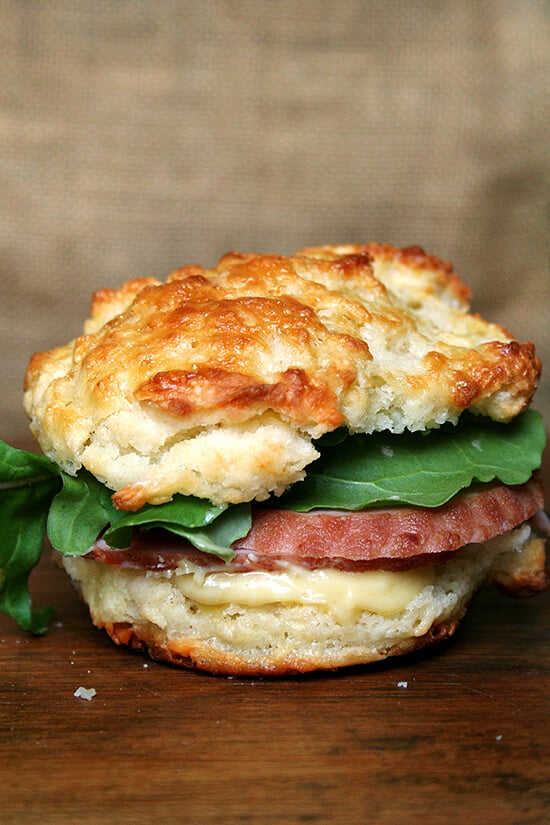 My family is arriving in 6 days, and I cannot wait. It has been too long since we have all been together — too long since I've heard my mother declare her beautiful dinner both over and undercooked and in any case ruined; too long since I've watched my sister excuse herself from dinner early, singing The Messiah as she curls up on the couch, signaling she is too, too tired to clean up; and too long since I have found myself in the kitchen, dish towel in hand, surrounded by the usual dutiful crew. Family, I love you so much and cannot wait to have you here.
What I'm most looking forward to, however, is not our big Christmas Day feast, but the days following, when the fridge will be stocked with the most scrumptious leftovers, and when out of the freezer and into the oven will go these buttermilk biscuits, the perfect vessel for housing slices of ham or turkey or roast beef, handfuls of arugula, and a slathering of mustard sauce (so delicious, a must-know sauce if you're serving ham, see recipe below).
The biscuit recipe comes from Food52's Holiday Recipe and Survival Guide iPad app, which is awesome and which, if you are interested, can be yours, too — just share your own holiday entertaining tips in the comment section below for a chance to win (Food52 is awarding five promo codes to the best entertaining tips, culled from everyone's blog post comments).
Are you curious about the app? I was, too. Before I downloaded it, I wondered how it would differ from visiting the Food52 website — if many of the recipes in the app are available on the website, why would downloading the app be necessary? I'm probably stating the obvious for many of you, but for any of you app newbies, the difference is all about the experience. After just 15 minutes with the app, navigating from section to section became as natural as turning to my go-to recipe in a favorite cookbook, an experience you often don't get with a website. Moreover, because the app is designed for the iPad, it's lightning fast, so navigating from one chapter to another is instant. Truthfully — and I hate to admit it because I love my cookbooks — finding a recipe in the app is easier than finding one in a cookbook. And finally, because the app is a holiday survival guide, all of the content — recipes, videos, event checklists — is holiday specific. In other words, (and again, I'm stating the obvious) you've got it all in one place — how to carve a turkey, how to stock your bar, how to plan ahead — so you're not wasting time jumping from one website to another, bookmarking various pages, printing recipes from this site and that.
I don't need to tell you all how much I love Food52 — I've done it many times in the past (like here and here). I find their video clips to be very helpful. The first one I watched on peeling tomatoes led me to discover Marcella Hazan's tomato sauce (also known as the world's greatest tomato sauce). The one included below — How to Make Three Minute Gravy — is another goodie.
So, do you have any great entertaining tips? I've got one: use the freezer. These biscuits bake beautifully straight from the freezer. No thawing is necessary, just a few minutes more in the oven and you've got the makings of the best breakfast sandwich, an irresistible lunch, or a perfect dipper for any wintry soup or stew. Yum.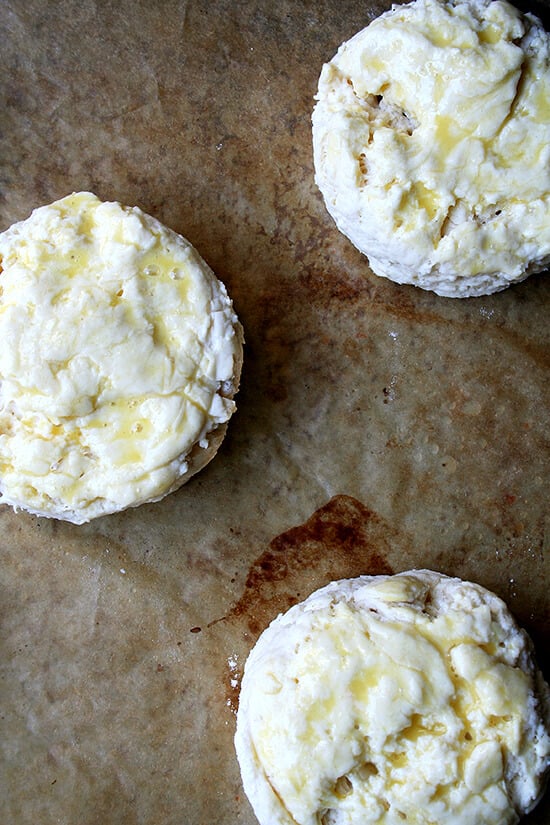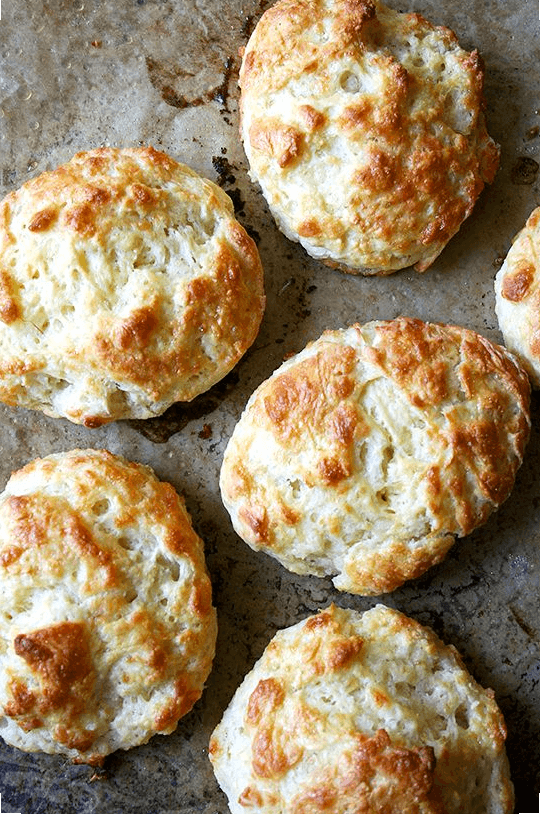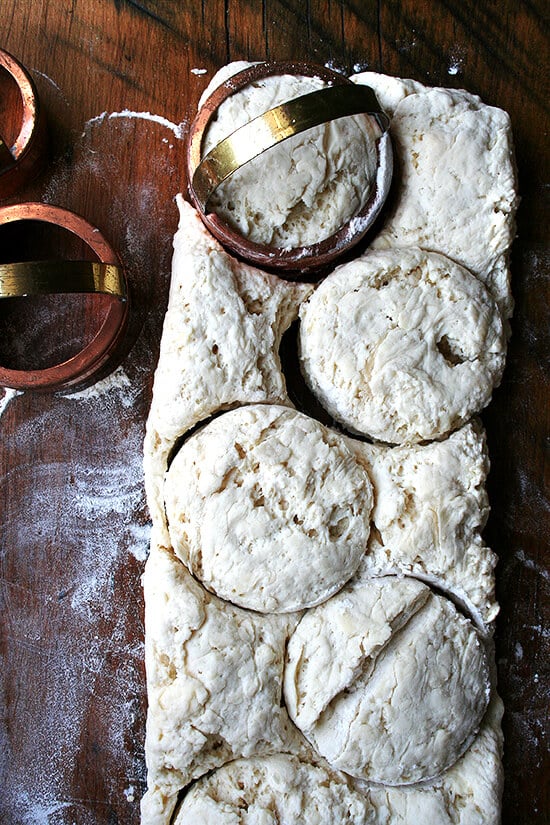 Bake these biscuits straight from the freezer — no thawing is necessary, just increase the cooking time by 2 to 3 minutes: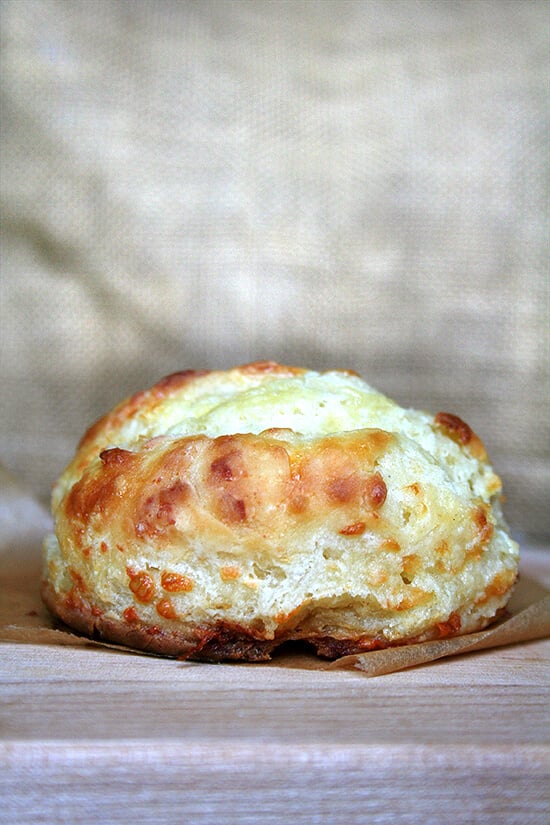 Print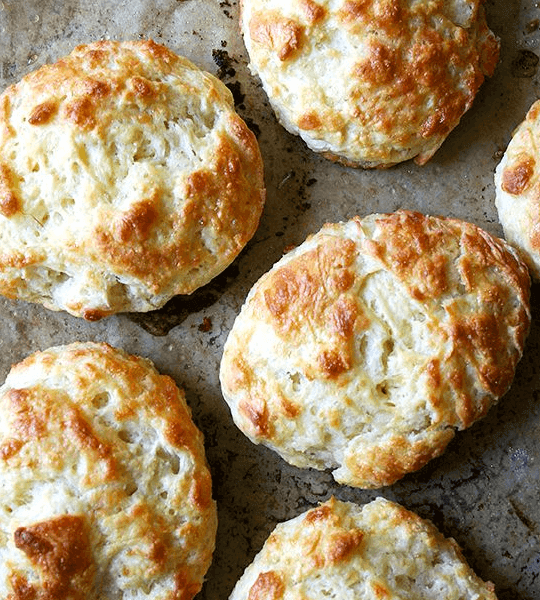 Cheddar Biscuits
---
Author:

Alexandra

Total Time:

35 minutes

Yield:

10 to 12
---
3 1/2 cups

minus 1 teaspoon all-purpose flour, plus more for shaping

2 tablespoons

baking powder

2 1/2 teaspoons

kosher salt*

9 tablespoons

plus 1 teaspoon cold unsalted butter (use a good brand, like Plugra, with a high butterfat content)

2 cups

grated sharp cheddar cheese

1 3/4 cup

buttermilk

1

large egg*Some people who commented on the food52 website found the biscuits to be too salty. We definitely did not, but if you are sensitive to salt, perhaps reduce the salt to 2 tsp or less.
---
Instructions
Combine the flour, baking powder and salt in a bowl and put it in the fridge for 20 to 30 minutes. In the meantime, cut the butter into chunks and leave out at room temperature (you want it malleable, but not soft).
Position a rack in the center of the oven and heat it to 400 degrees. Line two baking sheets with parchment paper. Combine the chilled dry ingredients, the cheese and the butter in the bowl of a standing mixer fitted with a paddle attachment. Mix on low speed for a few minutes, until the chunks of butter are no bigger than a large pea – or a small bean. (In the oven, the water in the chunks of butter creates steam, which in turn will creates lovely pockets of air within the biscuits.)
Add the buttermilk to the bowl and mix on low just until the dough comes together. Turn the dough out onto a floured board, dust your fingers with flour and gently knead it a few times. Quickly and carefully pat the dough into a large rectangle about 1/2 an inch thick.
Dip a 3-inch round cutter with sharp edges in flour and then cut the biscuits using an even downward motion, without twisting the cutter. Transfer the rounds of dough to the baking sheets, leaving an inch or two of space between them. When you've cut the first batch of biscuits, gently pat the dough into another rectangle and cut a few more — discard the dough or add the funky leftover shapes to the baking sheets after the second batch is cut (if you shape the dough a third time, the biscuits will be tough).
Beat the egg with a splash of water (if you're feeling fancy, you can then pass it through a fine mesh sieve to get rid of any clumps of egg white that might burn). Brush the tops of the biscuits lightly with egg wash* and bake for about 20 minutes, rotating halfway through, until the biscuits are a deep golden brown. Cool for a few minutes on the baking sheets but serve them while still warm!*At this point you can stick your prepared pan in the freezer. Once the biscuits are frozen, transfer them to a freezer bag to store. When you are ready to bake, there is no need to thaw the biscuits. Just bake them straight from the freezer. I had to cook mine about 3 minutes longer when baking them from the freezer. And I did apply the egg wash before freezing them — worked beautifully.
Prep Time:

15 minutes

Cook Time:

20 minutes
This post may contain affiliate links. Please read my disclosure policy.