Lentil Soup + Mini Loaves = Complete Goodness
This post may contain affiliate links. Please read my disclosure policy.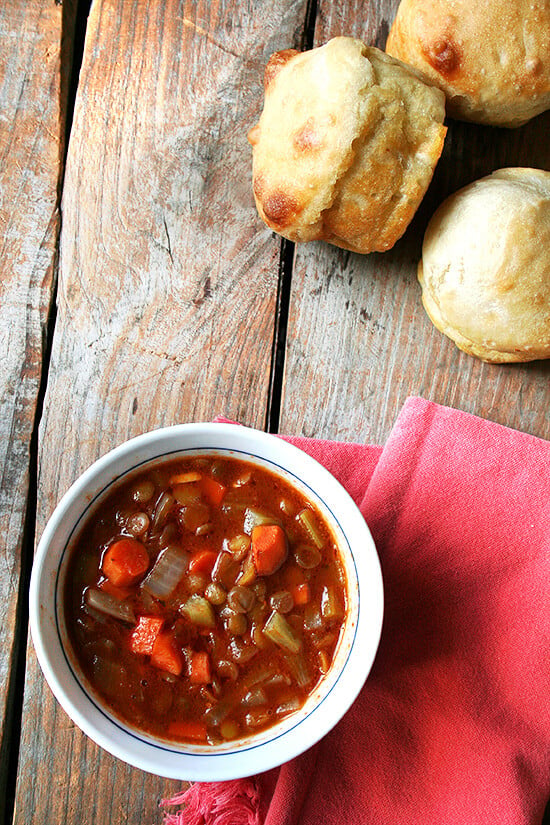 I've blogged about this soup once before, but when I did, it was summer, and I doubt I inspired any of you to run off and buy lentils. But this is a soup I really want you all to make, and I'm hoping with the holidays in the past, a winter chill finally in the air, and the spirit of detox ever present, you'll feel more inspired.
It's a good one. I promise. For me, it's the bite of the sherry vinegar that makes this soup, but the virtues of it are truly countless: It is completely vegetarian, vegan in fact. It cooks in one hour and takes only as long to prepare as it does to chop up some carrots, celery and onions. No vegetables are sautéed; no stock is simmered. It costs next to nothing to make and couldn't be more healthy — lentils are high in fiber, protein, vitamins and minerals, and one cup of cooked lentils contains just 230 calories. This soup is complete goodness.
Have I sold you? I hope so. Lentil soup, homemade bread, I can't think of a better way to kick off the New Year.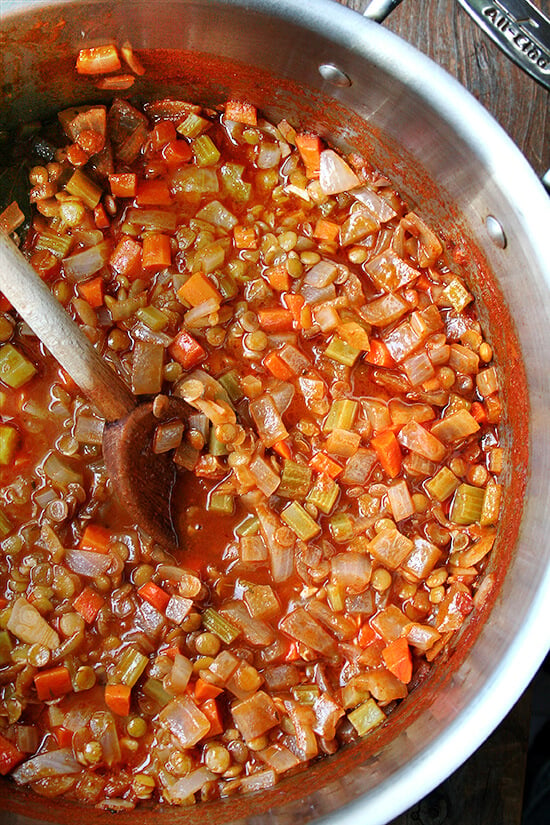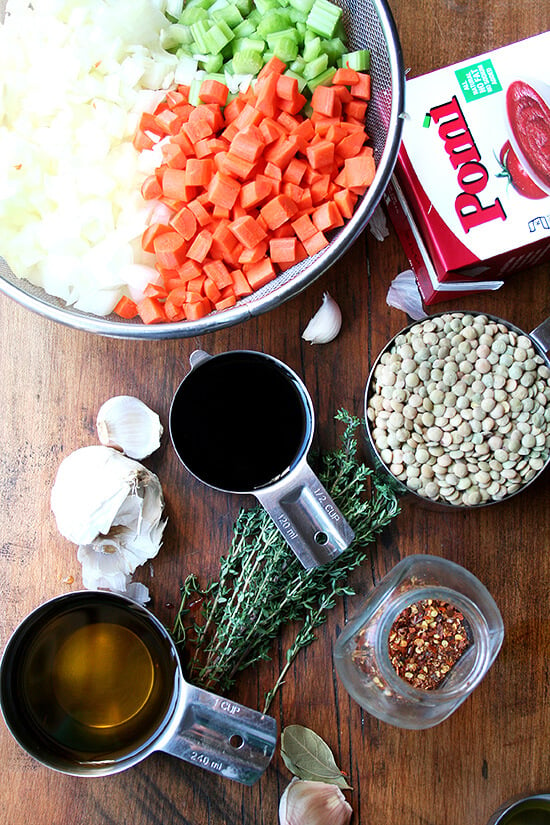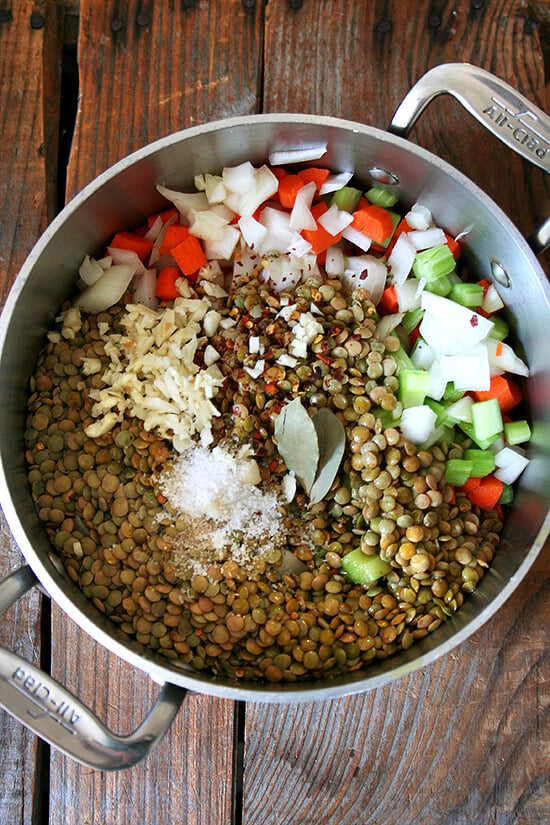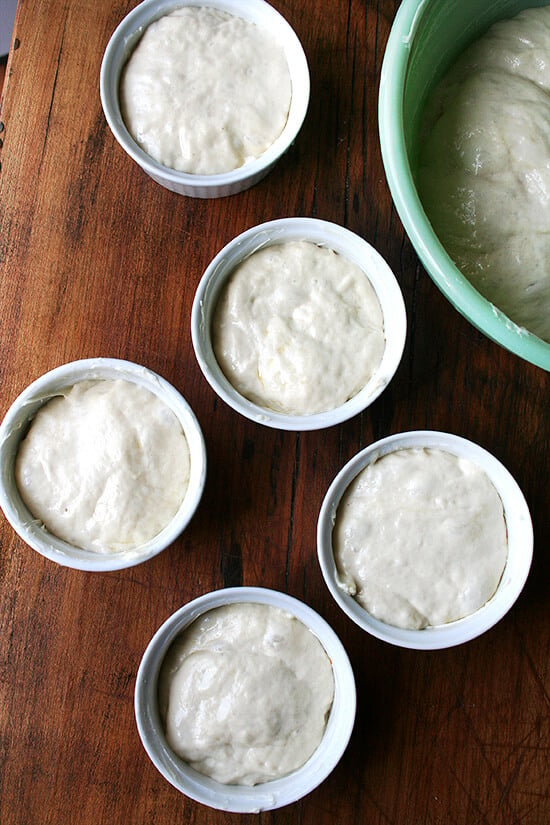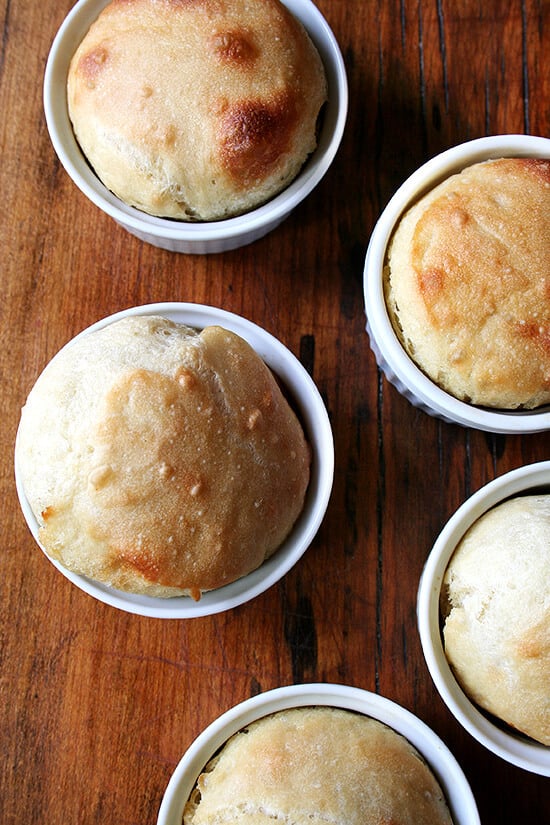 Print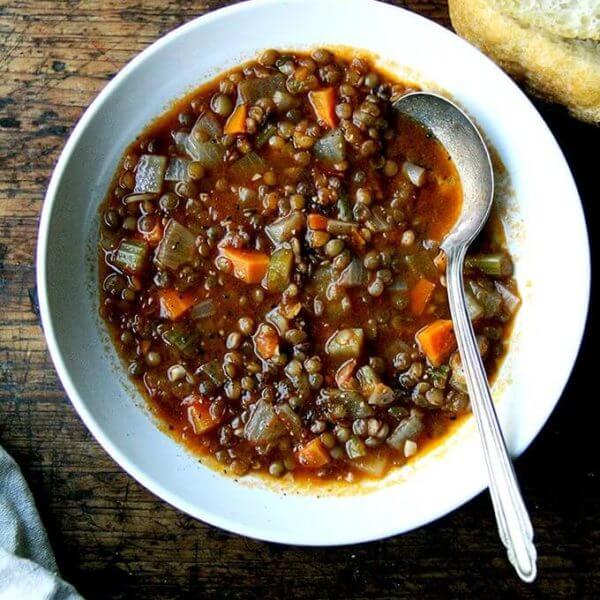 One-Pot, Vegan, Completely Delicious Lentil Soup
---
Author:

Alexandra

Total Time:

1 hours 15 minutes

Yield:

3 quarts
Description
This is a recipe from my vegan cousin Christine — everyone in our family has been making it for years.
A few notes: some people find 1/2 cup vinegar to be too much, but I made this again yesterday, using white balsamic vinegar (Colavita is my favorite), and I cut it back by 2 tablespoons only to add 2  tablespoons back in at the end, because I like that vinegary bite. If you are using a different vinegar — white balsamic is on the sweet side — you may want to start with 1/4 cup vinegar and add more to taste by the tablespoon at the end.
Crushed tomatoes: I love the Pomi brand, which has a nice, pure flavor, but use any crushed tomatoes you can find, preferably ones without any additional seasonings. 
---
1 1/4 cups

French green lentils 

12 oz

crushed tomatoes — I like Pomi brand finely chopped tomatoes (

1 1/2 cups

), see notes above

2

large onions, chopped (about a quart of diced onions)

2

cloves garlic, minced

1

bay leaf

½ cup

white balsamic vinegar, see notes above

½ cup

extra-virgin olive oil

1 teaspoon

kosher salt, plus more to taste

½ teaspoon

fresh thyme leaves, chopped, or if you are feeling lazy, a few whole springs

3

carrots, peeled and diced (

1

to

2

cups)

3

celery stalks, diced (

1

to

2

cups)
crushed red pepper flakes to taste
freshly cracked black pepper to taste
---
Instructions
Throw all ingredients together in a pot. Add 1½ qts. plus one cup of water (seven cups total) and bring to a boil. Simmer for one hour uncovered. Taste, adjust with more salt — I always add another teaspoon of kosher salt, sometimes more. Extract the bay leaf and thyme sprigs, if using, and discard. Serve with bread and lots of fresh cracked pepper.
Notes
On day two, much of the liquid will have been absorbed buy the lentils and veggies. Just add a little more water to the pot as you reheat and adjust the seasoning as necessary — a pinch more salt usually does the trick.
This recipe doubles well. Recently, when I made a double batch, I added 2 quarts of diced onions, 1 quart of diced carrots, 1 quart of diced celery, and a whole head of minced garlic, which I puréed in the food processor for ease. 
Prep Time:

15 minutes

Cook Time:

1 hours
Mini Loaves
I'm afraid I'm going to have to report back on this bread recipe. These mini loaves were delectable and sort of a happy accident, a combination of recipes that yielded a very wet dough, one that needed the support of ramekins during the baking process. I don't have a precise recipe at the moment, but just know that any simple bread recipe — this one contained just water, yeast, flour, sugar and salt — will likely bake off nicely in ramekins.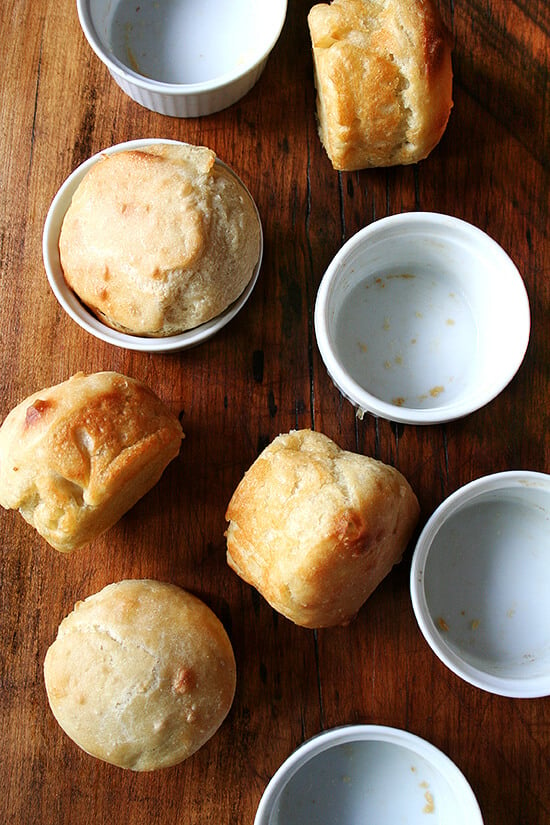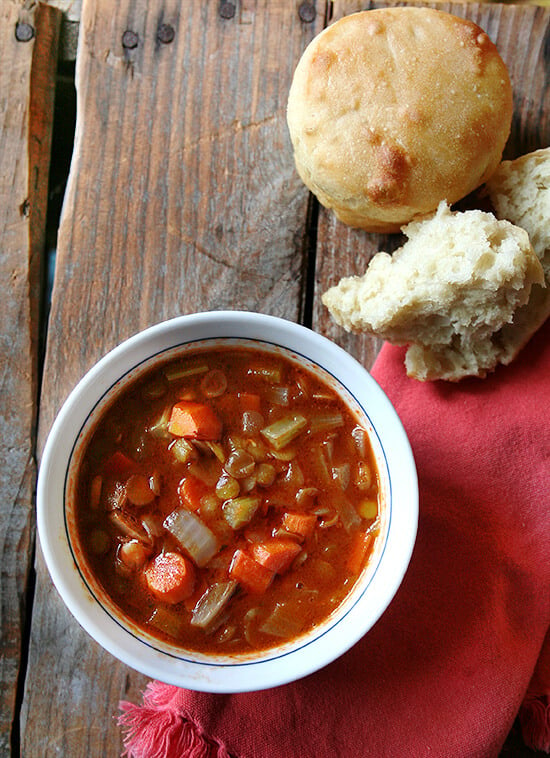 This post may contain affiliate links. Please read my disclosure policy.