Coffeecake Muffins, Coffeehouse Style
This post may contain affiliate links. Please read my disclosure policy.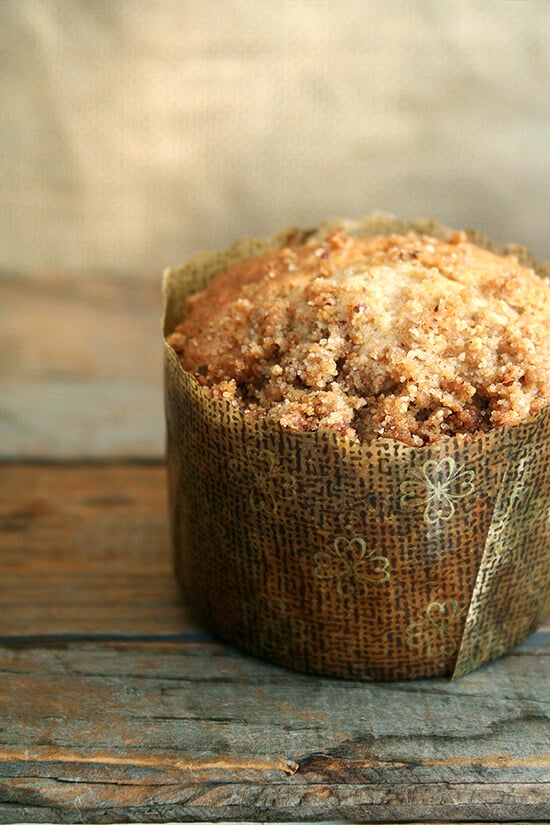 I like these muffin liners. I like that they can stand on their own, that I can fill one or twelve with batter, bake off as many or as few muffins as I like. I like their shape — that they create straight-sided panettone-style loaves. I like peeling away the paper from the baked muffin, unveiling the straight sides, and I like scraping with my teeth every last morsel left clinging to the bottom round. And I like — I love — that they remind me of my first few years of being in Philadelphia, when I lived just steps from Metropolitan Bakery, where I first discovered these liners wrapping so many delicious breakfast treats, namely millet muffins, my favorite.
As much as I like these pretty paper wrappings, I can assure you they are optional, merely for creating that coffeehouse baked-goods effect. I can assure you that I like what these pretty paper wrappings hold even more, especially when it's in the form of these coffeecake muffins, a Cook's Illustrated recipe that never fails to please.
A dear friend's husband, a private chef, in fact, tipped me off about this recipe several years ago, and I have made it countless times since. With or without a pretty paper wrapping, these muffins, made with a cinnamon-pecan-brown sugar streusel mixed into a sour cream batter, capture the spirit of breakfast treat. It's the weekend everybody! Woo-hoo! Brew some coffee. Make some muffins. Pretend you're at your favorite café. You won't be sorry you did.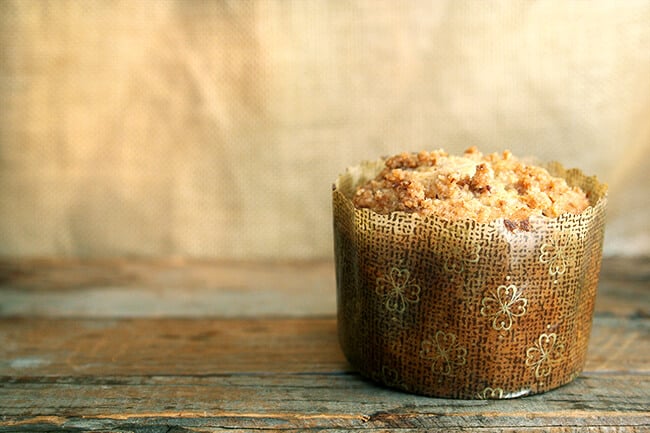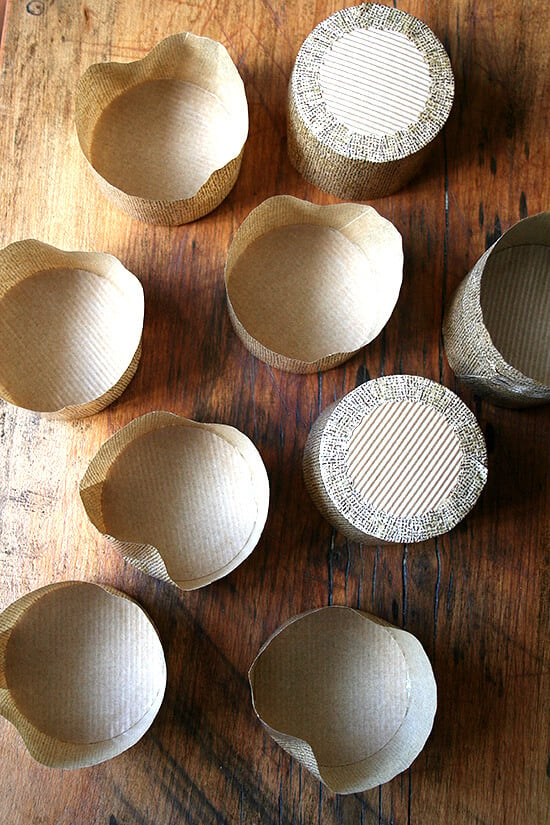 Don't be tempted to fill these liners too high. The batter will overflow and burn on your oven floor. One scoop (standard-sized ice cream scoop) works just fine, and the batter will still climb above the tops of the liners.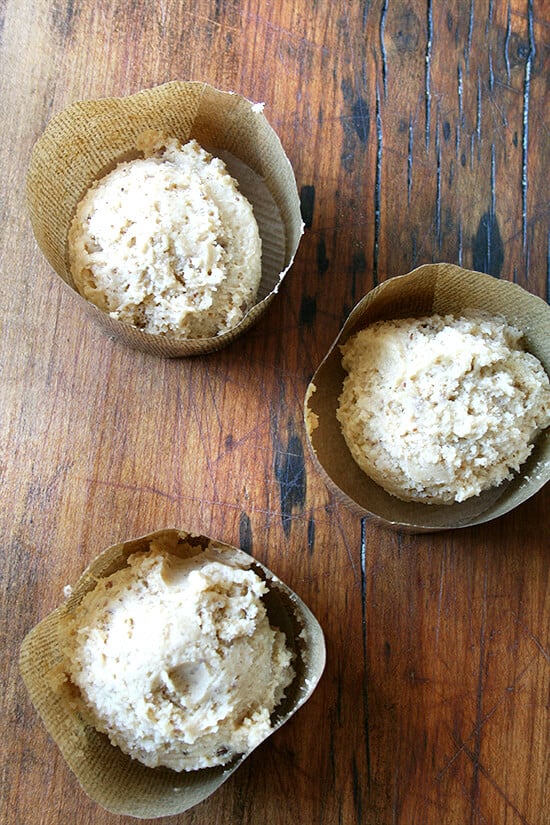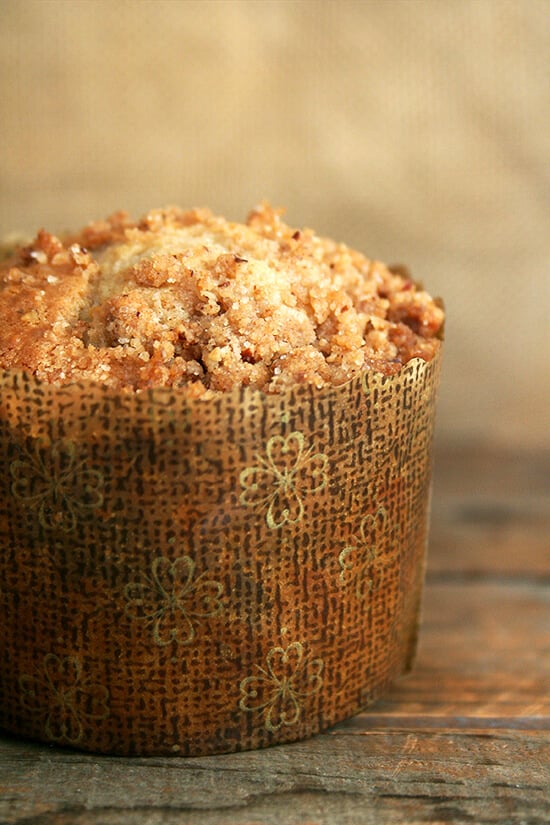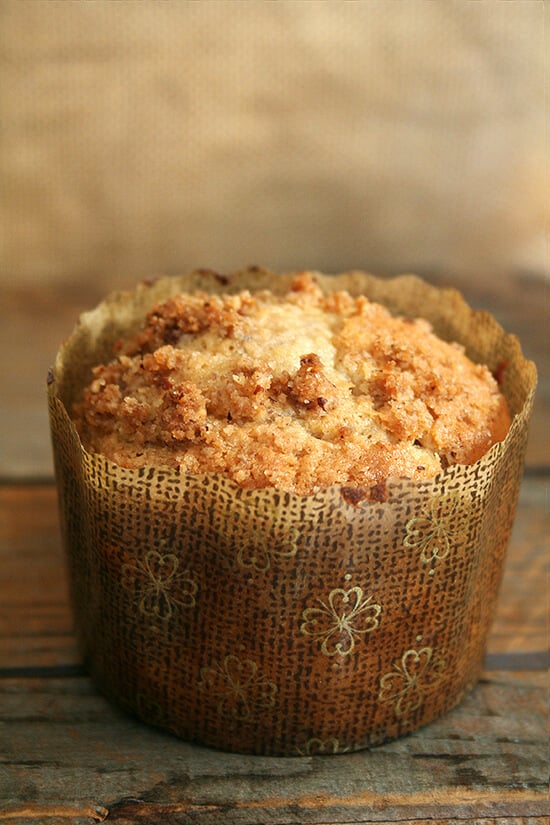 Print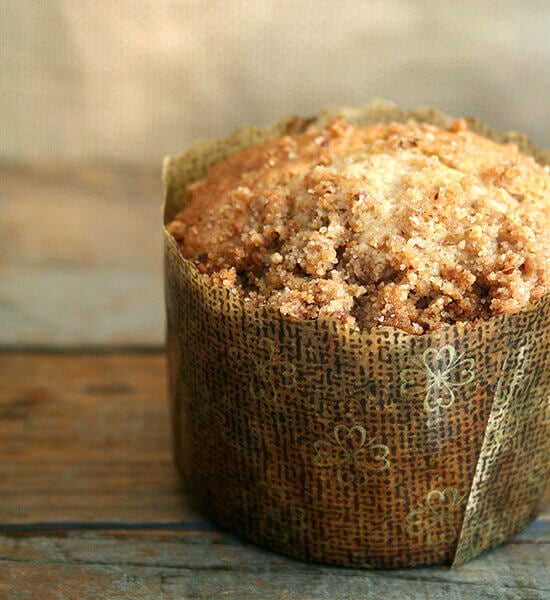 Coffeecake Muffins
---
Description
Source: Cooks Illustrated
Notes from the Magazine: Be careful not to over-process the batter in step 4. If you don't have a food processor, first chop the nuts with a knife. Proceed with the recipe, mixing the ingredients in a large bowl with a wooden spoon or spatula, but use a wire whisk to work the butter into the dry ingredients in step 3.
My Notes: You can make the batter the night before and bake off the muffins in the morning. I love these pretty coffeehouse-style muffin liners.
---
1/2 cup

pecans (

2 ounces

)

1/4 cup

packed dark brown sugar (

1 3/4 ounces

) (I used light brown sugar)

1 teaspoon

ground cinnamon

2 cups

unbleached all-purpose flour (

10 ounces

)

1 cup

granulated sugar (

7 ounces

)

1 teaspoon

salt (I used table salt as opposed to kosher)

8 tablespoons

unsalted butter (1 stick) +

1 tablespoon

(optional, see step 3), cut into 1/2-inch pieces and softened

1 1/2 teaspoons

baking powder

1/2 teaspoon

baking soda

3/4 cup

sour cream

1

large egg

1 teaspoon

vanilla extract
---
Instructions
Adjust oven rack to middle position and heat oven to 350 degrees. Grease 12-cup muffin tin and set aside.
Process nuts, brown sugar, and cinnamon in food processor until nuts are size of sesame seeds, about ten 1-second pulses. Transfer mixture to medium bowl.
Return bowl and metal blade to food processor, add flour, granulated sugar, and salt and process until combined, about five 1-second pulses. Sprinkle the 1 stick of butter evenly over flour mixture and process until butter is oat-sized, about eight 1-second pulses. Remove 1 cup of flour-butter mixture and stir with fork into reserved brown sugar mixture until combined to make streusel. Set aside 3/4 cup of streusel for muffin batter and remaining portion for topping muffins. (Note: At this point I add an additional tablespoon of butter to the streusel topping because in the past I have found the streusel topping to be too sandy — not buttery and crumby enough — so feel free to do so as well.)
Add baking powder and baking soda to remaining flour mixture in food processor bowl and process until combined, about five 1-second pulses. Whisk together sour cream, egg, and vanilla; add to flour mixture. Process until batter is just moistened, about five 1-second pulses. Add 3/4 cup reserved streusel to flour mixture and process until streusel is just distributed throughout batter, about five 1-second pulses.
Divide batter among 12 muffin cups and sprinkle with streusel, pressing lightly so that streusel sinks slightly into batter. Bake until toothpick inserted in center of muffin comes out with several crumbs clinging to it, about 18 to 20 minutes, rotating pan from front to back halfway through baking time. Cool muffin tin on wire rack for 2 minutes. Using tip of paring knife, loosen muffins and gently transfer from tin to wire rack; cool for 5 minutes and serve warm.
Prep Time:

15 minutes

Cook Time:

18 minutes

Category:

Muffins

Method:

Oven

Cuisine:

American
Keywords: coffeecake, muffins, coffeehouse, style, decorative, muffin, liners
This post may contain affiliate links. Please read my disclosure policy.