Cauliflower and Apple Soup with Olive Oil-Fried Bread
This post may contain affiliate links. Please read my disclosure policy.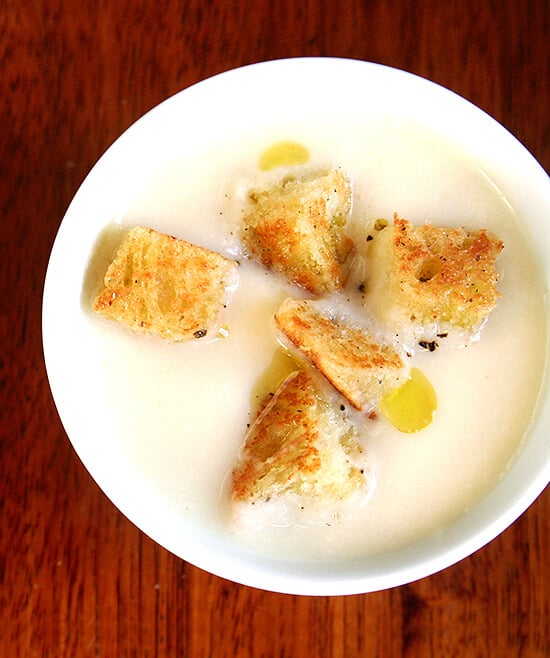 Cauliflower eluded my kitchen for far too long. I discovered it only about a year ago, in roasted form at high heat tossed with nothing but olive oil and kosher salt, a method which produces perfectly charred salty florets, addictive bites that lead me to eat heads of cauliflower in single sittings.
Today, while those crispy bits have lost none of their allure, I find myself most enjoying cauliflower in the form of a velvety smooth puréed soup. This recipe calls for simmering cauliflower in milk with an apple and a few strands of pasta, the milk and apple included to temper the cauliflower's intensity, the pasta to provide just enough starch to ensure a creamy texture when the mixture is puréed. Interesting, right? Once again, I have Sally Schneider to thank for this recipe, which really is more of a method than anything, one that could be applied to a countless number of vegetables — turnips, carrots, rutabaga, celery root, to name a few.
This recipe begins as a purée — the cauliflower and apple are strained from the cooking liquid and blended until smooth — which is delicious on its own and would be a nice accompaniment to duck or roast chicken or any meat really. To make the soup, the reserved cooking liquid is simply whisked into the purée, heated, and garnished. Both the purée and the soup are silky smooth in texture, and for containing just a few teaspoons of butter, taste incredibly creamy.
While this recipe does call for milk, apparently, I am learning, the milk is optional. After reading Food52's post about Paul Bertolli's cauliflower soup, made with nothing but a head of cauliflower, an onion and water, I questioned the necessity of milk. My friend Darcy, too, confirmed that a creamy texture can indeed be achieved with no cream at all. But I couldn't resist. I almost felt guilty pouring that quart of milk into the pot, PB's recipe flashing into my mind, but I rationalized that a little 1% milk never hurt anybody and that I likely could use the calcium. That said, next up on my to-make list is PB's soup, and for those of you looking for a vegan option for creamy cauliflower soup, know that it's out there.
For fun, I topped the soup with some olive oil-fried bread cubes, one of Schneider's many suggested garnishes. I took her up on another as well: a light drizzling of truffle oil. I know the economy is in the dumps, so please don't feel this ingredient is a must, but if you happen to have a bottle on hand, perhaps on lockdown for a special occasion, maybe consider breaking it out. There's never been a better time to open it.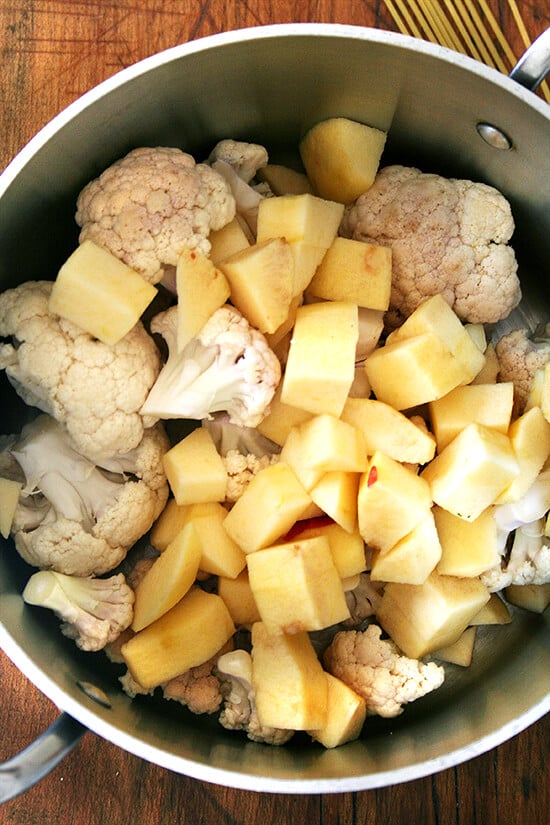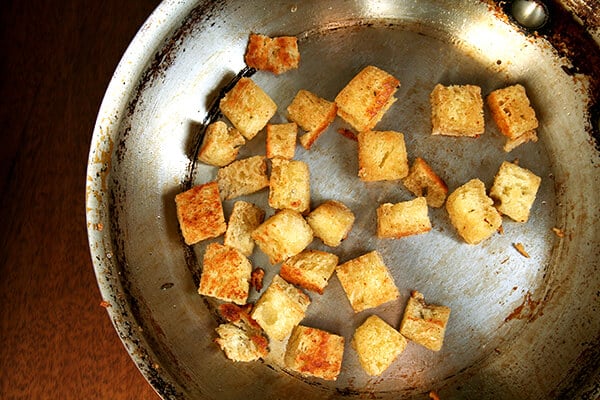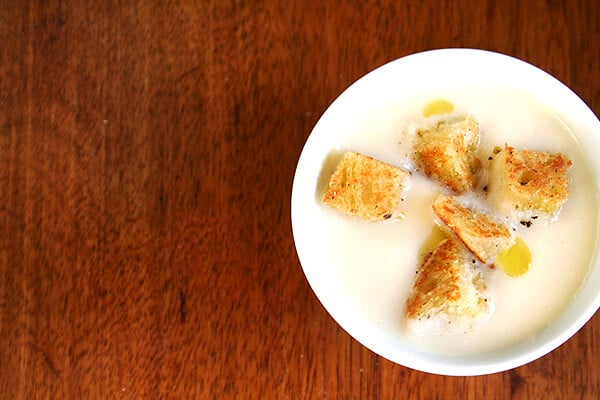 Print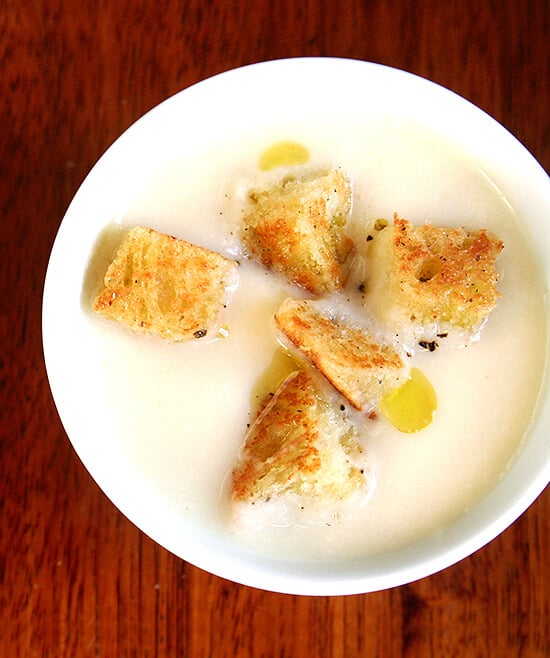 Cauliflower and Apple Soup
---
Total Time:

50 minutes

Yield:

3 cups, 4 servings

Diet:

Vegetarian
Description
Source: Sally Schneider's The Improvisational Cook
Schneider's Notes: This soup lends itself to an endless number of garnishes such as crisp slivered or finely diced pancetta; diced olive oil-fried bread; a dusting of fennel pollen; crispy shallots; snipped fresh chives, chervil or flat-leafed parsley; a drizzle of roasted hazelnut oil. White truffle oil, used sparingly, adds an astonishing flavor note.
---
For the Purée:
1

medium cauliflower (

1.75

lbs –

2

lbs)

1

small apple, peeled, cored, and chopped

1 quart

2% or whole milk

1/2 oz

. angel hair pasta or other, broken into

2

-inch pieces

1 1/4 teaspoons

kosher salt
pinch of sugar

2 teaspoons

unsalted butter

1 tablespoon

crème fraîche or heavy cream, optional
freshly ground white or black pepper
---
Instructions
Make the purée:
Cut the cauliflower into florets and roughly chop. You should have 7 to 8 cups.
Transfer the cauliflower to a medium saucepan and add the apple and milk. Bring to a gentle boil over medium heat and stir in the pasta, 1 teaspoon kosher salt, and the sugar. Cook, stirring occasionally, until the cauliflower is purée-tender, about 20 to 25 minutes.
Strain the mixture reserving the cooking liquid. Transfer the solids to a food processor or blender and purée until smooth, at least one minute, adding a tablespoon or two of the reserved cooking liquid if necessary. Let the motor run for a minute or two, scraping down the sides several times until you have a fine purée. Add the butter and crème fraîche and season with a bit more salt if necessary, pepper, and another pinch of sugar (if necessary). Save the remaining cooking liquid for the soup.
To make the soup:
Place cauliflower and apple purée in a medium saucepan, whisk in an equal amount of the reserved cooking liquid, and stir in a little cream. Bring to a simmer over moderate heat and adjust the seasoning. Add any of the garnishes mentioned above to each serving.
Notes
You can prepare the purée several hours ahead of time and reheat it (or keep it warm for a shorter time), stirring occasionally, in a double boiler.
Prep Time:

15 minutes

Cook Time:

35 minutes

Category:

Soup

Method:

Stovetop

Cuisine:

American
Keywords: Cauliflower and apple soup
This post may contain affiliate links. Please read my disclosure policy.