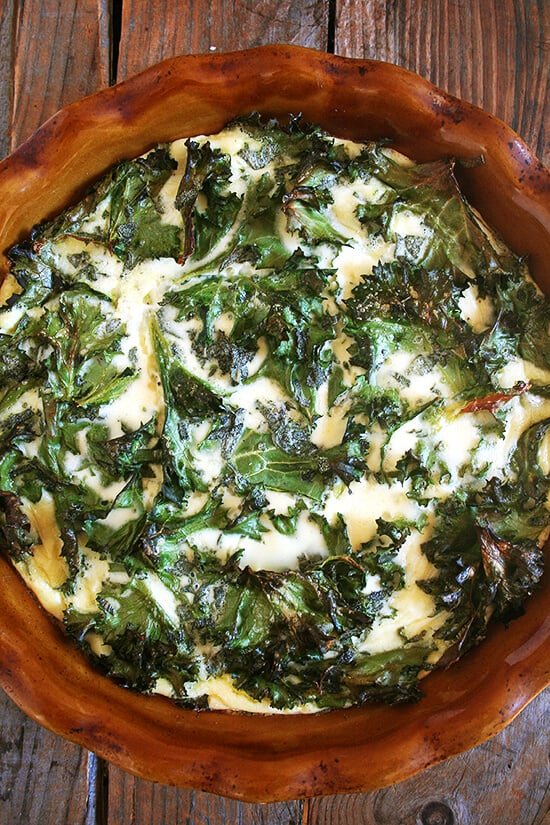 I was so lazy this week. Looking to add a little more roughage to my diet, I piled a whole head of barely chopped kale into a pie dish, submerged it with custard, and threw it in the oven.
I suspected it would be good. I make crustless quiche nearly once a week, always with uncooked greens, always with fresh thyme, always with crème fraîche, always following the Tartine recipe. But I worried a bit about the quantity of greens this time. It was a little absurd.
The result, however, couldn't have made me happier. My crustless quiche had in fact become crusty, thanks to the upper most layer of leaves poking though the custard surface, which, having cooked for 40 minutes unprotected by the custard, had essentially crisped into a layer of kale chips. Yum.
That said, I felt fortunate to have been cooking for one that evening. The quiche was impossible to cut — the knife snagged greens from right and left at every stroke — and it looked like total slop on the plate. Perfect for me — I love slop — not so perfect for company, not so perfect for sharing with all of you.
Aesthetics asides, I love the flavor of loads of raw greens in quiche. And so I made another one, this time with just a few fewer greens, which I chopped just ever so coarsely. The result? A delectable balance of roughage and custard, suitable even for company.
Without a crust in the equation (a traditional crust that is), this sort of quiche is effortless to whip up for a weeknight dinner. It still takes time, however — 40 minutes in the oven and an essential 20 minutes of resting, which allows its light and creamy texture to set. But if you're looking to make the whole shebang, here's Tartine's quiche recipe in its entirety.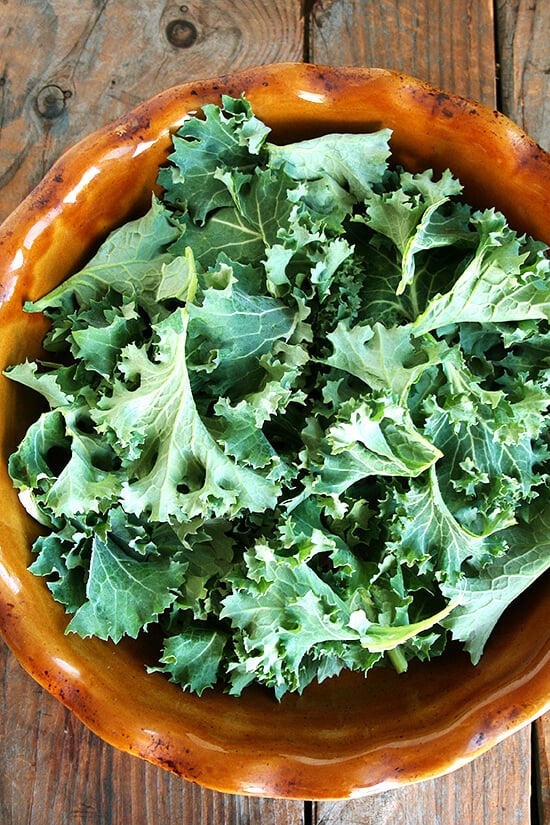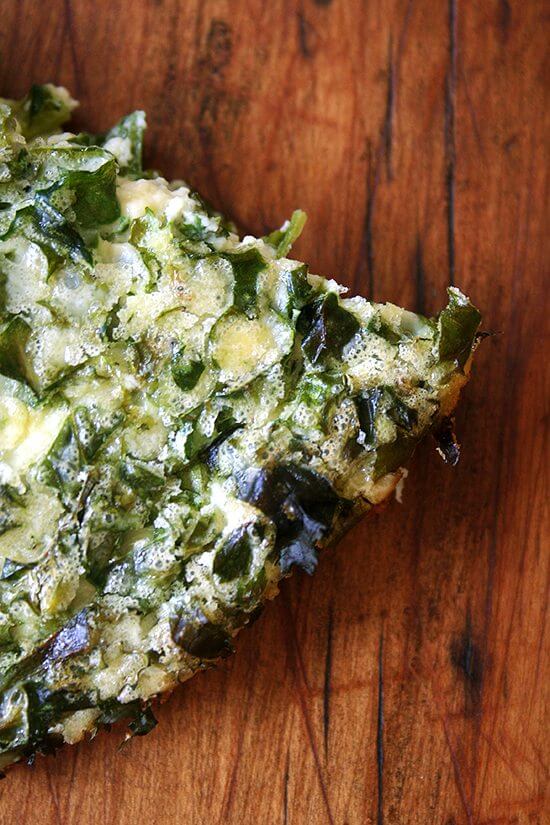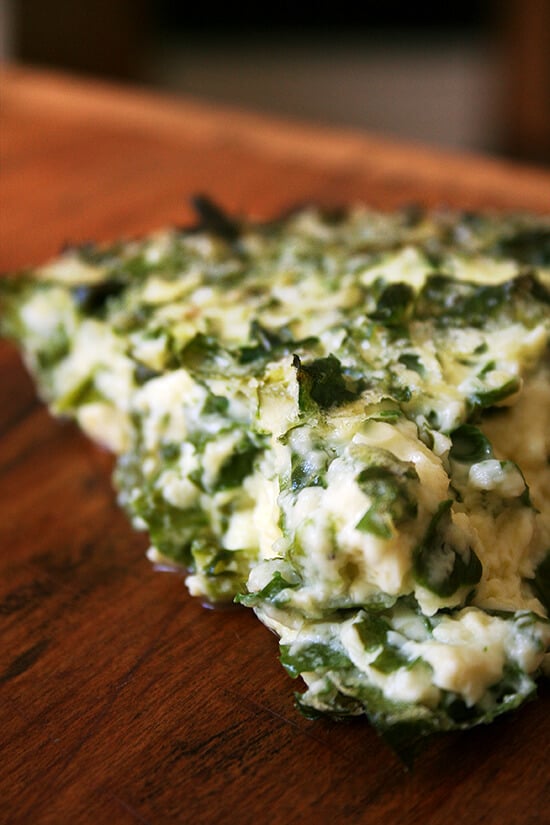 Print
Crustless Quiche, Loaded (or not) with Kale
---
Prep Time:

15 minutes

Cook Time:

40 minutes

Total Time:

1 hours 15 minutes
Ingredients
5

large eggs

3

T. all-purpose flour

1 cup

crème fraîche (see recipe below)

1 cup

whole milk

1 tsp

. kosher salt

½ tsp

. freshly ground black pepper

1

T. fresh thyme*, finely chopped

1

to

3

cups** uncooked coarsely chopped kale or chard or mustard greens, etc
* Thyme is amazing (seriously, so good), but tarragon, chives, basil, really whatever herb you like will work.** Aesthetically, 1 cup is perhaps the ideal amount, but if you're looking to add some more roughage to your diet, 2.5 to 3 cups will do the trick. Definitely give it at least a rough chop.
** Aesthetically, 1 cup is perhaps the ideal amount, but if you're looking to add some more roughage to your diet, 2.5 to 3 cups will do the trick. Definitely give it at least a rough chop.
---
Instructions
Preheat the oven to 375ºF.
Place 1 egg and the flour in a large bowl and whisk until smooth. Whisk in the remaining 4 eggs until blended.
In a medium bowl, whisk the crème fraîche until smooth. Whisk in the milk. Pour the egg mixture through a fine mesh sieve held over the milk mixture. Whisk in the salt, pepper and thyme (or other herb).
Pile your greens into a pie plate. Pour the egg mixture over the greens, then press the greens down with a spatula so they are submerged in the custard. Place in the oven and bake for 10 minutes. Reduce the oven temperature to 325ºF and bake until the filling is just set, about 30 minutes longer. The center of the quiche should still feel slightly firm, rather than liquidy, when touched. Let cool on a wire rack for at least 20 minutes to allow the custard to set up, so that it will slice neatly. It can be served warm or at room temperature. To serve a fully cooled quiche warm, cover it with aluminum foil and reheat it in a 325ºF for about 15 minutes.
---
Notes
* To make crème fraîche, place 2 cups heavy cream in bowl. Add 2 tablespoons of yogurt or 2 tablespoons of buttermilk. Stir to combine. Cover bowl with plastic wrap and let sit at room temperature for 12 to 24 hours. Stir. Mixture will be nice and thick. Store in the fridge until ready to use.
This is how I chopped the greens second time around — the smaller pieces make for a slightly nicer eating experience.