Farro Salad with Toasted Pine Nuts, Currants & Mustard Greens
This post may contain affiliate links. Please read my disclosure policy.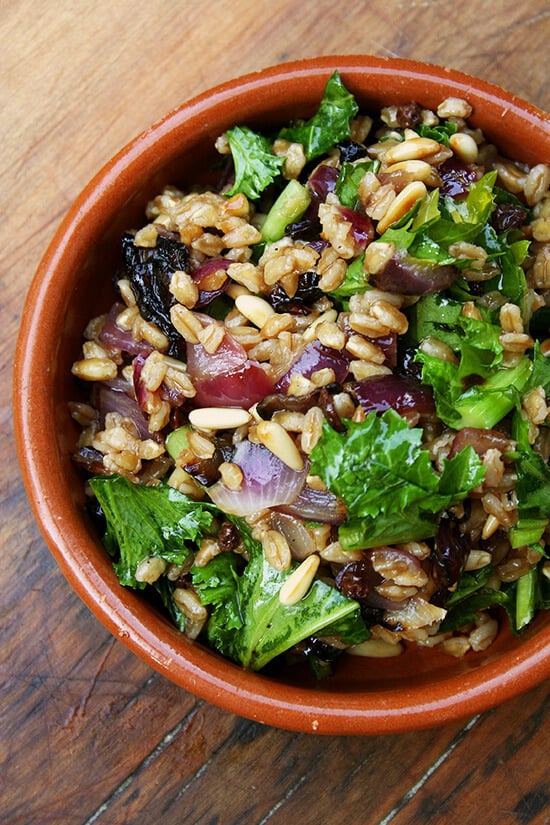 Toasted pine nuts, Zante currants, a handful of mustard greens — smells awfully familiar, doesn't it? That's likely because it's the exact makeup of the Zuni Cafe bread salad minus the bread.
If it doesn't ring a bell, I recommend familiarizing yourself with this most adored salad first, then making your way back here where a springy variation awaits, a farro-for-bread substitution making it a touch lighter but no less delicious.
Farro, when surrounded by all the elements of the Zuni salad — sweet onions, crunchy nuts, spicy greens, a simple olive oil and vinegar dressing — soaks up the goodness nearly as well as bread all the while maintaining its chewy texture and nutty flavor.
What is Semi-Pearled Farro?
Semi-pearled farro is not quite as nutritious as whole farro — pearling strips off part of the germ and bran — but it's still a healthy starch (high in fiber and protein) and a great grain to have in your kitchen pantry.
Semi-pearled farro cooks in 15 minutes, which makes it as fast as cooking quinoa and even some pastas. Since discovering semi-pearled farro just over a week ago, I've made this salad or some sort of variation of it four times and have consumed (with the help of my husband) nearly 2 pounds of farro.
After several days in a row of the Zuni-inspired farro salad, I changed it up a bit and roasted some carrots alongside the onion and substituted chopped toasted hazelnuts for the pine nuts, which made for a nice variation.
Know that this salad is infinitely adaptable — currants are nice but other dried fruits will offer the same texture and flavors; nothing is tastier (to me) than pine nuts but any nut will provide that crunch; and greens provide color, a little roughage and a wonderful spiciness but are not critical.
Mix it up. I hope you find it as addictive as I do.
We received an incredible "Asian mix" of greens in our CSA this week. Mustard greens were included and the whole combo was incredibly tasty: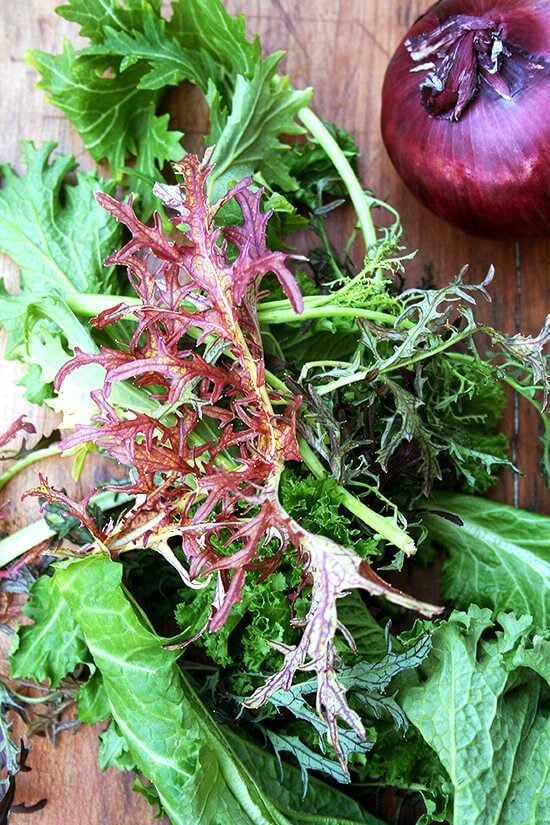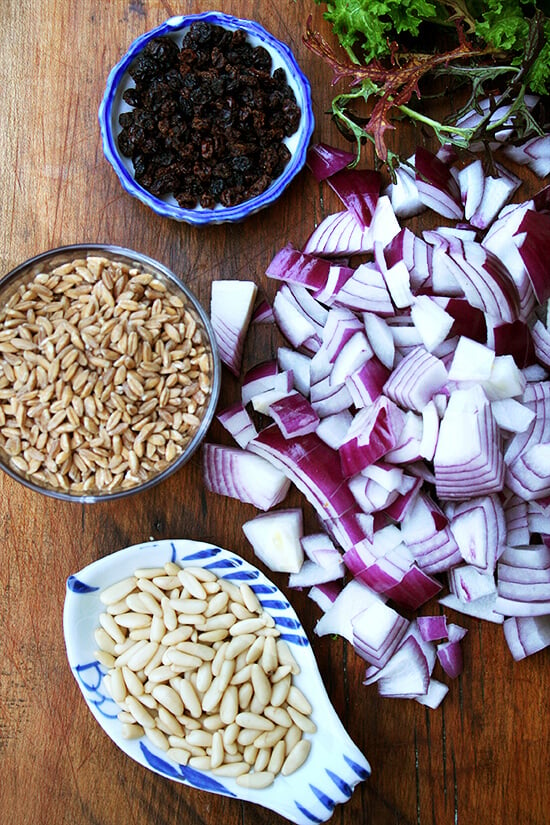 This is really nice farro. It's semi-pearled, which means a portion of the outer bran has been removed, which cuts the cooking time way down — it cooks in about 15 minutes. You might be able to find some at your local supermarket, but if not, you can order it here.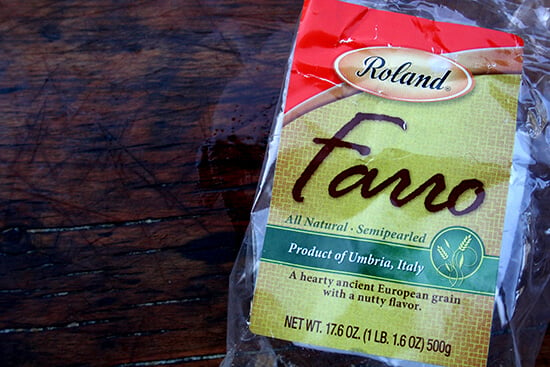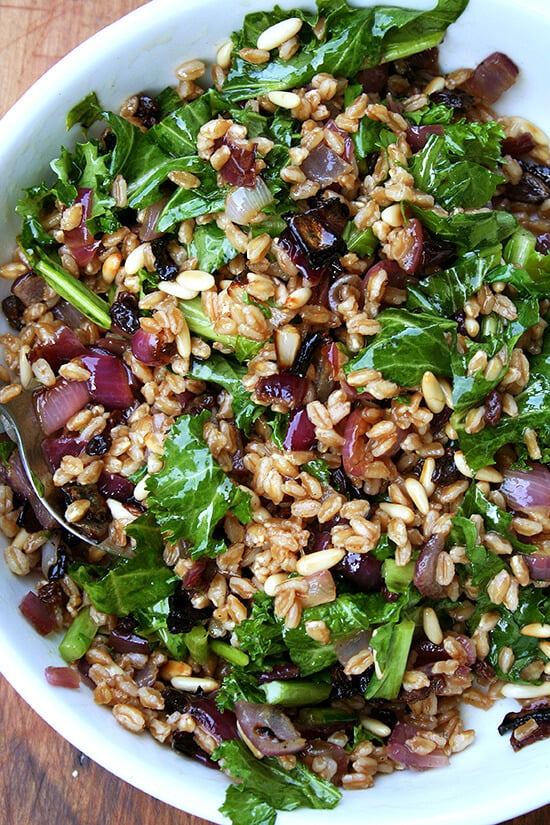 Print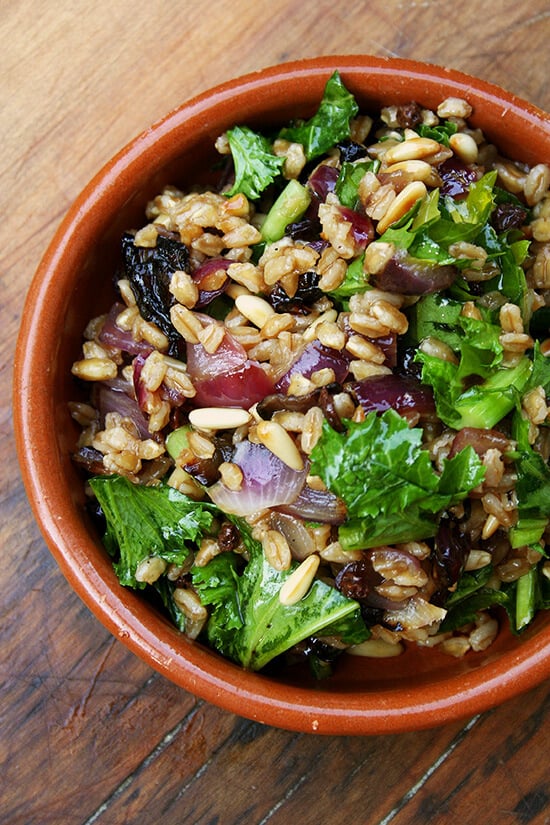 Farro Salad with Roasted Onion, Toasted Pine Nuts, Currants & Greens
---
Description
Faro: Roland semi-pearled farro is particularly nice but any type of farro or grain — wheat berry, barley, etc. — will work nicely. You might be able to find semi-pearled farro at your local supermarket, but if not, you can order it here.
Of course, whole farro will work just as well.
---
1

red onion, diced
olive oil
kosher salt

1 cup

of semi-pearled farro, see note above

2 tablespoons

dried currants — I use Zante currants
white balsamic vinegar

2 tablespoons

(or more) pine nuts or any nut you like
a handful or more of mustard greens (about 2 loosely packed cups) — If you can't find mustard greens, arugula or spinach or any green that can stand up to some heat without completely wilting will do. Add as many greens as you want as well — I tend to go overboard on the greens
---
Instructions
Preheat the oven to 450ºF. Place a pot of water on to boil. Toss diced onion with olive oil (about a tablespoon) on a sheet pan and season with salt. Place in the oven. Roast for about 12 to 15 minutes or until the onion is just beginning to char — you don't want the pieces to get too charred (or maybe you do… I kind of love them a little charred.)
Meanwhile, add farro to pot of boiling water. Add a big pinch of kosher salt. Cook for about 15 minutes — taste a few kernels after 15 minutes. For me it takes just a minute more than 15.
Place currants in a small bowl. Moisten with 1 tablespoon boiling water and 1 tablespoon white balsamic vinegar. Set aside. Toast pine nuts in a small dry skillet over medium heat until golden brown — watch them carefully! Set aside.
Place the greens in a large mixing bowl. When the onions are finished cooking, scrape them off of the pan into the bowl over the greens. Drain the farro, and add to bowl. Season with a big pinch of kosher salt. Drizzle olive oil over the farro while it's still warm. I haven't been measuring, but if you're looking for some guidance, start with about 2 tablespoons of olive oil. Splash white balsamic over top — again, you don't have to measure, but if you like to, start with about 1 tablespoon and adjust after everything has all been mixed together.
Drain the currants and add to the bowl. Add the pine nuts to the bowl and toss to coat. Taste. If it's a little dry, add more oil and white balsamic. If it needs a little more seasoning, add a pinch more salt. Add fresh pepper to taste if you wish, too. 
Prep Time:

15 minutes

Cook Time:

15 minutes
Keywords: farro, salad, mustard, greens, currants, pine nuts
This post may contain affiliate links. Please read my disclosure policy.