Lemon-Thyme Shortbread
This post may contain affiliate links. Please read my disclosure policy.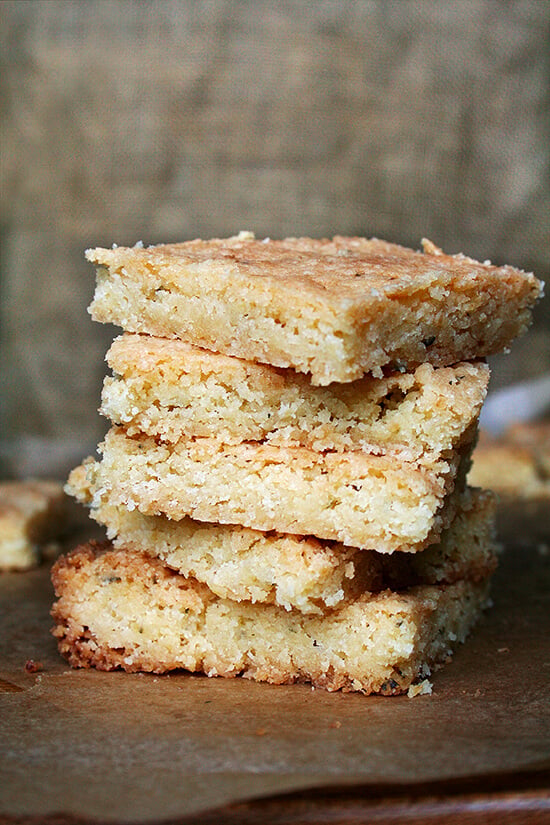 Have you ever spotted Kerrygold butter at your super market? Inexplicably in the cheese section? And wondered if it were any good?
Well, it is. My mother brought me some this weekend. She spoils me, still, at age 30. Along with the butter, she brought her favorites from the Greek market — a tin of olive oil, a branch of dried oregano, a block of manouri cheese; some pantry items she knows I hate spending money on — cheese cloth and parchment paper; and of course, some baked goods — Bakery Lane's honey-whole wheat bread and toasted coconut-raspberry jam bars. Delicious. As my mother says, I felt like a bride.
But don't be too jealous. No sooner had she unloaded the basket of goodies had she pulled out her travel file, spilling with newspaper clippings along with her latest neuroses.
"Just read the middle paragraph," she insisted waving the clipping in my face, "about human skin cells and dander and dust mites and their feces. And about how much humans perspire every evening. And about…"
"Sure thing, mom." I didn't want to eat my breakfast anyway.
Yes, my friends, my mother is worried again. She's worried about the ungrounded outlets in my bathroom; the dead, unfelled pine tree in our backyard; the dime-sized rash on my 6-month-old's neck; and the copper can I store olive oil in — "What's that lined with?" she asks every visit. These are worries I expect, however. Par for the course, really. But this latest concern — a personal hygiene affront veiled by a When to Clean the Sheets article — was a first. I'm starting to develop a complex.
I suppose some things never change. My mother worries about me, still, at age 30. Oh mama, you know I love you. And thank you for being such a good sport.
OK, on to some fun stuff:
1. As I mentioned, Kerrygold Butter, made from the milk of grass-fed cows in Ireland, is delicious. It's definitely a splurge, best saved perhaps for spreading on good bread and topping with radish slices, if you're in to that sort of thing.
2. C4C Flour. Several months ago, after watching Thomas Keller make polenta waffles and fried chicken on tv using his new C4C flour — a gluten-free mix that can be subbed one-for-one with all-purpose flour — I immediately ordered a bag. Beyond curiosity, I didn't have a reason to buy this gluten-free flour, but I'm so happy I did. So far, and I've only made a couple of things (shortbread and waffles), I'm impressed. It's pricey, certainly, but it's a good product — worth it for the mere convenience of being able to use it in nearly any pastry, dessert or quick bread. But if you want to make your own mix, this recipe looks promising.
Side note: My mother recently tipped me off about a simple substitution when making our favorite brownie recipe gluten-free: She swaps the flour for almond flour. So simple. You'd never know the brownies were gluten free, and the almond adds a nice flavor, too. I suspect this works best when little flour is called for.
3. Lemon Shortbread. Melissa Clark's shortbread continues to be one of my favorite foods on the planet. I find a reason, it seems, to make the rosemary variation at least once a month. Inspired by a visit to 2Amys, where a wedge of lemon shortbread stole the show (after the pizza of course), I had to make a batch. A few appropriate adjustments to Clark's recipe produced a lemon shortbread to swoon over. This time, I also added lemon thyme from our CSA and used gluten-free flour. I can't stop eating it.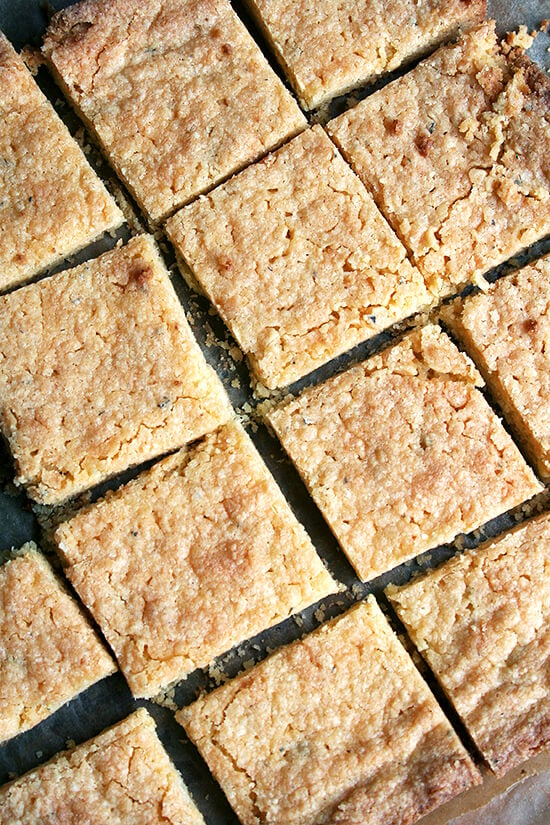 Incidentally, the article my mother passed along, When to Clean the Sheets, is informative and entertaining, if you can get over the yuck factor. It's perhaps best not read at mealtime.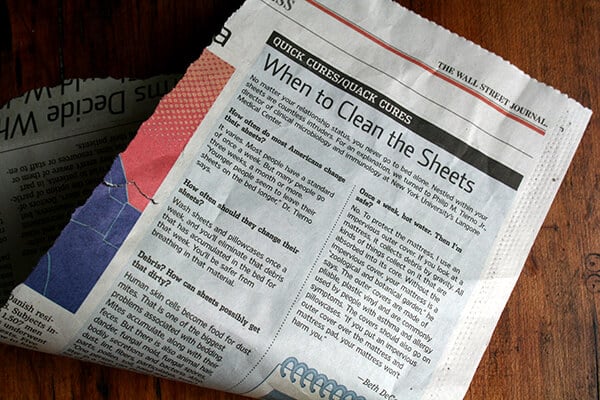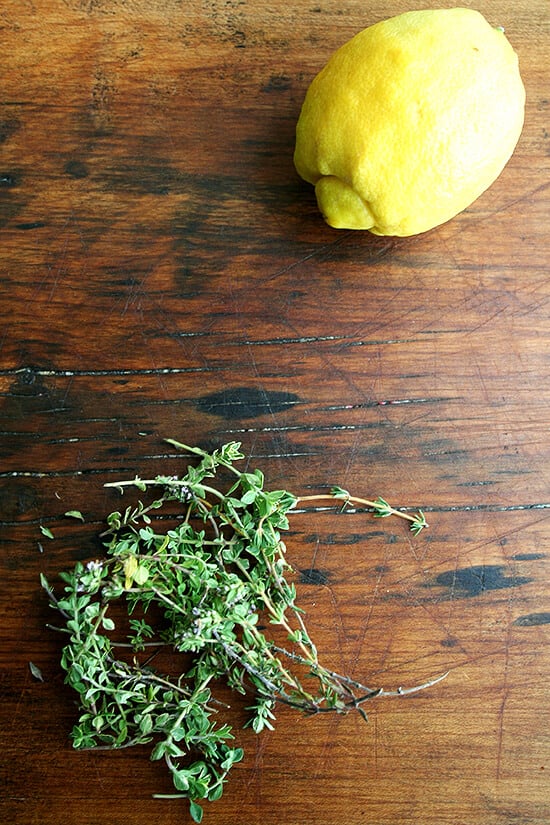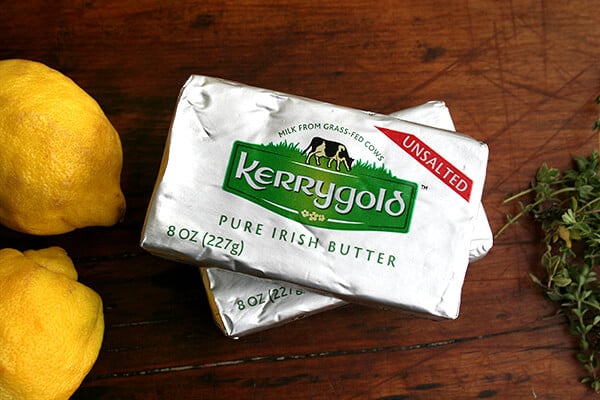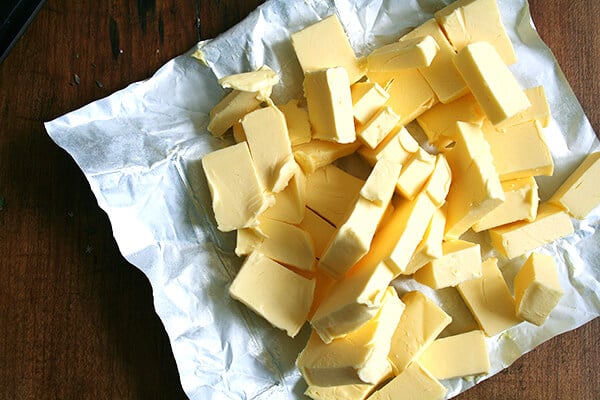 When making shortbread, it's important to not over pulse the dough. This is about what the mixture should look like: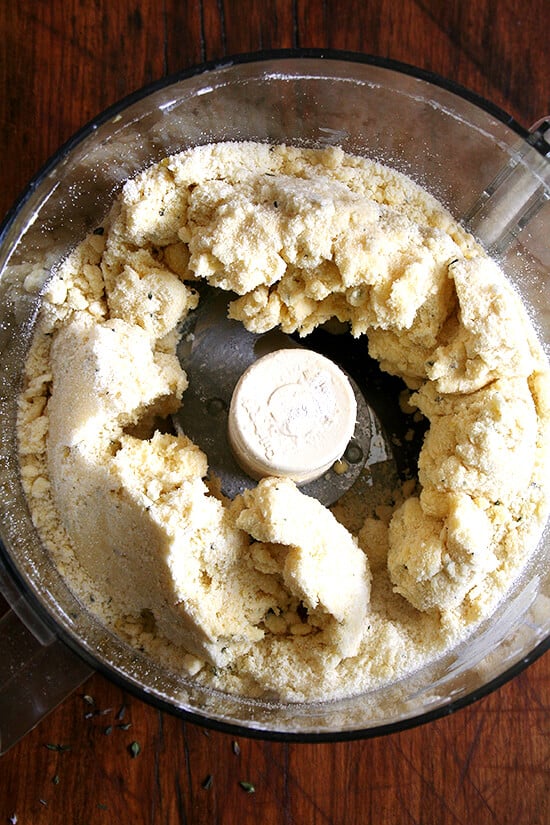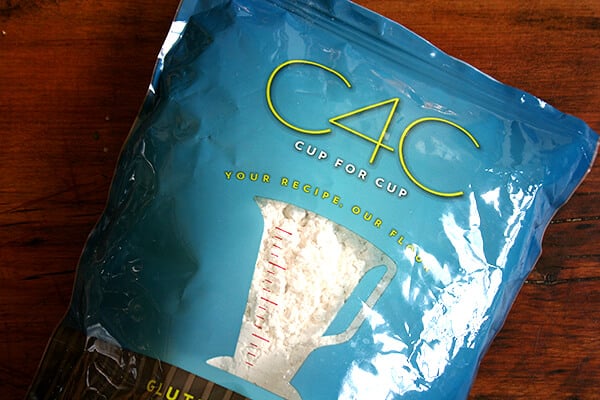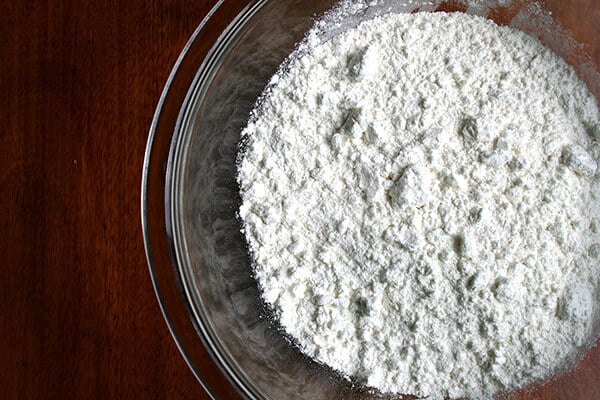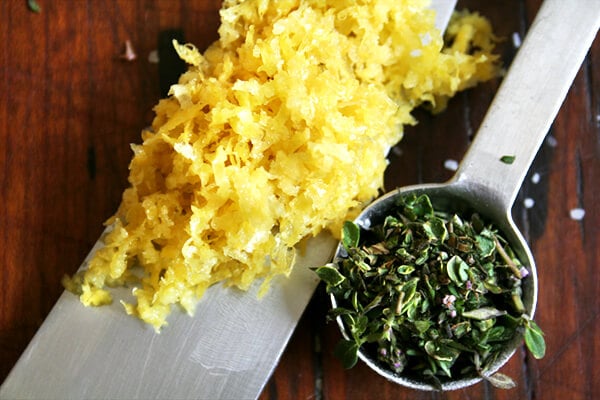 Print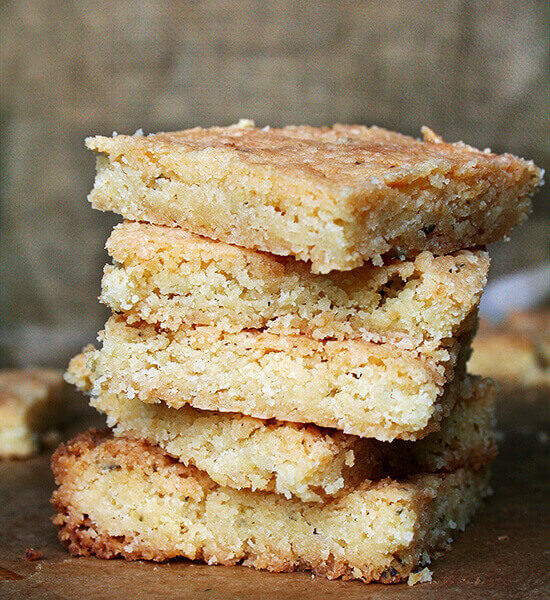 Lemon-Thyme Shortbread, Gluten-Free or Not
---
Author:

Alexandra Stafford

Total Time:

60 minutes

Yield:

1 8- or 9-inch shortbread, about 16 pieces
Description
Source: Melissa Clark of the NY Times
A few notes:
The thyme or lemon-thyme is purely optional. It's a very subtle flavor, one I really like, but if you're not into herbed sweets, just leave it out.
If you're not a lemon fan, try the rosemary variation or any of the other suggested variations.
---
2 cups

all-purpose flour or C4C gluten-free flour or your favorite gluten-free substitution for flour

2/3 cup

granulated sugar

1 teaspoon

of finely chopped fresh lemon thyme or thyme (optional — this flavor is very subtle)
zest of

one

lemon

1 teaspoon

plus 1 pinch kosher salt

1 cup

(

2

sticks) unsalted cold butter, cut into 1-inch chunks

1 1/2 tsp

. honey

2 teaspoons

fresh-squeezed lemon juice
---
Instructions
Heat oven to 325ºF. In a food processor, pulse together flour, sugar, thyme, zest and salt. Add butter, honey and lemon juice, and pulse to fine crumbs. Pulse a few more times until some crumbs start to come together, but don't overprocess. Dough should not be smooth.
Press dough into an ungreased (or parchment paper-lined for easy removal) 8- or 9-inch-square baking pan. Prick dough all over with a fork. Bake until golden brown, 35 to 40 minutes for 9-inch pan, 45 to 50 minutes for 8-inch. (Note: When I bake this in a 9-inch pan, it takes about 32 to 35 minutes minutes. And When I make it in my 8-inch pan, it takes about 35 to 37 minutes.) Transfer to a wire rack to cool. Cut into squares, bars or wedges while still warm. (Note: I have let the shortbread cool completely — cut it the next day in fact — and had no trouble cutting it up when cool.)
Prep Time:

10 minutes

Cook Time:

40 minutes
This post may contain affiliate links. Please read my disclosure policy.