Light Brioche Burger Buns
This post may contain affiliate links. Please read my disclosure policy.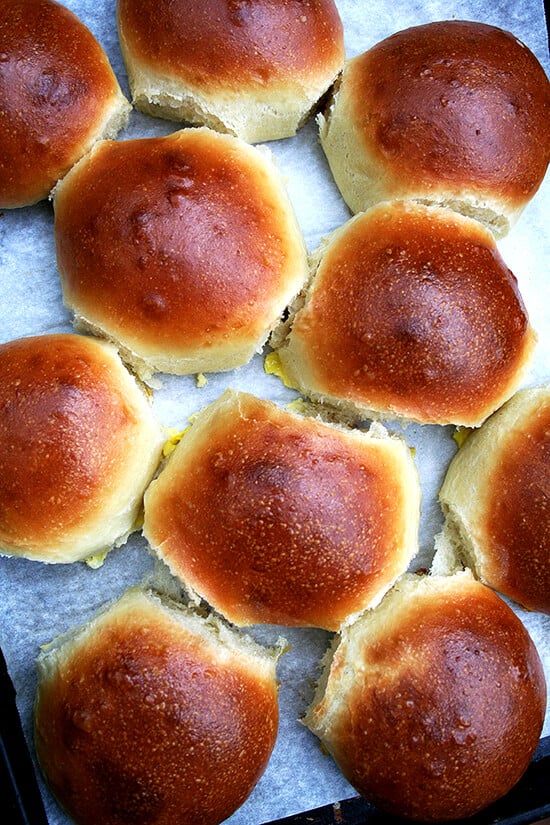 A couple of friends of ours take beer drinking very seriously. Never is their freezer not stocked with frosted pint glasses, nor their fridge with craft beers. If you drink beer at their house, they insist it be in a glass, not a bottle, and if they drink beer at your house, you best have chilled glasses on hand. Beer needs to breathe, they insist, and they pour hard, ensuring a nice foam head develops.
They've converted us. Pint glasses now dominate our freezer door, and various six-packs, almost an entire level of our refrigerator. One variety in particular, Dogfish Head's 60 Minute IPA, we can't seem to live without. It is so good. Seriously, at every first sip, "perfection" is the only thought that comes to mind.
There are a few certainties for the upcoming holiday. We will be drinking Dogfish Head. We will be eating grilled burgers with roasted green peppers on light brioche buns (recipe below). There will be a kale caesar salad, and some sort of bubbling-fruit crumb-topped concoction, a cobbler or crostata or maybe something new.
Final note: With salad season upon us, I've compiled all of my favorite dressings and vinaigrettes onto one page.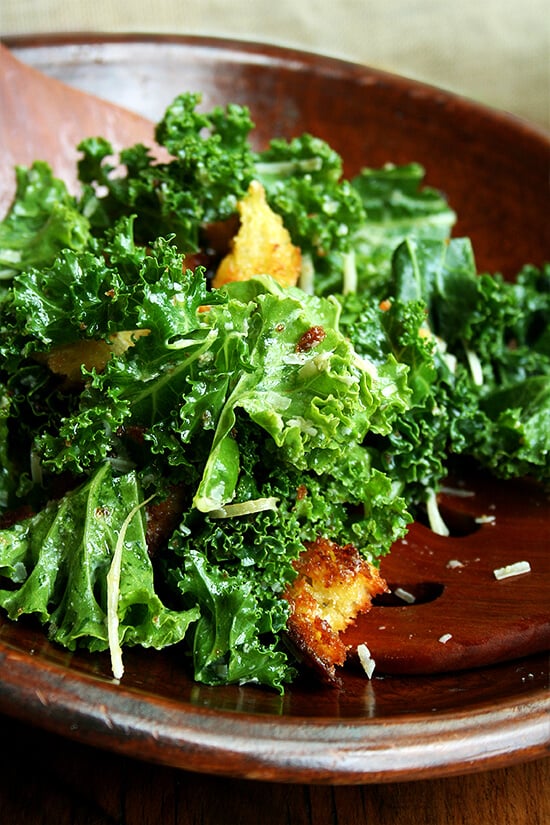 We're keeping things simple this Memorial Day: burgers, salad, beer. I love the above-pictured kale caesar, but a Greek salad or a simple romaine salad with blue cheese dressing would accompany the burgers just as well.
And while I'd love to try out something new for dessert, I might just have to turn to some old favorites. Memorial Day has to be celebrated with pie or crisp or cobbler, right?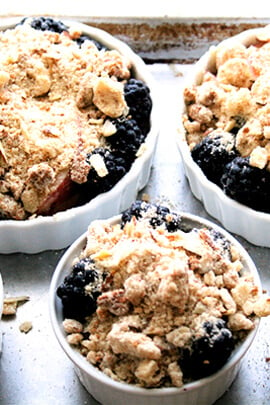 A few months ago, a NYTimes recipe that has been circulating the blogosphere for some time now usurped my favorite burger bun recipe. Try it! You're burgers will never taste so good.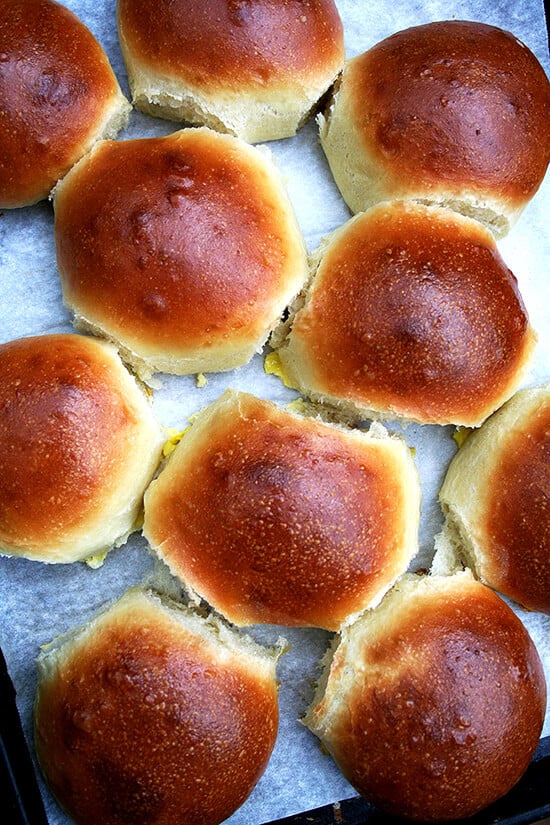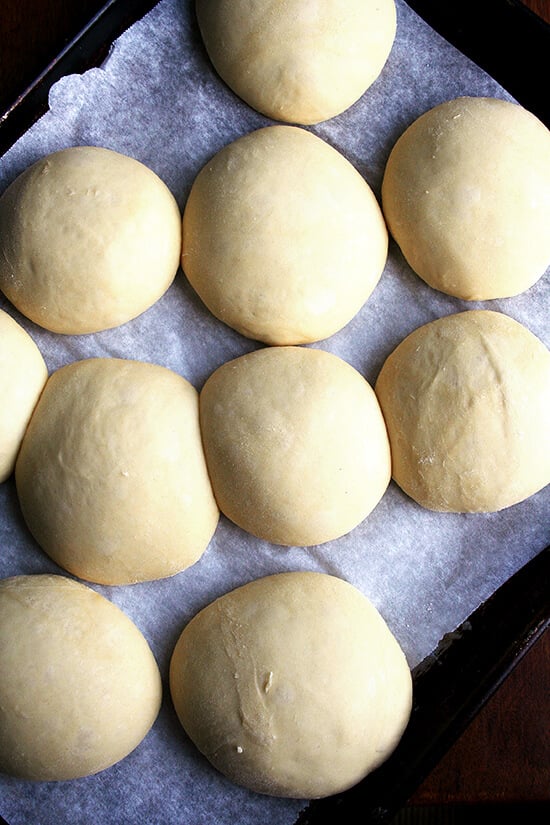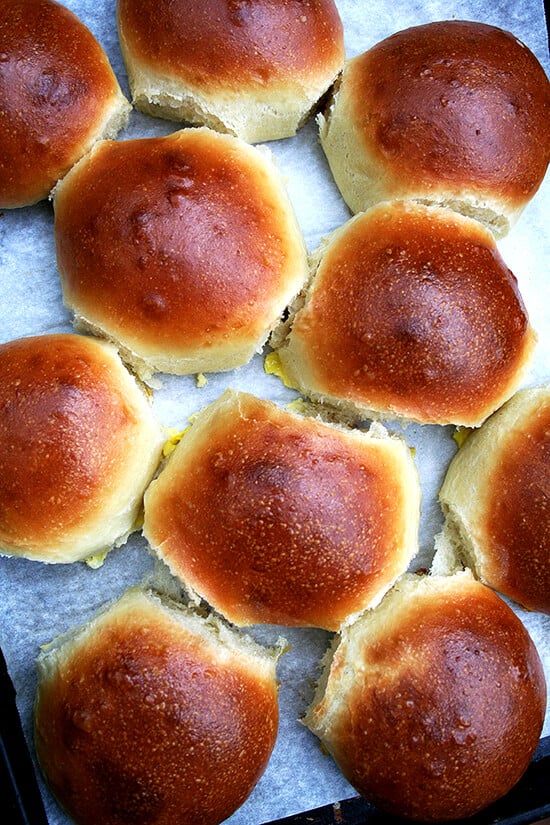 5 Secrets to Foolproof Bread Baking
See how easy bread baking can be in my free ecourse!
Print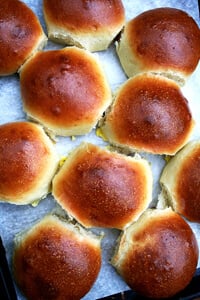 Light Brioche Burger Buns
---
Total Time:

2 hours 45 minutes

Yield:

8-10 buns
Description
***Update: I have a new favorite brioche recipe. It's very similar to this, but it's simpler. Find it here: Light Brioche Rolls, Even Better***
Source: The New York Times
Before reading this article, I had tried countless recipes for brioche, none of which produced the texture I had hoped for, all of which made me cringe at every step of the process — the amount of eggs and butter I wasted on unimpressive loaves is sinful. This recipe is it. Search no further. Yum.
---
3 tablespoons

warm milk

2 teaspoons

active dry yeast

2½ tablespoons

sugar

2

large eggs

3 cups

bread flour

⅓ cup

all-purpose flour

1½ teaspoons

salt

2½ tablespoons

unsalted butter, softened
---
Instructions
In a glass measuring cup, combine 1 cup warm water, the milk, yeast and sugar. Let stand until foamy, about 5 minutes. Meanwhile, beat 1 egg.
In a large bowl, whisk flours with salt. Add butter and rub into flour between your fingers, making crumbs. Using a dough scraper, stir in yeast mixture and beaten egg until a dough forms. Scrape dough onto clean, unfloured counter and knead, scooping dough up, slapping it on counter and turning it, until smooth and elastic, 8 to 10 minutes.
Shape dough into a ball and return it to bowl. Cover bowl with plastic wrap and let rise in a warm place until doubled in bulk, 1 to 2 hours.
Line a baking sheet with parchment paper. Using dough scraper, divide dough into 8 equal parts. (Note: I think dividing the dough into 10 pieces rather than 8 yields better sized buns — when divided into 8 pieces, the buns are rather large.) Gently roll each into a ball and arrange 2 to 3 inches apart on baking sheet. Cover loosely with a clean kitchen towel and let buns rise in a warm place for 1 to 2 hours.
Set a large shallow pan of water on oven floor. Preheat oven to 400 degrees with rack in center. Beat remaining egg with 1 tablespoon water and brush some on top of buns. Bake, turning sheet halfway through baking, until tops are golden brown, about 15 minutes. Transfer to a rack to cool completely.
Prep Time:

25 minutes

Cook Time:

15 minutes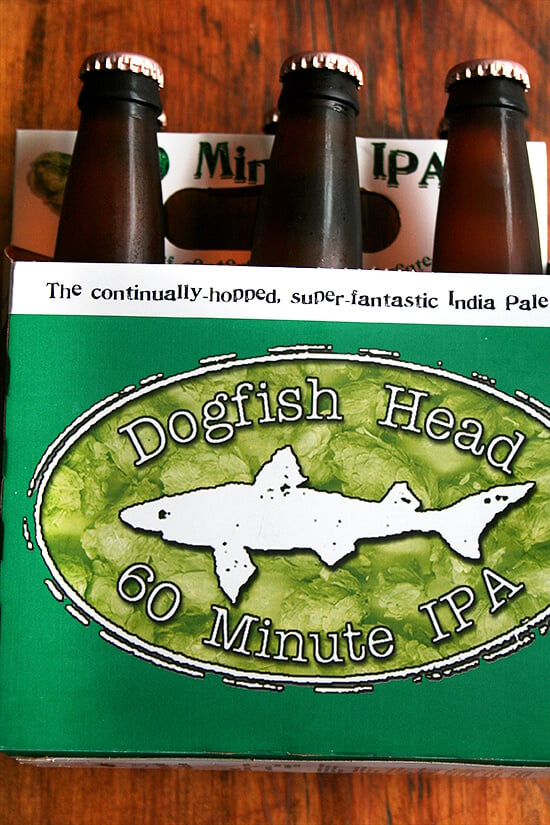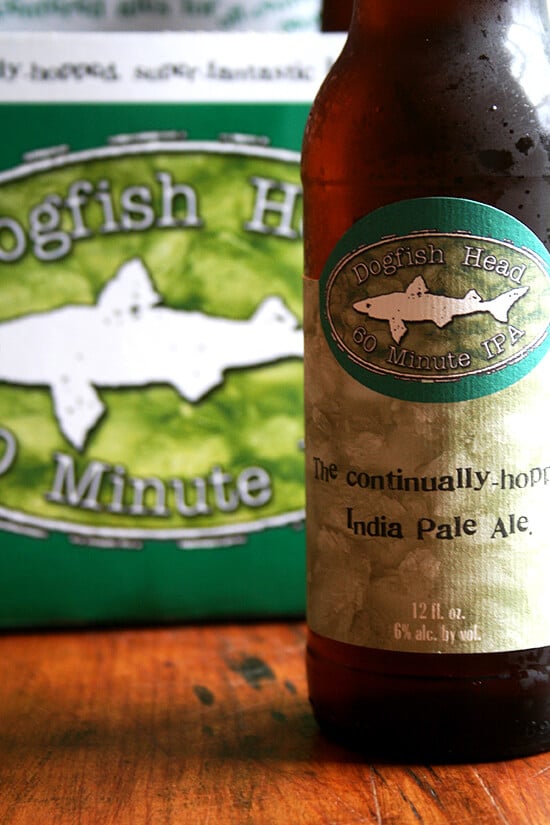 This post may contain affiliate links. Please read my disclosure policy.